See my Million Dollar Shop® courses here. This is where I go into how to create printables that sell, how to set up a Shopify store that actually gets people to buy, different marketing strategies, etc. I even have a discounted course for you to decide if selling on Shopify is right for you (for a very limited time only (!) at the bottom of this post) That information is at the very bottom of this post where it says: "Ready to start up your OWN Shopify store?"
I had no clue that when I started my Sarah Titus ecommerce store June 1, 2017, I would make $52,060 that very first month and hit 6 figures/month within just a few short months.
But pretty soon I knew I was onto something….something bigger than I had ever imagined.
My Shopify store paved the way to my path of making 8 figures/year online, consistently, but it's not about the money or net worth for me.
It's about proving the world wrong!
It's about doing something I love and creating the lifestyle I want to have, regardless of what anyone else thinks or says.
It's about being home with my kids, my family, and making a better life for them.
14 years, I was married. My ex-husband went off and started having a bunch of affairs and got a few other girls pregnant. He just up and abandoned us one day. I woke up and he was gone. It was a tragedy. I had been a stay-at-home-mom all of my kids lives. I had no income. No means to support myself. No child support, he was just gone without a trace. With no family to help me out, me and our two little ones ended up in a homeless shelter.
Everyone told me to get a job outside the home, including the judge in my divorce, but I stood my ground. I said, "NO!" I refused to leave my kids. Month by month, year by year, I worked from home and figured out a way.
I felt called by God to start a blog and obeyed that conviction. My blog did very well right from the start. I grew a platform and have been doing what I love ever since.
Things change over time, we change and grow and I simply wanted a place to put my new Blogging Binder to sell. I tried a couple other options and they didn't work well, meaning, they didn't get good sales. When I put my Blogging Binder on Shopify, the thing started selling like hotcakes! Something about THAT platform, just WORKED!
I added another product and another and another. To this day, I have 74 products in the store and plan on listing a ton more as time goes on.
While my income is fantastic and I get to do something I'm REALLY passionate about (printables), I've been creating income reports for my Shopify store mostly because I want to track my OWN progress.
So often, we simply forget the successes and failures of the past and need to look at the data to see patterns to help us grow.
Having that in-depth information handy for my own future reference as well as to help YOU know what works and what doesn't, so you start out already ahead of the game, is so incredibly valuable.
I hope you'll join me in this journey. I hope that you'll enjoy seeing not only my successes, but also my failures, and how I jump those hurdles all along the way.
Shopify Store Income Reports
*please note all traffic is counted as sessions, not pageviews until most recently and all income is revenue, not profits. This is also, only my Shopify income, not my total blogging income. Total blogging revenue for 2021 was $8,148,733.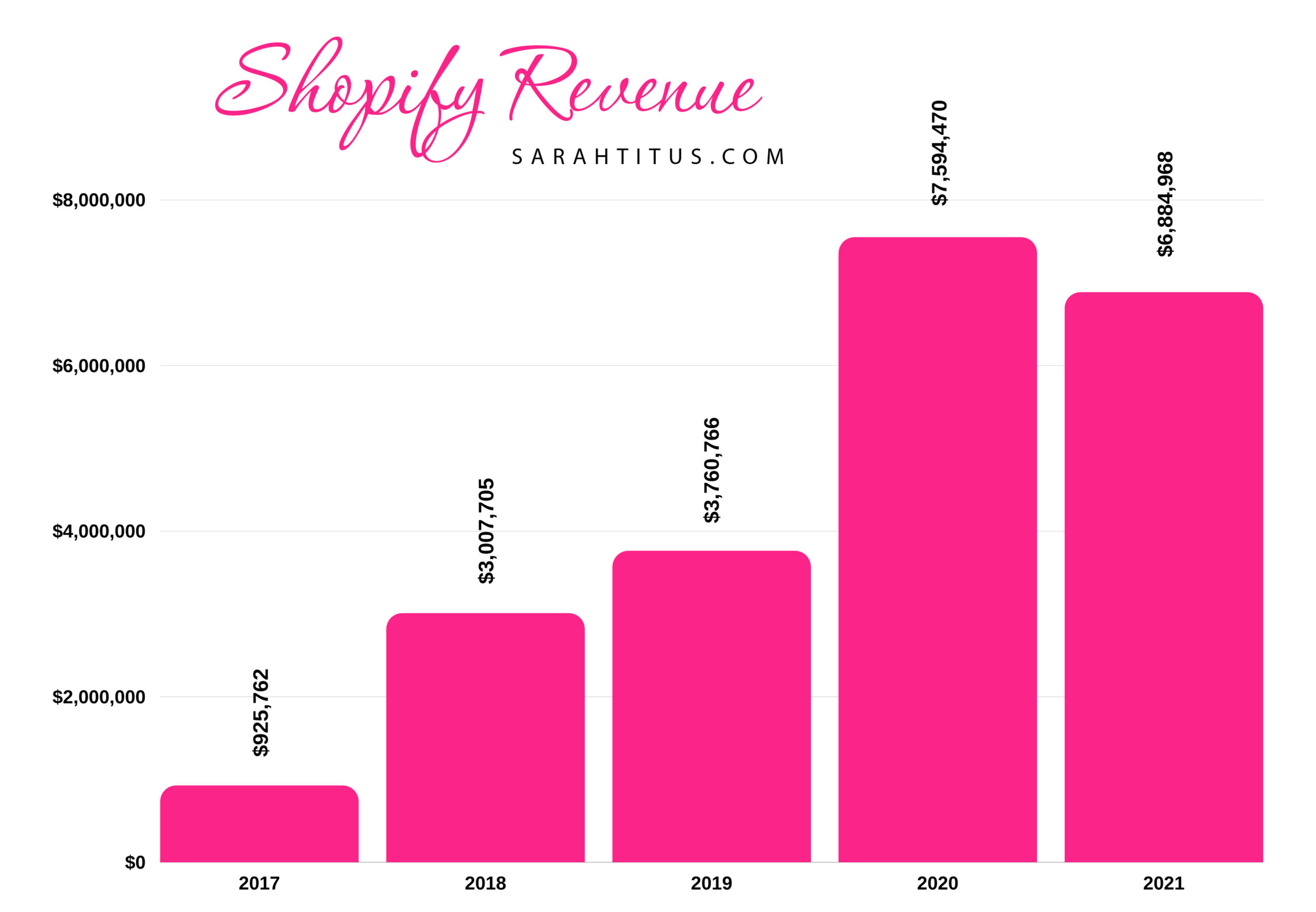 January 2021 – December 2021: Main Shop – $6,883,877
The stats for the entire year (total)…
Traffic: 133,809 sessions; 620,853 pageviews
Bounce Rate: 50.55%
Mins Avg. Session Duration: 2:43
Most of my traffic on my main site is from "Direct" (meaning when someone directly types in your URL and it also includes email newsletter clicks). The secondary source of traffic for me this year was Referrals (meaning when someone shares my printables with other people). Considering I do NOT have an affiliate program on my shop, this referral traffic is AMAZING! It means people are loving the products and sharing them with others. How cool is that?!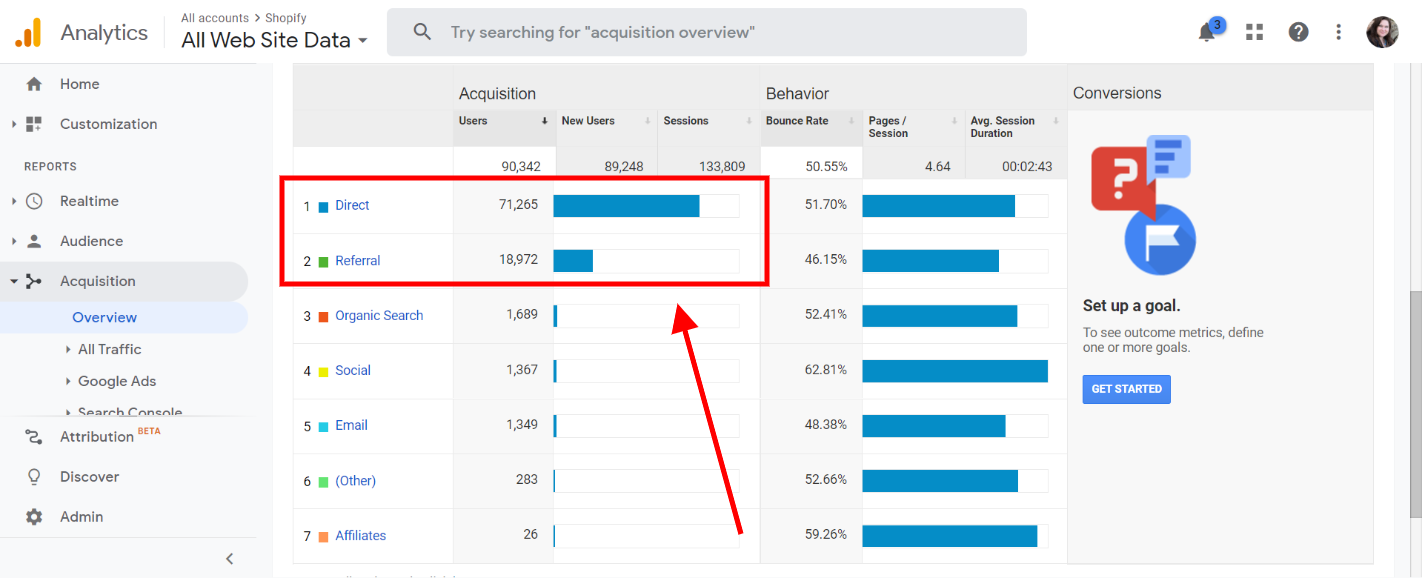 I was asked if my traffic is paid for or organic. All traffic is organic. I do not pay for any advertising at this time. I did run Facebook ads for a couple months in 2020, but everything is organic, nothing paid for.
I also don't promote my shop a whole lot on Pinterest. Meaning, pinning something directly from Pinterest to my shop. I haven't found it to be helping too much so far whenever I do that. I have found the thing that helps MORE is to pin something directly to my blog and THEN they go from my blog to my shop.
For example, you can see my post here about a binder, Top 50+ Essential Oil DIY Recipes. At the time I'm writing this, there are 283,709 shares on it.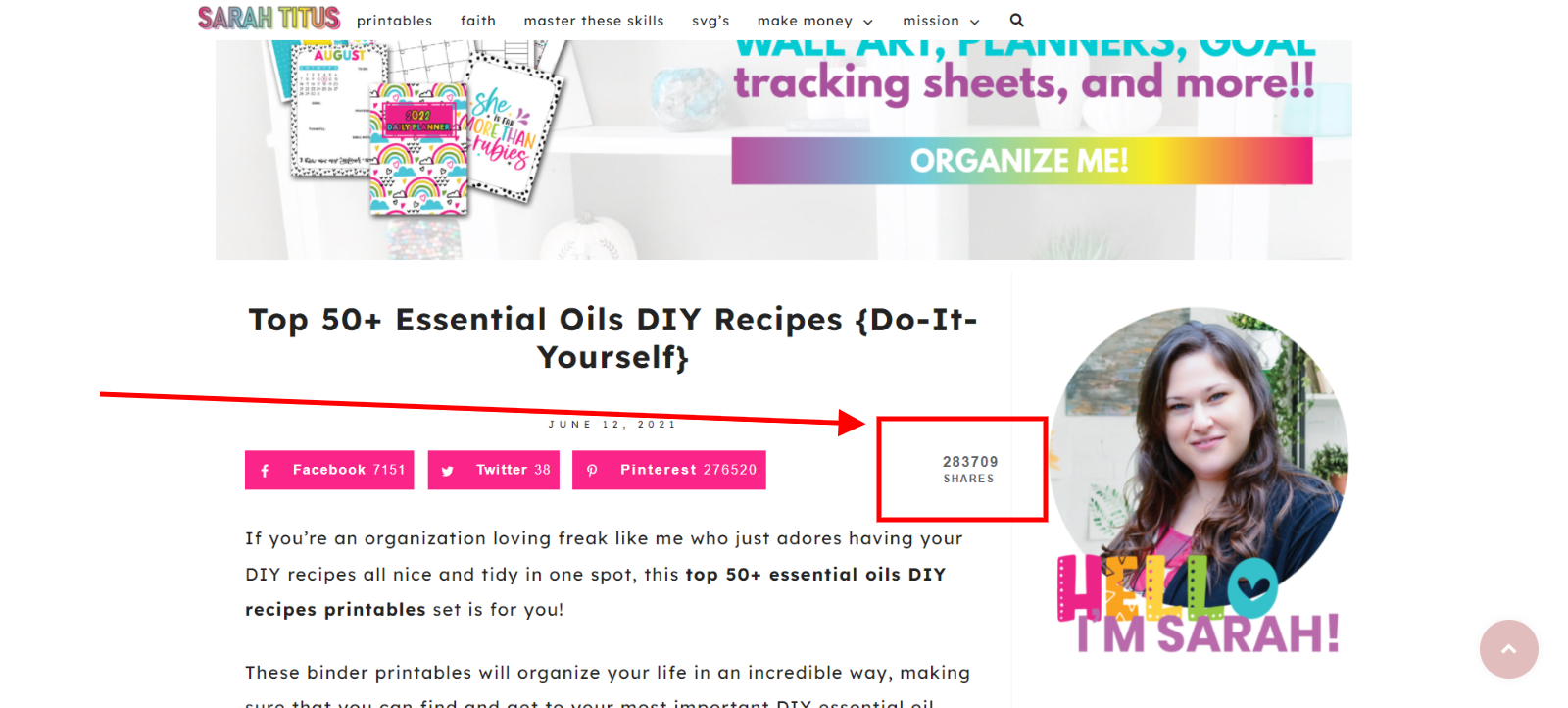 So I will pin that binder on Pinterest, to my blog post and then within the blog post, take them to the shop to purchase. They also see my shop in my navigation, so they can always find it. Some posts lead them directly to the shop in that way, but most of the posts I pin, I just rely on giving free printables on my blog and they want more so they search them out, find more freebies on my blog and then want the bigger stuff like binders and bundles, see a sale and buy in the shop OR they get on my newsletter list to get the BIG freebie and then I sell things in my newsletter (special deals like $3 binder sales, for example).
In my marketing efforts, I'm not too concerned about making money initially, but about getting my quality printables in their hands so they realize how useful they are, how good of quality they are over others, and how cute the designs all are. Getting them to really love and appreciate the products is my main focus. Once they love the products, I know they'll come back for more and that's when I can give them special deals to encourage them to purchase.
I'm not working an insane crazy amount of hours on all this. The shop is pretty much autopilot at this point. We get some customer service emails in sometimes and I have my assistant handle them (I handle the Million Dollar Shop® course emails personally.) We have a really great autoresponder that works SUPER well because many of the questions, we don't have to respond to. They get instant answers to their questions and this frees up customer service time. I'm super BIG on automating absolutely everything I can. This is how I'm able to grow faster and work less! Automate EVERYTHING you can!!!
Really the main thing I work on is building my email list, which I do for blogging anyway, apart from my shops, so it doesn't add too much more work for me.
If you don't have a blog, you do not HAVE TO start one in order to run a successful shop. There are a billion and one ways to market your shop. Having a blog is one of them. Yes, most people with a blog make MORE money on Shopify, blogging is a GREAT way to get your brand out there as you've seen in my Pinterest example above and also for SEO, but you don't have to have a blog in order to succeed on Shopify. You just need to market it and all that is taught in the Million Dollar Shop® course!
January 2021 – December 2021: Secondary Shop – $1,091
I first promoted the secondary Shopify store on 11/16/21, so that dollar amount is for 11/16/21-12/31/21.
The stats for the entire year…
Traffic: 2,209 sessions; 9,501 pageviews
Bounce Rate: 54.73%
Mins Avg. Session Duration: 1:43
Most of my traffic for this shop came from "direct", which is when someone types in your URL directly. It ALSO includes email clicks. Most of the traffic is from email clicks from my newsletter.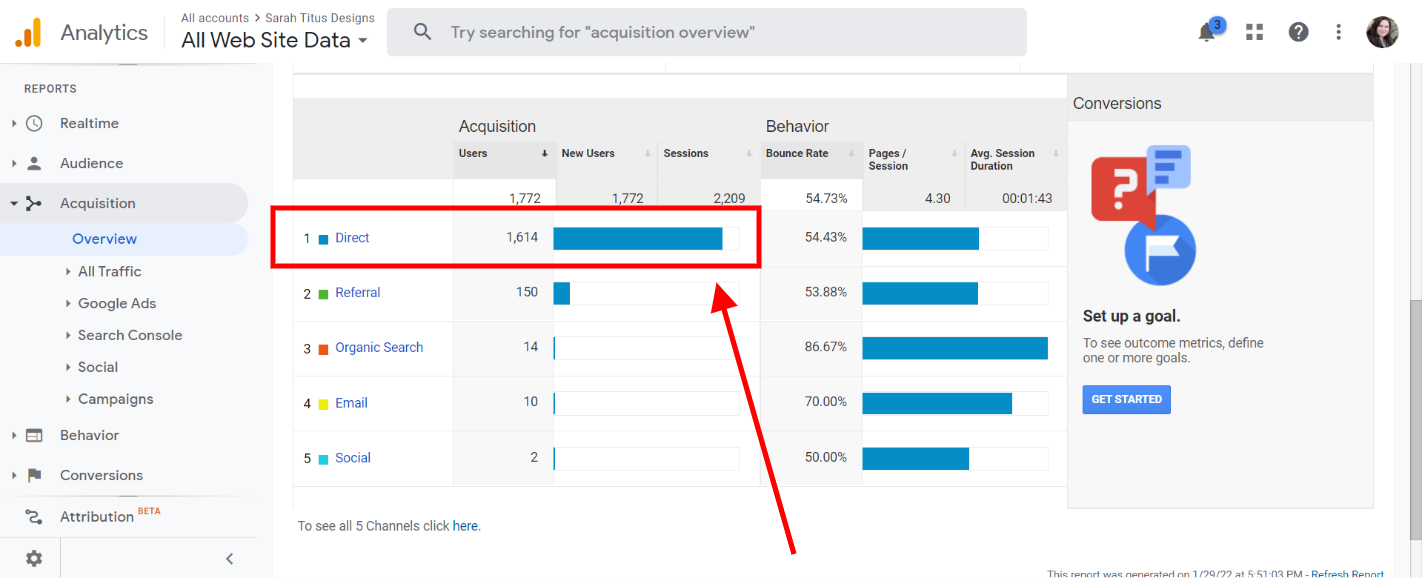 All my incomes/stats for every month since I started selling on Shopify is below. There's a lot of information there and it's a good idea to look it all over and glean from it what you can. I have also created a comprehensive guide all about starting a printables business here: 30 Days to Creating a Thriving Printables Business. In it, I answer a ton of questions and that will really help you as well in your journey. However, nothing can compare to purchasing my Million Dollar Shop® course and the Top 13 Things to Sell in Shopify course. Those are the places where you'll really start to put everything together in your head and be trained on how to genuinely set up a shop in a way that gets sales and converts well for you.
With that said, after this year, 2021, I will not be sharing income reports anymore.
Here's why…
They are getting a bit redundant (the income and stats are all very stable), all the questions are answered in this post, in the 30 days post and within my courses and no more is needed to be trained on at this point now or in the future that won't be covered in those courses.
But most of all is because I want to start serving people MORE in person (and online also) and when they see these really high numbers, it puts a "block" for lack of a better word between us. Instead of me just being a person to come along side them and help them, walk through things with them, it's "Well, she's so great…she makes so much money, why would she care about ME. She can't relate to me. She doesn't deal with the problems I deal with" And I DO care about them and it's becoming a hinderance to my ministry work. I hope you can understand this decision.
December 2020 – $171,878; (traffic: 12,408 sessions; 59,150 pageviews; 49.69% bounce rate; 2.57 mins average session duration)
Income Breakdown: $33,745 from second Shopify store and $138,133 from main shop.
Around December 5, I started shutting Facebook ads off and by December 11, absolutely everything was shut off and I had officially stopped running ads. There were so many things I didn't like about Facebooks ads and I don't feel it's right for my business, nor does God want me to participate in them or encourage others to participate in them either (a lot of people follow me, so I have to be very careful what I promote all the more; for more info. about why I decided this, see Oct 2020).
I feel like the specific system that I have developed for my shop where I grow organically, through giving something free away at the initial "meeting" and focusing on serving others, not selling to them, is a far better system WHEN you do it right.
MOST people do it wrong, but if done right, it is the best route to go. Yes, it grows slower than something like Facebook ads, but with Facebook ads, you're not building the solid foundation that you would if built organically.
After all is said and done, after all the testings' I did over the past few months, I can categorically say that building a business organically is STILL the BEST way to go, period.
November 2020 – $424,915 (traffic: 14,464 sessions; 78,684 pageviews; 55.19% bounce rate; 2.33 mins average session duration)
Income Breakdown: $11,910 from second Shopify store and $413,005 from main shop.
This month, I opened up a secondary store in the latter part of the month and started running Facebook ads to it on November 25. I tested out the checkout of Kajabi vs. Shopify and hands down Shopify won that battle by FAR!
Shopify converts over every checkout system I've tested/tried (through personal testing and through friend's and coaching client's accounts) and I really do love their shop platform.
October 2020 – $1,028,385 (traffic: 21,676 sessions; 97,939 pageviews; 52.80% bounce rate; 2.51 mins average session duration)
This month, on October 6, 2020, I started Facebook ads. In my first month on Facebook ads (running from October 6-November 5), I made $26,410 in sales.
Please note: this is NOT counting the people coming in and purchasing anything ELSE in my store (which is not something we can really calculate). This is just SOLELY how much I've made on the two products through Facebook ads that I have the ads running for.
Very quickly into it, I didn't feel like God was behind it, but I thought it was just me. Maybe I'm wrong. Why wouldn't God want me to do this. So I kept on doing Facebook ads, wondering if it was His will or not and praying He would show me the way.
In December, I knew for SURE that this was NOT at all His will for me or my business and so I stopped. I walked away from a lot of money, but I also saw a LOT of EVILNESS behind Facebook ads.
I watched as my Facebook ads started doing so well that Facebook started to pull back on my profits. When I hit over 4x conversion, they did some things on the backend (who knows what) to put me back. I watched as they took my account slow and didn't let me spend a lot. They were watching ME to make sure I didn't make TOO much money and that they would get a considerable amount of my profits money. I personally feel like Facebook ads are a scam.
They will allow you to make money but they are going to take as much as humanly possible from you in order to make you money. And who wouldn't play into it?
If I give you $2 and I say to you, "I will give you this $2 but you have to pay me $1.35 of it, do we have ourselves a deal?" Who wouldn't do that, right? I mean, in OUR minds, we are still making 65¢. And if they give us $100, that means we get $32.50. So you see, in order for US to make REAL money, you have to spend a good $1k/DAY into ads. That's $30k/month and many of the top bloggers are paying $1 million/year into ads!
Facebook is taking sooooo much money of those sales. They are absolutely greedy and only all about money. I think that God didn't want me to participate in such an evil scheme.
I'm not saying that Facebook ads are wrong and that you shouldn't do them, but I do know that God's plan for ME and this blog doesn't seem to include participating in the evil scheme. I walked away from $5 million dollars/year projected (I was on track with others my Facebook ads manager is running and have no doubt I would have made it there within 9-12 months). But I can't do it. I can't participate in it. God will not have it and I need to run my business according to Him and HIS will, not mine or the worlds.
September 2020 – $1,010,932 (traffic: 19,620 sessions; 112,848 pageviews; 42.38% bounce rate; 3.20 mins average session duration)
Last month we went into depth about some of my monthly and yearly business expenses. This month, I wanted to tackle exactly how I cut down on expenses yearly. It's something I do every single year to determine my yearly goals plan as well as cut expenses of things that don't have a good ROI.
The first step for me is to write down the project/task, then how much it'll move the needle (grow my business (traffic/income)), and what's required.
I put onto a spreadsheet (pencil/paper) all the projects and tasks I'm thinking about doing for the year. If it won't move the needle enough or if too much is required (too much time/money to complete), I cross it completely off my list.
You really have to take a considerable amount of time thinking through each step, but I feel like this is one of the highest reasons people feel overwhelmed in their business. There's no lead. They don't have an end goal. They hear something, see something, think it "sounds good" and then go off to do it without stacking it up to other possibilities. Each quarter, I'm adding and taking away things from my spreadsheet. I'm re-ordering them. Things change. Opportunities change through the year. Usually the first 6 months is fine, but after that, things tend to change for me considerably.
I won't go through every single thing on my list, but I WILL share the one I'm working on now (I'll type it up so it's all neat and prettified for you). 🙂

So if you look at things, here's what I've decided to do and please note that there's NO right/wrong answer for this. It is all about what's most important to YOU! Your goals will be different than mine and that's okay. My aim is to teach you how to do this so that you can grow faster because when I started implementing this in my business, I started growing at RAPID speeds and crushing all my goals. I want that same thing for YOU! <3 <3 <3
The first thing I did is go in and do the license for teachers in blog posts task. That will lead me to eventually 50k/month or MORE in traffic and so changing that up for me (making my license on printables blog posts) was the most important.
That's done. That was most important. For the start Pinterest ads, it seemed like the worst of all of it. If I spend $1k, I can get 2k clicks/month. That doesn't seem that great so honestly, I crossed that one completely off my list. I'll do it when this list is completely done or not at all, just depends. But there are other things way more important in my biz to do right now.
The next most important thing is the payment plan for bigger courses. So that's what I'll attempt to work on next. 25% increase in my course sales would be amazing! Right now, in this post, you're only seeing my Shopify income. You're not seeing my courses income or any of my blogging income. While Shopify does account for a majority of my income, there's still other, really fantastic things… including courses.
Courses for me, in 2020, made me $816,809.78. That means if I can get an additional 25% in course income by adding a payment plan, we're looking at something like $200k+! If I can spend a week on getting payment plans set up, that week of my working is worth $200k. Heck yah. That's at the top of the totem pole there for SURE! So that's next. 🙂
After that, in order of importance, I have #3 at the Tools link in nav bar task. I was recently asked what tools I use and love and so I need to make sure I have an affiliate page set up with all the tools (ConvertKit, Kajabi, etc.), get those links in there and on my site to add to my revenue. As my traffic will grow from the teachers licensing above, I'll make more with that page, so that is next.
#4 is all the 100 blog posts. Those will raise my traffic about 3k clicks/month, so total is about 12k clicks/month. That's a good amount. Much more than the Pinterest ads option!
I won't go through all of them, but you can start to see what's most important for your business. Before I start any big task like that, I run it through this filter and I make sure it's BETA'd, meaning, my audience wants it. I do not do ANY… repeat N…E…tasks without going through those two processes. They will grow your business faster than anything else.
Some people say, "Go for the low hanging fruit". Forget it. Do this method. You'll gain a lot more momentum and grow faster doing it this way! 🙂
August 2020 – $418,024 (traffic: 13,808 sessions; 70,228 pageviews; 45.91% bounce rate; 3.06 mins average session duration)
Running an online business can get SUPER expensive if you're not careful. Thankfully, when I first became a Christian, God personally taught me saving money. That was the very first thing He taught me all those years ago and even now that I make so much money online, I'm still always looking for ways to reduce costs.
Every quarter(ish), I'm looking at things, going over bills and seeing if there's anything I can cut. Monthly fees are not something I enjoy paying and so I will often, for example, set up something with a technician and pay a small one-time cost, rather than get a Shopify app that's $10/month. Because in the long run, it's a lot cheaper. There ARE places I splurge in my business, but that's okay, because I'm grounded and balanced in my spending.
I DO tend to pay for the BEST tools because I have learned over the years that we are only as good as our tools. I learned this lesson with my email list many, MANY years back. I was with MadMimi and their stats were not as great as ConvertKit's were. Once I switched, I saw a massive improvement in sales, people staying on my list and it led to a ton of success because I was able to look at those stats.
I pay for the $79 Shopify plan, not the $29/month plan. Why? Because it has almost infinite, AH-MAZING reports. If I make an additional thousands and tens of thousands of dollars because of one $50/month payment, I'm going to take it. Same with Kajabi. I was with Teachable before. I lost sales because Teachable's chat support wasn't open as much as they state it will be and their email support is lackadaisical and completely worthless (in my opinion). So I got started with Kajabi and have their 24/7 support and that extra small cost each month is more than worth it.
Go for quality. Always.
While I can't list out all my expenses the whole year, I wanted to roughly go through some of the main ones to kind of give you perspective. I consider my business as a whole, so you may not have all these expenses, especially if you don't blog, but my shop is part of my business, so I'll go through some of my expenses for everything so it'll give you a bigger/better idea of things. 🙂
• Tech support – $57/month
I go through iMark Interactive and LOVE them! I'm on the Aim plan, which was cheaper when I first got on it than it is now.
• Team costs – $35,104/year
This is a fail for me personally and the BIGGEST area I see as a need for improvement in 2021. Last year (2019), I spent $20,659 in team costs and this year, I almost doubled that spending amount! It's now $35,104 in 2020. Ugh!
I see this and am making a few changes to get that total down a bit. I'm looking at some projects that I had done and some I'm planning on working on in the future that do NOT have a good ROI (return on investment) and am making some cuts on those projects (not doing them, finishing them myself, or not finishing them at all, etc.)
How am I determining those cuts? Let's tackle that really great question next month (September 2020). 🙂
• Facebook ads – $29,575/year
I ran ads from October 6, 2020-December 11, 2020.
• Blog hosting – $117.50/month (approx)
I got through Agathon Group. They are a Christian-based company and I'm all about supporting other believers!!!
• Education/Courses – $693/year
I don't usually purchase other people's courses. I just want to figure it out myself. I ENJOY the process of figuring things out and so many courses I've purchased in the past, never go deep enough to help. I think that's why so many people love MY courses. I go soooooo deep in them and am constantly updating them as time goes on to go even deeper. 🙂 I'm not saying courses are bad or you shouldn't buy them, but I HAVE been doing this 23 years now. I know what works for me and what doesn't and I'm led directly by God and not by others. It's a different kind of business. Each business is completely different and you definitely want to do what's best for you. 🙂
One of the courses I DID invest in this year is a Pinterest ads course. I'm hoping to look into how Pinterest ads can help my business moving forward (haven't taken the course yet, but I'll let you know how it goes). 🙂 I also bought a couple books to read that would fall into this category.
I also did go through a Pinterest course by Living Locurto that I DO recommend. Great stuff and it helped me have a greater understanding of what Pinterest wants, which was really helpful. 🙂
• Home security – $199.60/year
I pay for monitoring service and I have cameras all around the exterior of my home. I also have a ring light at my front door, so I got through three different companies for security. If one fails, I have the other two as backups basically. I don't want anything to happen where anything can get through one of the systems I have set up. Home security is something I take very seriously.
• Email service provider – $7,010.36/year
I go with ConvertKit and love them. Last year I paid $7,010.36 in email service provider costs with them. The amount you're charged is based on how many subscribers you have, so the amount goes up as you get more subscribers. I have been with them for years. I've seen other emails through coaching others and I feel like ConvertKit is the best (I've never seen inside InfusionSoft though and next year, I do want to switch to them to see how it goes). 🙂
• Leadpages – $512.44/year
I love Leadpages. My conversions went up soooo much when I got on with them. In recent tests this year, Leadpages performed better for me than Kajabi and Shopify product ads.
• Shopify – $79/month
I have the upgraded plan so I can get better reporting and love that plan!
Some other expenses I pay are:
Shopify apps (the apps I use, as well as how to set them up, are in the Million Dollar Shop® course)
Photography supplies (buying of physical items to picture or put in a background for a blog post picture, lightroom presets, design software, graphics, etc.)
Office supplies (printer paper, ink, etc.)
Kajabi (platform for courses)
Yoast SEO (helps with blog SEO – $66.75/year)
MiloTree ($99/year)
Tasty Pins ($29/year)
Adobe Illustrator (I have the 20+ apps yearly plan)
Picmonkey – $47.88/year
etc….
July 2020 – $534,753 (traffic: 16,755 sessions; 85,416 pageviews; 47.34% bounce rate; 2.59 mins average session duration)
Speaking of traffic (below in June 2020), let's go over some good traffic sources for your shop. In my Million Dollar Shop® course, I go over a ton of all of this stuff, including a lot of really great ideas, but I wanted to touch on a few of the main ones today.
Organic Traffic – Organic traffic is all the traffic that you get that is not paid for. It can come from anywhere, basically social media, direct, networking, referral, email, search engine traffic, etc. Anywhere at all and any kind of traffic that you're not paying for.
Network Marketing Traffic – This is traffic that is my #1 FAVORITE kind of traffic. This is traffic that you get by talking to people IN PERSON or ONLINE (I prefer in person). When you meet someone or something and talk to them, get to know them, you find out about them, they find out about you, etc. For me, this is the best kind of traffic, most valuable to me and my business and will always be that way.
Direct Traffic – This is traffic that basically types in your shop store URL link. Anyone manually typing in your link to go to you without first going to a search engine, etc. is direct.
SEO Traffic – SEO: Search Engine Optimization. This is traffic that someone finds you through a search engine like Google or Bing. Something like that.
Paid Traffic – This can be things like running Facebook ads, Instagram ads, Google ads, or Pinterest ads. This is my LEAST FAVORITE way of getting traffic and not something I currently do or enjoy. I feel like it attracts the WRONG people to my business and I'm not here to have a bunch of vanity metrics that cost me a lot of money to have (say, fluffing up an email list number to seem "cool"). In the end, you're paying a lot more money for those vanity metrics, so in my book, it's just unwise and stupid. I'd rather have less traffic, less email list subscribers, less fees and costs so that I can spend money where it TRULY matters, creating products and courses my customers fight with a stick to get!
Social Media Traffic – This is traffic that comes through social media…places like Facebook, Instagram, Pinterest, Twitter, Snapchat, etc.
Affiliate/Referral Traffic – This is traffic that you get when other people tell their friends about you. I don't have an affiliate program; I was never able to find a really GOOD, solid program and now my shop is just selling itself, so I don't need it. 🙂 But if you do any type of affiliate marketing, this is that kind of traffic.
Email Traffic – This is your newsletter traffic and is my main goal. At the time I'm writing this post (1/3/20), I currently have 99,376 email subscribers, none of which are vanity metrics. 🙂

One thing to note when you're starting a list. Your average open rate is super high when you first start, but as you get more and more and more in your audience, your average open rate will naturally DECREASE over time and this is totally normal. So if you see your open rate go down, as long as it's over 16% for 50k and more, it's okay. 🙂
There's definitely a LOT more ways to get traffic; again, I go over all that in the Million Dollar Shop® course. 🙂
June 2020 – $759,930 (traffic: 17,988 sessions; 103,518 pageviews; 42.31% bounce rate; 3.18 mins average session duration)
This month I wanted to talk about blog traffic. No one ever asks how much traffic you get and I think it's because it's such a highly-guarded secret (Idk?) but honestly, I'm an open book so I will be HAPPY to share my blog traffic stats over the past year! <3
Keep in mind that MOST people who buy in my Shopify store find me through my blog. My blog is my best way of getting people on my list, getting them to know and like me, know what I'm about and then I create products for them that they 1) ask me for and 2) that they need but don't know they need it. 🙂
Next month, I can give more of a breakdown of my SHOPIFY traffic and where IT comes from but this month, let's talk blog!
Because I pull my stats monthly (page 26 of my Blogging Binder that you can get here), I have all of that ready at my fingertips…
Pageviews for SarahTitus.com (includes shop and blog):
January 2020: 201,778
February 2020: 196,988
March 2020: 177,588
April 2020: 246,168
May 2020: 215,773
June 2020: 206,473
July 2020: 277,347
August 2020: 540,879
September 2020: 374,026
October 2020: 324,904
November 2020: 304,509
December 2020: 278,083
May 2020 – $567,544 (traffic: 17,214 sessions; 88,867 pageviews; 44.66% bounce rate; 3.06 mins average session duration)
Each month, I want to give you a portion of stats in my business, so that you can see how it all plays together. So what I do is I give a freebie to help others and to get them on my email list. I know that my email list are my friends and I can serve those people more than I could someone who's not on my list, because I can get to KNOW the people on my email list. When I know them, I can serve them more, so my #1 goal in my business is to get people to get on my email list. I love to serve and that's just the best way to do it that I've found.
Once they are on my list, I give them freebies each week/month to get them to STAY on my list and I talk about my life, etc. because they love that and they respond by email and then I get to talk to them/get to know them.
I also send out deals in my email so they can save money on other products (such as courses or other printables, for example).
Because people know that my email list is so important to me, one of my good friends asked me for stats regarding how many subscribers I have. So remember, when I started Shopify back in June 2017, my email subscribers was at 35,868. I only give printables as my free opt-ins at this point (usually binders, on occasion bundles) and here are the stats below each month in 2020 how much I INCREASED my email list with FREE printables:
ConvertKit Email Subscribers
January 2020: +5,273 increase
February 2020: +3,726 increase
March 2020: +4,004 increase
April 2020: +3,533 increase
May 2020: +3,417 increase
June 2020: +3,401 increase
July 2020: +3,520 increase
August 2020: +5,222 increase
September 2020: +4,599 increase
October 2020: +4,573 increase
November 2020: +3,588 increase
December 2020: +2,840 increase
If you want to know more about conversions, lemme know. If there's enough requests, I'll create some sort of training for it. 🙂
April 2020 – $692,209 (traffic: 14,482 sessions; 79,348 pageviews; 41.38% bounce rate; 3.16 mins average session duration)
Income Breakdown: $525 from secondary Shopify store and $691,684 from main shop.
It didn't take long for me to have to close my second shop down. I shut it off on April 8. So, I made $565 in those 19 days I had it open. That's about $30/day-ish and not really making a whole lot for me (that's only about $900/month). I'm used to way more income and so when people tried to sell my personal license stuff as commercial license, I shut it down before I even tried too hard to market it, etc. It was tough for me, but I knew I had to protect my other shop and so that's the move I made. I feel like it was a good move that I had to make.
March 2020 – $996,483 (traffic: 15,226 sessions; 78,920 pageviews; 40.26% bounce rate; 3.03 mins average session duration)
Income Breakdown: $40 from secondary Shopify store and $996,443 from main shop. I started a new Shopify store as a test and got my first sale on March 21. I was selling printables that people could purchase and resell. When I opened it, it was doing okay. Not the BEST stats in the world, but I feel like I was building a foundation people would love.
The PROBLEM IS that I was attracting people who wanted to scam me. They went from my other shop to my MAIN shop and tried to purchase all my binders to resell. One made it through, the other got kicked out by a technicality on their order, thankfully.
I knew it was a scam and so I didn't feel comfortable leaving a commercial license rights store open under my name because they would try to use my personal rights ONLY shop (my main shop) as commercial too and that would ruin me if people were doing that.
So I had to shut the store down pretty quickly as I'll show you next month.
February 2020 – $473,314 (traffic: 13,881 sessions; 75,848 pageviews; 49.49% bounce rate; 3.07 mins average session duration)
Someone asked me what my stats are regarding new to repeat customers on Shopify. It's such a hard question to tackle because you really want a good balance of BOTH. You WANT people to come to you that are repeat customers because that means you're doing your job well. It means they love your product, your pricing is on point. It means the site is easy to order from, it means they had a great experience and so repeat customers are the best you can get because they love your stuff, know your stuff, trust you to create more good stuff.
HOWEVER, I tended to focus more on repeat customers this entire year, and I DO feel like that hurt my business a lot.
I was focusing on attracting my previous customers, etc. and I wasn't focusing so much on marketing to NEW people. Fresh blood. And I feel like that hurt me. While I LOVE my email list and selling to people who already know and like me, without fresh blood in your business, you can slowly die.
What happens when those repeat customers have all they need? You can't create anything more. Or what happens when they are not as excited about your products that they were when they first got them. Over the years, the excitement dwindles. And so to stay modern and relevant, you really NEED those new customers. My plan to get new customers, was to do Facebook ads, which I ended up realizing it wasn't right for my business and stopped them (you can see more about that in Nov/Dec months).
All in all, you need a really good balance. You need those repeat customers to provide your bread and butter, so to speak, but you also need fresh blood in there for the excitement (they tell their friends, etc.) and to help you grow more.
My stats for the entire year with new visitors to the site vs. returning are below: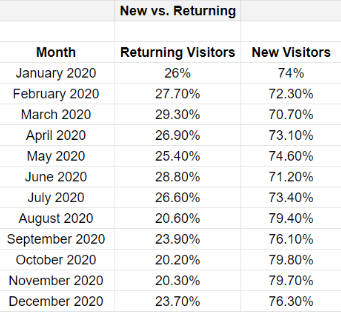 One thing I noticed when pulling these stats, for October, November, and December I ran Facebook ads and I don't notice that much of a difference there in the stats for those months.
January 2020 – $516,103 (traffic: 19,349 sessions; 117,169 pageviews; 43.48% bounce rate; 2.58 mins average session duration)
This month I hit 100,000 sales in my Shopify store, so I'm SUPER excited about that. 🙂 I wanted to break the income down by category so that you can see which TYPES of things sell the best for me.
Revenue by category (for January):
Wall art – $360,945
Binders – $125,394
Stickers – $21,056
Kids educational – $7,867
Coloring sheets – $200
Misc. – $641
Wall art and binders do pretty good for me. Another thing that does REALLY good is bundles and so I plan to add some more bundles to the shop soon. This month I'm working on a budgeting/saving money bundle that will go LIVE here pretty soon. 🙂 The reason I want to create a saving money bundle is because I pulled a heatmap on my blog this month and one of the top three things people are interested in (clicking) on my site is saving money, so it makes perfect sense to sell saving money stuff. 🙂 The other two things they are clicking is, of course, printables and Shopify, with printables being #1 and saving money being #2. Shopify comes in at #3. Having a blog really helps me know what they want in my store and is a great traffic generator TO my store as well!
December 2019 – $189,618 (traffic: 14,929 sessions; 70,301 pageviews; 46.23% bounce rate; 2.45 mins average session duration)
Please note that because I am doing courses now (beginning in Nov 2018), for all of 2019, I'm not focusing on the shop at all to build it because it's more passive and courses help people, so that's more where my heart is. Anything I've made or haven't made in the shop this entire year was a result of me NOT working Shopify! I ran it in 2019 completely passive.
Moving forward in 2020, I want to start paying for advertising (Facebook ads), probably second or third quarter of 2020, so we'll see how that goes. 🙂 Up till now, I still don't pay for any advertising for my shop.
I don't usually pin directly to my store, I'll write up a blog post and pin that instead and that seems to work better for me at this time (it's more engaging; people trust a free blog more than a store that makes money for their first "handshake" with you). I also don't spend time promoting my store on social media. I have YouTube videos of most of my binders embedded within my product ads, but even that I don't promote on social media, I still DO get traffic from it, which is nice. 🙂
This month I got 1,039 sessions from Pinterest, 162 sessions from Facebook, and 12 sessions from YouTube.
Someone also asked how much traffic I get from my actual blog (not store). On the blog (SarahTitus.com) this month (not counting Shopify traffic), I got 189,067 pageviews. Here's the thing…you don't NEED a ton of traffic to make a killing in income. You NEED good, quality conversions. In 2020, I plan to teach about conversions and how to get more. Because listen, if you focus on getting more traffic, that's find and dandy, but the more traffic you get, the more FEES you'll pay (newsletter costs, blog hosting resources, etc.) but you don't have to pay extra for conversions. This is a way I save money in expenses on my blog. 🙂
November 2019 – $195,869 (traffic: 13,217 sessions; 57,439 pageviews; 47.53% bounce rate; 2.39 mins average session duration)
I've been asked what my TOTAL income is, not JUST Shopify. To be clear, again, these reports are JUST my Shopify income and I have several eggs in my basket. 🙂 I wanted to give you a breakdown of kind of what I'm looking at, at this point in time.
For November 2019, I made $365,660.90 total (there might be several hundred in misc. income that's not counted, I'm just adding up the main stuff here to give an overall idea).
How that's broken out is…
$195,869 Shopify (printables store)
$165,540 Teachable (courses)
$2,870.40 Ads (blog)
$365.29 Affiliate Marketing (blog)
$1,016.21 Misc. Income (ebay, network marketing, etc.)
October 2019 – $175,229 (traffic: 11,380 sessions; 49,701 pageviews; 45.66% bounce rate; 2.32 mins average session duration)
This month I gave out my new Undated Daily Planner. Seeings how my regular Daily Planner sells a ton (both sales and freebies to help build my email list), I decided to include an undated version that is not year-specific on 10/23/19.
It was very well received! The first 7 days of its release, it got 2,016 clicks from the email I sent out. 1,344 of those people downloaded the item (a 66.67% conversion), and 33 people left reviews saying they loved it. 🙂
By 11/14/19, it already had 1,905 downloads on it and 39 reviews, a really great start to a new product.
September 2019 – $200,765 (traffic: 12,900 sessions; 55,503 pageviews; 48.28% bounce rate; 2.30 mins average session duration)
This month I released my Coloring Journal. It did REALLY well! Within its first 12 days being officially released (I sometimes release products to my Facebook group(s) first as was this case), but just from the official newsletter email, it got 1,093 clicks and 1,044 people downloaded it from that email within a 12 day span. That's a 95.51% conversion rate!
I think that the reason it did so well is because it's similar to a daily planner. Again, knowing my Daily Planner does so well, I created another product that is SIMILAR to it, but not EXACTLY LIKE IT. It's not a Daily Planner, it's a coloring JOURNAL. But it does have a lot of the same elements that my Daily Planner has BUT it's colorable.
My Daily Planners are not colorable, so it adds an added feature, knowing that my audience loves to color and specifically loves MY coloring sheets. 🙂 Within the binder there are stickers, planner sheets, to do lists, calendars, gratitude prompts (another thing I know that does well for me), journal pages (dated and undated options), tons of coloring pages, and some monogram wall art sets that are colorable.
ALLLLLLL these products SEPARATELY do well for me. So putting them all together in one binder, with lots of variation really helped. If I would have just created a binder with just lined pages and a cover, it wouldn't have done well. But because it has so many other different things in it, types of printables that are popular for me, I think it did really well.
Coloring pages in my shop are a huge money maker for me, so I DO create some binders that are colorable because of it. Keep in mind that whatever is popular on a small scale for you, will be popular on a large one too. 🙂
August 2019 – $262,101 (traffic: 15,060 sessions; 67,595 pageviews; 46.51% bounce rate; 2.30 mins average session duration)
This was a really great traffic month for completely passive income!
My top four selling products this month (based on profits, not number of sales) were:
Notice that my Christian stuff is selling well. I notice that for coloring sheets too, my Christian coloring sheets sell better than anything else. I think that maybe there's not a lot of Christian printables out there (?) and so, what I have for faith does pretty well for me. You could also try adding those things to your store and see if they sell good for you as well. 🙂
July 2019 – $154,320 (traffic: 10,665 sessions; 43,759 pageviews; 48.80% bounce rate; 2.17 mins average session duration)
One of my friends asked for a breakdown of sales by day. I think it's great to see day by day progress so this month I'll share my daily income totals:
July 1: $159 (not sure why that day is so terribly low)
July 2: $3,406
July 3: $61,743 (newsletter day)
July 4: $13,742 (sent a newsletter, non-store related)
July 5: $6,327
July 6: $3,602
July 7: $2,650
July 8: $2,907
July 9: $2,521
July 10: $10,318 (newsletter day)
July 11: $3,466
July 12: $1,677
July 13: $1,071
July 14: $2,045
July 15: $1,821
July 16: $1,428
July 17: $6,221 (newsletter day)
July 18: $2,952
July 19: $1,767
July 20: $1,425
July 21: $1,311
July 22: $1,653
July 23: $1,767
July 24: $1,587 (newsletter day)
July 25: $1,730
July 26: $1,870
July 27: $3,364
July 28: $2,338
July 29: $2,097
July 30: $2,565
July 31: $2,790 (newsletter day)
June 2019 – $42,380 (traffic: 4,993 sessions; 13,872 pageviews; 59.45% bounce rate; 1.50 mins average session duration)
This was a REALLY low month for me. Summers are always my slower seasons because so many people are spending time with family, their kids are home so things are more hectic, and they are oftentimes, taking vacations. It'll pick back up next month, but when I started blogging a few years back, I never, in my wildest dreams, imagined I could ever make $42,000 passively in ONE month on ONE platform! Wow. It truly is a blessing. <3
May 2019 – $207,252 (traffic: 11,869 sessions; 41,053 pageviews; 52.92% bounce rate; 2.17 mins average session duration)
I have a SUPER HIGH return customer rate. This month, it was 64.99% and it hangs around 50%-65% usually. Sometimes it dips, but it's pretty stable. This is because the main way I promote my store is through my email list.
My way of selling is pretty unique. I don't focus on sales. All I do is focus on getting someone to take a free thing that I create that is of high value, so I stand apart from my peers. If I can get them to take a freebie, they get on my list, then it just becomes about them getting to know me, me getting to know them, and most importantly, being engaged with them in order to meet their needs.
Meeting people's NEEDS is the #1 way to actually MAKE money! Just focusing on getting them in your inner circle, then find out what they need… create it, and they are sure to buy! It's not salesy at all. You're just focusing on getting someone to take a freebie, then asking them what they want.
April 2019 – $1,871,074 (traffic: 18,389 sessions; 61,398 pageviews; 48.51% bounce rate; 2.01 mins average session duration)
I hit on a REALLY massively huge nerve this month and I plan to go back to this nerve and do it every month once all my courses are set up (it'll take me about a year to get there), but the good thing is, I know EXACTLY what to do to make a stinkin' FORTUNE with Shopify (!!!), I just have to get all my courses work done (which is asked of me by God to do these courses, so I have to do it and it's the first priority). 🙂
With this new strategy in place, I suspect I can make $26M/year projected in my Shopify store, so we'll see (it'll take LOTS of testing, but I think I can replicate it on an on-going basis). It'll take me a good year to year and a half to finish up what God has asked me to specifically do before I can get back to it and test it all out. That'll give me time to adjust to the increase in income emotionally. I don't want to become some haughty jerk because I make a boatload of money, so I want to ease into it when I get there. I've found that making a lot of money is more of an emotional journey than anything else. My goal is to always remain humble and stick close to my roots and serving others. <3
March 2019 – $191,670 (traffic: 11,490 sessions; 37,806 pageviews; 55.40% bounce rate; 2.07 mins average session duration)
This month, the biggest draw to my store was my free Easter Binder. Usually I share a brand new binder with my audience, but this month, I shared an older one that does well for me, which I do a couple times a year just to give myself a little break. 🙂
Between 3/26/19-5/22/19, it received 4,261 clicks, 2,165 downloads, and 88 new reviews. The reviews conversion rate ends up being a hair over 4%. This is totally sucking and due to my going with a new company. I plan on switching to a new reviews app just as soon as I get my courses done and can swing back over to work in my store, but I hate the reviews app because the conversions plummeted since I switched. My previous one got me on average between 11%-19% if memory serves. I know it was really high. Just a massive difference. To note, the average reviews conversion rate is 7% for people.
I go through Judge.me and I don't recommend it if you want high conversions. It's free (and cheap for the paid plan), but you get what you pay for! 🙁
For download conversions, it's 50.80%, which is around right on track. Usually my conversion rate is between 60%-80% on average. Sometimes it's been in the 90's! 🙂 Sometimes, it's a little lower, but my conversions for downloads are always super high.
February 2019 – $81,640 (traffic: 8,615 sessions; 26,146 pageviews; 56.62% bounce rate; 2.00 mins average session duration)
This month was a pretty low month for me. My free binder of the month was my Conversation Starters Binder. I worked really hard on the binder and it did pretty well for me (it has made $57,051 since it's release on 2/12/19 through 01/13/20), but it's not one of my best selling binders. In fact, it doesn't generate a lot of income at all.
I think the reason it doesn't do as well as others is because it's not my normal girly colors. It's a blue-ish color. I tried to make it neutral with the intention that boys would be using it too (with their wives) and I think that I made a major miss on it. I think sticking to my normal branding of girly colors is best for me and this was a great lesson to do so. I didn't LIKE the design of the binder (because it's not girly) and so maybe it's harder to sell (a mind thing).
Another reason is because I think that someone can easily look up conversation questions online. Why pay for it? $57 for a binder is a pretty steep price, even if there's a sale, for something you CAN get free. Of course, a lot of research went into this product, but still. With that said, I have to keep my binder pricing in line with each other and can't just give this one for like $7. So that is the downside when pricing. They all have to play well with each other so each binder better be a home run and worth the costly price tag and I don't think this one was.
The last reason I think it doesn't do as well is because my audience is mostly moms. Moms who are married, don't seem to feel the need to get to know their spouses. It's usually more of a dating thing. I really WISH that more women WOULD take the time for date night and spend time getting to know their husbands. I think NOT doing it, is a huge shame. But moms are so busy trying to carry everything and especially if they've been married for a really long time, I get it. It didn't line up with my target audience. It's another great lesson to always create things for who you are serving.
January 2019 – $188,848 (traffic: 15,291 sessions; 52,317 pageviews; 54.14% bounce rate; 2.16 mins average session duration)
Please note that because I am doing courses now (beginning in Nov 2018), for all of 2019, I'm not focusing on the shop at all to build it because it's more passive and courses help people, so that's more where my heart is. Anything I've made or haven't made in the shop in 2019 beginning now and moving forward, is a result of me NOT working Shopify! I will run it in 2019 completely PASSIVE and focus on courses.
Also, I want to note that starting NOW, my SHOPIFY income will be going DOWN! Because of what I mentioned above but also because I took out ALL my BUNDLES off Shopify. Bundles are 60% of my Shopify income and am moving the bundles over to Teachable (as courses) (now Kajabi), updating them, doubling the size of them, etc. and charging more.
It'll take me 1.5-2 YEARS to get all my bundles from Shopify to Teachable (now Kajabi), so there's a window there where I will make less OVERALL, but as a business owner, for ME, this is a good, strategic move to make because I will make MORE with a course on Teachable (now Kajabi) than a book bundle on Shopify per sale and I ALWAYS look at conversions the most. Courses make more money than bundles. So the TYPE of product you sell is very important.
That major change led to less sales this month and I'm not sure EXACTLY how it'll affect my income moving forward, but 60% is gone so it'll be less (but again, I'll make more on Teachable (now Kajabi) with courses per sale and I'll add a bunch of other courses to Teachable (now Kajabi) too that were never bundles on Shopify too). 🙂
December 2018 – $433,188 (traffic: 18,252 sessions)
Because I started going full-on into course creating mode (teaching you all about how to build a successful, winning store on your own, what to sell, and how to sell it, I didn't have enough time to create FULL posts for income anymore. Also, I found that creating full income report posts weren't needed because 1) my income is very established now and 2) a lot of the income reports posts are now becoming redundant.
Secondly, Google SEO changed and it's better to create one BIG post instead of a series of posts all linking to each other now. Those are some of the reasons I stopped posting full blog posts on Shopify income. I'll continue to update this page with my stats though and keep that going. 🙂
November 2018 – $343,344 (traffic: 13,793 sessions)
I'm creating a course this month, and it's fun because my BETA testers are basically telling me exactly what I need to teach them and I love the open communication and getting to know them more! <3 I also have some free stock photos for you, and a free printable too. Plus, I share my 5 biggest lessons I've learned this year!
October 2018 – $272,074 (traffic: 15,914 sessions)
You might be surprised to know there are a lot of things I HATE about selling online. This month I answer some reader questions which makes this post sooooo valuable!
Questions addressed in this post are:
What is the most important thing to do when starting your own Shopify?
I would love to learn how you setup the email funnel after a sale.
Will I need to buy ads?
With my blog I struggle to get enough traffic to make affiliate marketing and any kind of advertising work. So, it seems that you would have the same issues with a Shopify Store…?
How do you balance out your life and make money?
Can I set up a successful store with only a few (currently 3) products?
How do you make it clear from the get go that your items are unique and worth the buy?
How does Shopify compare to other online shopping platforms such as Etsy, Ebay, etc.?
Does Shopify allow sellers to market their MLM e-commerce items on their Shopify store? I sell Plexus and would love to know if I could utilize Shopify to share my link.
Where do you get your photos?
What have you found to be the best copy to write for your products? Is it short and just the facts? Answering a problem or meeting a pain point? Is this information put into the description itself on Shopify or is it put on a sales page on the blog.
What is the best converting copy for marketing your products?
How much of your sales come from advertising on Pinterest?
Does this format give you the ability to work more effectively, but less hours and provide a sustainable income?
I already have a blog so I just started a WooCommerce shop. (It hasn't actually made any sales yet though). WooCommerce lets me "sell" affiliate products, does Shopify?
How do I build a loyal audience that likes to hear what I have to say or what I have to offer them?
Do you have to have your own products to have a Shopify store or can you do drop shipping? Which is better?
What is the best way to advertise and get your name out to potential customers?
How do I run ads on a Shopify store?
What skills or background did you have to help you start out?
Can Shopify help someone with a zero mailing list and low page views?
How do you come up with the ideas?
Do you have to know a lot about technical computer programs to make Shopify work? I am not very computer savvy, but would love to be able to work Shopify.
Is this truly for everyone and can this be used for any theme?
Why is Shopify better than alternatives- what makes it stand out from others like Woocommerce etc?
September 2018 – $242,113 (traffic: 13,610 sessions)
This month is about where my traffic for Shopify comes from. I also show you a DAILY income breakdown for my printables store, what my business expenses are, and what income source pays my mortgage!
August 2018 – 321,206 (traffic: 22,119 sessions)
This month, find out what my FAVORITE part of analytics are, and what tells me EXACTLY what to create more of in my store? Also, this ONE bundle made over $52,000 this month; find out which one!
July 2018 – $474,653 (traffic: 14,481 sessions)
I stopped working 80-120 hours a week, thank the Lord! Let me show you how I make passive income with Shopify now!
June 2018 – $138,945 (traffic: 10,920 sessions)
I had 2 new binders out this month and one was completely FREE! Interested in what the key is to selling products successfully, and how I give back to other bloggers? Find out in this month's income report.
May 2018 – $133,031.80 (traffic: 16,861 sessions)
This month I tried out "pay what you want," and you may be surprised at the results! Also, one of my binders hit Google's first page search results…guess which one? Plus, find out how many sales came from ONE email pitch.
April 2018 – $129,541 (traffic: 17,074 sessions)
Want to know when and why you should release new products for FREE? Keep reading! I also shared my #1 marketing focus in this month's income report!
March 2018 – $137,522 (traffic: 20,691 sessions)
In addition to releasing TWO new binders this month, I also give you a little background of the team process for creating each binder!
February 2018 – $152,217 (traffic: 15,256 sessions)
A romantic system came out this month and was quite popular! But not all new types of products I launch are always hits. Find out which one wasn't in this month's income report.
January 2018 – $229,871 (Shopify part for income and traffic: 20,939 sessions)
In ONE day this month I made $40,354, but I'll never forget how it all started. I share how I used to live on $18k a year, what my business expenses with a blog and store are, and my picks for social media helpers and affiliate programs.
December 2017 – $254,090 (traffic: 13,525 sessions)
I love coloring sheets – see what my three most popular coloring sheets were this month, and how much time they take to produce. Find out my hourly work at home rate and of course, my top 5 products for the month.
November 2017 – $133,676 (traffic: 13,298 sessions)
This month is my 6 month stats of having my Shopify store! I also have another blogging bundle, and another new type of product. See how they did, and check out my top 5 products of the month!
October 2017 – $124,036 (traffic: 15,036 sessions)
One of my new binders makes me $2,000 every month, and the other new binder has a conversion rate of 60.48%! Wonder what they are? Click this income report find out!
September 2017 – $251,276 (traffic: 10,026 sessions)
Wanna know the key to the new Financial Freedom Bundle selling so well? I spill the beans in this month's income report!
August 2017 – $40,917 (traffic: 12,021 sessions)
Find out what course I purchased that "changed everything for me, and to date, it is my #1 course I've ever purchased." I tell you exactly what 3 things I learned from it that are amazingly beneficial and how it helped me take my business to the next level.
July 2017 – $69,707 (Shopify part for income and traffic: 8,153 sessions)
This month, I share a little more about what I make, not only in my Shopify store, but also on the blog! Check it out!
June 2017 – $52,060 (traffic: 7,233 sessions)
You'd be amazed at how my Shopify store experience all started. See the shocking thing that happened on day 13 of "opening" my store! Have you ever heard of a 91% conversion rate? See all the details of my very first month on Shopify!