Wanna get my 60+ page Shopify Binder free? Click here to access it. Wanna start your own Shopify store? Click here to get 14-days free!
I had no clue that when I started my store June 1, 2017, I would make $52,060 that very first month and hit 6 figures/month within just a few short months.
But pretty soon I knew I was onto something….something bigger than I had ever imagined.
My Shopify store paved the way to my path of making 7 figures/year online, consistently, but it's not about the money for me.
It's about proving the world wrong!
It's about doing something I love and creating the lifestyle I want to have, regardless of what anyone else thinks or says.
It's about being home with my kids, my family, and making a better life for them.
14 years, I was married. My ex-husband went off and started having a bunch of affairs and got a few other girls pregnant. He just up and abandoned us one day. I woke up and he was gone. It was a tragedy. I had been a stay-at-home-mom all of my kids lives. I had no income. No means to support myself. No child support, he was just gone without a trace. With no family to help me out, me and our two little ones ended up in a homeless shelter.
Everyone told me to get a job outside the home, including the judge in my divorce, but I stood my ground. I said, "NO!" I refused to leave my kids. Month by month, year by year, I worked from home and figured out a way.
I felt called by God to start a blog and obeyed that conviction. My blog did very well right from the start. I grew a platform and have been doing what I love ever since.
Things change over time, we change and grow and I simply wanted a place to put my new Blogging Binder to sell. I tried a couple other options and they didn't work well, meaning, they didn't get good sales. When I put my Blogging Binder on Shopify, the thing started selling like hotcakes! Something about THAT platform, just WORKED!
I added another product and another and another. To this day, I have 74 products in the store and plan on listing a ton more as time goes on.
While my income is fantastic and I get to do something I'm REALLY passionate about (printables), I've been creating income reports for my Shopify store mostly because I want to track my OWN progress.
So often, we simply forget the successes and failures of the past and need to look at the data to see patterns to help us grow.
Having that in-depth information handy for my own future reference as well as to help YOU know what works and what doesn't, so you start out already ahead of the game, is so incredibly valuable.
I hope you'll join me in this journey. I hope that you'll enjoy seeing not only my successes, but also my failures, and how I jump those hurdles all along the way.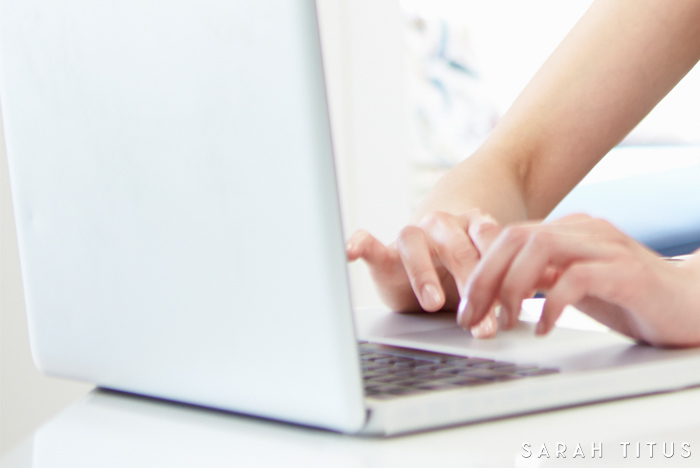 Shopify Store Income Reports
*please note all traffic is counted as sessions, not pageviews.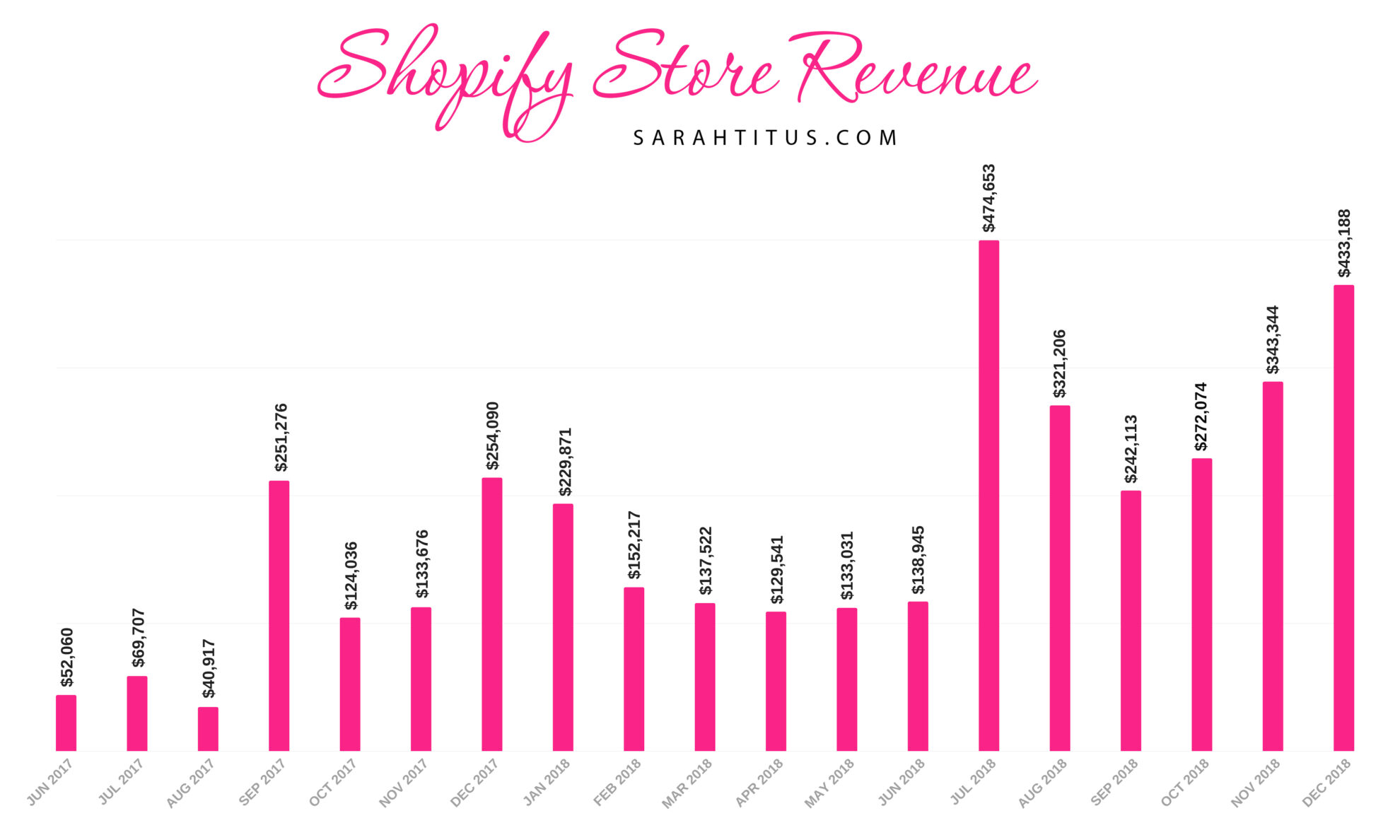 December 2018 – $433,188 (traffic: 18,252 sessions)
November 2018 – $343,344 (traffic: 13,793 sessions)
Wow, how does earning $97,000 in my first 2 weeks on Teachable happen? I did also have an epic fail for the month, if you're curious…  😛
I'm creating a course LIVE, and it's fun because my BETA testers are basically telling me exactly what I need to teach them! I also have some free stock photos for you, and a free printable too. Plus, I share my 5 biggest lessons I've learned this year!
October 2018 – $272,074 (traffic: 15,914 sessions)
You might be surprised to know there are a lot of things I HATE about selling online. This month I answer some reader questions and offer scholarships.
Want to know my 4 steps for building a loyal audience, or how far ahead of time I make my business plan? What about how I spend my income???
September 2018 – $242,113 (traffic: 13,610 sessions)
This month is about where my traffic for Shopify comes from, and check out a DAILY income breakdown for my printables store. This was a super busy month with a new Shopify book and a new Facebook group.
If you're curious as to what my business expenses are, and what income source pays my mortgage, I let you know!
August 2018 – 321,206 (traffic: 22,119 sessions)
If you're serious about making money, check out my Shopify Binder! Also find out what my FAVORITE part of analytics are, and what tells me EXACTLY what to create more of in my store?
Wow, one bundle of mine made over $52,000 this month, find out which one!
July 2018 – $474,653 (traffic: 14,481 sessions)
Guess what, I no longer work 120 hours a week, thank goodness. Let me show you how I make passive income with Shopify! And do you think you can't make money without an email list? Think again.
June 2018 – $138,945 (traffic: 10,920 sessions)
I had 2 new binders out this month and one was completely FREE! Interested in what I think the key is to selling products successfully, and how I give back to other bloggers? Learn about what a heatmap is and how it can drastically help your business!
May 2018 – $133,031.80 (traffic: 16,861 sessions)
This month I tried out "pay what you want," and you may be surprised at the results! One of my binders hit Google's first page search results…Guess which one? Plus, find out how many sales came from ONE email pitch.
April 2018 – $129,541 (traffic: 17,074 sessions)
Why do I share my Shopify income reports? Want to know when and why to release products for FREE? I asked my readers what their favorite part of my newsletters are, and shared my #1 marketing focus.
March 2018 – $137,522 (traffic: 20,691 sessions)
In addition to releasing 2 new binders this month, I give you a little background of the team process for creating binders.
See what are my top 5 products for this month!
February 2018 – $152,217 (traffic: 15,256 sessions)
A super "romantic" system came out this month  😉  and was quite popular! But not all new types of products I launch are always hits. Find out which one wasn't.
Want to learn how I gain traction on a product, and how much the new 250+ Wall Art Bundle made in 2 days? You really do!
January 2018 – $229,871 (Shopify part for income and traffic: 20,939 sessions)
In one day this month I made $40,354, but I'll never forget how it all started. I used to live on $18,000 a year.
There are business expenses with a blog and store, I tell you what mine are, and share my picks for social media helpers and affiliate programs.
December 2017 – $254,090 (traffic: 13,525 sessions)
I love coloring sheets – see what my 3 most popular coloring sheets were this month, and how much time they take to produce. Find out my hourly work at home rate and my top 5 products for the month.
November 2017 – $133,676 (traffic: 13,298 sessions)
This month is my 6 month stats of having my Shopify store! I also have another blogging bundle, and another new type of product. See how they did, and check out my top 5 products of the month!
October 2017 – $124,036 (traffic: 15,036 sessions)
There is POWER in having your own Shopify store, and there's a free Shopify trial! One of my new binders makes me $2,000 every month, and the other new binder has a conversion rate of 60.48%! Wonder what they are?
September 2017 – $251,276 (traffic: 10,026 sessions)
Wanna know the key to the new Financial Freedom Bundle selling so well? I also share what I needed to delete in order for the Hope Binder to take off! I'm so excited about my new Fitness Planner!
August 2017 – $40,917 (traffic: 12,021 sessions)
Find out what course I purchased that "changed everything for me, and to date, it is my #1 course I've ever purchased."  I tell you exactly what 3 things I learned from it that are amazingly beneficial.
July 2017 – $69,707 (Shopify part for income and traffic: 8,153 sessions)
Do you know that I love my job? Every day, I get to go online and inspire women just like YOU all around the globe to accomplish their dreams! I spend a lot of time praying and reflecting, and although I have lots of goals, my overall goal for this blog is to help moms stay home with their kids, regardless of their income level.
June 2017 – $52,060 (traffic: 7,233 sessions)
I tend to be a very organized, think everything through type of person, so you may be amazed at how my store experience all started. See the shocking thing that happened on day 13 of "opening" my store! Have you ever heard of a 91% conversion rate? See all the details of my first month!
My Free Shopify Binder
If you are new in your store or it's not making what you want, carve out the time for it. I created a brand new Shopify Binder that you can check out here. It's all the tips and tricks that I'm using to crush it in my store and it goes into massive depth of all the ins and outs of what to do, all step by step. I hope you check it out and I hope your store flies!
Ready to start up your OWN Shopify store?
Click here and you can get a 14 day trial FREE! It just might be the best move you ever make. It certainly was for me!