See my Million Dollar Shop® courses here.
Recently, I had the opportunity to start up a BigCommerce store. I've been going through Shopify for a little over a year now. Last year I was looking for a way to up my game with my online printables shop.
After setting up ALL my products on BigCommerce, a long and tedious task I assure you, as I currently have 85 products, I decided to stay with Shopify.
While I found the BigCommerce platform a little more robust than Shopify, Shopify has a couple perks that BigCommerce does NOT have, and those couples things, are VITAL to my business. Something I am not willing to give up!
As I'm getting a lot of questions about the differences between BigCommerce vs Shopify, and why I chose to stay with Shopify and what's right for them, I thought it was a great time to create a post, BigCommerce vs Shopify Reviews, to give a more in-depth answer than the one I've been giving out quickly.
Here's my complete BigCommerce vs Shopify Reviews and my experience with both companies.
BigCommerce vs Shopify
Here are the things that are important to me as a small business owner of an online shop (again, my shop currently makes over $2 million/year in revenue so this is something I take incredibly serious).
1- Customer Service
Customer service is one of THE most important things to me. If my store goes down or breaks, I want immediate help. I don't wanna wait for someone to get an email and not work weekends. I find most things go WRONG on weekends! And waiting for email customer service just sucks, let's be honest here.
Thankfully, BOTH BigCommerce and Shopify have 24/7 online chat support. So, let's talk about my experience with both their chat supports.
I talked to BigCommerce chat support a total of 5 times (my shop is relatively new- a couple months old).
I think it was more like 7 times, but I only have a record of 5 times. 3 of those customer service reps were not very knowledgeable. One was downright rude and upset me. He was basically telling me that the problem I was having was my own problem, wouldn't ask anyone else how to solve my problem, brushed me off and didn't care.
Also, anytime you start a BigCommerce chat, you have to MANUALLY enter in your shop site. It takes a minute to grab that information and enter it in, whereas Shopify automatically plugs that in for you, saving you time/hassle.
BigCommerce also makes you plug in a code, and your first and last name to even get to an agent. The form is a huge time suck, and Shopify's form is so much easier/faster to get straight to an agent without all the added unnecessary hoops.
I've talked to Shopify chat support a total of 49 times in the last 13 months. Of all those times, I've only found 2 times they were not all that helpful.
Hands down, Shopify's chat support consistently has more knowledgeable people. I've never had one person ever be rude to me.
Shopify wins on the customer service front.
2- Themes
Both companies offer freebie theme designs available which you can choose from.
Here's Shopify's freebie theme, "Simple".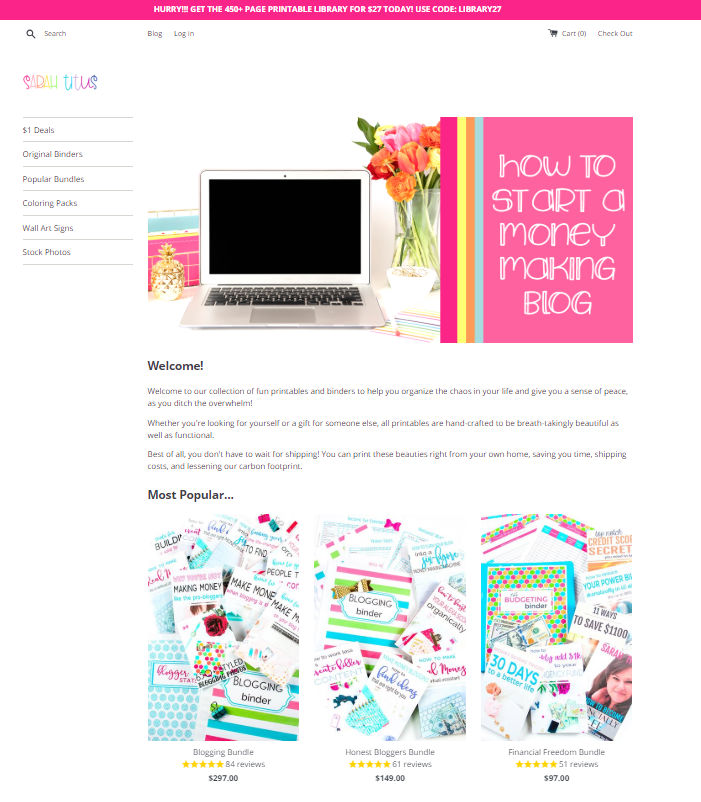 For me, it's not really my favorite theme, to be honest. I don't care for the layout. I don't feel like it's professional enough. The lines in the navigation bar on the left side look weird. However, the pink bar at the top looks good and you can click any part of the text in there, and it'll take you straight away to the promotion.
Here's BigCommerce's freebie theme, "Cornerstone".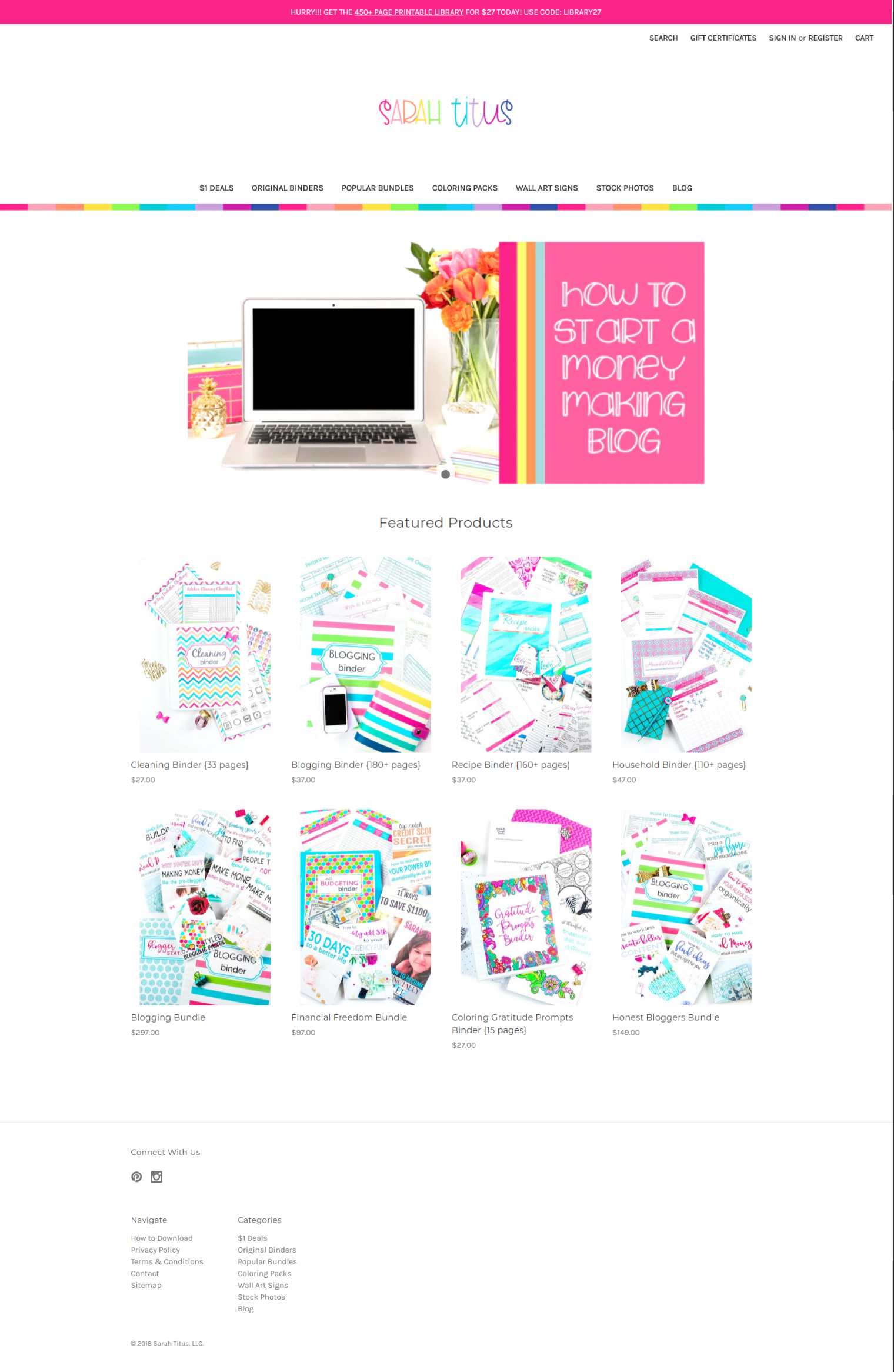 I LOVE, LOVE, LOVE the layout and professionalism of this site. I like the footer so much better with all the links in there. I like the navigation bar at the top and it just looks a lot better to me.
The downside is that in BigCommerce's theme, you HAVE TO make the pink promotion bar at the top have an underlined text in there, and those are the clickable words. This is stupid!

Look at how dumb it looks to have to underline text in that bar in order to link it. It just doesn't look good. So, there are parts of Shopify I like better (that promo bar), but I like BigCommerce's template better.
Here's a product page in Shopify: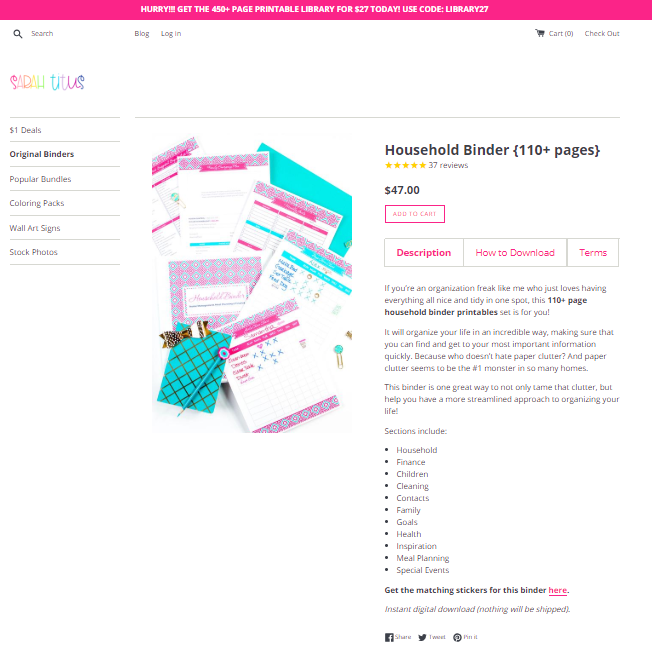 Here's a product page in BigCommerce.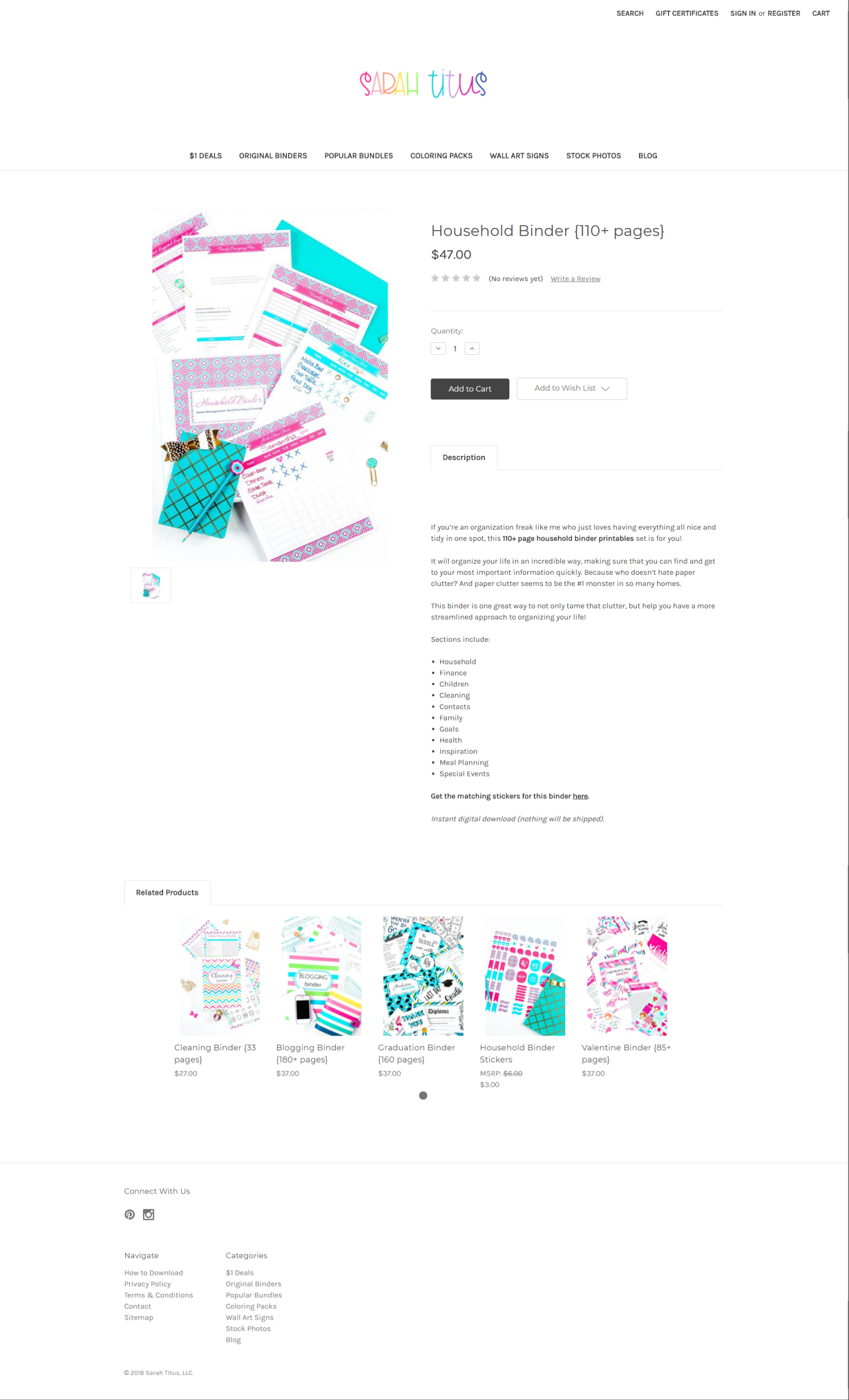 For product pages, I feel like they are pretty even, and I liked both (except for the left navigation as discussed previously).
I have also tested paid-for themes in Shopify (purchased through Envato) and hands down, the freebie theme, "Simple" by Shopify is much better and doesn't have any quirks like paid-for themes I've tried.
With all that said and my own preferences aside, in a market test, asking others which theme they preferred, 71.43% of women polled, liked the Shopify theme better. Only 28.57% of women polled, liked the BigCommerce theme better. If this is any indication of sales, I would say more people will buy from the Shopify theme store over the BigCommerce theme store.
3- Tools
BigCommerce took the cake on this one for sure. They are a more robust platform and you can tell they've done a lot of improvements to make themselves stand out.
A couple of my favorite tools that BigCommerce has built in is a 301 redirects function. This is so cool, because sometimes you WILL need to make a redirect, and the function is there. Shopify most likely has an app for that, though I haven't checked into it, but if they do, it could cost money for the app.
When looking at the analytics in Shopify, I never have a problem accessing them, however, in BigCommerce, because I have an anti-virus software program on my computer (who doesn't?!), it always pops up this error code: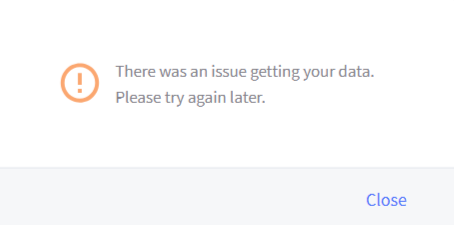 I have to literally, turn off my anti-virus protection anytime I need to access reports in BigCommerce, and I found that annoying. I talked to support, and they said there's no going around that error at this time. You may not see it, depending on your computer software, but you may, and if you do, it'll annoy you. I also found BigCommerce's analytical reports to be majorly lacking.
On Shopify's $79/month plan, you get way more details, which is super important and helpful information that you'll need later on down the line. This was one reason I couldn't switch to BigCommerce. I need those reports to make better decisions, and to keep my store running as efficient and profitable as possible.
On the pro side, BigCommerce has a live chat feature you can offer in your store, whereas with Shopify, you'd have to download an app. In BigCommerce, it's already pre-installed. I didn't try that feature out at all, but it's cool that it's there. Although, to be honest, it's pretty easy to install an app in Shopify to offer live chat, though it might cost a little bit.
BigCommerce also offers (on the comparable plan to Shopify) a "stored credit card" feature, meaning, your customer wouldn't have to input their credit card information again each time, because there's an option to save it. Whether or not, that's a pro or con, I'm not sure. If you have your numbers stored and the site gets hacked, then you have to go through the hassle of getting a new bank card. Plus, in my shop, more people pay through Paypal than entering in a debit or credit card. But, it is a nice feature to have if you are a returning customer.
Shopify has a free SSL certificate. This is really rather huge. It's great for SEO with Google, it's safer for your customers, and it's viewed as a trusted site. With BigCommerce, they only offer a free SSL certificate with their Pro plan, which is currently $249.95/month, as opposed to my $79/month with Shopify.
Staying with BigCommerce, anytime anyone goes from my blog (the one you're reading now) to my shop or vise versa, they get this error box that says something like: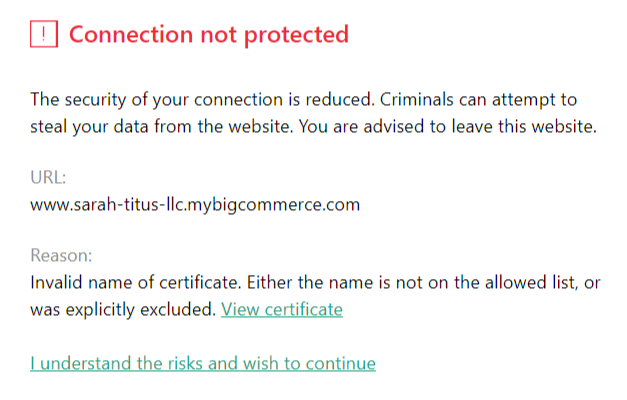 Now, let's you and me think this through.
You are a reader on my blog who wants to visit my shop and you see this, I'd be willing to bet you'd click off and not go to my store. This means I just lost a sale. If you're a customer on my store and you want to visit my blog, you'd think my blog got hacked or it's not safe. Knowing that, you'd most likely click off (I sure would) and not visit, so I just lost traffic AND you probably wouldn't come back, knowing it's not safe.
I'm not going to pay $170/month just to have a SSL certificate; that's crazy. Granted, if you have a blog, you might be able to get your SSL certificate with your host on your shop too. But there's no guarantee, and what if you can't, or your host doesn't offer it for your shop. It's even worse if your blog is on the actual store platform. Then you have no blog to cover you with a SSL certificate.
On the pro side for BigCommerce is they have the ability to hide a product within your store and Shopify currently doesn't. In BigCommerce, under "Edit a Product", then "details", at the very bottom of the page, you'll see an "Availability" section. You can choose to show the product in your store or hide it. This would come in very handy, especially if you want to hide a product but want to keep the product in your store set up. If you have reviews on your product, you don't want to delete the product and lose all of those valuable reviews, nor would you want to re-set it all up again (the ad, the digital download, etc.)
Having the ability to hide a product can be very useful. I've thought about how one big brand puts an item in the vault and it creates more sales, then they re-release it. I've thought about doing some sort of promotion like that in my store as well to create a buzz and make sales, but with Shopify I can't do that. While you can "hide" a product in Shopify, meaning, not put it in a nav bar, on your homepage, etc., if someone searches for it, they can still find it and it still shows up in the "You might also like…" section. So I can't put something in the "vault" if it's still searchable which eliminates that marketing plan. That's unfortunate, because I think it would do quite well. 🙂
4- Payments
Shopify has their own payment gateway platform they offer as WELL as Paypal. Customers can choose either/or and there are other options as well.
With BigCommerce, when I spoke to customer service, they made it sound like Shopify's payment gateway was bad, but I feel it's a plus.
See, I went through BigCommerce's vendor, Braintree by Paypal, as their payment gateway, and it was literally a massive NIGHTMARE!!!!!
It took me nearly a week to get it all set up. I have many thousands of dollars in my Paypal account and yet, had to go through this entire process of being approved manually with Braintree. Then, they kept sending error reports, error this and error that, and I had to talk to THEIR customer service just to get approved and set up. It was a huge hassle.
I never once actually went through Braintree or Paypal. I DID offer BOTH Shopify and BigCommerce sites to my customer base, and I will tell you the truth, not ONE customer ordered through BigCommerce, instead they all ordered through Shopify.
This included some of my regular customer base as well as new people to my shop who didn't know either one. I made $0 in BigCommerce in 30 days, and it was for that, and a few other reasons, I just know that BigCommerce isn't for me. See, the first month I started my SHOPIFY site, I made $52,060. Compared to $0, yeah, I'd say that's major!!!
For some unknown reason, people just trust Shopify more, and that means I make more money! It really does all come down to platform.
After all is said and done, Braintree sucks. With Shopify, it's easy to accept payments through their gateway, you don't have to wait to be manually approved or go through a bunch of hoops and errors.
5- Apps
Let's talk apps for a moment, because this is one of the main reasons, I couldn't switch to BigCommerce. Their apps are massively lacking. Shopify has 2,000+ apps, while BigCommerce only has about 600. While there were a few of my favorite apps on both platforms, many apps I have in Shopify, are NOT in BigCommerce, posing a huge problem.
See, ConvertKit, my email service provider is not integrated with BigCommerce. You have to integrate it through Zapier, and Zapier costs me $50/month more to set that up. Plus, it's learning a new system, Zapier's system. I messed it up, and had to go back and change the names because I put the name as mine, not the customers. It was difficult for me to set up, with me not having a lick of technical genius in my body.
So, just to be able to use my email service provider, it would cost me an additional $50/month. Add that to the SSL certificate $170/month additional and that's an additional $220/month to what….have a better theme that *I* like better but my audience doesn't?! That's a lot of money right there, $2,640/year!
Here's a list of email service providers that BigCommerce DOES have in their apps store currently, but keep in mind, many of these you have to pay for! So, you have to pay for the actual email service provider and/or then you have to pay to use the app to connect your store to your email list! With Shopify, you don't have to do that, saving you even more money!
MailChimp – free
Justuno – free
OmniSend – 14 day free trial
Privy – free
ActiveCampaign – 14 day free trial
Klaviyo – free up to 250 contacts
Smartrmail – $29/month + $0.005 per subscriber
Happy Email by Beeketing – free
Mailbot by Beeketing – 15 day free trial, $29/month
Remarkety – starts at $25/month
Rare.io – 14 day free trial, $25/month
Bronto – $99/month
Listrak – free
AutoresponderMax – 30 day free trial, $99/month
Firecart – 30 day free trial, $25/month
Kevy – $99/month
Emailable.io – free
Triggmine – free
dotmailer – 14 day free trial
Umarket – 30 day free trial, $19.95/month
Rejoiner – $199/month
Approach – pay as you go
Datatown – 30 day free trial, $99/month
If you don't already have an email list or a blog, there may be some good options in here, BUT, I highly doubt any of these email companies have good analytics like ConvertKit does.
If you don't have stellar analytics, you cannot grow as much as you should, thus lowering your income potential! Why on Earth, would you start a store right out the gate with lower income potential. That's just stupid, right?!
Plus, then you're in there playing around with all these email service providers trying to find the best one. Can you just imagine the amount of time it'll take to go through that long list and start trying ones to see which one works for you and has decent analytics? Why not start out with the best (ConvertKit) and avoid all that hassle of trying to find one!!
Having your email list wrapped into your store is your #1 priority as a seller. Otherwise, you might as well just sell on Amazon, where you can't get those email addresses, and can't sell to the same clients over and over again. And believe me when I say, it's a lot easier to sell to a current client than to find someone who hasn't already purchased your stuff and loves it! Email lists for your store is absolutely VITAL!
6 – Global reach
BigCommerce told me they started a couple years after Shopify.
BigCommerce no longer tells how many shops they have open, but the last time they reported it (2015), they had 95,000+. Shopify has over 500,000 (as of July 31, 2017)! That's a massive difference. More shops choose Shopify over BigCommerce.
That speaks volumes, and considering more of my own customers and cold customers choose Shopify to buy from and not one chose BigCommerce, I can completely understand why!
Shopify has processed over 40 billion dollars in transactions, as of July 31, 2017. BigCommerce has processed $9 billion as of September 2016.
7 – Downloads
In my printables store and stock photography store, I sell pretty massive files. My 100+ page Easter Binder boasts some 450 MB, while my 450+ page Printables Library boasts 242 MB. Stock photos are quite large in size as well to retain quality.
Sometimes, files don't want to download properly due to size and/or internet speed connection of the customer. Sometimes, customers try to download all that on mobile devices and they have trouble.
Comparing apples to apples and oranges to oranges, I took a case study of clients who did me a favor and tried to download multiple products on both sites. They equally had the same errors with BOTH Shopify AND BigCommerce. However, after lots of trial and error, I found an app called SendOwl (found in the apps store) with Shopify that solved the problem. I then tested with the same case studies, and they had NO trouble what-so-ever downloading with SendOwl.
That is not to say no one EVER has trouble. Every computer system is different. Every mobile device is different. Every file is different. However, in my testings so far, I've not heard one person have trouble with SendOwl and they are my new fav. by far.
SendOwls' customer support is only by email, there's no 24/7 chat, and that sucks. I also had a lot of trouble with customer support glossing over my questions and not really wanting to help me. It seems from my working with them back and forth to try to solve some issues, that they don't work weekends.
However, their download platform is the best, and so that's why I stayed with them, even though their customer service department needs an overhaul. After I got all set up, I don't need too much support, so it's not a big deal moving forward, long term.
8 – Migration
If you're coming from Shopify to BigCommerce, BigCommerce has an app you can download that will transfer all your products over. I used the app. The ease of use was simple, and did the trick on my 85 products, however, the app does NOT transfer over the product files.
For me, this took about a week to transfer over all the product files (I sell digital downloads) that my customers would receive. It was a huge headache. If you sell physical products you won't have to deal with that as I did.
I have not transferred from BigCommerce to Shopify, so I can't compare that side of things. I started out with Shopify first.
9- Professionalism in competitiveness
In speaking to both companies about the other, BigCommerce didn't talk about Shopify much, other than to say they personally were the best and gave a couple reasons why. I feel what was said was very professional.
In speaking to Shopify directly about BigCommerce, absolutely not ONE SINGLE WORD was said. At all. EVER. This is BETTER professionalism. They didn't try to say they are better, they didn't try to tell me why. They didn't comment at all.
And I tested them a couple times each on this. While both were very professional, Shopify, in my opinion, was more professional.
10 – The reason I stayed with Shopify
For me, overall the Shopify pricing ended up being $220/month cheaper than BigCommerce pricing, as mentioned above. That was a huge part of why I'm staying with Shopify, but there is one other reason I've yet to discuss. One thing that Shopify has and does, that BigCommerce does NOT have.
In talking to BigCommerce in depth, they do not have a solution at ALL for this. There's not even an app that you can download to solve the problem, and here's what it is:
For a while when I first started Shopify, they just gave us discount codes but no links. I had to pay for a separate discount code link generator app, called Coupon Hero.
Basically, you set up a discount code and it gives you a link. The link INCLUDES the discount code in checkout when they go through checkout.
For me that was VITAL to my business. Before I had it, I kept getting people wanting refunds because THEY weren't paying attention to the total amount and they forgot to enter in the discount code. I have policies everywhere on the site, if YOU forget a code, I'm not doing a refund. That's on you, not me, basically. It caused a lot of trouble and I knew I'd need to find a solution.
Along came Coupon Hero. But there were bugs in their system and while it worked most of the time, sometimes it didn't.
Shopify came out with the same function now in their discount codes section! Hall-e-lu-jah!
All you have to do is click in your discount codes section, the word, "Promote", right below the title of the discount.

After you click that, a pop up will pop up.
Select, "Copy Link" (the blue button), and use THAT link in your promotions.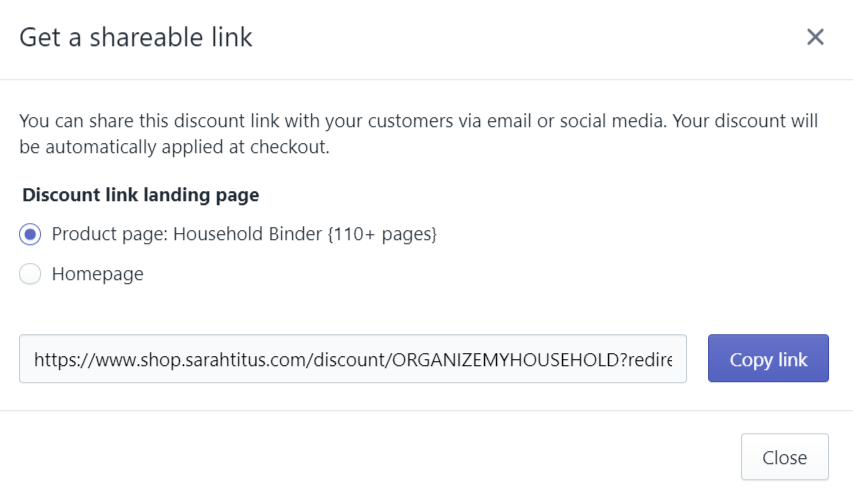 When the customer then goes to checkout, the discount code you set up is AUTOMATICALLY APPLIED (!!!!) to checkout. No customers forgetting to enter it in. Saves a TON (read: massive) headache.
BigCommerce has no such feature, and they have no app that can do this either. Coupon Hero is not available for BigCommerce and there are no other apps or solutions that can do this.
For those reasons, I decided to stay with Shopify.