See my Million Dollar Shop® courses Here.
Maybe you've been wanting to start a store, but don't know where to start or what platform to choose.
Maybe you're scared to start a store because you don't know how you'll possibly be able to drive traffic to it.
Maybe you already have a store and can't understand why you're not making anything but chump change in it.
Maybe you've spent some time on your store and seen only crickets in traffic and no profit.
Maybe you've tried other platforms like Etsy, ebay, Amazon, Creative Market, the list goes on and on and have seen a little bit of money, but know there's more out there for you.
Whatever your situation is, you're in the right place! Opening up my own Shopify store, very quickly changed my entire life, and while I'm not promising massive amounts of money your very first month, what I AM saying is that most people don't realize the POWER having your own Shopify store has.
Is Shopify worth it?
Considering I make $2.7 million a year in my Shopify store, I'd say HECK YAH!!!
Today, I'm going to be sharing my Shopify store income report for November 2018.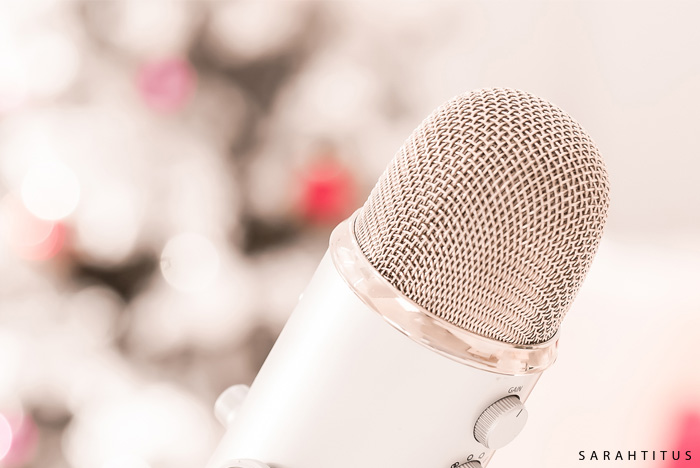 Is Shopify Worth It? Income Report – $343,344 (November 2018)
Most of you know that I've been selling on ebay for over 20 years now. Back before they were even CALLED ebay. 🙂 I was just a teen back then, but really realized the power of selling things online. It was a whole new world for me. An exciting world.
But there are several things I've always LOATHED about selling online.
I HATE to ship products.
I hate keeping track of inventory.
I hate keeping everything perfectly organized to sell.
I hate not being able to find something right as it sells.
I hate following someone else's rules.
I hate when they CHANGE said rules and I have to go back through all my ads and completely redo all of them to comply.
I hate feeling like I have no ownership over the store. Like I'm powerless.
I hate not having the capability of making certain sales the way I want them to be, instead of working with the basic tools they give me.
I hate being at the MERCY of a customer who does something shady and leaves bad feedback and everyone thinks it's ME who has done something bad. Or competitors who leave negative feedback to ruin you (yep, it's happened!)
So, while there's a lot of good things about selling on a platform like eBay or Etsy, there are also a lot of bad things you MUST accept in order to sell on someone else's "turf."
I sold on Amazon, I've sold on Creative Market, I've sold on ebay, I've sold on a membership site, I've sold on a stock photo site, and I've sold on Shopify.
For me, out of all the options I've tried, Shopify is, HANDS DOWN, the best way to go.
Shopify income report total for November 2018 (Shopify store only; doesn't include blog/misc. income/Shopify courses) – $343,344
Traffic total (sessions, not pageviews, to my Shopify store only) for November 2018 – 13,793
Shopify courses (Teachable) (now using Kajabi) – $76,141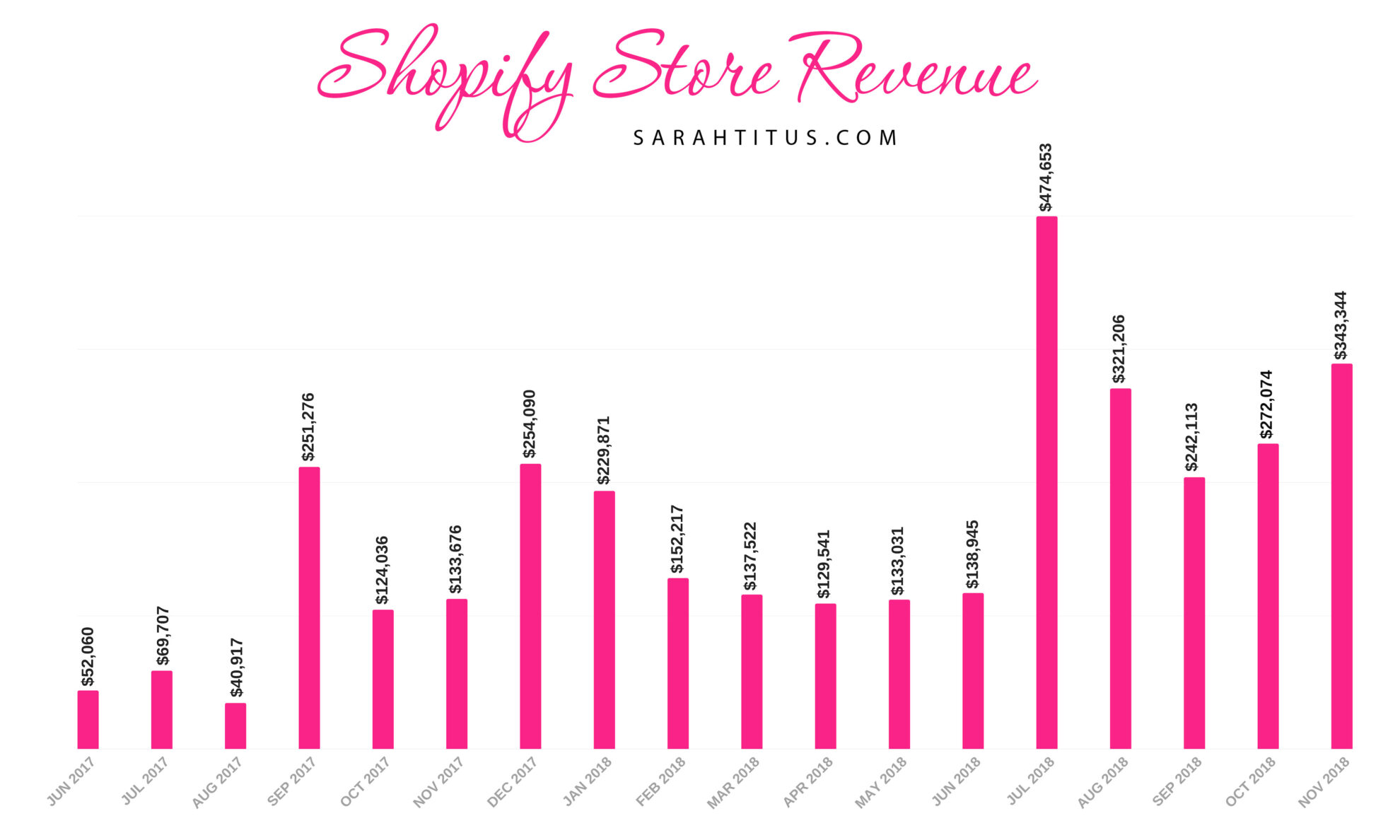 Stats per product:
This is my favorite part of researching analytics. Figuring out which products sell (or get downloaded for free) the most. Stuff like this tells me EXACTLY what to create more of in my store and what to stop creating, so it's something I gauge very heavily and increases my Shopify success rate.
If you have the $79/month Shopify plan, which I do, you'll get FANtastic analytics reports that will give you all this information broken down by product. I then go into my newsletter (I have ConvertKit and love them) and compare them both in order to get conversion rates.
Shopify Courses
On November 20, 2018, I launched my first Shopify course and a BETA course opportunity.
I sold Strategic Roadmap to Building a 7-Figure Shop (later renamed Million Dollar Shop™) for 50% off for a week and had a pre-launch sale (free Blogging Bundle for the first 2 days). This is a course that EVERYONE who wants to make money on Shopify NEEDS.
It's the foundation to having a store that sells products and you definitely want a solid foundation. If you don't have that, nothing else will matter near as much for sales. Your digital products can be gorgeous and you can have all the traffic in the world, but most people still won't buy on a site without it set up correctly b/c it doesn't look professional. People won't trust your shop to give their money to!
When you go on sites to buy something, do you make sure it's a legit, professional site? I mean, that's your debit card number right there, right?! Same thing YOUR potential customers are thinking. So, if it's not set up properly, most won't trust it and won't buy.
Eventually, this stuff will be the standard in Shopify stores as many people are setting it up this way, even MORE reason to set it up correctly. It is literally the difference between getting sales and not getting sales.
I've been secretly watching others' Shopify stores for 2 years. Seeing all the things they are doing wrong and why their stores aren't converting traffic to paying customers. This course covers everything so you do it right and GET THOSE SALES!!!
Along WITH that course, I offered a BETA course, Top 13 Things to Sell in Shopify That Make the Most Money for only $57 to those that purchased the first course. It's already written and done and so, the text part of it is all already on there all at once.
The Top 13 Things to Sell is all about finding exactly what YOU should sell in your Shopify store and an overall strategy of how to promote those items.
The courses did really, really well. Better than I anticipated (my original goal was $10k). I made a total of $76,141 on those two courses between November 20-30. 🙂 And within my first two weeks on Teachable, I've made over $97k (I'm now using Kajabi).
Already, I have another course in BETA, How to Create Printables, which I opened up to the first 20 people who purchased in my private Facebook group. The 20 spots sold in about one hours' time! This course was a little different layout than the first BETA course, wherein it's not all done already, but being created LIVE, each module at a time. So far, doing it this way in particular is getting more feedback along the way and so moving forward, I'll do BETA tests like this where it's being created LIVE.
So far, teaching my Shopify tricks, tips, and secrets is doing really well. Not as well as the millions I make in my actual Shopify STORE 🙂 but it's a pretty good income and eventually, when all the courses are set up, it'll be mostly passive, except for a main Facebook group.
I'm using all the income from my courses to pay off my house I just bought this year. That's my goal. My goal is to have the house paid off completely within 3 years ($312k). I think I can accomplish that goal. 🙂
Gratitude Prompts Binder
This month, I ran a sale on my Gratitude Prompts Binder.
I put this on sale for only $3. It got 69 clicks and 6 sales. I mean, this thing was an EPIC FAIL!
I think I went wrong in a few places.
First, the title of the newsletter was something regarding Shopify, not a Gratitude Prompts Binder. So, anyone NOT interested in Shopify, wouldn't have clicked to open the email. And many people interested in selling on Shopify, aren't going to be interested in a binder like that. They want other types of binders, binders that help them with their businesses.
Secondly, many of my binders are free on my blog and over time, people come to expect certain binders to BE free. That one happens to not be free, but with SO many binders available and not knowing which are free and which aren't, I think they assume it's free or don't know and so it's not that impressive to give a good sale like that.
So moving forward, I'm going to be taking all my binders off my blog for free and just having a few of them free. I think if I just have, say, 3 free binders instead of half of them free, it's a lot less to wade through in knowing if something is free or paid-for. It'll help with less confusion for both my audience AND me. 🙂
I also wanna redo my pictures for my binders, so it'll be a great time to redo the pictures and make them not free.
Side note: this month, I was practicing my photography skills and took some photos I thought you might like…
Free Stock Photos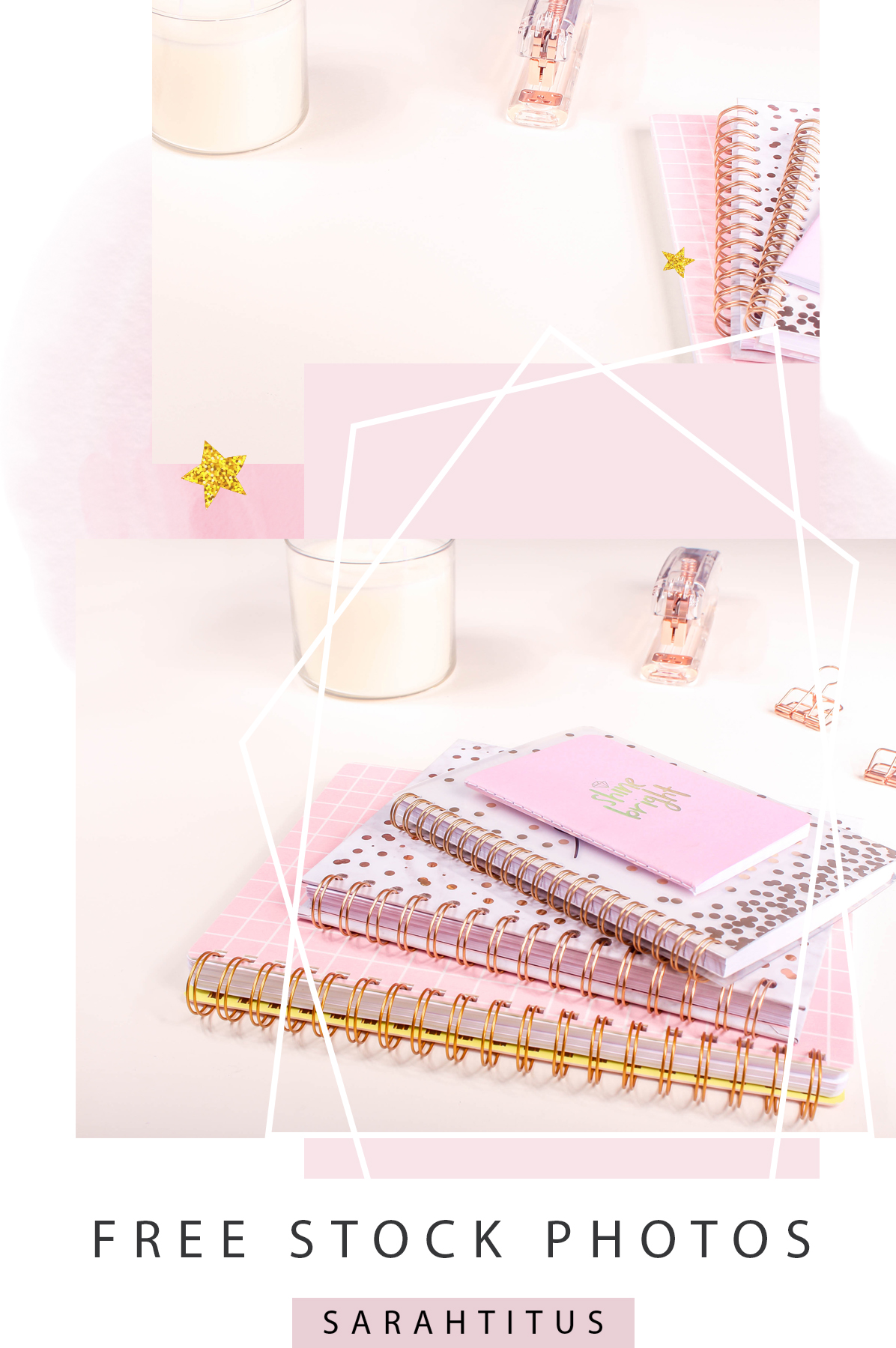 You can download the free stock photos here:
My top 5 products
You can see this months' top 5 products by clicking the links below:
Blogging Bundle
Honest Bloggers Bundle (now Honest Bloggers Academy)
Happily Ever Blogger Bundle
Year in review – what I learned this year
As I'm writing this income report, it's the last month of the year and I wanted to take some time and think through and process the most important things I've learned this year. While this isn't an all-inclusive list, it definitely hits some of the major take aways for me.
1- You can be successful at many things…doesn't mean you should
This year I started a secondary Shopify store, stock photography. It did pretty dang well I have to admit. I was surprised at how well it was doing. And I could have easily gone down that path, got better at photography, and had a lively autopilot business.
But I didn't. I closed the store. I felt like it was too much for me to handle. I was too divided in my heart. Picking between printables and stock photography all the time.
I learned that, I can be successful at a great many things, but that doesn't mean I SHOULD. I ended up not going down that path and I'm glad. B/c now I have more time to dedicate to my one true passion: printables. You can do just about anything, but you shouldn't.
2- Do the things you wanna do, even if you suck at it
A few weeks ago, I started creating videos. I created four to five and was told all kinds of things, ranging from…
We love you. We're so glad you're finally doing videos. You look real and authentic and I can connect to you.
to…
Your hairs' a mess, you need to smile more, you sound boring, your background is lame and makes me sad, etc.
While perhaps all those things are true, at the same time, both good and bad (and the people saying them only want the best for me 🙂 and mentioned it b/c I asked how to improve) I DID IT! My very first videos, yeah, I mean, they probably suck. The lighting is off, there's a weird shadow under my chin, the white background came out grey and for the life of me, I can't get it white.
Here's a snapshot: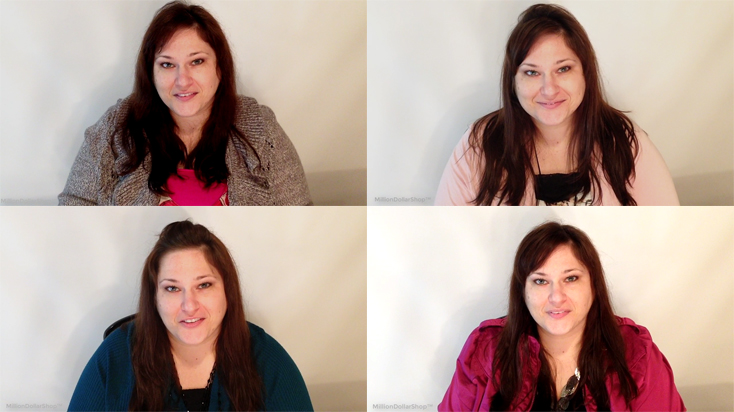 I'm so proud of my accomplishment, and the truth is that it's not about bad lighting, a lack of smiles, or what my hair looks like.
God cares far more about the inside of a person than the outside. The outside is fleeting, but the inside, my heart, is what is captured on those videos. They are raw and real. They are not scripted. I'm not reading from a teleprompter. I'm speaking from my HEART as if you were right in the room with me, a friend. And for that, I'm incredibly proud!
So, yeah, they suck, but for the people that ONLY SEE the outward, they are missing out on quite the jewel. 🙂 And that's okay. I'm not here to serve everyone. I'm just here to serve YOU. <3
3- Build first, THEN focus on traffic
I had taken a long hiatus from Facebook for the most part, for two years. I only had a pen name account in which I could get on Facebook for things I needed it for, and yet, not have to answer questions or allow it to suck up my time as I was building my Shopify empire. I knew I needed to focus on building, so this year, I haven't been worried about traffic (although I never really have. It's something that comes very natural and organic to me personally).
In the past few months, I HAVE gotten back on Facebook. I created my real name account, I created a couple private Facebook groups where I hang out, I have a new mastermind group with some amazing heart-driven people.
But I couldn't have handled all that if I didn't ALREADY have systems in place. If I didn't already have my empire built. B/c for me, how my personality works is that I have to only work on 1-2 things at a time. And that's HOW I'm so productive. So without those systems in place, taking care of everything else, I wouldn't be able to BE on Facebook and invest more in those around me.
I'm happy that I'm not out there spinning a bunch of plates on sticks, but everything (for the most part), spins itself. My time is freed up and I own it. I'm not a slave to the clock for income, and that was so important to me to set up this year. A money making empire that runs on autopilot. I've accomplished that and now I teach about it in my courses on Million Dollar Shop™.
With that said, that leads to my next biggest lesson of the year…
4- God is sovereign
God is sovereign. He's always been sovereign. He will always BE sovereign. And He showed me that again, in a major way, this year.
When I had worked so hard to set up that autopilot money-making empire on Shopify and I thought I was done, like, this is the "rest" part, this is what I worked hard for, let's work 10 hours a week now, put my feet up, relax, and enjoy life, it's like God said…nope…that's not what I want for you.
He wants me to go on, now creating courses to teach OTHERS exactly EVERYTHING I personally do. I have to admit. I fought it at first! Right, I mean, give out the secrets to my entire empire?! The thing that *I* built on my own. Like, Lord, you just want me to give all that away? I have it MADE. I work 10 hours a week and make millions in income. You're kidding right?!
Yeah…He wasn't kidding. 🙂 lol.
And so, I've had to work MORE than my planned 10 hours a week now. I don't get my rest time, at least, not for now. I am to continue building and that's what God wants.
Eventually, I had to accept His will for me and embrace it and now my attitude is so much better and I enjoy teaching others. But it was really difficult for me in the beginning, I have to be honest.
5- You can't help everyone
I try, I really try. I want to help everyone and I know that with my extensive knowledge in so many different topics, there are few people that I meet in person that I CAN'T help. However, online, you can't just go around helping everyone. You have to, at some point, narrow down that focus to specific things.
And that's very difficult for me. Again, I want to help everyone. But I can't. So, I've chosen to follow God's promptings and help moms create Shopify stores and continue to create printables to help stay-at-home-moms be more organized and place systems in their lives that will help.
Some people, really are just too stubborn to be helped, too. There's that aspect of things. You want to help them. You try to help them, but in their hearts, they are rebellious, don't want help, wanna go their own way, do their own things, and you know they are just gonna crash and burn. I've dealt with a few people in my personal life like that this year and it's been really rough on me, but ultimately, I had to let them go.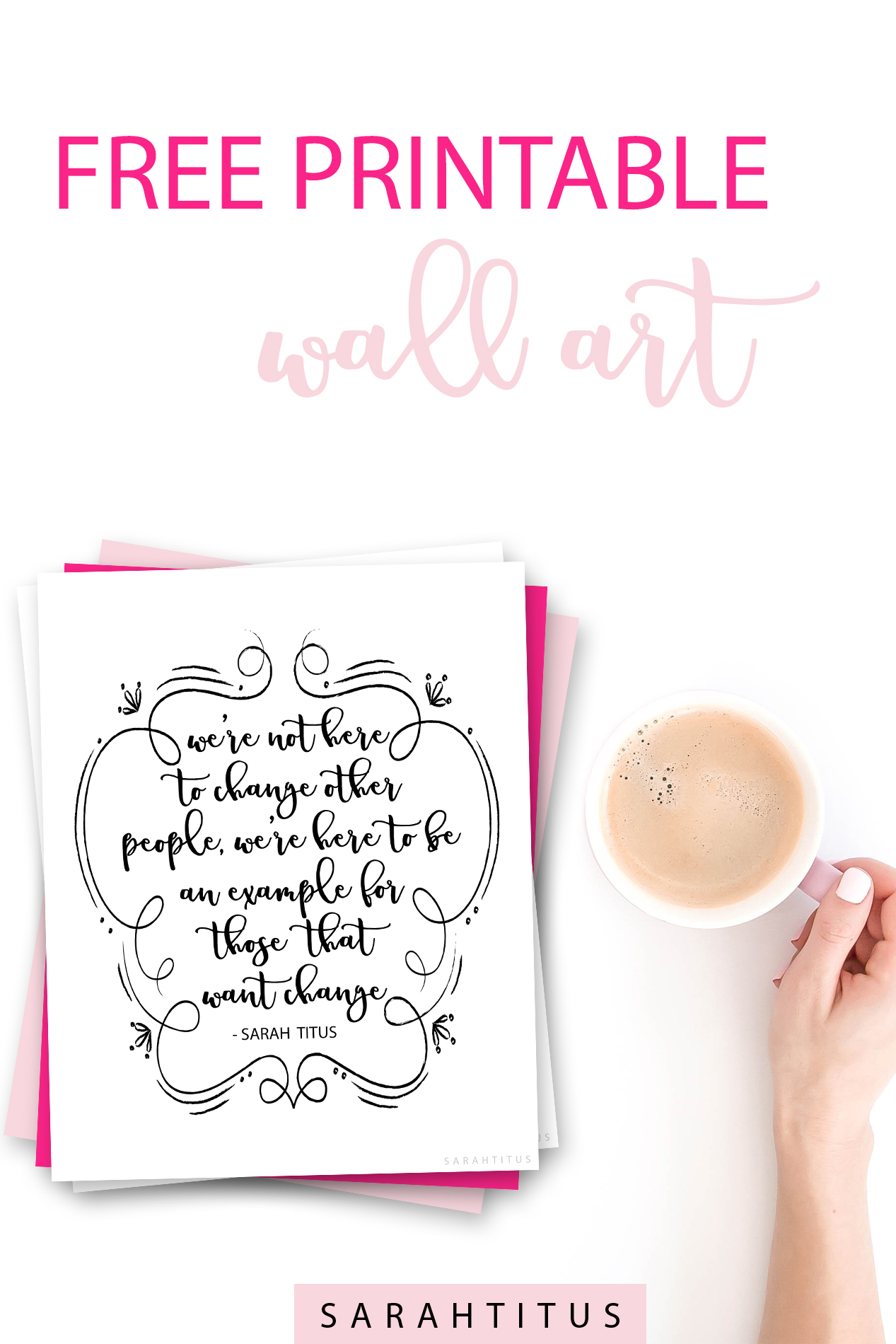 Download the free printable wall art PDF template here.
It's their life, they control it, and if they wanna be dumb and rebellious about stuff, that's their own problem. Not mine.
I can only help those that are willing to be helped, who want the help. I can't help everyone. My time is far too precious to be wasting on rebellious people! 🙂
6- When something isn't working, make quick changes
This year, I was faced with a couple situations that I saw weren't working. Instead of making quick changes, I let them go on and on and on, thinking…hoping, that they would fix themselves on their own.
But they didn't.
I ended up losing time, losing income, losing traffic, and I should have made quick changes to systems that weren't working.
It's a great lesson moving forward. When something isn't working, make those quick changes, little tweaks, whatever needs to be done. Don't let it drag out, b/c it won't fix itself. It'll only get worse and you'll only lose MORE by not adapting quicker.
7- There will always be people in the world who take advantage
When someone lies to you and you know they are lying, when someone tries to scam you, when someone tries to hurt your business.
This year, I've had several people try to scam me and hurt me.
One person, going around emailing random people, giving them copyrighted information that I sell. While the person I'm sure had good intentions, it's illegal.
Other people asking for a return on a Shopify item and blatantly lying about it. Saying they didn't order it, when I have proof they did. An IP address, a discount code was used, and 13 previous orders they placed with my shop. I mean, at that point, you can't really call "fraud…someone stole my credit card and made a purchase in your store". And yet, they do.
Even more people, signing up for something, getting the free bonus, then scamming the refund policy and getting the original money back, along with the $300 value free bonus. It's a great scam, and I see it now, and will make adjustments in the future. Mostly, I will have to CLOSE my refund policy completely. B/c I've been scammed too many times and that's not fair to me and all my hard work.
There will always be people who take advantage of you, no matter what. But in the end, they answer to God, not me, and in the meantime, I adjust business procedures to try my best to thwart scammers. We're all learning as we're going. Taking one step at a time. And that's okay. 🙂
So far, those are the main things I've learned this year. It's been a great year and I LOVE learning!
Ready to start up your OWN Shopify store?
Click here and you can get a 14 day trial FREE! It just might be the best move you ever make. It certainly was for me! Are you the next Shopify success story?