If you've been suffering for a very long time, years even, you can get into this rut of feeling very low and down on yourself.
It's almost like you've forgotten who you are.
The pain and suffering has become a new way of life, a new way of living.
You don't feel like yourself. You've forgotten who you are.
You don't remember all the accomplishments you achieved in the past. All the people you've invested in. All the great things you've done for humanity.
If you're feeling like you've been suffering a long time and when you've forgotten who you are, there are three things you should do.
When You've Forgotten Who You Are
1- Let others remind you
Surround yourself with friends who knew you BEFORE you got into this pattern of suffering.
Each day, as you talk to them more and more, even in the littlest conversations, they remind you WHO YOU ARE.
Because you are not who you are now. This isn't the real you. It's not you. Who you are, is who you used to be, before all this pain and suffering came your way and knocked you down.
And it IS very much a fight and a struggle to get back up and get back to being that person you once were, but it's not impossible.
Surround yourself with friends who love, encourage, and most importantly know who you really are…who can remind you.
2- Remind yourself
The second thing you can do to remember and get back to the person you once were is to remind yourself.
Put pictures of yourself around the places you spend the most time. Maybe it's a picture of you 2 years ago that you tape on your bathroom mirror. Maybe it's you in your glory days taped to your computer screen.
Whatever it is, remember who you are inside. Remember that the suffering, trial, pain, challenge, whatever it is you're dealing with, doesn't define you. Yes, true character comes out in time of suffering, however, if you've been suffering a long time and have lost your hope, you need to get it back because THAT'S not you.
You need to dig deep and remember what elements in your life at the time that you WERE happiest, were your favorite and do them again.
Take up a new hobby. Do something fun. Motivate yourself, but don't lose your hope.
Don't lose your zeal for life. Yes, it's tough, I know. I've been there and have had friends there too. But you can't give up. You can't give in. This is not who you are.
3- Talk to yourself in the second or third person
I used to think I was weird because I talk to myself. After all, I am an only child. I been talking to myself all my life. 🙂
But I heard recently that all the really great, I mean GREAT, most powerful, most successful leaders all talk to themselves in the second or third person.
That ONE little shift in your talk, can really help.
So, I tried it. I thought about Sarah Titus when I was feeling especially sad one day.
I said, "Sarah Titus is…"
I couldn't stop. I have so much respect for Sarah Titus. She's stinkin' AH-mazing! Look at all she's gone through and yet, never gave up, never quit, never gave in. She has so much to give to the world. So much fire and zeal for life and for others. She loves serving. She has a caring and generous heart. Gosh, I look up to Sarah Titus SO MUCH! She's my hero.
When you think about yourself as another person, you see yourself as you really are.
The hard part comes in realizing that's YOU. I'm Sarah Titus!!!
But I don't FEEL like Sarah Titus. I don't FEEL amazing. I don't FEEL the zeal and fire. I feel sad because of trials. Never-the-less, that's exactly who I am. And the more I remember, the more I talk to myself in second or third person, the more I realize how much I've accomplished. How much I respect myself. How much I've done for humanity already, the better I feel.
It's not wrong or prideful to be proud of your accomplishments, to be proud of your life and the choices you've made. There's nothing wrong with that.
It's not some mumbo jumbo garbage to recite to yourself either. It's about remembering who you are. Remembering your accomplishments. Remembering the foundation of what makes you tick. It's about pulling yourself out of the funk you're in and only YOU can do that.
Because if someone ELSE pulls you out of that funk, you'll always be dependent on the other person, right. But what if they leave or are no longer around? Then what? You're in trouble.
So, you have to dig deep and find the strength within yourself. Yes, pray, yes, ask God for help and He certainly can and will help us, but we have to do our part too.
If you're feeling like you've forgotten who you are, try these tips. See how they make you feel. Do you feel better? Are you starting to feel like your normal self again?
Above all, don't give up. Don't give in. Don't lose your hope. And do NOT become complacent! You can do this.
Here's a great video to watch to encourage you.
I'd love to walk through this season in your life WITH YOU, hold your hand, and help you get through this.
I created the Hope Binder. Every day, you'll get an email from me, pumping you full of encouragement, hope, and inspiration. Some of my best work is in there, my most popular and meaningful daily stories that aren't available anywhere else!
Because I feel led to and because I want to help, for a limited time, just because you are reading this, I'd like to offer it to you for 80% off!
For less than the price of a fast food meal, you can be inspired and uplifted by a friend who truly cares for the next 31 days!
Simply click here with this special link to access it.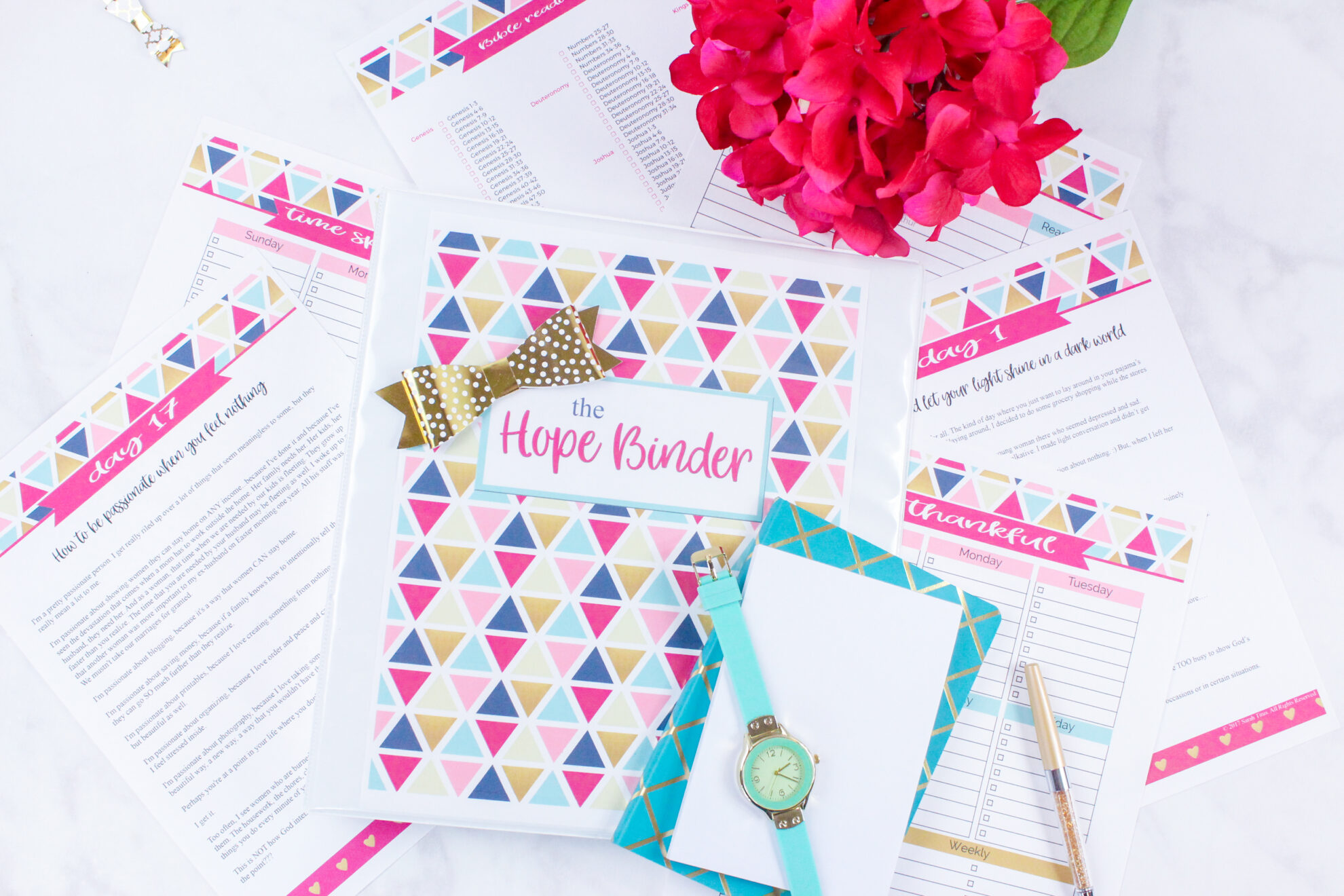 "But if God so clothes the grass of the field, which is alive today and tomorrow is thrown into the furnace, will He not much more clothe you? You of little faith!" – Matthew 6:30