Are you ever feeling so overwhelmed that the next person who interrupts you, is gonna really GET IT?!
Like you're just so frazzled and cranky that ANYthing, even the littlest thing, can really set you off?
"Don't mess with me, I'm NOT in the mood," you think to yourself.
Yeah, me either! 😜
But for those times when I DON'T feel like that 😉😂 I need a little pick me up. A place to get all the negativity out of my brain. A safe place to put those thoughts and feelings without biting someone's head off.
A fun place that makes you HAPPY and lifts your spirit, while helping you cope with the stress in your life.
Whether your stress is from keeping the house clean, your kids are constantly fighting and arguing over the littlest thing or you're feeling like you'll never catch up, you can turn to this AMAZINGLY helpful coloring journal to help ease that stress!
Best of all, if you're a coach or a counselor, you can use these with your clients as well!!!
This 300+ page Coloring Journal will FOR SURE give you all the benefits of both stress-relieving coloring AND journaling away your thoughts in a safe place, all in one binder!
This is truly, one of my favorite binders!!!

Coloring and journaling helps you…
Achieve more focus and clear your mind (think: brain dump)
Reduces your stress and tension
Reduces depression and evokes happy thoughts
Propels you toward your goals
Helps you overcome whatever block you're dealing with
Heals you from the inside out – emotionally and physically
Printable pages include:
Cover
Stickers
Monthly Calendars
Daily Planner
Dreams, Plans, Goals, Ideas and Notes Pages
Lined Journal Pages
Favorite Verses
Prayers/Answered Prayers
Gratitude Journal Prompts
Inspirational Wall Art / Coloring Pages
Inspirational Sayings
Baseball Quotes
Family Quotes
Holiday Pages
Teacher and First Day of School Year Pages
A-Z Monogram Coloring Pages
and more!!!
My Favorite Pages
It's kind of hard to choose favorite pages in this Coloring Journal because they are all super cute and helpful, and I really do love them all! But if I absolutely had to pick, here are a few favorites…
One way we organize our busy lives is by using Monthly Calendars, right? These fun coloring calendars are a great way to release stress and have a clear mind for the month ahead. Win-Win 😊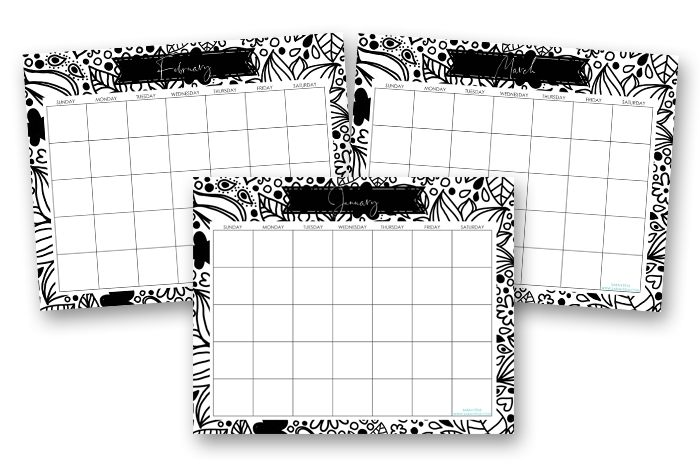 I always like to write down my prayers and those I am praying for. That's why I love the Prayers printable. This is a simple and much-used printable. 💖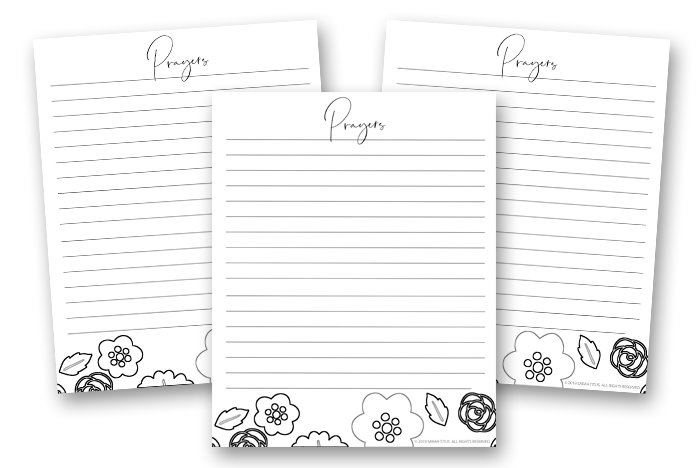 If there's is a printable for Prayers, it only makes sense to have a printable for Answered Prayers! This is a great way to be reminded of how AMAZING our God is and how He works in our lives of those around us.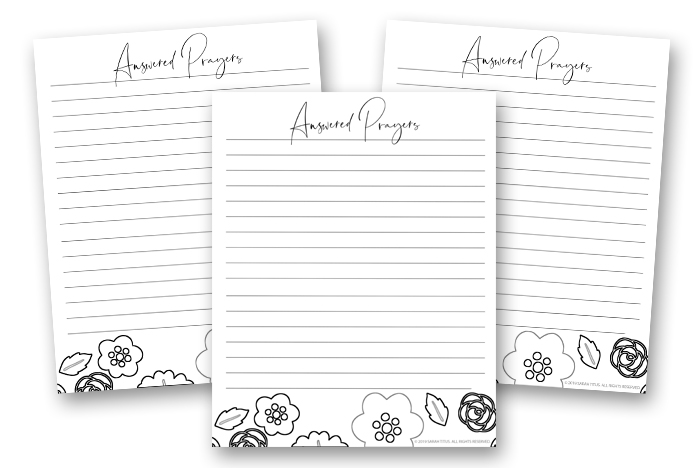 Gratitude Journal Prompts
These coloring frames with Gratitude Journal Prompts are a perfect way to color and reflect on questions that are designed to help you be more thankful and process the stress in a healthy and productive way.
You are going to absolutely love this coloring journal! Whether you are needing a new hobby to pick up or wanting to distress, this coloring journal has so many uses. 😊
See what others are saying about the journal…