You guys ready to see the new 2023/2024 Christian Daily Planner printables?!?!
I'm so excited to share it with you. It's hot off the press and ready to go!
There's over 500 pages in this pdf, something for everyone. You're gonna love it!!!
Christian Daily Planner 2023/2024 – 500+ pages:
If you already have a binder there are different sizes of spines to fit whatever size you have on hand…no need to go out and buy another binder. Just use one you already have and you're good to go.
If you do need a binder, here are the appropriate ones on Amazon:

Get easy access to the 2023/2024 Christian Daily Planner Printables
Don't buy a planner in the store. Grab this cute weekly planner printable, then whenever you need more pages, simply print the ones you need.
Bada-bing-bada-boom, your life is now simpler (and less expensive)!
This printable calendar organizer will help you tame the wild beast we call life. Streamline your entire life with this ONE daily schedule planner. I know you're gonna love it!
The BEST Daily Planner 2023/2024 is a whopping 500+ pages!
Some of the printable PDF pages include:
Cover and Spines
Year at a Glance Calendar
Daily Planner Sheets With Times – Hourly Daily Schedule
Monthly Anniversaries Tracker
Monthly Birthdays Tracker
Monthly Important Dates Planner
Address Book
Encouraging Quotes
Emergency Contacts
Dated Daily Planners
Weekly/Monthly Goals
Daily/Weekly/Monthly/Yearly Focus Goals
Planner Stickers (9 pages full!)
Monthly Cover Pages
Daily Calendar/Planner (pages for every day of the year)
Inspirational Wall Art
…and TONS MORE!!!
My Favorite Pages
There are several DIFFERENT types of planner pages in this 2023/2024 Planner. That way, whatever it is that works best for YOU, it's included. Everyone's brain works in a different way and this Daily Planner accommodates for that. Whether you're looking for monthly planner printables, hourly planner printables, a two-page template, or one page, you'll for SURE, find what you're looking for in this daily planner online!!!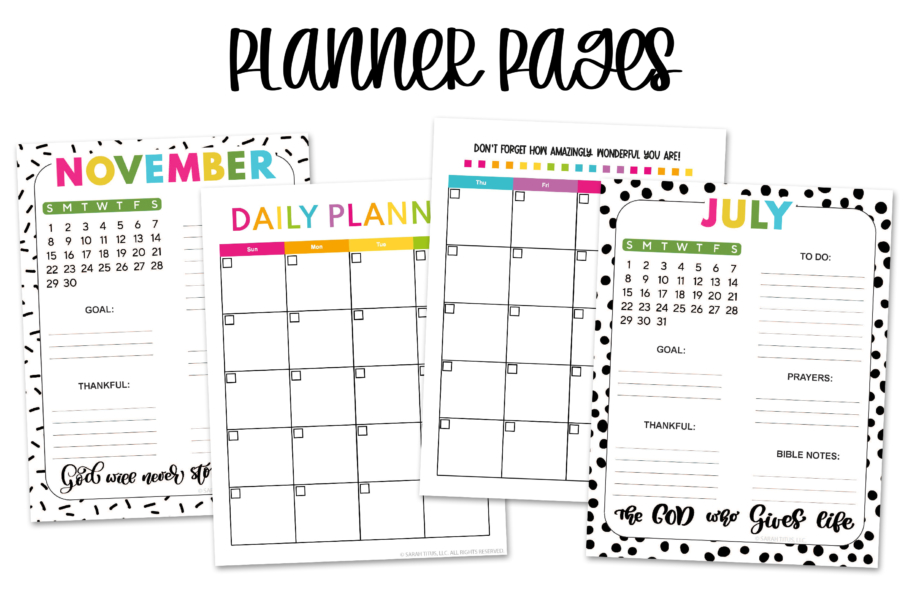 Coloring Sheets
These coloring sheets were so much fun to create, one element at a time! I LOVE creating coloring sheets to color with my children and the fact that that they feature and highlight God, EVEN BETTER!!!! You can never have too much faith, that is for sure! <3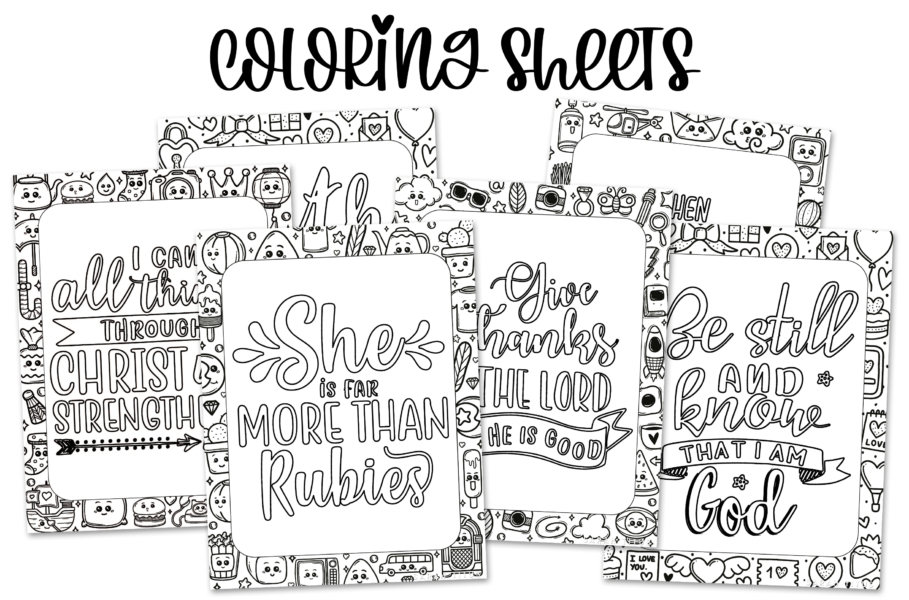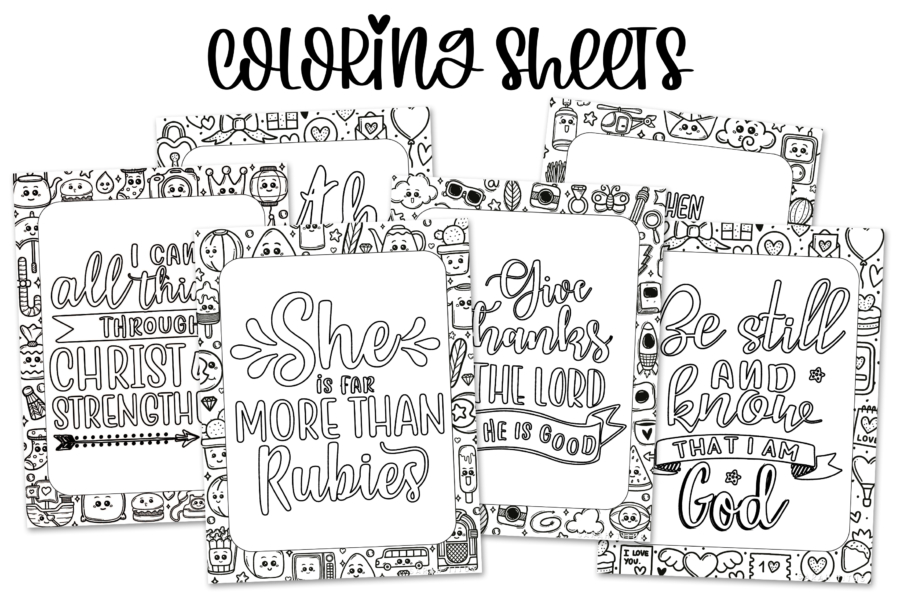 Password Log
Password Logs come in handy SOOO much. If you're taking a vacation and want to have them handy or just have them all somewhere as a backup. For security purposes, I usually make my notes so that no one else will know what it is, even if they found them.
You could abbreviate, something like ConvertKit could be ck. Unless you're a blogger, you wouldn't really know what ck is. It could be Calvin Klein. haha. Also abbreviating my passwords as well or using numbers. 1 for example could be your main password, etc. Then, have the passwords in a separate place on a small card hidden somewhere, and that will help as well.
Some people even keep the sheets in their lockboxes. Whatever you do, these password log printables are perfect to keep those passwords safe.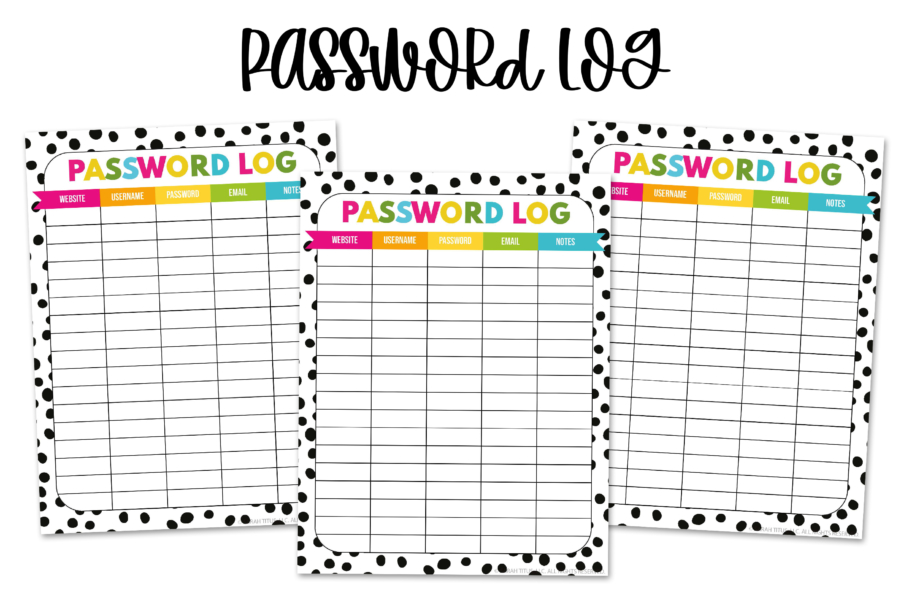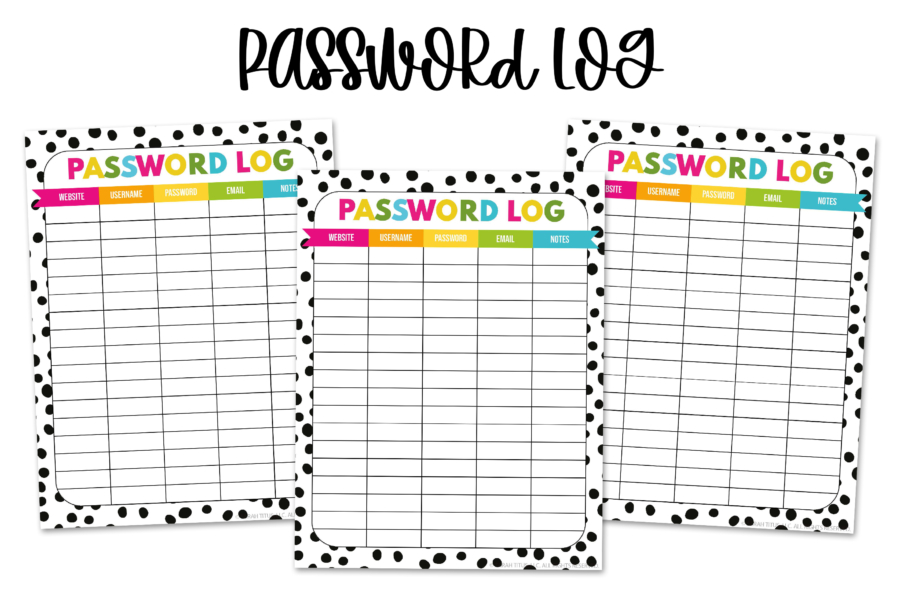 Emergency Contact Page
If your kids are older and they stay home for short periods of time, or if you go on a date night with your spouse and you have someone watch your children, you'll want to have an emergency contacts list.
It's also great to have on your fridge (I keep mine on the side of the fridge) for any emergencies that come up in life, so you're always prepared!
As your driving around, be sure you're watching for emergency rooms, hospitals, and urgent care centers too. We live in a part of town that is growing and so they are building more centers and taking note of them mentally as well, to know how fast you need to get there and where is important.
That way, Lord forbid, something happens, you are not searching around looking for a place to go, but have it memorized and know where to go.
But ALL emergency types can be stored on this one list. You can even laminate it if you'd like!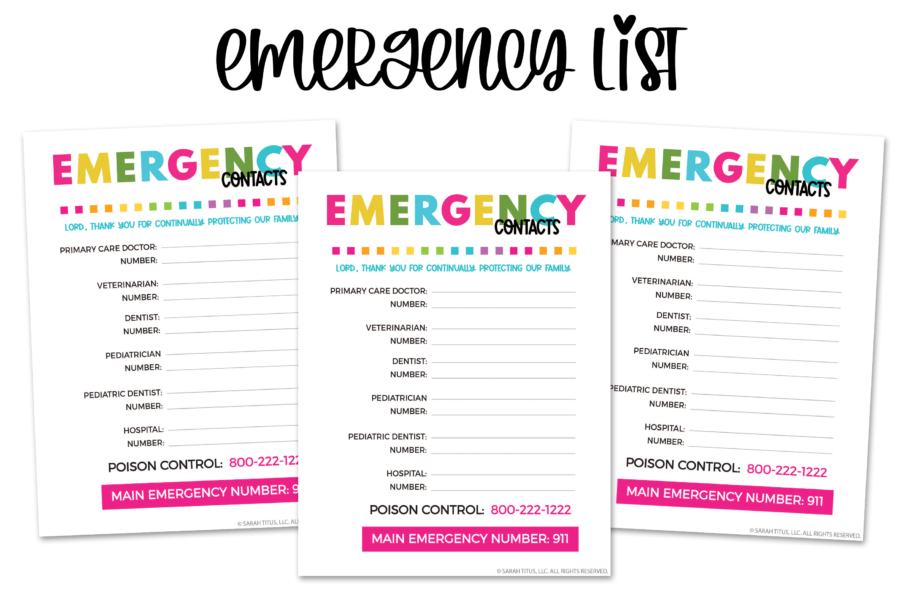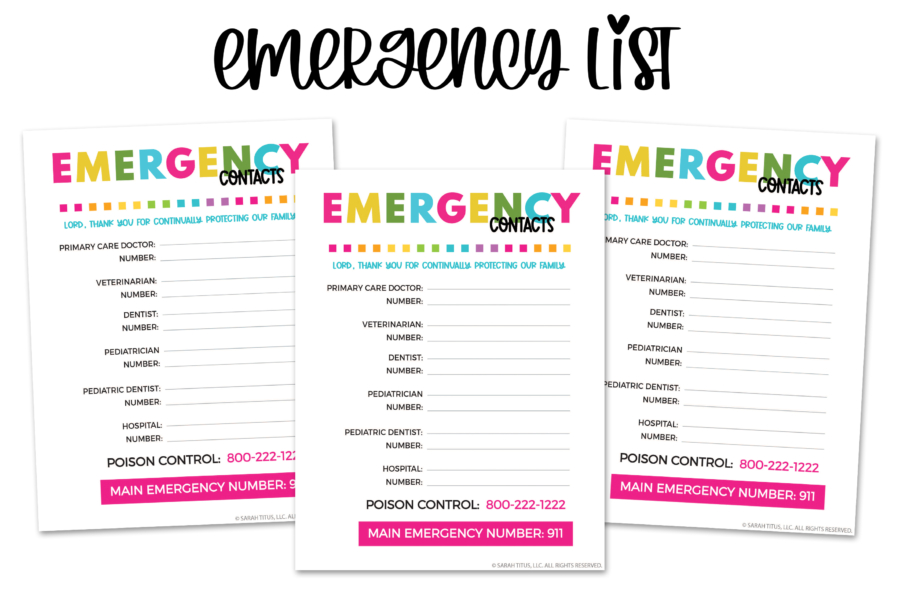 Favorite Verses
These verses have been so monumental to my Christian walk. As an early believer over a decade ago, I wanted to memorize verses that would help me in my daily life to live according to God's ways and be more obedient to Him. As I struggled with certain topics (patience, worry, etc.) I would learn a verse on it to remind myself and get me through the trial or just everyday life.
It's really served me well through the years and these are all the verses I started with my make my Christian journey more wholesome and be deeply rooted in Christ. There's a place for you to record your own favorite verses as well as some pages for prayers, thankfulness, and answered prayers too!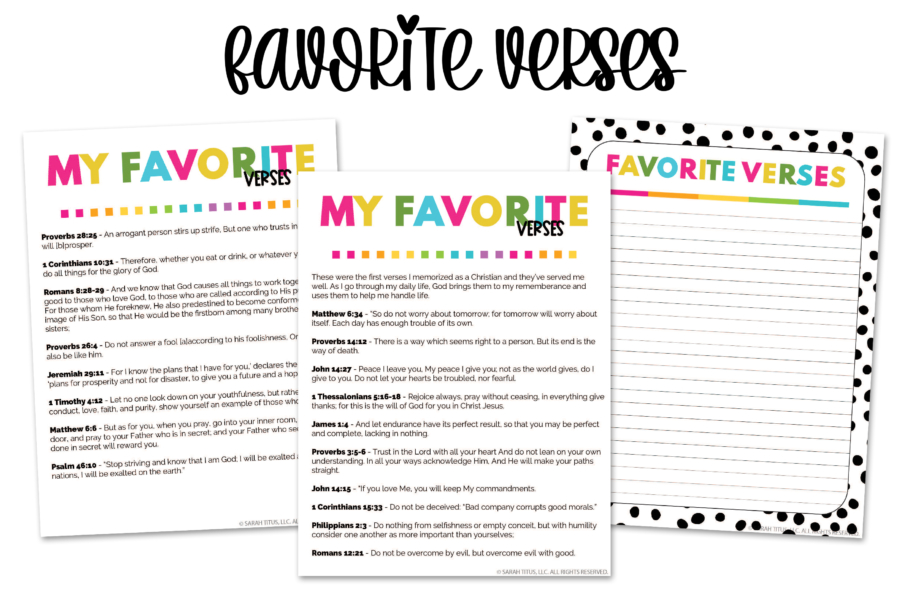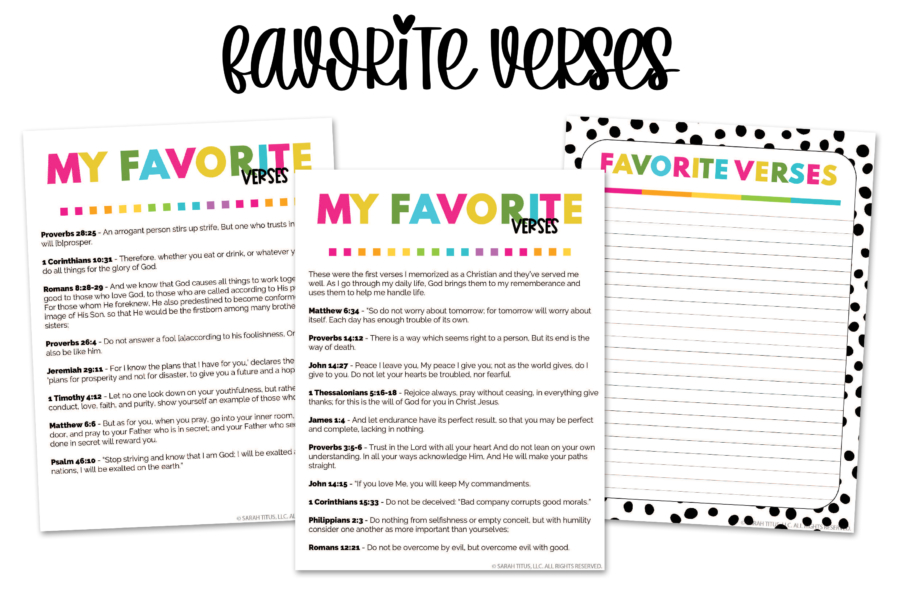 Goal Trackers
If you want to accomplish your goals, you HAVE TO write them down! Writing them down helps permeate them into your mind. Working on little bits of your goals at a time until they are accomplished and never giving up on your goals is so important. Whatever your goals and dreams are, these goals trackers will help!
There are a ton of goal trackers included! You'll also find pages for Daily Focus, Weekly Focus, Monthly Focus, Yearly Focus, 1 Month Focus, 3 Month Focus, 6 Month Focus, and 12 Month Focus. Everything you need to obliterate all your goals!!!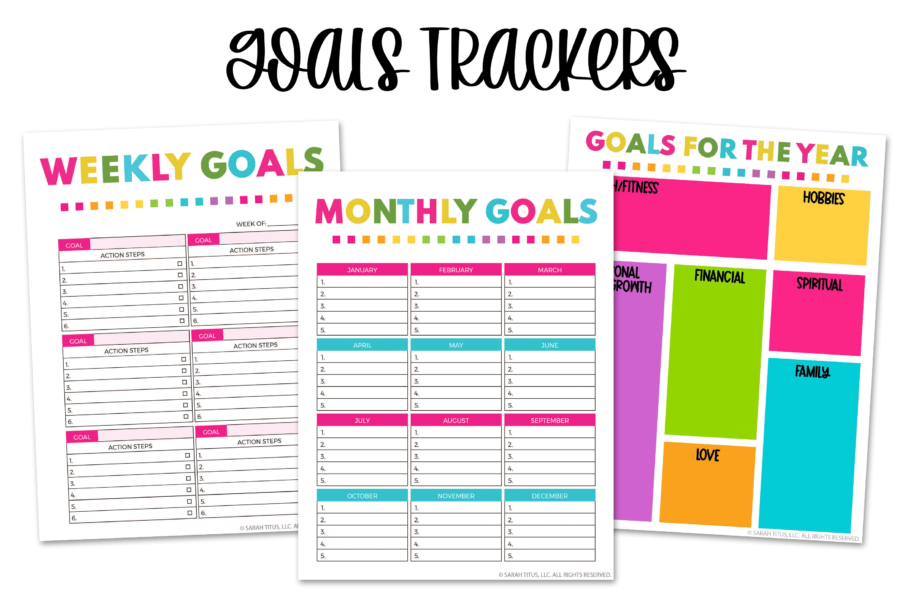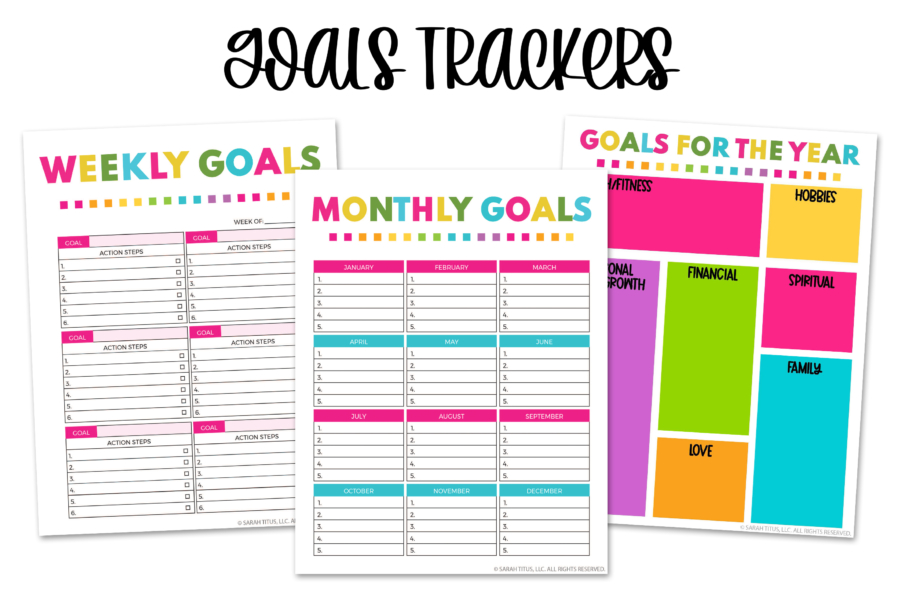 See what others are saying about the planner…