Years ago, I purchased some courses.
They were good deals, I had come across them and thought, "YAY ME! This is great. I'll buy them and get to them when it comes up. When I'm at that spot in my business".
Then a year went by.
Oh I cringe to admit this.
Then another year passed.
And last year I really started looking at the courses I had acquired. Many. And I never even went through them. 🙁
Here I am, the queen of saving money. Someone who spends money INCREDIBLY WELL, and yet, I'm literally BLOWING money out my ears because I'm spending on stuff I never even use. Hundreds of dollars, might I add.
It's like, buying a whole new wardrobe, spending 500 bucks and never wearing a single piece of it.
It's crazy right. Of COURSE we'd wear it. And yet, we let courses sit on top of the shelves of time that get dusty with age. Never cracking them open. Never learning. Never growing. Never sharpening our skills.
So last year, I decided I would start going through all my courses.
Man, it was a lot!
I made a file folder on my computer of ebooks and all the resources I wanted to go through. I created a file folder in my email as well of all the logins and each Saturday, I dedicated toward LEARNING.
On Saturday, each week, I'm doing SOMETHING to learn. I'll go through courses. I'll read physical books I've bought and are sitting on my bookshelf unread. I'll go through ebooks online. But that's MY day to really learn and because it's what I love to do. Learn. I just didn't make TIME for it.
I find that I really have stuck with it, not perfectly you understand, but pretty darn well. 🙂
So what does all that have to do with YOU? And more importantly, what does it have to do with this giveaway?
EVERYTHING!!!
Here's the deal.
My courses are awesome (brushes shoulder.) 😉 They are LIFE-CHANGING. But they are ONLY life-changing if you actually GO THROUGH THEM!!!
See where I'm going with this?
I'm going to help you along. I'm going to inspire you.
You go through ANY (or all) of the courses you've purchased from me (you MUST mark them complete to qualify; I need to see them at 100% complete!) and you get a chance to win any ONE of your choice of my Million Dollar Shop® (MDS) courses!
I don't care if the course you want is $500 or $2,000! You get ONE course of your choice if you win!!! 🙂 And all you have to do is (legitimately) go through any course you already own from me (VIP Products and Complete Binder Set don't count, yo!) 😛
After you go through the course, come back here and enter your name in the drawing. I will pick THREE….count 'em THREE winners and announce the winners in the February 5, 2020 newsletter.
That means you have a full month to get in there and get your learn on!
You ready? Let's go!!!! Let's make this a New Year of GROWTH!!! 🙂
CONGRATULATIONS TO THE WINNERS OF THIS GIVEAWAY:
Gabriela Morante
Kristen Hernandez
Shaelee Hansen
a Rafflecopter giveaway
Rules:
The two courses, VIP Products and Complete Binder Set, do not count if you mark them as complete as they are not learning courses. Each course you complete qualifies as a new entry (but must be submitted on different days). Courses must be marked 100% complete to qualify. There are additional ways of earning entries, however, at least one course must be 100% complete in your Million Dollar Shop® account in order to win.
Legal Jargon: No purchase necessary (if you don't already have a Million Dollar Shop­­­® course, one will be provided to you at no cost so that you can participate. 🙂 You can get, Top 13 Things To Sell in Shopify, for free through 2/1/20. Click here and enter discount code (if needed): GIVEAWAYFREEBIE ). Odds of winning depends on times entered and how many entrees there are. Must be 18 years or older to enter. Entries close on 1/31/20 at 11:59 am. Winner will be chosen at random on 2/1/20 at 12:01 a.m and announced on 2/5/20. One prize valued up to $1,997. **Winner MUST respond within 48 hours or new winner will be chosen.** Winner must reside in USA. Void where prohibited by law. This giveaway is in no way associated with Facebook, Twitter, Pinterest, Instagram, Shopify, Teachable or any other company unless specified. SarahTitus.com obtains the right to publicize the winner's names. You can contact Sarah@SarahTitus.com for further information.
Why can the USA enter only? Rules are very, VERY different from country to country. Hosting a giveaway is a lot of legality that we never want to break rules on. It's impossible to obey the laws of each and every country, especially as they are never-ending changing. The only safe thing for us to do, to obey laws, is to offer it to the country in which I live and am familiar with.
How to know if your course is 100% complete: When you log in and go to view any of the curriculum, it'll show you how much of it you have complete. Here's a screenshot of my back office (so it'll say 0% complete for me, but yours should say some sort of number in there if you've gone through it):
To mark lessons complete, go into the particular lesson you want, when you're done click, "Complete and continue":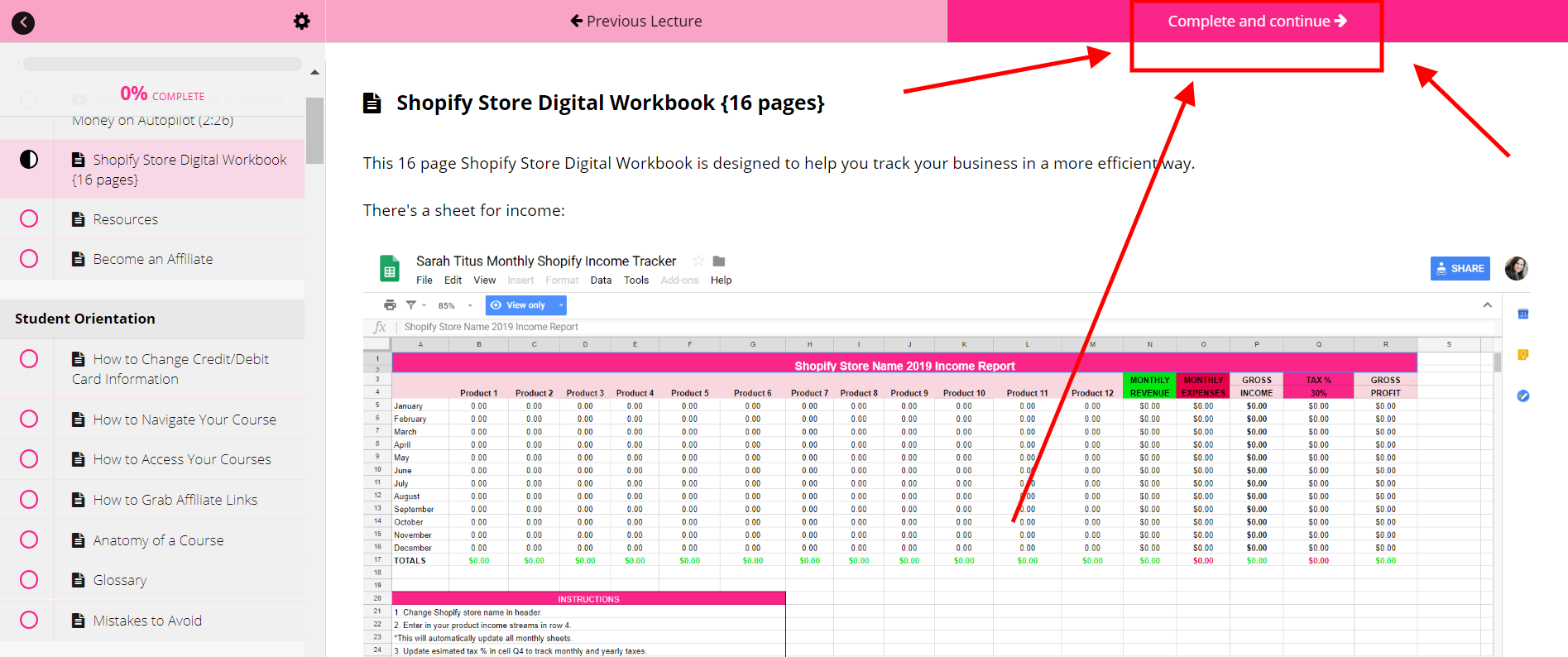 That's it! Just make sure each course is at 100% complete before you enter the giveaway (enter once for each course you complete!) and you're good to go. Again, there's extra entry options there on the giveaway form but in order to win, at least one of your qualifying courses must be at 100% complete. 🙂