I'm so excited to show you all this super colorful and fun game today!
The best part is you can make it yourself at home. 🙂 Take THAT Corona Virus! 😛
Check out how to make this super fun Spring sensory sorting colors game for toddlers below!
Super Fun Spring Sensory Sorting Colors Game For Toddlers
Springtime is here and one of my favorite things about Spring is the beautiful bright colors! All the bland and dull colors of winter are now bursting forth into fresh colors all around us!
What better way to get Spring ready than with this ADORABLE Spring sorting colors sensory bin game for your toddlers!
There are so many great benefits to sensory play such as:
Cognitive development
Motor skills
Problem-solving skills
Logic
…and lots more!
But did you know that color sorting games have even MORE sensory play benefits for your child?
Learning colors are a prequel to all other basic skills a toddler needs to know! This sensory game will help aid in that, and provide lots of FUN at the same time. 🙂
You don't need much to make this fun DIY sensory bin at home, just a few things…
Supplies:
Foam balls (vase fillers) – colors used: blue, yellow, pink, purple
Pom poms – colors used: blue, pink, purple, yellow
4 Small plastic bowls – I like clear because it shows the colors
Clear sensory bin or tray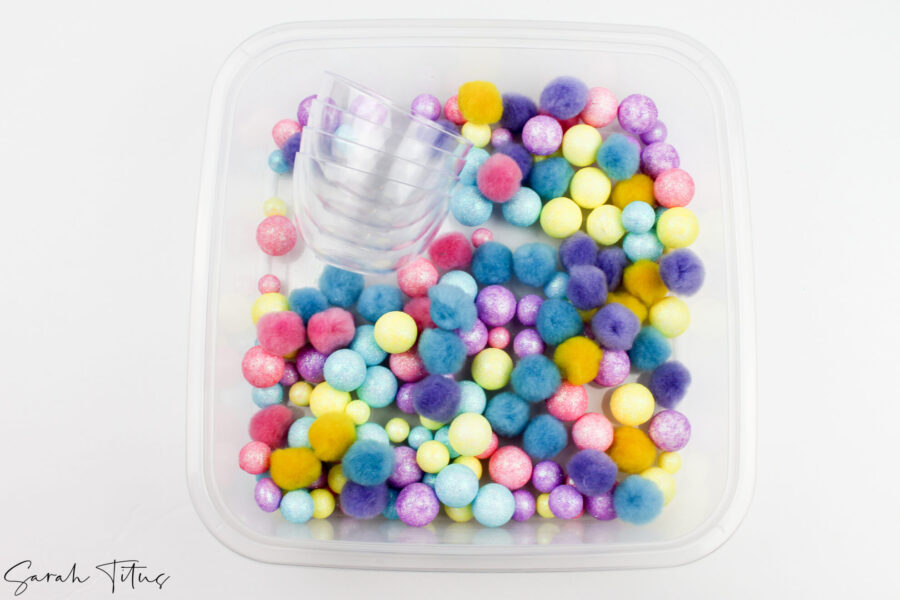 Directions to make this sensory play for toddlers:
Pour the foam balls into the tray and spread out evenly on the bottom.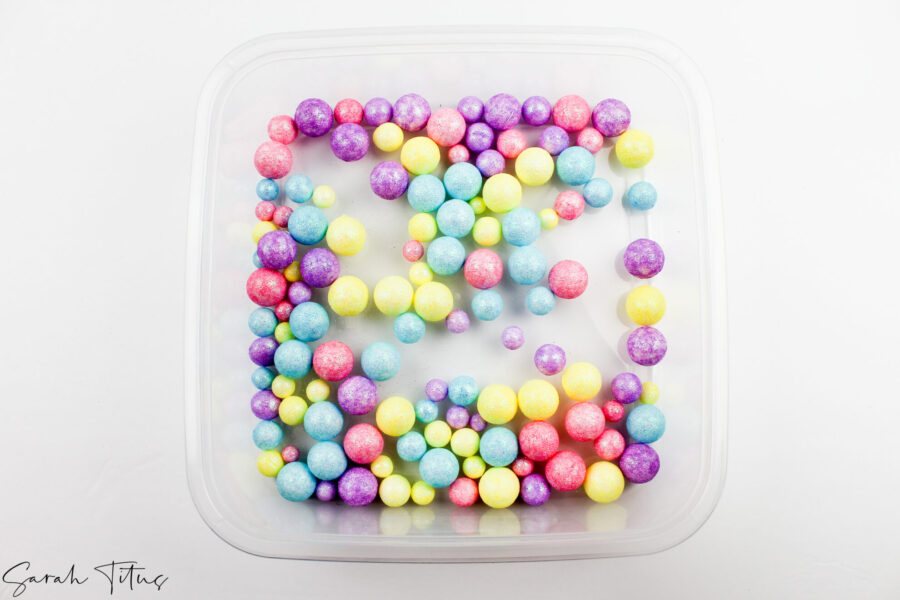 Next, add the pom poms to the bin.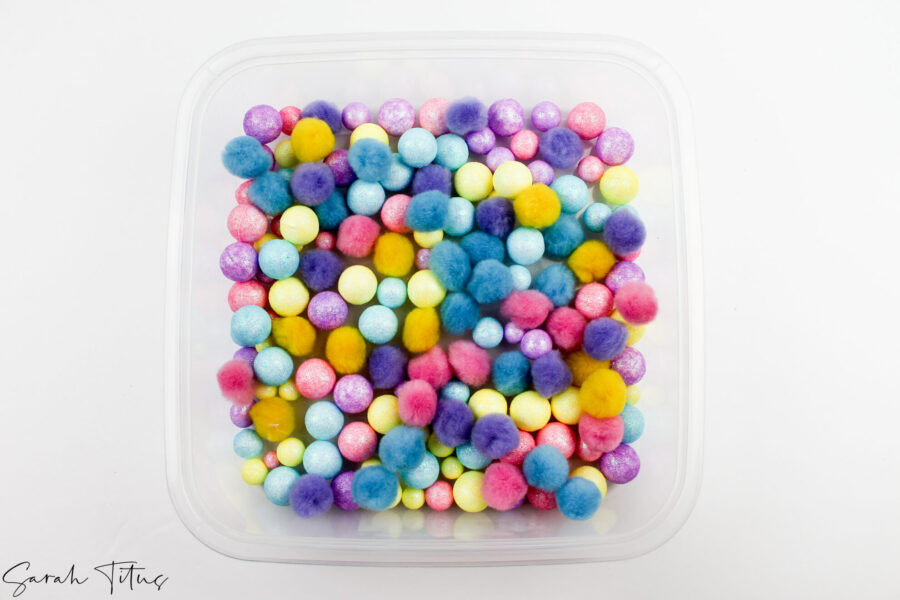 Mix foam balls and pom poms together.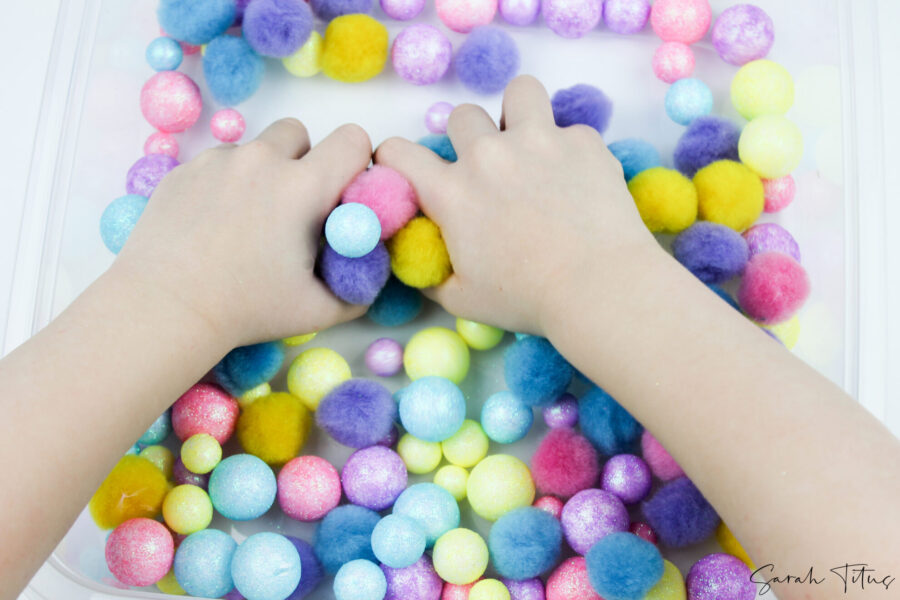 Set the plastic bowls next to the tray.
Have your child sort the matching colors of the pom poms and foam balls into the plastic bowls.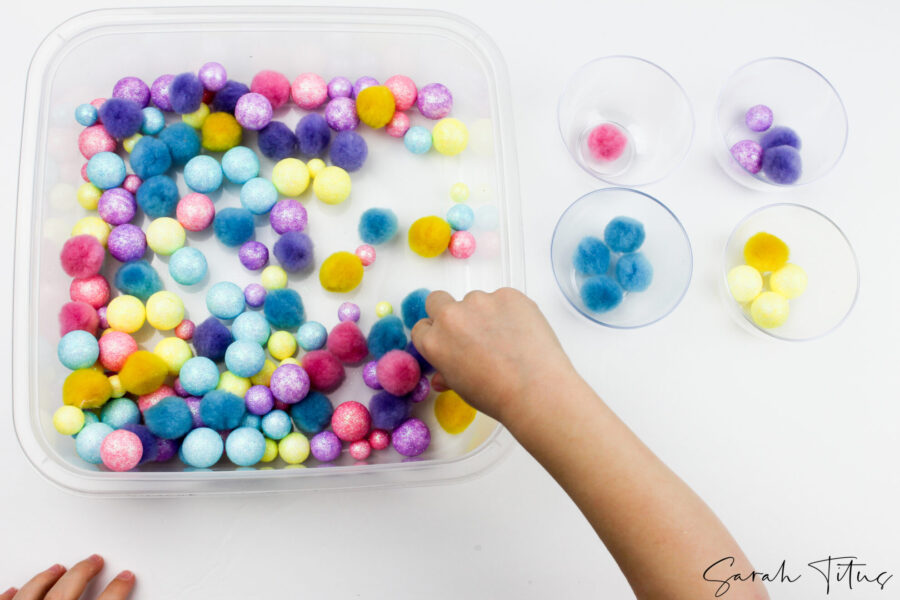 Let your toddlers enjoy some sensory play time!
If you want, you can even add different shapes in here too. Square pieces, triangle pieces, etc. Have them sort next by shape. 🙂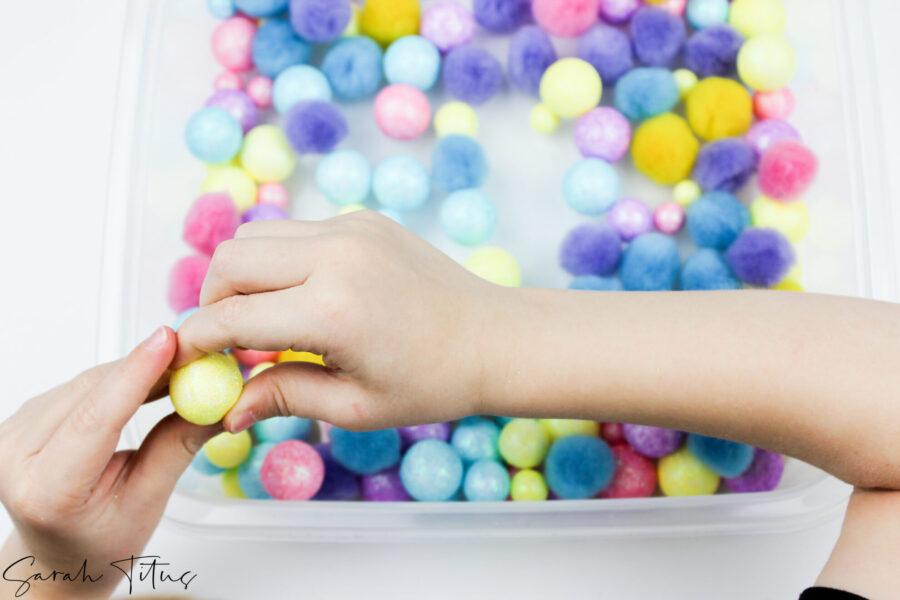 Fun Sensory Play Ideas For Using This Color Sorting and Classifying Game
Now that you have your color sorting game put together, there are lots of ways your toddlers can enjoy it! Here are some suggestions…
Have A Springtime "Fun" Day
Bring in this wonderful Spring season with a bang! Set aside a fun family Springtime activity day!
Bring out this sensory bin and then grab these Easter coloring sheets, make some fun speckled eggs and enjoy some quality time as a family with these fun Spring-themed activities! 🙂
Use Sensory Games For Rainy Day Activities
Are your kids restless from being stuck inside all day? Bring out this fun sensory bin for a great rainy day activity!
This sensory bin will provide lots of entertainment and are great not just for rainy days but weekends, summer breaks, or sick days.
Use To Encourage Independent Play
Does your child struggle with independent play??
Not anymore!
This sensory bin color sorting game will help encourage that in your children. They will need lots of focus and enjoy playing this fun grouping game while you get a few things done. For more or less time, simply add more colors for them to sort! Keep 'em busy all day. 😉
While they are busy doing that, you can take a little bit of time to yourself to relax. Read a good book, take a shower, or even get your kitchen cleaned up a bit. <3
I hope your child loves playing with this fun sensory game! Such a fun and easy DIY solution for TONS of fun. 🙂