Celebrating your child's graduation from school will be extra exciting with this brand new 160+ page Graduation Binder! It's the biggest and best on the web!
Your child's graduation is one of those special events that can be exciting and fun to celebrate. It can also be hectic and bittersweet.
Your child is growing up, flexing his or her wings and possibly leaving the nest. As a parent, your emotions may be all over the place.
Shower your child with time, love, and attention!
And I have just the thing for you to have a wonderful graduation season with lots of fun!
I want you to have the best memories ever!
This Graduation Binder literally has everything in it you'll need to commemorate your kid's wonderful accomplishment!
You can print off the whole binder, or just a few sheets at a time as you need them.
Plus, if you already have a binder, there are different sizes of spines to fit whatever size you have on hand…no need to go out and buy another binder. Just use one you already have and you're good to go.
If you do need a binder, here are the appropriate ones on Amazon:
Make your child's graduation extra special for your family with the most impressive and complete Graduation Binder on the web!
This binder includes inspirational quotes, graduation cards, wall art, gift ideas, decorative banners, party planning lists, history of graduation, coloring sheets, and so much more!
Get Instant Access To The Graduation Binder
Calendars
Last Day of School Memory Prompts
Graduation Photos Keepsake
School Success Essential Oil Diffuser Blends
Motivational Quotes
Coloring Graduation Bookmarks
History of Graduation
Graduation Activities Ideas and Crafts
Games
Goals and Action Steps
Coloring Inspirational Quotes Sheets
Graduation Cards
Thank You Cards
Inexpensive graduation gift ideas
Party Planning Schedule
Party Recipes and Shopping List
Decorative Banners
Wall Art
Diplomas
…and so much more!
My Favorite Pages
It's kind of hard to choose favorite pages because they are all very helpful, but I do have a few favs. 🙂
The end of the school year is so incredibly busy! This June Calendar printable is the perfect way to write down appointments, vacations, graduation day, and graduation parties…of course!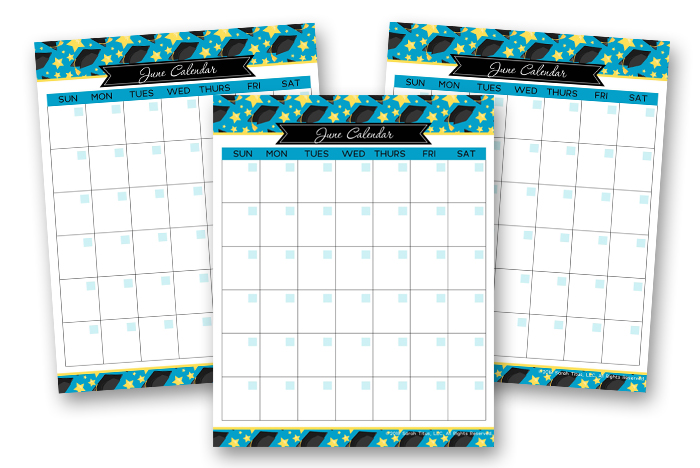 The Goals Planner printable will help your kids set and accomplish new goals each month of the year.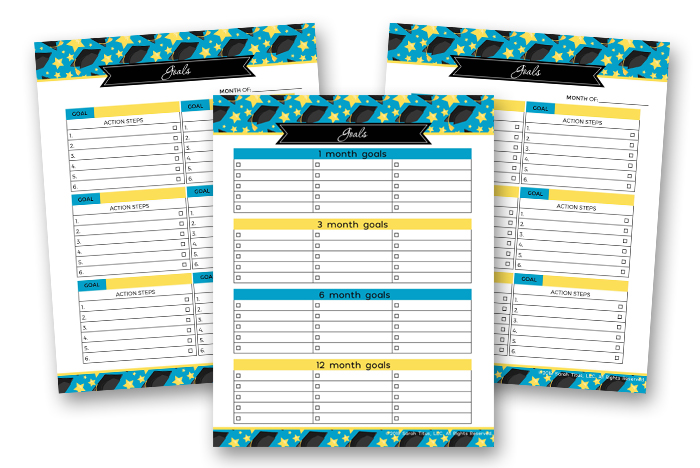 This Graduation Activities printable will help prepare for all the activities that come along with graduation festivities. Have peace of mind once the DONE box it checked!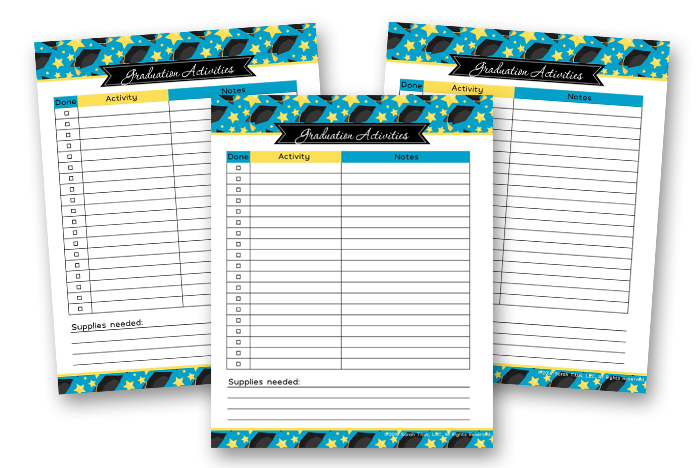 Graduation Alphabet Banner Flag
These Graduation Alphabet Banner Flag printables are a perfect way to personalize this special day. Print out the graduation bunting letters you need for the special message you like to share. Cut out and hang these graduation decorations for that special graduate.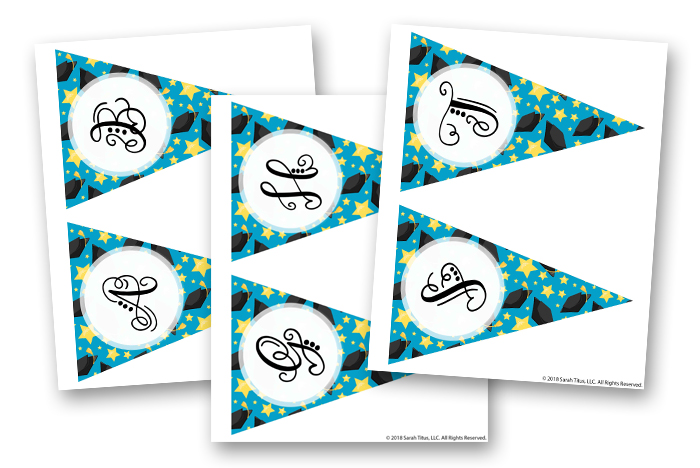 No need to search what to have on the menu! This Graduation Recipe, Pasta Herb Salad recipe, is one of the twenty-eight recipes included in the Graduation Binder. They are sure to be a big hit at the graduation festivities.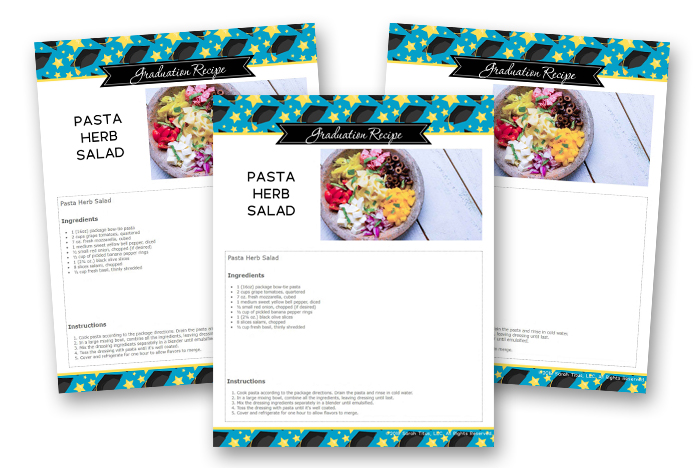 It's a hectic time and a bit stressful too! The Coloring Pages printables are a perfect way to color the stress away.
See what others are saying about the binder…