When it comes to play time and entertaining a toddler, things can get a little challenging. They are so busy and active! It can be hard to find stimulating activities for toddlers that are not only engaging, but cost-effective at the same time.
The good news is that toddlers are so open to learning that playtime can also be a great time for teaching new things. If you have a busy toddler at home and you are trying to find ways to keep them occupied, here are some fun & cost effective activities you can do with your toddler.
Fun & Cost Effective Activities to do with your Toddler
Go on a nature walk
This one is mostly free, other than the cost of maybe a snack for the road and the gas in your car. Toddlers love to explore the outdoors and even a simple walk in a nature park in your city can act as a great place to have an adventure.
To kick it up a notch, why not have them do a treasure hunt for sticks, colors and types of leave or flowers?
Not sure where to start when it comes to making this a learning experience? Visit a local nature preserve for some great ideas for must-sees on the trails or for a guided tour of what the preserve provides. If you don't have easy access to a nature preserve go online to a national park website and take a look at some of the teaching tools that they use.
Do some sensory play
Do some educational sensory play with things you have on-hand at home. You can make your own "slime" with borax or cornstarch, do homemade play dough, or even color some rice for digging into. Water play is also great if the weather permits. Sensory activities are also great learning tools! Try writing letters and numbers in shaving cream or putting celery in colored water to watch its color change.
Who said play at home can't be loads of fun?
Did you know bar soap can easily become a cloud-like dough? It's true! All you need is a bar of Ivory soap and a microwave. Just place a bar in there on a paper towel and microwave (watching it) for 2-3 minutes on high power. It will turn into a weird fluff that is fun to mash, mold and squish. Try making favorite animals and characters out of the dough. Afterwards, just let them hop in the tub (with their soap-dough friends) for an extra fun-filled bath time.
Practice those motor skills
Toddlers are at prime-time for developing their fine and gross motor skills. Take opportunities on nice days for kicking or throwing a ball around outside for playing tag or skipping down the driveway. Take the bucket of sidewalk chalk outside and let them create whatever they like.
Practice skills like coloring with crayons or colored-pencils on a rainy day. Not sure what to do with all of those coloring sheets? Share the wealth with family who may also want examples of your child's works of art. Practicing motor skills will help your child to develop necessary abilities while having a great time.
Let them cook with you
Toddlers love to model any adult stuff, so allowing them to be in the kitchen with you can be a great way to keep them entertained. Have them stir or mix something, spread things like icing or peanut butter and build things like pizzas. At meal time, ask what they would like to eat and then find a way to get them involved in making it.
Whether it's putting the pasta into the water (with careful help, of course) or adding the veggies to the recipe, getting your toddler involved in the kitchen not only makes for a lot of fun, but gets them more invested when it's time to eat.
Make meals FUN!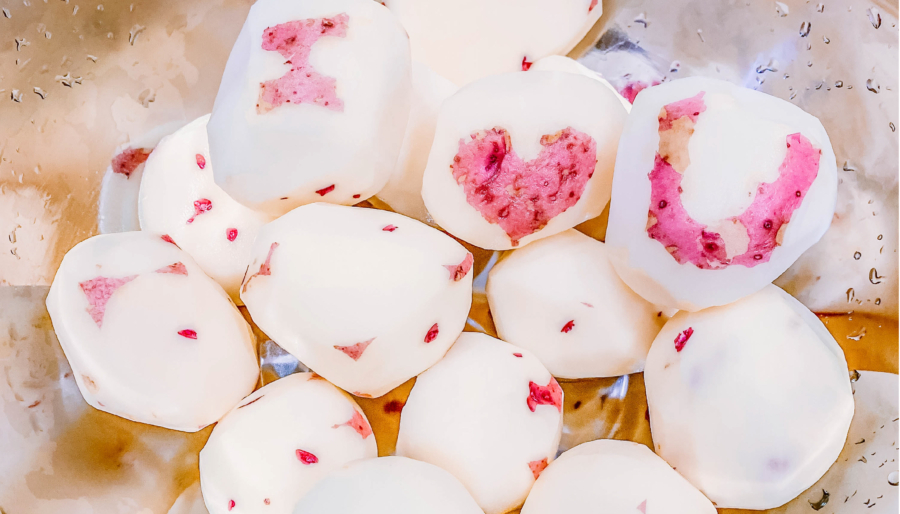 Change-up the way you do things
Little changes to normal events can seem like huge deals to your toddler. For a special treat, go to the beach for the day. Have dinner while watching a favorite movie or have a picnic on the floor. Ask for your child to help decide what comes first in the bedtime routine (brushing teeth or getting into pajamas?) Give them the choice of what veggie to have at dinner-time.
Giving your child choices about the way that things go at home will help them to feel that their opinions matter to you, while making routine activities a little bit less ordinary.
Go for an adventure in the car
Are you getting stir-crazy at home? Ready to be out and about, but not sure that you want to go anywhere in particular? Go for a drive. Explore places that you may not have been before or let your child choose the direction that you take. This can lead to new discoveries, the opportunity to practice right and left (as you discuss which way to turn) and will get you out of the house.
To make this adventure even better, find a fun place along the way to stop for a treat. Whether it's a park that you can stop at to play or an ice cream parlor where you go for an afternoon snack, stopping somewhere new will make the trip exciting for everyone.
Take them to the grocery store
This may sound totally boring to you, but think about how great it is for your toddler. The sights, sounds, and smells give your child experiences that reach each of their senses. Even if you don't have a list that you need to buy, heading to the store can be a wonderful activity. It gives your child a chance to practice describing things that they are seeing, hearing, etc. while exposing them to a variety of foods that you may not prepare at home.
Talking about some lesser-known foods will help your child to realize that not all people do things (eat things) just like you do. Discussing some of your favorite things, as well as some things you don't care for as much, will help your child to know it's okay to have things that you like better than others.
As an added bonus, let your child choose a snack at the end of the trip. Try to make it a new food that you discovered together during your visit.
Let them help with the chores
Let's face it, their help may not always be so helpful, but it sure is fun! Hand them a dust rag while you're polishing furniture, or give them the job of picking up toys before you can vacuum the carpet. This works well with outdoor work, too. Your toddler will readily help pick-up twigs before the lawn gets mowed or will aid you in pulling-up weeds so that the flowers can grow.
Today while I was organizing the garage, I had my kids pick all the dandelions in our front yard. What kid doesn't like to pick "flowers" and I was able to get the help done I needed, making our lawn look nicer, AND get my organizing done in the garage, all at the same time!
To your child being with you and doing what you do, is the fun part. It usually doesn't matter much what the task is at this age.
Give your little one a green thumb
Toddlers and dirt go together like peas and carrots. Let them help you dig and place seeds in the soil. Toddlers are also good at using a hand rake to aerate the soil before you plant as well. This is another wonderful learning activity.
Talk about what a seed does, what you need to do to take care of the seed and what the end result will be. Check your seeds' progress every day and talk about the changes that you see. If you want to add to your little gardener's lesson, measure the sprouts each day and talk about how much your plants have grown. Then talk about what we have to do to make sure we grow like the plants.
Take a trip to the library
Encourage their love of reading with a trip to the library. This is a simple activity that most parents do with their kids, but kick it up a notch by looking into the free reading times, crafts, and planned activities that most public libraries offer. Your toddler can enjoy free sing-alongs while learning some great socialization skills as well.
If your library doesn't offer programs like these, or you find it hard to make it to these events, you can also create your own mini-library. Pick up some toddler classics and have a reading area at home…all it takes is a shelf and a bean bag chair or two.
For added fun, borrow some pre-recorded stories at your library and have your child follow along with the narrator on the recording. Get to know your child's favorite characters and talk about them. Consider throwing parties for some favorites or help your toddler to dress-up like the characters. These simple activities will help the books to come to life for your child, making them feel more attached to the books.
Fill your walls with art
Toddlers love creating projects (especially if they know you love them). Choosing pictures from magazines and gluing them onto construction paper is a great way to build collages. Set out on picture hunts for various themed-collages (seasons, characters, places to visit, etc.) This basic project can be used over and over, as no two collages will end-up the same.
A slightly messier project (though just as much fun) is finger-painting. Give your child a sheet of paper and finger paints and let them be creative. The results will be masterpieces that are perfect for your playroom (or their bedroom) walls!
Get crafty
There are endless possibilities and ideas for kids when it comes to crafts. From tissue paper flowers to popsicle stick puppets, your child can spend hours creating (and then playing with) craft projects. If you're at a loss when it comes to where to start, a simple Pinterest search will provide you with tons of options.
Do some early learning activities
Your child may be showing signs that they are into counting and spelling. Have conversations to get them thinking about learning concepts. If your toddler asks you how many more grapes their sister got than they did, then turn it into a math activity. (Well, I gave her five grapes, but you got three. How many more did she get than you? …or how many grapes do you have all together?)
Or if your child is interested in how to spell specific words, take the time to write a letter to a relative or a friend, telling about how much fun you're having. You can talk through the words together and explain how they are spelled, then give your child a copy of the letter to write by themselves. This is a great learning tool, while helping your child to practice skills that seem to interest them.
Free Printable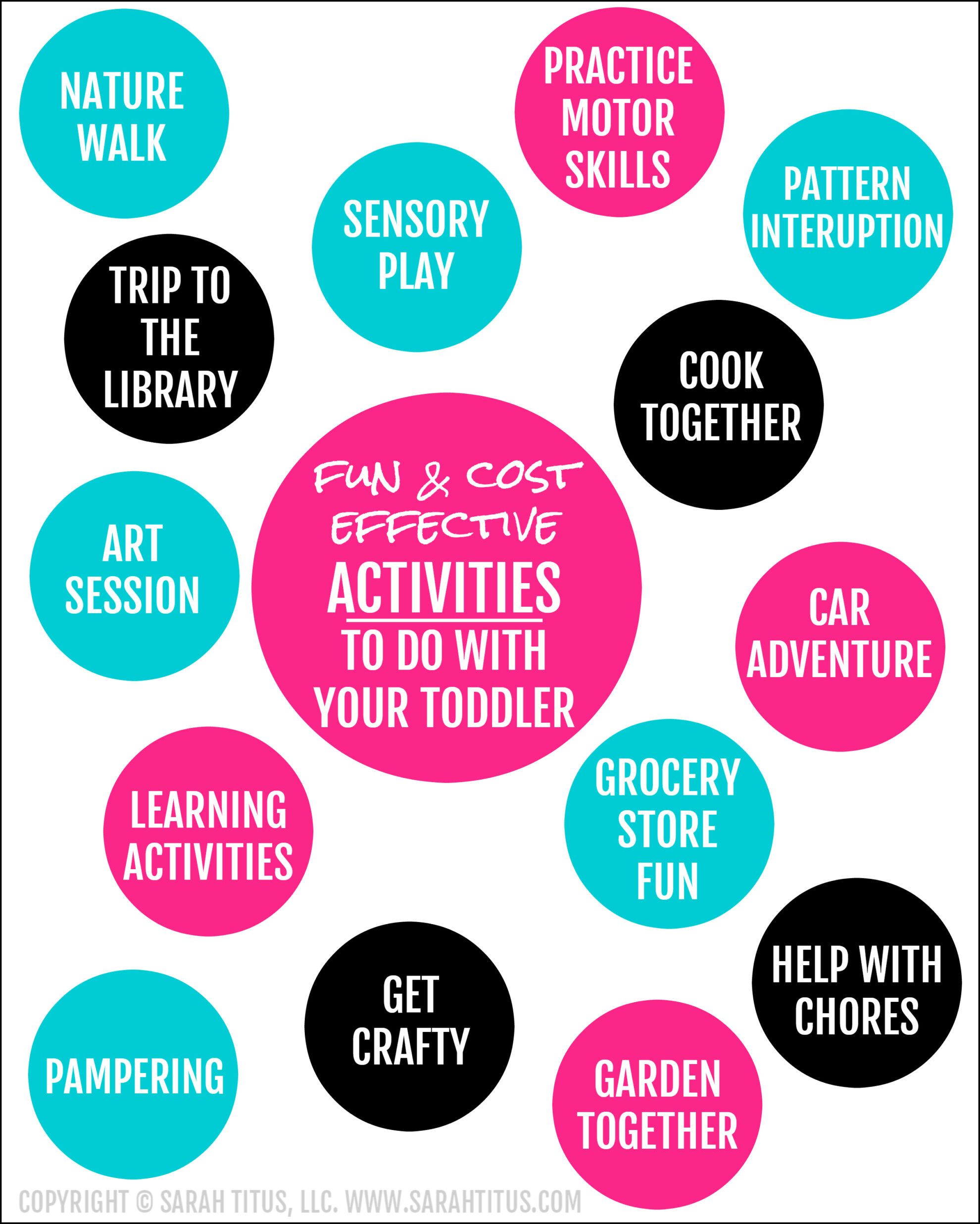 Get this free printable, Fun & Cost Effective Activities To Do With Your Toddler to hang on your fridge right here.
Do some fun, messy pampering
There is nothing quite like letting your little girl pamper you in the form of messy manicures. It is great for them because it allows their creative side to flow and work on fine motor skills, plus provides some bonding time.
If you are worried about the mess, make sure to set up some old towels under your work space. You could paint their nails, too! The fun doesn't have to stop at nails. Do each other's hair and make-up. Let your child brush and accessorize your hair after you've done theirs. If you're feeling extra-brave, get out the makeup and let them apply yours for you. Then do theirs. This can help your toddler to feel like she's a big girl like Mommy.
There are tons of great activities that you can do at home with your toddler. For many of them all you need is a little creativity and a lot of imagination. If you put yourself in your child's shoes and think about how exciting each day is for them, you may realize that it doesn't matter how much money you spend or how much time you're on the go. What matters most is that you and your child are spending quality time together.