I'm always looking for ways to have little reminders in my day of just how good Good is. Whether it's a sticker I've put in my business binder, the a wallpaper on my phone, or a little sign on my desk, these reminders always brighten my day and keep my focus where it should be: 5,000% on GOD!!! 🙌💖
That's why I've created this cute set of SVGs for you! All of the sayings are reminders of how good our God really is! 💯
God is Perfect Free Christian SVGs
Matthew 5:48 tells us "You therefore must be perfect, as your heavenly Father is perfect." I long to be like Him, in absolutely every part of my life and He is perfect. I also know that I have no chance of being perfect on my own; I must trust in Him to sanctify me as I seek to grow in the Lord each and every day.
But I have confidence that the Lord will guide me because Psalm 18:30 tells us that "As for God, his way is perfect: the Lord's word is flawless; He shields all who take refuge in him." He is my refuge and my strength (Psalm 46:1) and will ALWAYS care for me.
He "is the same yesterday, today and forever" (Hebrews 13:8). Thank you, LORD!
So download these SVGs and put them on t-shirts, signs, cups – anything you can think of to keep these truths in front of you constantly. 💎
Wouldn't "Always in love with God" make the cutest Valentine's shirt or printable card?
What about creating a sign for someone who is struggling to remind them that "All you need is Jesus"?!
Or make some vinyl stickers for your kiddos notebooks that say "God is always a good idea"!
We can never be reminded of the truth of these sayings enough. Download them and create some beautiful reminders of the goodness of God!
SVG text includes:
God is perfect
With all my heart
All you need is Jesus
God is always a good idea
Always in love with God
Don't be afraid to trust God
You will never regret trusting God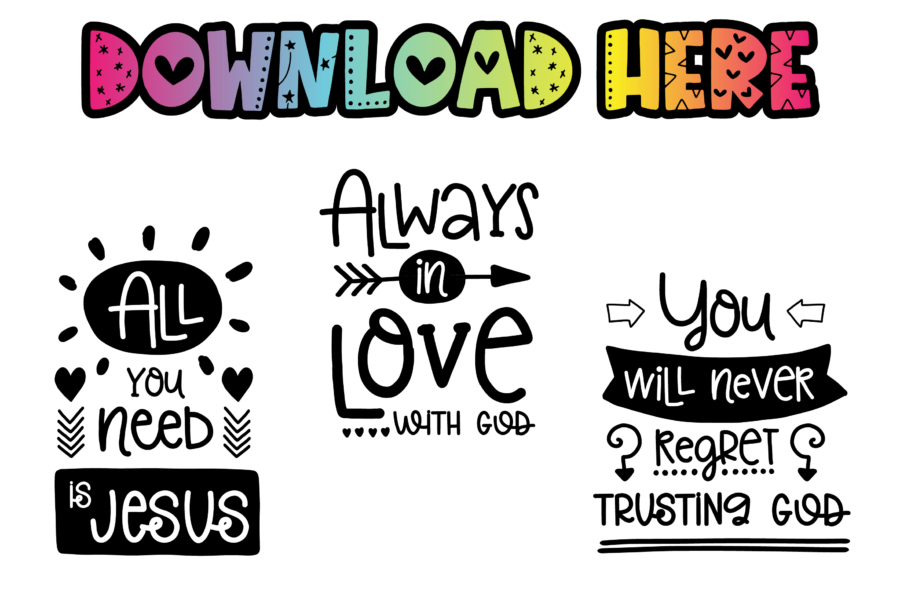 Need help uploading your SVG into Cricut? Click here to see our full tutorial!