You know me…I LOVE rainbow patterns. It's why I created these STUNNING rainbow color palettes here, and why I created this one to use for a printable! It's seriously so cool I just HAD to share it with you!
But I couldn't stop and began making all KINDS of things…an SVG, wallpaper, a binder cover, and more!
Check out this free cotton candy color palette SVG, wallpaper, and printable set!
You're sure to love it!!!
Cotton Candy Color Palette (+ SVG, Wallpaper, Printable)
When I think about my life in the past 11 years, I think of my ex-husband who was a monster. Never letting me be myself. Never letting me shine. Always wanting to hide me, drag me down, destroy me.
He wasn't Christian and I get it. I came to salvation after we got married and things got tough real quick. All the sudden I was on one side of eternity and he was on another.
His idea was to hide who you are. Never cry. Put on a fake facade and be "tough"! He never shared his emotions. He never talked about how he felt and it made the marriage super rough. He would just always say he liked something when he didn't. How could I even know what made him happy if he never even told me?!
We were doomed to fail because he didn't show emotions.
But God says that being sensitive and loving others is a GIFT to the world. He has called us to love one another, to not fake ANYTHING and I wanted to not only remind MYSELF of this, but also to tell you, "Hey, if you are sensitive, it's OKAY!!!"
Don't let the world tell you it's not!!! Don't let them make you feel BAD because you take things sensitively or wear your heart on your sleeve. I'd much rather be sensitive than be "tough".
You can use the things in this post to remind yourself of that, every day!
Put it on your laptop. Put it on your binder. Make something out of it with the SVG, but get this saying in your life more because it's SOOO true!
Here are some cool things I made for you…
Color Palette: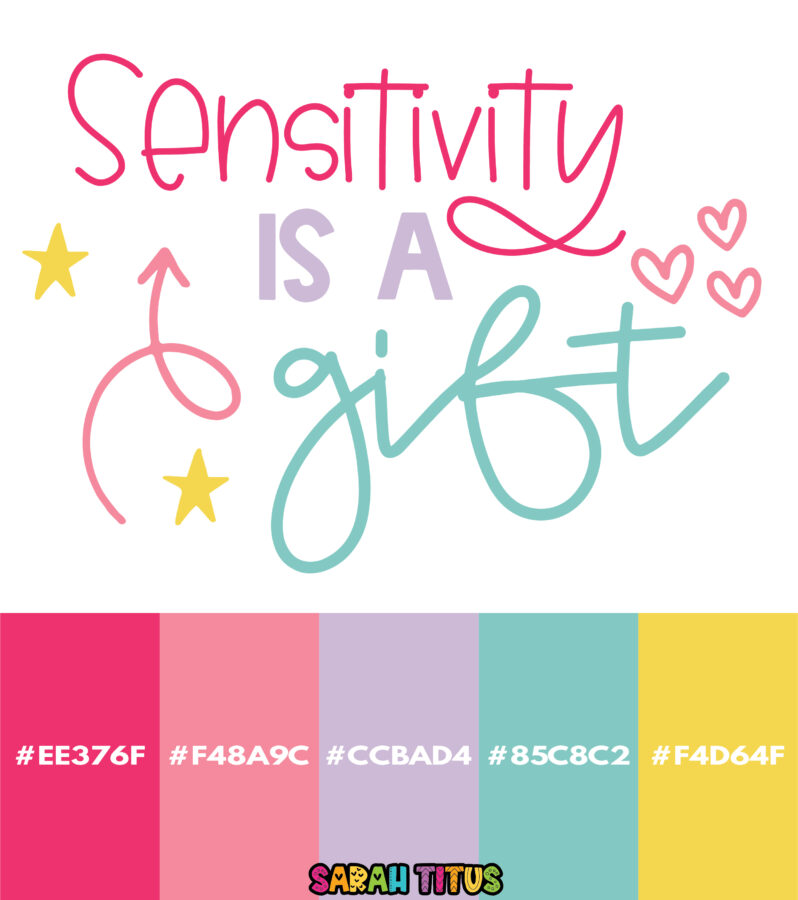 Use it to make printables. Use it to be inspired. Use it to paint a wall (the light pink and lavendar is UBER pretty!)
SVG:
Use it to create things with your Cricut. Put it on a pair of socks, a small purse, or even a car decal. Make stickers from it. Give it as a gift. Get the message out that being sensitive is not wrong or bad in any way!!!
Laptop / PC Wallpaper: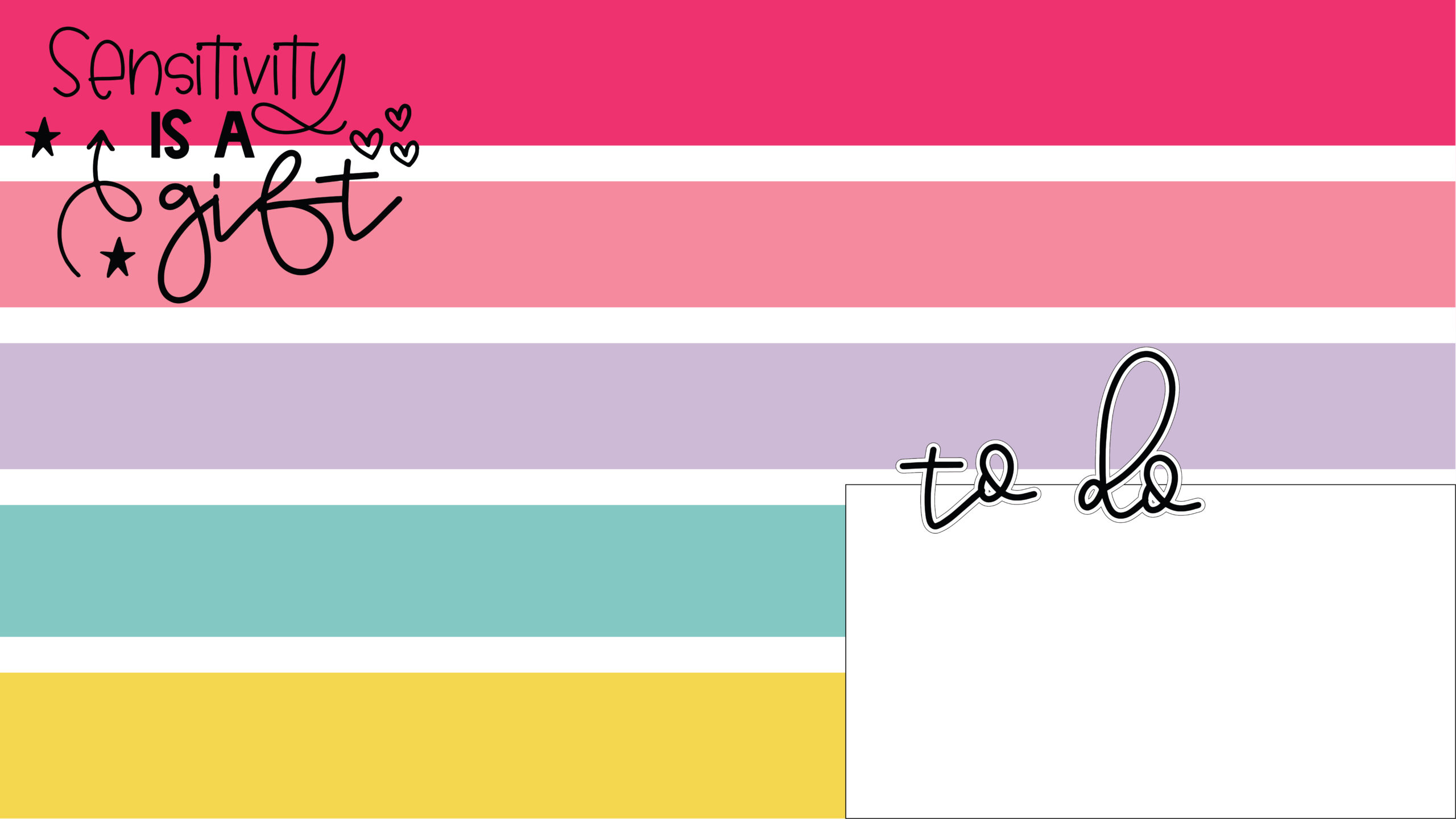 How adorable is this computer wallpaper?! You can use this as a background screen on your laptops or desktops.
The bright color palette will inspire creativity for you! And the to-do list section at the bottom is perfect to add your virtual sticky notes to and able to see what tasks you need to complete that day.
Printable (Wall Art / Binder Cover):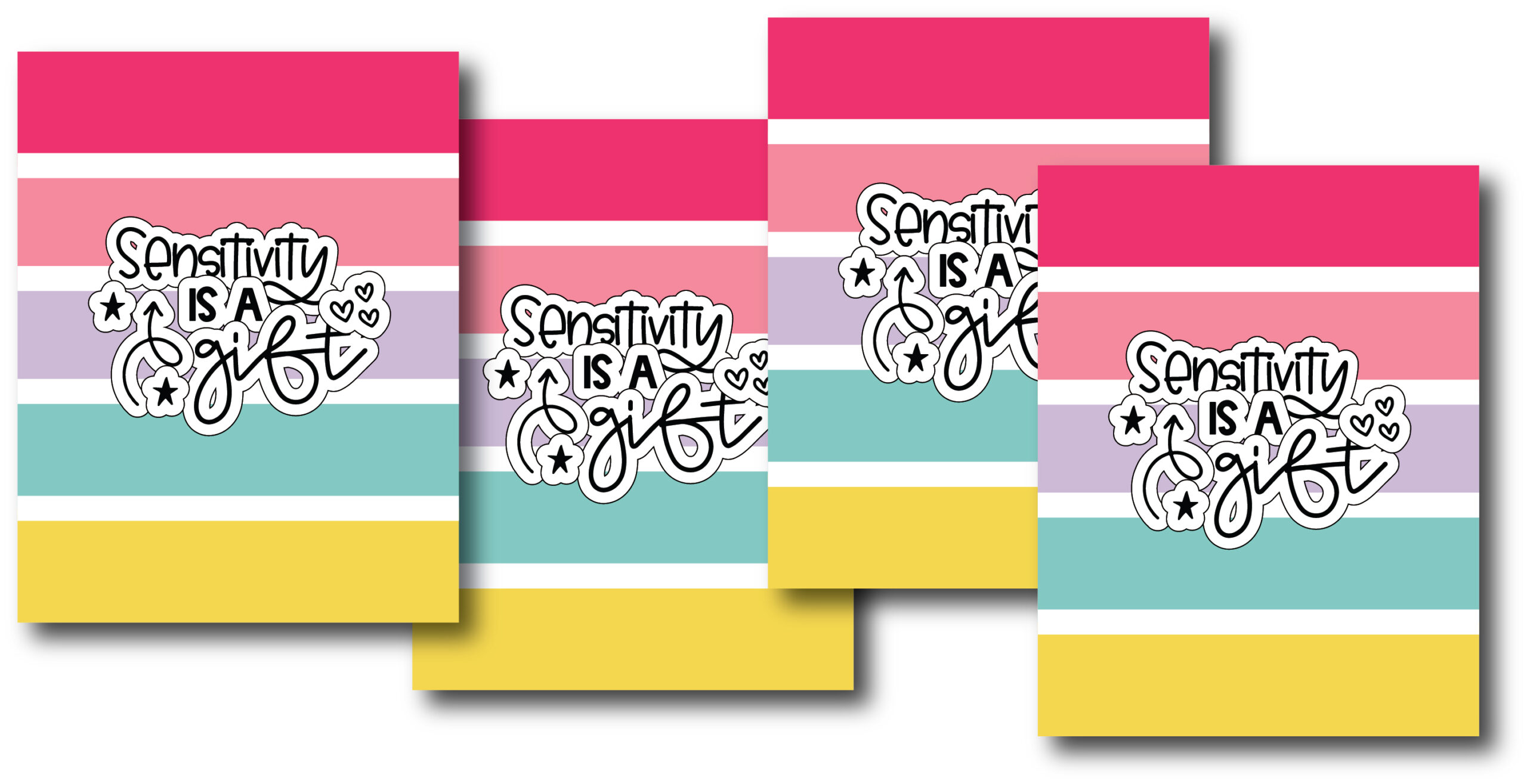 Of course, I had to wrap this up with a beautiful printable for you! Feel free to use this beautiful printable as wall art for your home, binder covers, or even frame it to put on your desk. <3
These printables are so great because you can get THREE separate files, all in one cohesive theme. Spread the message that sensitivity is a gift, and that being loving is a gift to the world!
Need help uploading your SVG into Cricut? Click here to see our full tutorial!
The printable and laptop background are for personal use only. You may not alter them or redistribute them for monetary gain without written consent from the author, Sarah Titus. However, the SVG comes with free commercial use. If you share it, please just give proper credit by linking back to this post. 🙂