My mind can sure play tricks on me. No matter how much I pray, study, or worship, I still have to work on what I focus my mind on.
And when I look around and talk with people I know this is a struggle for everyone. There is so much negativity in the world today, and it's often too easy to fall into the trap of that negativity being our focus.
One of my favorite verses is Philippians 4:8: "Finally, brethren, whatever things are true, whatever things are noble, whatever things are just, whatever things are pure, whatever things are lovely, whatever things are of good report, if there is any virtue and if there is anything praiseworthy—meditate on these things."
God has given us a roadmap for what our focus should be on. And the amazing truth is that if we focus on the things in this verse OUR lives will be so much better. 💎
Grab your free focus on the praiseworthy things free Christian svg set below!!!
Focus on the Praiseworthy Things Free Christian SVG Set
Use these svgs to create all sorts of crafts (t-shirts, signs, cards, etc.) and remind ourselves and everyone to stop focusing on the negative and focus on what GOD says is worth while to focus on!!! 💖
Share them with friends and family. Wear them, send them, share them, and share the truth of what our focus should be each and every day.
Download these svgs and set your focus right today! 💎🥰🎉
SVGs included:
Focus on the noble things
Focus on the admirable things
Focus on the right things
Focus on the true things
Focus on the pure things
Focus on the excellent things
Focus on the good things
Focus on the lovely things
Focus on the praiseworthy things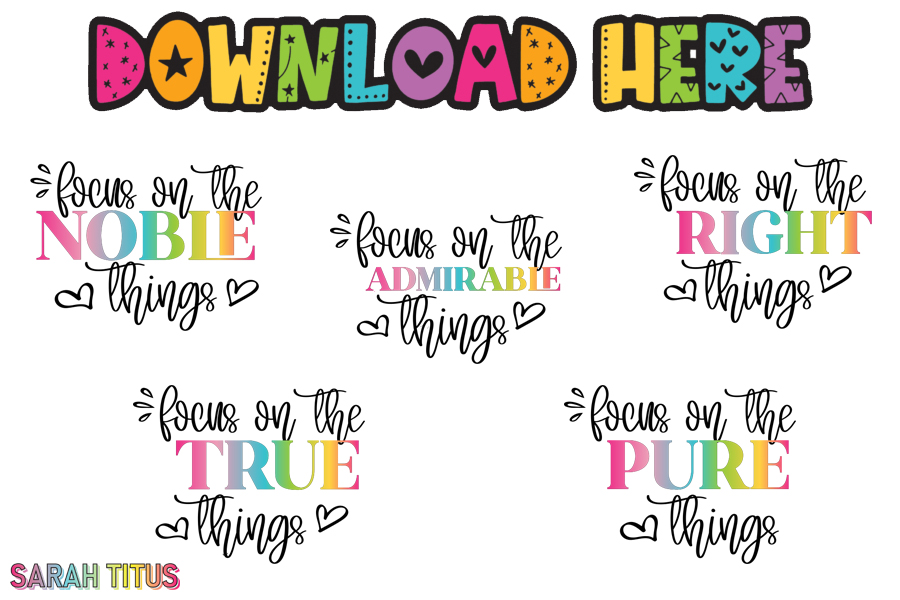 Need help uploading your SVG into Cricut? Click here to see our full tutorial!