Are you ready to be the most ORGANIZED teacher in the world?
Life as a teacher is B-U-S-Y and full!
From the volume of planning, marking assignments, admin duties, to the non-teaching tasks, there's just so much on your plate!
This Teacher Binder is the perfect way to keep all the important information about your class students and their learning in one handy place. It will help you stay super organized and efficient all year long! Plus, it's undated so you can use it every single year without having to buy another planner each time!! YAY: saving money!!! 🙂
Say goodbye to chaos and hello to effective time management and organization!
It's time to get an A+ for planning and being able to find and get to your most important information quickly and easily so you can focus more on what REALLY matters! <3
Sections in this Teacher Binder include:
Front Cover
Spines (1″, 1 1/2″, 2″, 3″, & 4″)
Table of Contents
Back Cover
Teacher Info
School Info
Student Info
Holidays List
Time Sheet
Work Log
Taxes Summary
Planner
Behavior Log
Behavior Bucks ($1 – $5) & Earn List
Attendance Log
Homework Tracker
Parent Teacher Conference
School Activities
Projects
Class Schedule
Class Groups
Chore Chart
Daily Schedule
Daily Planner
Week at a Glance
Weekly/Quarterly/Monthly Goals
Weekly Planner
Monthly/Yearly Overview
Daily/Weekly/Monthly/Yearly Focus Goals
Planner Stickers (9 pages full!)
Seating Planner & Chart
Field Trip Planner
Staff Meeting & Meeting Minutes
Lesson Planner
Monthly Cover Pages
Daily Calendar/Planner (pages for every day of the year)
Coloring Sheets
Inspirational Wall Art
…and TONS MORE!!!
My Favorite Pages
It's kind of hard to choose my favorite pages of these Teacher Binder printables because they are all helpful and I had a BLAST creating them (so I'm a bit biased! lol), but I do have a few. 🙂
There's a super handy timesheet printable that allows you to record your daily and weekly hours worked. It includes sections to note the week, start time, end time, regular hours, overtime hours, and total hours for Monday – Friday. Never lose track of your hours again!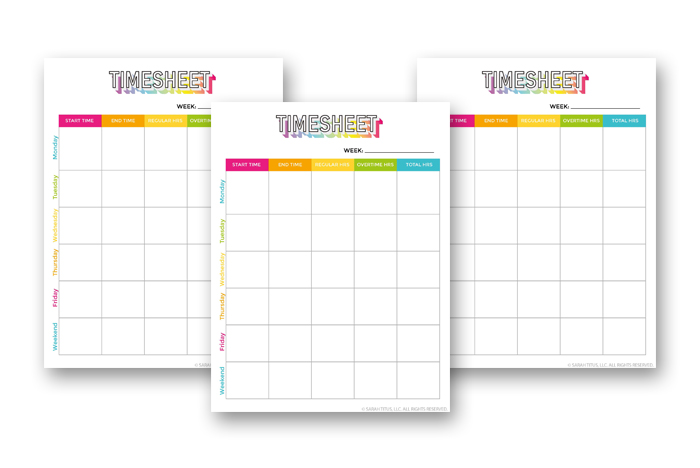 This behavior log helps track bad behavior and includes space for the date, name, behavior, action taken, and notes. Having clear notes on difficult behavior will allow you to have a record to refer to when discussing it with their parents or the headteacher.
If the students know you are logging this information, it can be an effective way to improve their behavior because they know you are keeping a watchful eye and noting down EVERYTHING.
I didn't leave out good behavior either from this binder! There's a good behavioral system included also with fun coupons and a system to encourage your students to be good. 🙂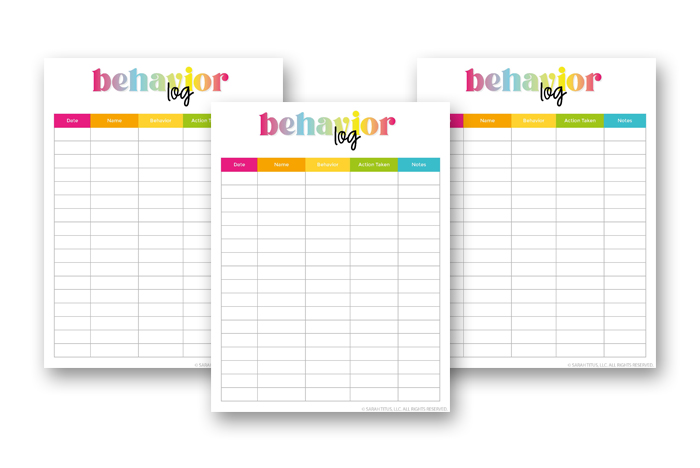 The week-at-a-glance pages are the perfect way to get productive and use your time wisely. Plan your days and weeks half hourly from 8am to 9pm so that you make the most of each day. You'll be clear and focused on what needs done day to day. Your efficiency will be through the roof!!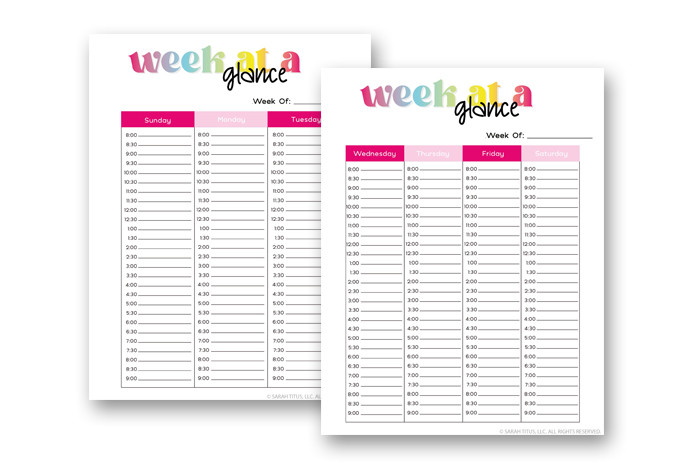 Staff Meeting and Meeting Minutes
Make your staff meetings more focused, impactful, and on track with the staff meeting printable. Includes space to record:
Day
Date
Time
Location
Attendees
Focus/Objective
Notes
Brainstorming
Actions
Deadline
Next Meeting
The related meeting minutes printable is a neat and organized way to have a record of all the relevant and important information (day, date, time, location, focus/objectives, present staff members, notes) for each meeting. Anyone who was unable to attend will have a great summary of all the details to help get them up to speed on the discussions.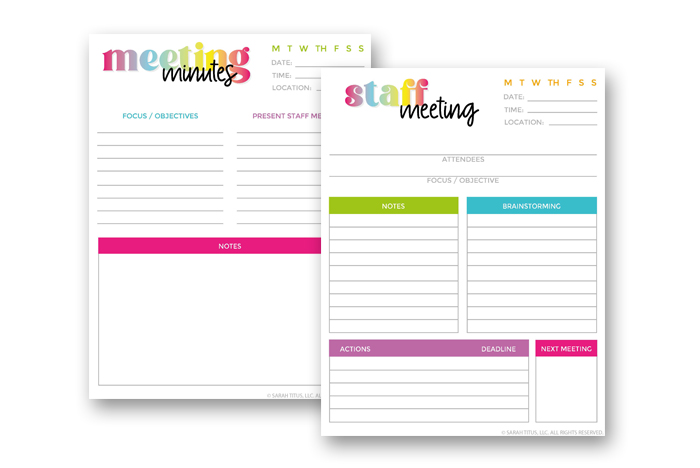 These lesson planner templates are the perfect way to organize lessons for students each day of the week.
Super helpful for teachers in a classroom at school, college, or university, homeschooling moms, and also those planning distance learning classes online!
You'll stay on top of all upcoming lessons, allowing you to focus on the best part…the fun of teaching!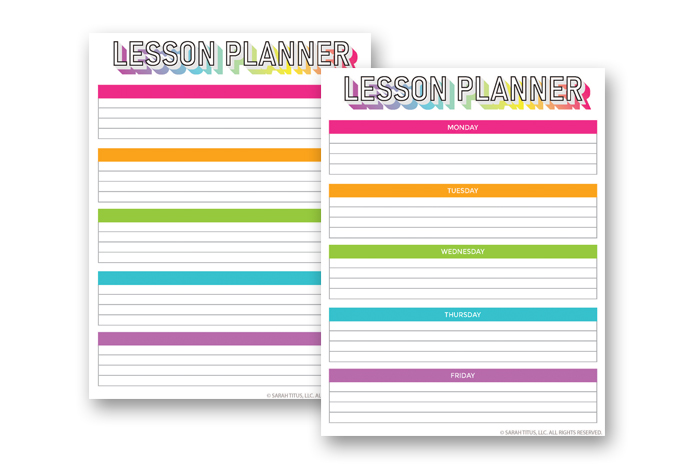 Parent-Teacher Conference and Conference Schedule
As a busy teacher, you have lots of students to take care of with different strengths and weaknesses to remember. The parent-teacher conference printable is the perfect way to note down relevant details about each student, to help guide the conversation with the parents and highlight the important areas and plans for moving forward.
Includes sections to note:
Student
Date
Student Strengths
Student Weaknesses
What We Will Do At School
What Can Be Done At Home
Special Awards
Notes
The associated conference schedule is another handy template to use for parent-teacher evening conferences. You'll be super organized with a record of when you are meeting the parents of each student. It has space to note:
Date
Time
Student
Parent
Contact Info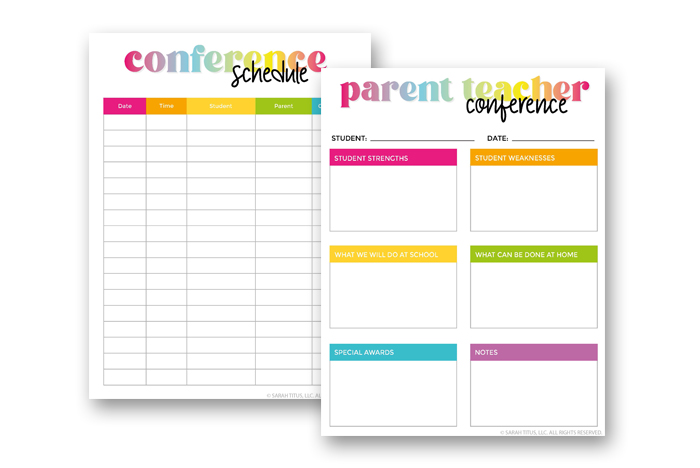 Daily Calendar/Planner (pages for every day of the year)
Planning is a MAJOR part of a good teacher's job. Having the means to plan appropriately allows for more effective teaching and learning, rather than scrambling around trying to whip up lessons on the go. You can start each day fully prepared on the concepts and topics of discussion for the class.
There are VARIOUS types of planner pages in this comprehensive Teacher Binder. Whether you're looking for monthly calendar printables, hourly planner printables, a two-page template, or one page, weekly planners, and MORE, this Teacher Binder has you covered! Plus, all the FUN COLORS will brighten up even the most dreary of days!!! <3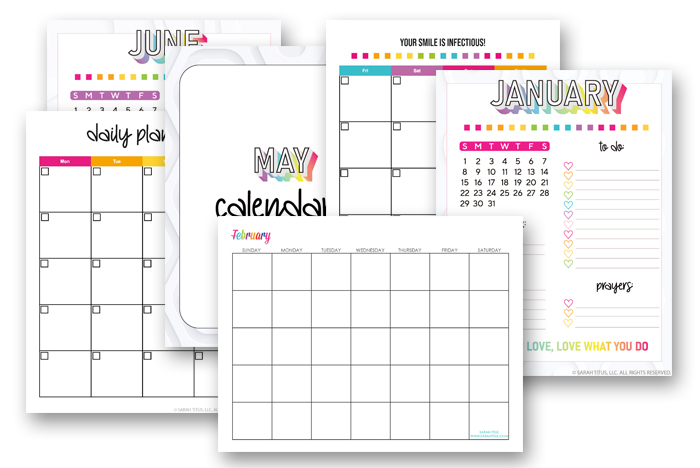 There you go! Get yourself more organized than you ever thought possible! Grab your Teacher Binder here today!