Idk about you but I LOVE school. ❤️ Always have. Even as a kid! So I'm always loving welcoming the new school year back!!!
These teacher hello grade SVGs are just the thing to set the mood for a fun, engaging year of school. Just imagine a beautiful door sign with "Hello Second Grade" greeting everyone who entered the room.
Or how about using the print setting on your Cricut and creating a personalized sign for each student in your class adding his or her name to the "Hello" message and placing on their desk?! How excited would they feel. 😃
Ramp it up a notch and buy some small organza bags and make little sticker size hello grade printables to put inside each bag with some beginning-of-the-year goodies or candy inside. I bet if you asked some friends and family they'd help you get the bags and fill them!
Or stick the printable on a bendy pencil and scented bookmark and put on their desks! So many ideas!!!
Teacher Hello Grade SVGs
Whether you use these SVGs with the print setting for individual cards, create signs with permanent vinyl, heat press some vinyl messages on "swag" bags, or come up with your own creative idea, these SVGs will help set the tone for an exciting year.
Download the SVGs below and welcome another school year!
SVG phrases include:
Hello preschool
Hello pre-k
Hello kindergarten
Hello first grade
Hello second grade
Hello third grade
Hello fourth grade
Hello fifth grade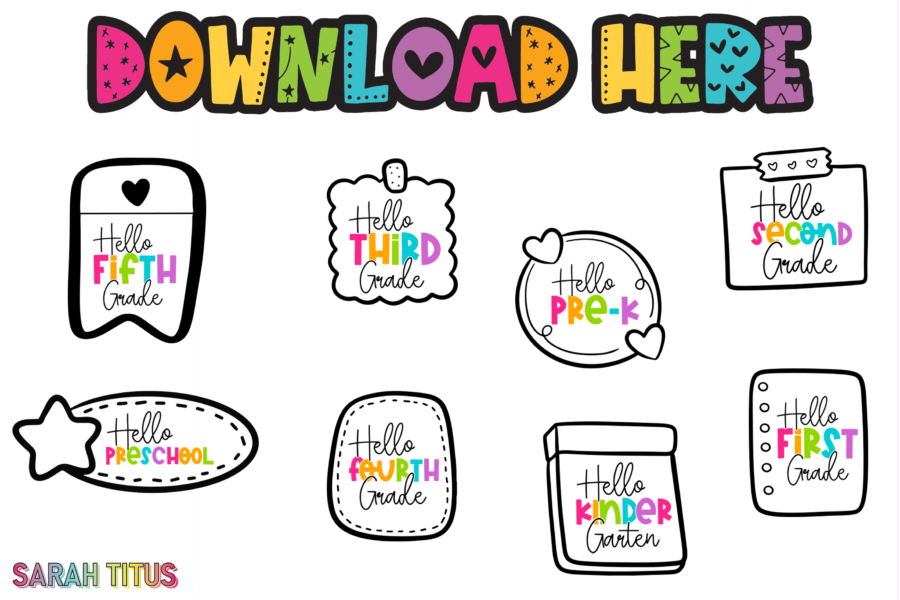 Need help uploading your SVG into Cricut? Click here to see our full tutorial!