These robots were super hard to make. There, I said it. Phew, I feel better letting that out! 😂
But they were a lot of FUN to create. 💯🥰 I got stuck so many times, thinking about colors and where I'd put those colors, should I color them, should I not. And I'll tell you the truth, the inspiration for it all was the movie, Big Hero 6. That was the first robot I created. It was just this really big blob and in my mind, I'm thinking, that looks like Baymax.
It all went from there and these became robots (I made it different than Baymax so you can't even tell) and it all came out really great.
Then I started thinking….God did not create us to be robots.
Now, I know, that seems like I'm stating the obvious, but too often people forget this. 1 John 4:19 says, "We love because He first loved us." There would be no love without God.
But what we often forget is that loving Him back is a choice…our choice.
I've actually thought about this a lot in my life and realized how important that is, that choice He's given us. He could have made us robots who followed and loved Him without any wavering because we had to.
But He didn't.
Sometimes, God will convict me to make Him an offering (create more blog content on this blog for His name sake) and while He's ASKING, He's leading and directing, He's teaching me that I should consider making Him offerings more often.
Because it pleases Him. And the offering is again, a choice.
What content I create, how I spend that time creating content for His name here on this blog, it's all a choice, and He loves it.
I get that choice to serve Him, to honor Him with my skills (in design that He gave me), and with my time (again, that He gave me) FOR Him. Because I love Him.
Because true love is always a choice…and that makes it beautiful.
Our devotion and love for Him is only valuable because we are choosing to give it to Him – not because He makes us. Our choice to follow Him, to love Him, to worship Him brings Him delight (Psalm 149:4).
Think about the people who love you, I mean REALLY love you. There are no stipulations, no conditions. They love you for who you are and that feels so good, knowing there's not any conditions on their love for us.
It's the exact same with God. He loves our love when we choose it. No stipulations, no conditions on Him.
So create some cool crafts with the svg files and use the png files for stickers for your digital apps. And remember, your love and devotion to God doesn't make you a robot. Your choice makes you His child!
God Didn't Create Us To Be Robots SVG Images + Digital Planner Stickers
SVGs (for crafts) and PNGs (for digital planners) are BOTH included…WOOP WOOP!!! And YES! These stickers are pre-cropped for Goodnotes! 🎉
3 Robots (colorable)
Words (parts, meep, tools, bot, metal, robot)
Arrow shape
Nail
Wrench
Gear
Nut
Ruler
Washer
3 Robots (girls)
3 Robots (boys)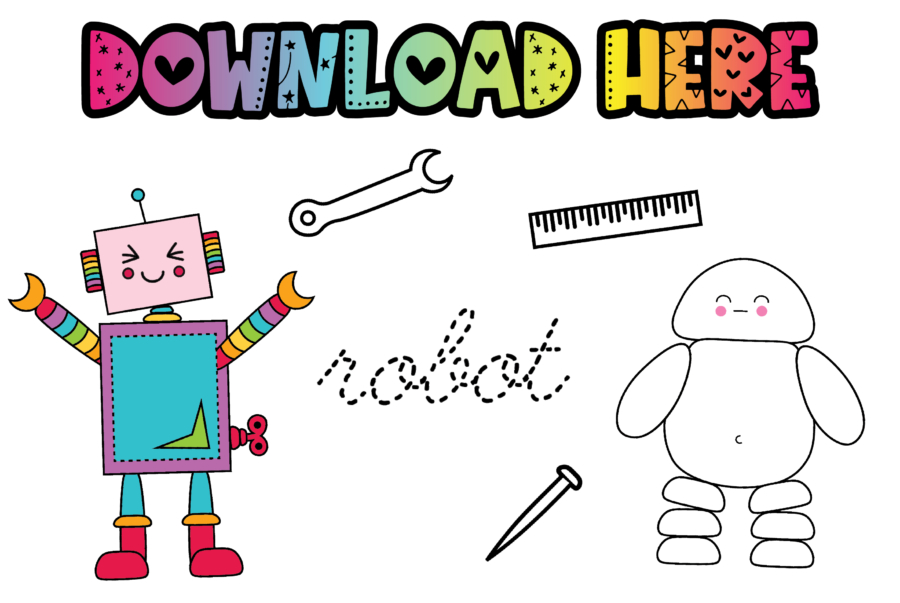 Need help uploading your SVG into Cricut? Click here to see our full tutorial!