God's promises are so beautiful! His Word tells us so many things that He has made true about us and so many things He intends for us.
I love reflecting on these truths. They strengthen me and give me hope even in my darkest times.
I've created these Christian T-Shirt quotes svg and png files so that those reminders can be visible at all times and constantly give me the encouragement and inspiration I need every single day! Today, I wanted to share those same, beautiful truths with YOU!!!! 💖💖💖
And YES! These stickers are pre-cropped for Goodnotes! 🎉
Beautiful Christian T-Shirt Quotes SVGs + PNGs
2 Corinthians 1:20 tells us, "For all the promises of God find their Yes in him. That is why it is through him that we utter our Amen to God for his glory."
The "yes in Christ" means the promises (promises of peace, joy, love, forgiveness, goodness, fellowship, sanctification, salvation, hope, heaven, and glorification) are fulfilled prompting the "Amen" from us! His promises are real, and they are true! 🙌
Look at the list of promises below: God my redeemer, I am His, Jesus loves me, Blessed lady, Beautiful in Christ, I am loved…and the list goes on and on. Read through these and embed them in your heart because every one of them is absolutely true!
I've created both svg and png files for you to use however you want! 🎁 The svgs can be used to create t-shirts (wear that testimony and truth!), signs, tote bags, etc.
The png files can be used as stickers for your digital applications (planners, calendars, etc.) or find some pretty printed paper, place the saying over it and print it out for a quick sign (put it in a frame). You could also share it with someone else by creating a printable card of encouragement.
God's promises are "yes" and "amen" for you and me! Download these truths below.
SVGs and PNGs include:
God my redeemer
God loves you
Jesus loves me
Fruit of the Spirit
I am his
Faith over fear
Blessed mama
Blessed wife
Blessed mom
Blessed dad
Blessed girl
Blessed lady
Blessed friend
Blessed brother
Blessed sister
Blessed nana
Blessed papa
Be still and know
John 3:16
Beautiful in Christ
I am loved
Jesus is king
Pray without ceasing
Made to worship
Bless others
Ask seek knock
Remain faithful
Walk in love
Saved by grace
Loved 1 John 4:9
God's masterpiece
God's grace
Trust in Jesus
Strength in the Lord
Faith hope love
Walk by faith
Created with purpose
Created for him
Y'all need Jesus
Faith moves mountains
Light of the world
Rooted in Christ
Worthy to be praised
God is my refuge
Chosen Romans 9:6
Choose joy hope love
Jesus King of kings
Grace like rain
God is good
Fearfully and wonderfully made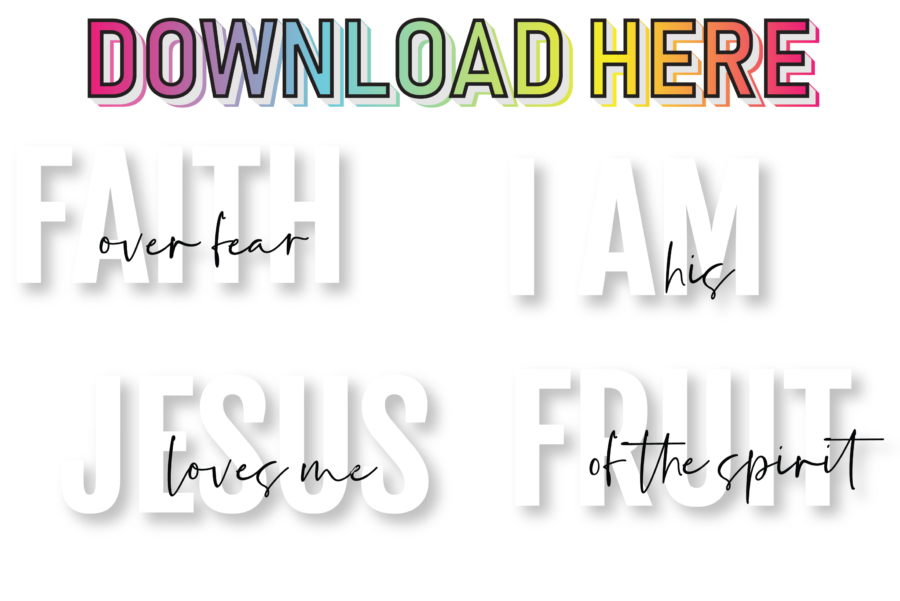 Need help uploading your SVG into Cricut? Click here to see our full tutorial!