We get stuck in our own way.
We sabotage ourselves.
We listen to the negativity that surrounds us.
So many times we SAY we have faith or we even THINK we have faith, but we don't. When push comes to shove, we don't take action, we don't do something God is calling us to do, we're stuck. We spin our wheels, never moving.
Why???
Because we don't REALLY BELIEVE!!!!!!!
We've FOOLED ourselves into thinking we believe, but we don't. If we DID really, genuinely BELIEVE, we'd FLY.
My inspiration for creating this FREE SVG heart hand lettered file with the word 'believe', was because I really want you to just BELIEVE. 🥰💎🎁
Write that word on your heart. Write it on some cool DIY projects. Really get that word into your mind…
Do you believe God?
…enough to take action and obey Him??
Free SVG Heart Hand Lettered: Believe
It's time to stop doubting God and really take Him up on His promises. It's time to do what He's asking you to do, no matter how crazy or out there it may seem. I promise, He will NOT let you down! 💖
But it starts with believing.
If you love to read, this would make a perfect bookmark! You'd have constant reminders to believe every time you picked up a book.
What about making these for your teen girls on keychains for your church youth group? Not only would it look pretty on a keychain, but it would also serve to prompt them to banish doubts every time they lock/unlock a door.
I can totally see this being super cute on a candle. You could light it for a relaxing evening in a steaming hot bubble bath and wash away your fears and doubts.
Wouldn't it be good to create a 'believe' sticker and put it on your mirror?! That'd be another awesome way to have a daily reminder to believe in what God promises!
It'd look great as wall decor or on a wood sign to have another daily reminder around your home. Wouldn't that look lovely?
You could put it on a t-shirt, hoodie, tote bag, cushion, or any item you can think of!
Get your creative juices flowing and come up with some awesome ideas on how you can use this free SVG.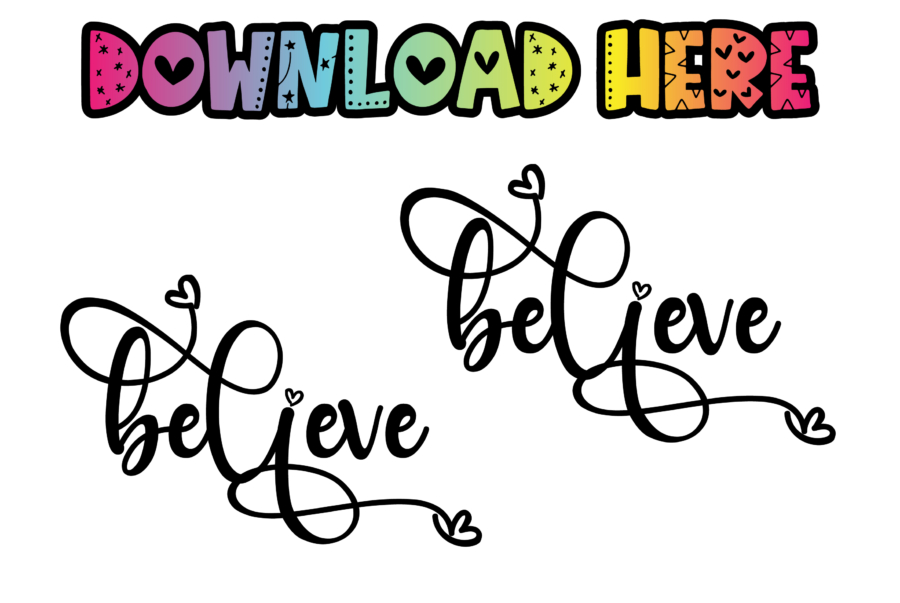 Need help uploading your SVG into Cricut? Click here to see our full tutorial!