Do you ever feel a pang of jealousy?
I think that it sneaks up on us all from time to time. You'll see someone else's work and you'll think WOW, that's so cool.
Today, I visited a site and was blown away by how much content and traffic they are getting. Just amazing. And I wondered to myself, "How can they just accomplish all that? I'm running so hard and so fast and trying so hard to get all this content out for God and they have like a bazillion articles."
So I did some digging and they've been writing that site since 2001! We are talking over 20 years here of hard work!!
It really helped because instead of feeling like I was not up to par, I felt so happy and proud for them.
YAH! Way to go! You deserve an amazing site. Watch ME in 20 years too! 💖
Comparison is definitely the thief of joy and we have to stop it instantly!!!
Another good way to quickly let go of any jealousy you have inside is to find the ways you can learn from the people you're comparing yourself to. The jealousy quickly fizzles away when you consider these people as teachers. 🥰
I also find if I 'just breathe' and focus on 'just praying', it slows me down and makes me focus on the present moment. I know God has His plans for me and I 'just listen'.
These 'Just' phrases were my inspiration for these FREE SVG files to download. I thought they'd be cool for DIY craft projects, so I made a bunch of them for you to have lots to choose from! 🎁💎
Free SVG Files to Download: Cute 'Just…' Phrases
Here's a list of the phrases included in the SVGs:
Just…
Blog
Breathe
Care
Content
Creative
Drama Free
Eat
Happy
Humble
Kind
Listen
Love
Married
Mom Life
Polite
Praying
Saving
Shop
Single
These phrases would look great on keychains, mugs, cushions, candles, any item you can think of! 🎉
Some of the phrases like 'just blog', 'just creative', and 'just breathe' would be perfect in an office! They'd look pretty on a wood sign or printed and framed as wall art decor. That would look gorgeous!
Wouldn't these phrases look uh-mazing on t-shirts, hoodies, or tote bags too?!
I can totally see them on cute notebooks, binders, and bookmarks as well.
There's tons of ways you can use these beautiful free SVG cut files, so let your imagination roam and come up with awesome ideas. I'd love to hear how you are going to use these SVGs in the comments below! 🙂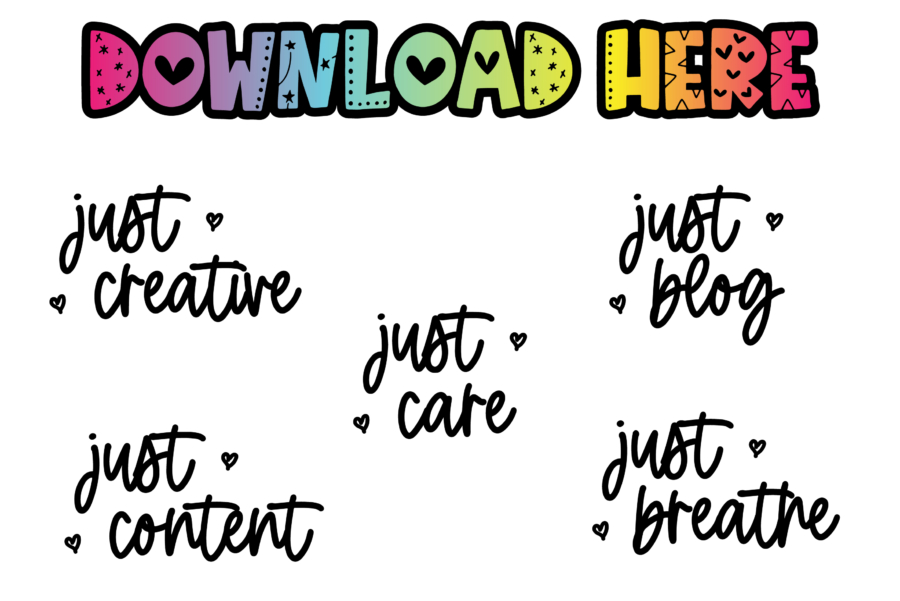 Need help uploading your SVG into Cricut? Click here to see our full tutorial!