What's more beautiful than a sky full of rainbows, sunshine, and hot air balloons?? Capturing that beauty on these beautiful free printables for you! 🙂
Check out these super cute rainbow hot air balloon stickers. 🙂
Free Rainbow Hot Air Balloon Stickers – SVG + Printable
Doesn't looking outside and seeing the warm sunshine just make you smile?? Well, you will definitely be smiling once you take a look at these adorable rainbow-inspired hot air balloon stickers! It doesn't stop at the hot air balloon graphics though; you also have cute rainbows, clouds, smiling suns, stars, birds… basically all things that will bring you a little joy.
These are already set up and ready to be used as cute stickers to accessorize your planners, binders, kids' crafts, and more. There are also tons of other things you can do with this printable that I'll get into in a minute. 🙂
Quick Tip: make sure to print on sticker paper to use as stickers or regular paper for other uses! The SVG file also lets you scale the images more clearly, so I've included that file below too. 🙂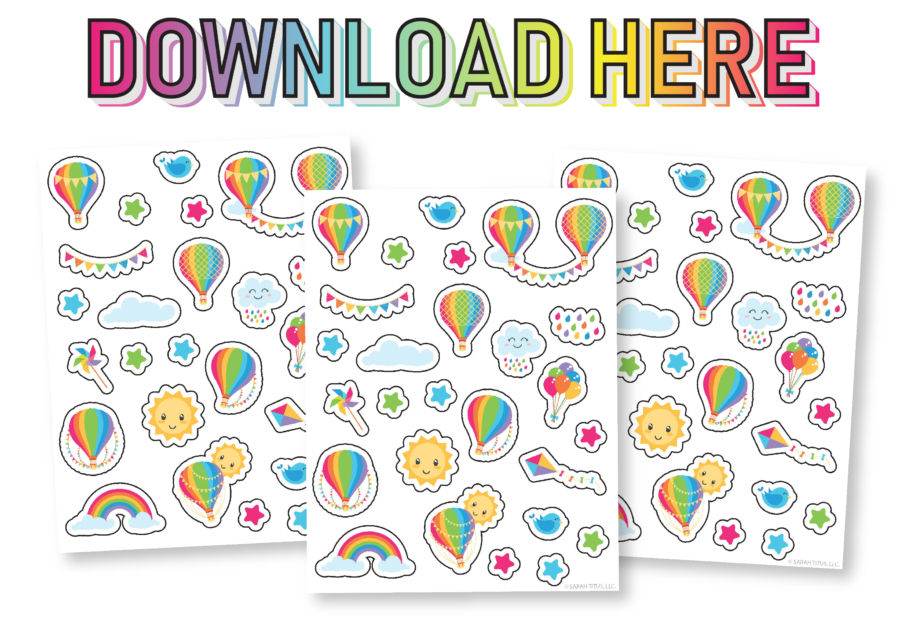 Download the free rainbow hot air balloon stickers here. Here is the PNG & SVG too!
Fun Ways To Use These Stickers
You can use these stickers in SO. MANY. WAYS. I'll share with you a few of my favorite ways to use these rainbow stickers…
Planner Accessories
If you all know me at all, you know I LOVE organizing and keeping lists – you can't be organized without some sort of planner! And in today's world, it's all about decorating and accessorizing your planner to make it fun and enjoyable to use. These stickers would be perfect for adding some cute & fun accessories to your planner.
You can bring these out during the spring and summer months in your planner, or use the stars and clouds at any time of the year. These will definitely brighten up your planner to make it look more appealing, which in turn will help you use it more if you struggle to break it open! When you have something nice to look at, it will make you want to use it more. Get organized and have fun at the same time. 🙂
Gifts/Activities For Kids
What kid doesn't LOVE stickers?? These would be perfect to print out and let your children use as fun stickers to play with!
They can place them on blank paper along with some crayons to make art, or on their school supplies (binders, pencil boxes, etc.) to spruce them up a bit! Again, the bright and bold colors are definitely kid-friendly and are a free way to let them have some fun and explore their creativity.
Use For Non-Sticker Purposes
Think these can only be used as stickers?? Think again! These printables can be printed on regular printer paper to be used in tons of other ways. Here are just a few:
Wall art for kids room/playrooms (use the SVG file to scale and make a bigger portrait)
Binder cover decor
Let your kids cut out and glue on colored paper for a fun craft
Line backing on bookshelves for a pop of fun art
You can definitely use these printables in all these ways and even more! That is definitely one thing I think about when I create these printables for you all, is all the different ways they can be used.
I hope you enjoy these and they bring a smile to your face! 🙂
Need help uploading your SVG into Cricut? Click here to see our full tutorial!