Looking for some fun ways to get everything ready for Easter this year? Whether you are a crafter, mom, or just enjoy cute Easter things, you will love these free SVG cut files!
Check out these absolutely FREE Happy Easter Bunny SVGs! 🙂
Free Happy Easter Bunny SVGs
Easter is such a happy time for tons of reasons! First and foremost is the resurrection of our Lord and Savior. Jesus – it is THE reason we celebrate Easter, after all! But there are also other fun things about this time as well, such as the season itself.
Spring is my favorite season because everything is blooming again as the rain comes and the weather warms up, and these adorable Easter SVG designs really bring that cheerful feeling out from being locked away all winter long! 😂
I can't WAIT for Spring to hit this year, so I'm already getting myself in the mindset by creating a ton of really cute Spring related SVGs! 😊
You'll be getting four different downloadable SVG designs, that are so adorable and can be used in so many different ways! They include:
Happy Easter Bunny
Bunny Ears Easter Egg
Black and White Happy Easter Bunny Ears
Color Happy Bunny Easter Ears
Keep reading to download yours as well as check out some creative ways you can use these SVG images for your Easter craft projects, as well as what to put them on!
Download Here
I drew this super cute little bunny in Illustrator with my Wacom tablet. It was a lot of fun!
The arms were a little harder for me. At first, I wanted her to be HOLDING the Happy Easter words, but I couldn't seem to get that down so now she's waving Hello! 😂
After I made her, I thought a cute Minnie-Mouse-like bow on her head would be super cute so I drew that and make it polka dot. I think it came out really cute!!!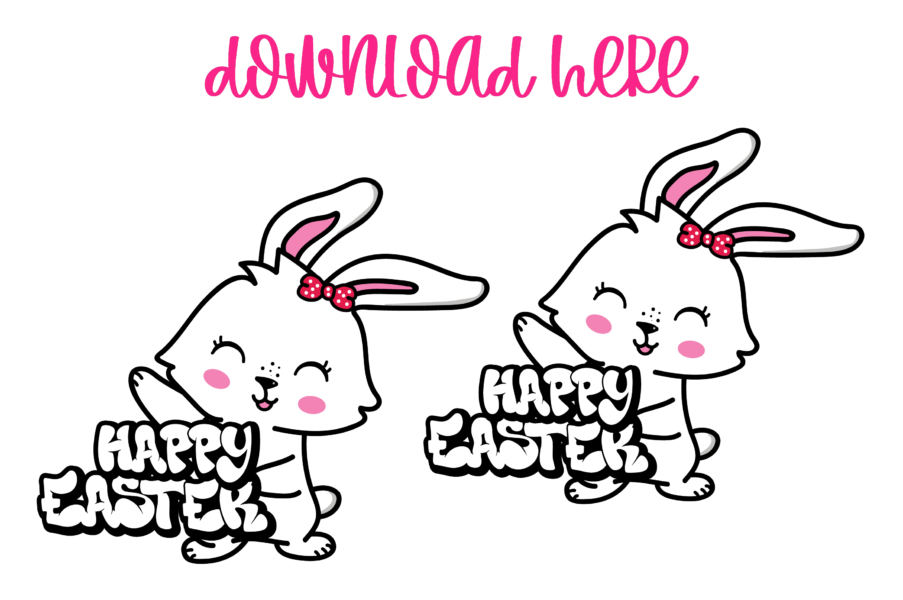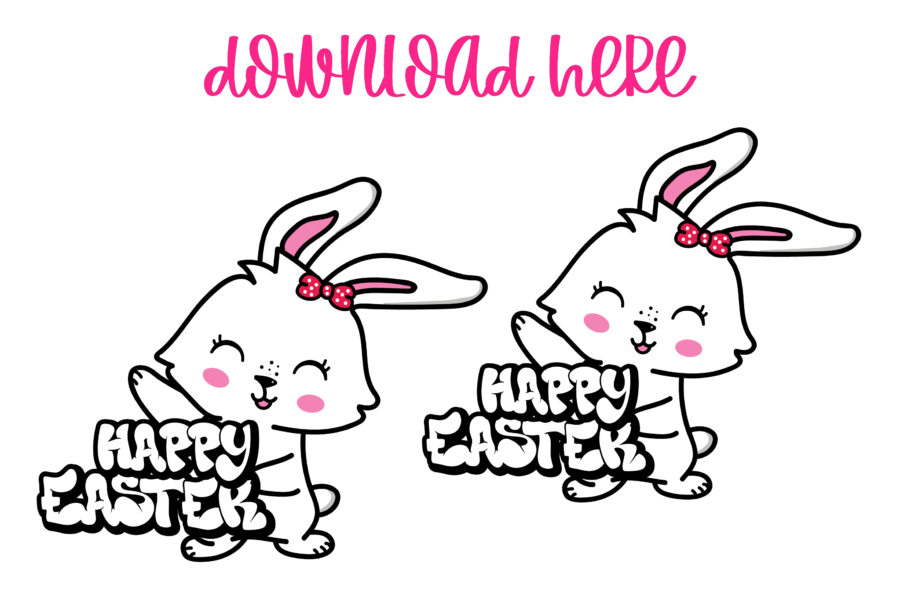 Download the Happy Easter Bunny Face SVG.
If you look closely at the ears, you'll see gray shading on them. I thought that was a nice touch to bring more interest to the ears. It was harder than I thought drawing that "shadow" on there, but I feel like it turned out GREAT! Really happy with how this design came out!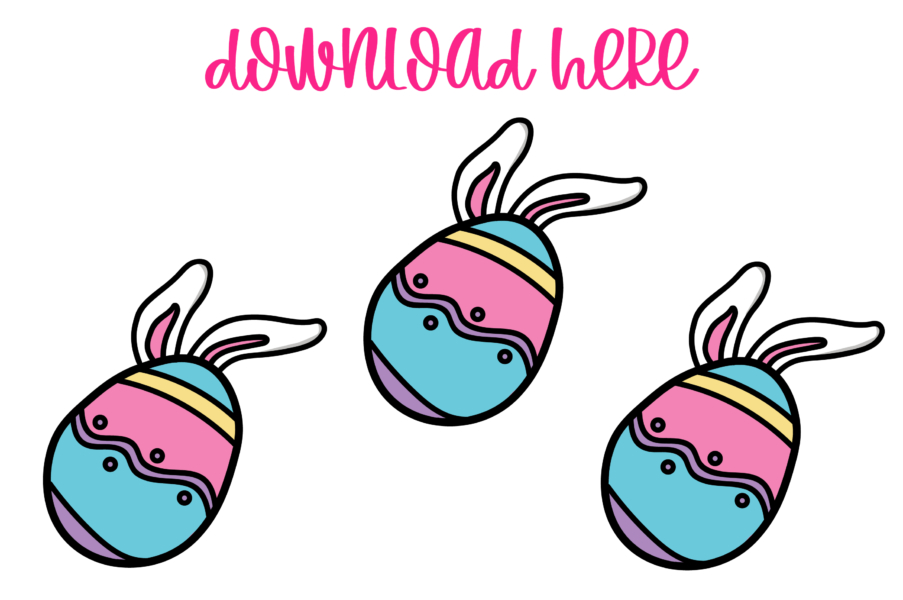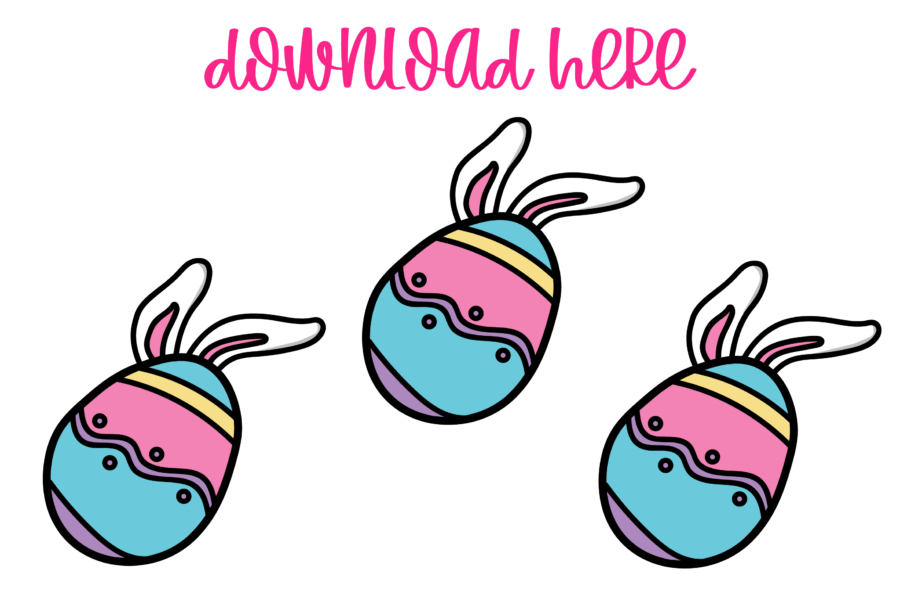 Download the Bunny Ears Easter Egg SVG.
I love these bubble letters. They almost remind me of Smurfs! Especially the S…looks like a Smurf shoe to me! 🤗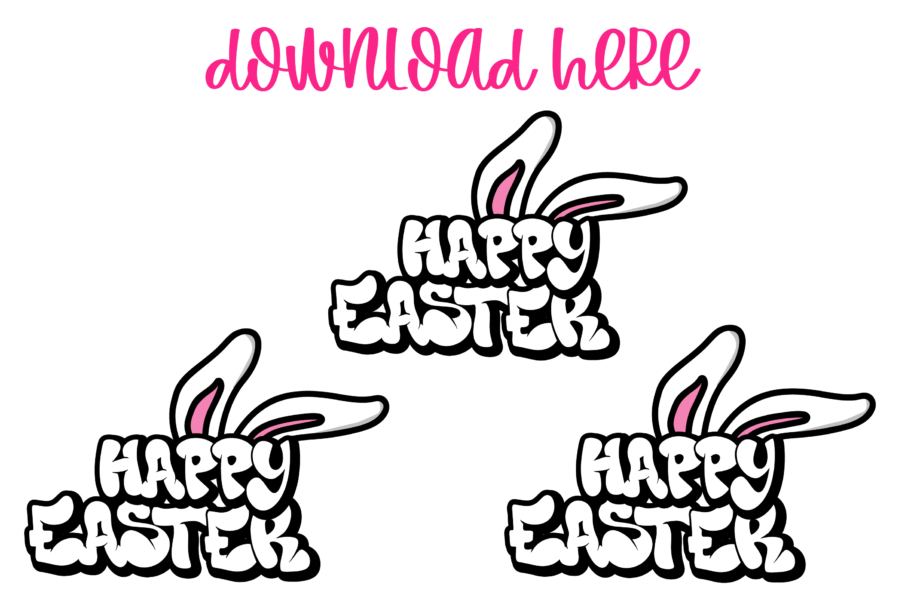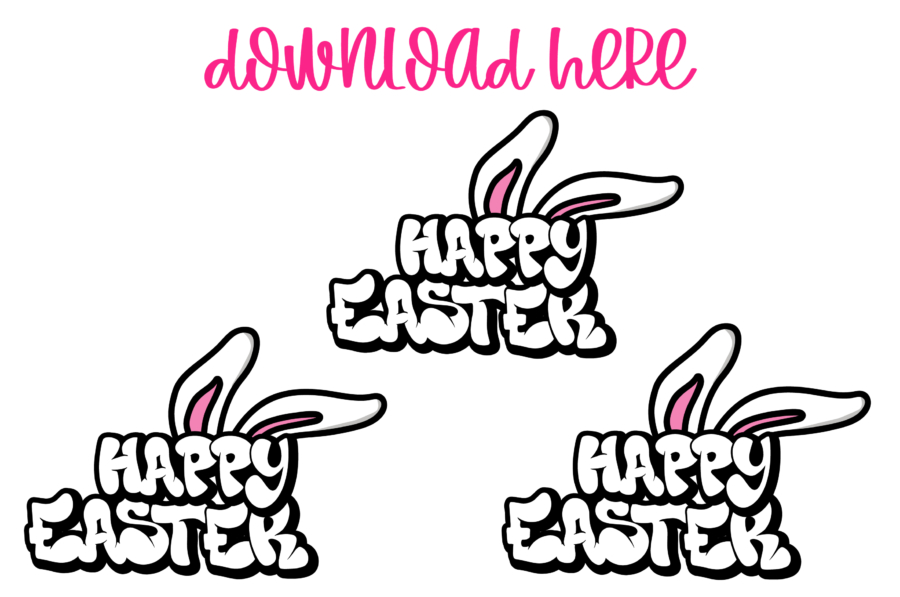 Download the Black and White Happy Easter Bunny Ears SVG.
Of course, I also had to color in the letters with pretty pastel colors too…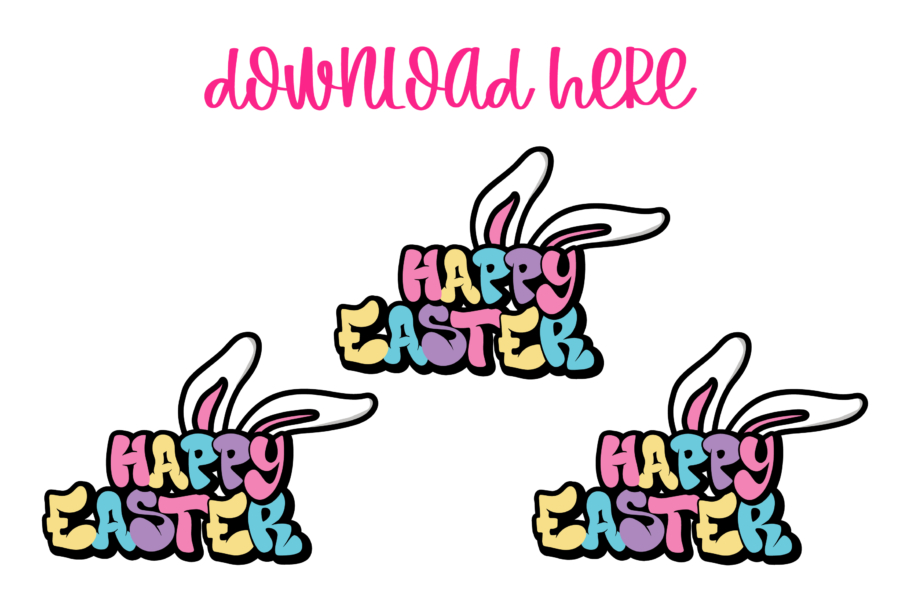 Download the Color Happy Easter Bunny Ears SVG.
Creative Ways To Use These SVGs
There are so many fun and creative ways you can use these Happy Easter SVGs! Here are just a couple of ideas for you to check out.
Make Sticker Crafts With Your Kids
The great thing about SVGs is they are so versatile depending on what you print them on! For one, you can print these using sticky paper or sticky vinyl, and make a page of stickers.
It would make for a fun family activity by letting your kids create an Easter craft, and the best part is, they are free to download so you don't have to spend any money to have hours of fun!
You could even make cards for your kids, or for family and friends and put these cute stickers on the inside, or use them to seal envelopes.
Gifts For Easter Baskets
Of course, SVGs are great to put on physical things – if you have a way to print these on vinyl and use a heat press, you can put them on any physical item and make gifts for your family, including kids' Easter baskets!
You can put these on a canvas pillow, bag, or even t-shirts! Your kids will love the cute design of these and it's a great way to make some fun gifts for them to have on Easter.
In fact, here are some more ideas of what you can put these SVGs on…
What You Can Put SVGs On
Whether you are new to the SVG world or have been using them for years, here is a fun reminder of what exactly you can put these on. You can use either a Cricut or Silhouette machine plus a heat press, and place these on almost any item you can think of. There is also a sticky vinyl so you can even make them as stickers. 🙂
Here are a few ideas of what to put these Happy Easter SVGs on:
Mugs or tumblers
Purses and bags
Clothing such as socks, t-shirts, sweatshirts, etc.
Stickers (using sticker paper) to use for activities and cards
Pillows
Easter gift boxes or baskets
I hope you enjoy using these free SVG files with bunnies – let me know what kinds of happy Easter things you create! 🙂 I'd love to hear!!!
Need help uploading your SVG into Cricut? Click here to see our full tutorial!