I believe in being a light. A light that dispels darkness and brightens days. Truly bringing change to the world around me.
The thing is that anytime we try to do good in the world, Satan is going to come against us and try to drag us down so that we DON'T shine our light. He will stop at nothing to keep us down and tell us things like:
I'm not good enough
I'm tired
I'm stretched too thin
I have nothing of value to give
…the list goes on.
We have to constantly keep God's promises and His truths not only hidden in our hearts (as He tells us to) but also in front of our faces. I like to have reminders of these truths where I can see them, and the really cool thing is, when I do this others can see them, too because I'm making them for YOU!
Talk about killing two birds with one stone! Encourage myself. Encourage the world! BOO and a YAH! 🤩
Free Christian SVG Images to Download
That's why I created these svgs.
These sayings come straight from Scripture and contain promises and truths that help me remember who I am and the wonderful things God has for me.
And since we all want to be a light to the dark and dying, depraved world, you can use these svgs for anything – t-shirts, water bottles, little signs around your house, given to your best friend as a gift, in your classrooms, everything!
I use them not only to remind myself but to live my testimony out and let others see it.
Download these svgs today and live your testimony and His truth!! 💎
"In the same way, let your light shine before others, so that they may see your good works and give glory to your Father who is in heaven." Matthew 5:16
Phrases included:
Jesus Restores My Soul
Blessed Beyond Measure
We Love Because He First Loved Us
He is Risen
God is Love
Pray Without Ceasing
Live by Faith
My Grace is Sufficient For You
Be Joyful Always
But First, Pray
Saved by Grace
Be Still and Know That I am God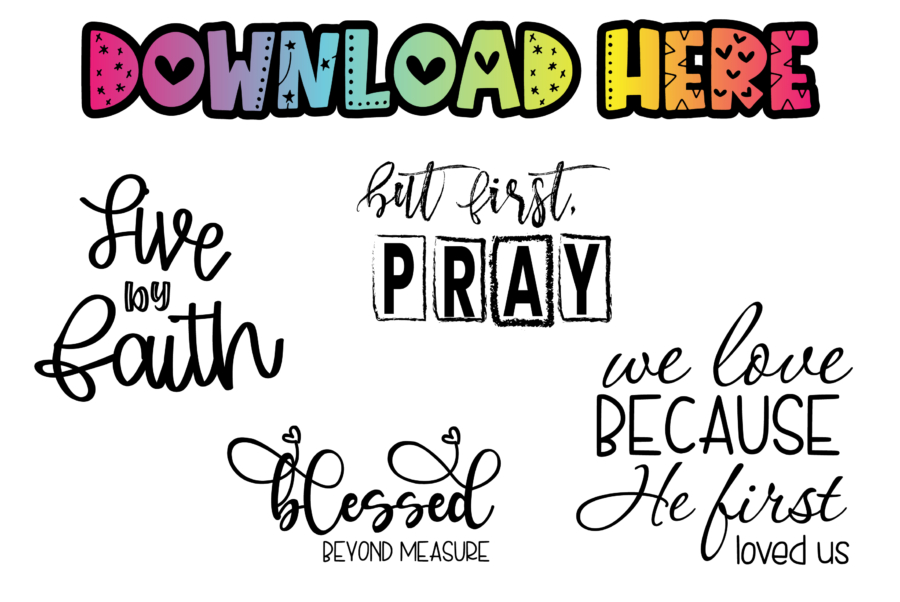 Need help uploading your SVG into Cricut? Click here to see our full tutorial!