Are you looking for a beautiful Christ-focused Easter SVG bundle? These are perfect for making sure you are keeping the focus on Jesus this season, and great for crafting, homeschoolers, church leaders, anyone really!
Check out these absolutely FREE Christian Easter SVGs! 🙂
Free Christian Easter SVGs
Spring is my favorite season. The sun starts shining bright again, the rain comes and allows all the trees, flowers, and everything to start blooming again. It is so refreshing and reminds me of what Christ does in our own hearts and lives – He brings dead things back to life.
One of my main reasons for loving Spring…because we get to celebrate Easter and focus on Jesus, His death, and resurrection. I wanted to create some beautiful Christian Easter SVG cut files to remind us of the great sacrifice that was made for us on the cross!
These SVGs have a super cute feel to them, but the message is so clear, and it's a great way to not only remind ourselves, but share with others about what God did and continually does for us.
You'll be getting three different downloadable SVG designs, that are so beautiful and can be used in so many different ways! They include sayings:
By His Wounds We Are Healed – Isaiah 53:5
He Has Risen Just As He Said – Matthew 28:6
Happy Easter
Keep reading to download each one and check out some creative ways you can use these SVG images for Easter craft projects, as well as what to put them on!
Download Here
Download the By His Wounds We Are Healed – Isaiah 53:5 SVG.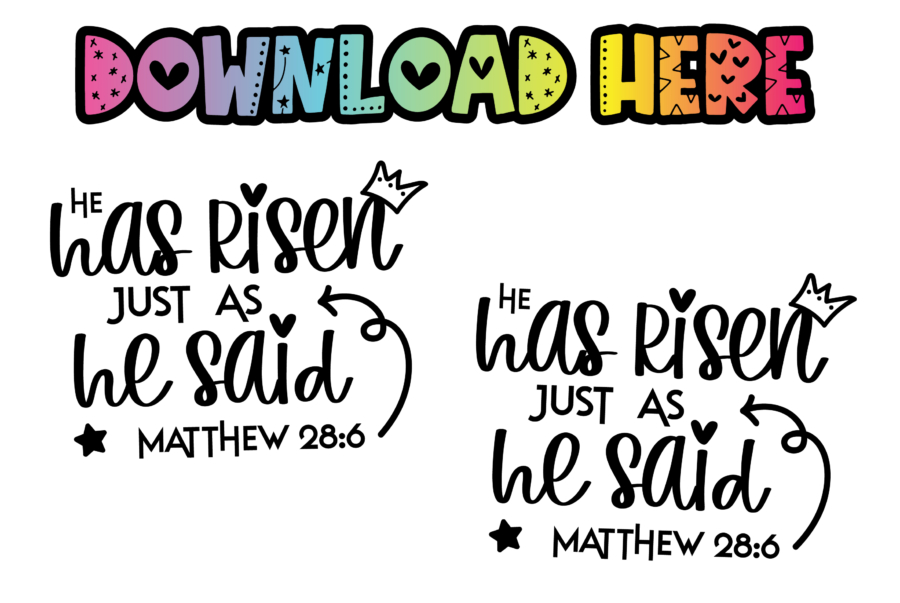 Download the He Has Risen Just As He Said – Matthew 28:6 SVG.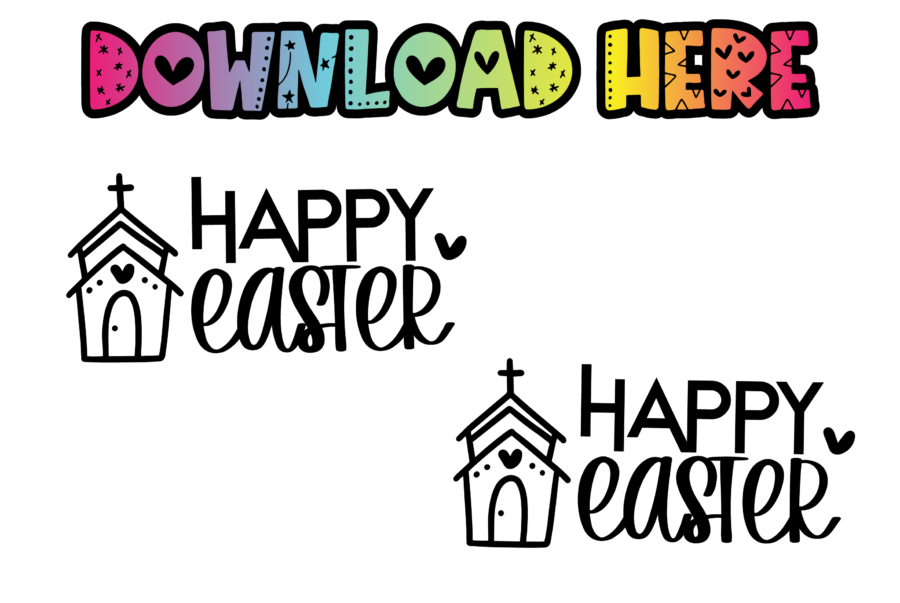 Download the Happy Easter Church SVG.
Creative Ways To Use These SVGs
There are so many fun and creative ways you can use these Christian Easter SVGs! Here are just a couple of ideas for you to check out, and feel free to get as creative also!!!
Sunday School Craft Stickers
These would be great to use in Sunday school classes with young kids and even older kids. You can print these SVGs on sticker paper or sticky vinyl and make a fun Easter craft with them!
You can also use the first two sets as memory verses for the kids to memorize, and give them these as printed-out stickers to take home and practice memorizing them.
It would also make for a fun family activity by letting your kids create an Easter craft, or cards to send to other family members. 😊 Use them to seal the envelopes too!
Make Gifts For Friends And Family
SVGs are PERFECT to put on physical things – if you have a way to print these on vinyl and use a heat press, you can put them on any physical item and make gifts for your family, such as pillowcases, bags, or even shirts.
For your kids, you can put together a sweet little Easter basket for them, and also help them memorize scripture at the same time.
Now that we looked at some fun ways to use these Christian Easter SVGs, here are some more ideas of what you can actually put these SVGs on…
What You Can Put SVGs On
Whether you are new to the SVG world or have been using them for years, here is a fun reminder of what exactly you can put these on. Like I mentioned, you can use either a Cricut or Silhouette machine plus a heat press, and place these on almost any item you can think of, or use sticky paper to make cute stickers. 🙂
Here are a few ideas of what to put these Christian Easter SVGs on:
Mugs or tumblers
Purses and bags
Clothing such as socks, t-shirts, sweatshirts, etc.
Stickers (using sticker paper) to use for activities and cards
Pillows
Easter gift boxes or baskets
Bibles
Journals/Prayer journals
I hope you enjoy using these free SVG files, and that they remind you of exactly WHY we celebrate Easter, and also serve as a good reminder of Jesus' death and resurrection. Enjoy creating tons of faith-based gifts and items this Easter holiday! 🙂
Need help uploading your SVG into Cricut? Click here to see our full tutorial!