I am always looking for fun, creative things to do for the Christmas season. Christmas is just so much FUN!
These festive Christmas sayings SVG files can help you do that. They can be used in many different ways and are free to download! YAY!!!
I think about Christmas things throughout the year and love creating printables and svgs that highlight the season. That's why I think these are the cutest Christmas sayings that can be used for multiple projects.
Cutest Festive Christmas Sayings SVG Files
These fun word sayings and images can be used so many ways, and to help you be creative, here's some ideas!! 🥰
Make some of the popular Christmas signs
Get some blocks of wood in the sizes you want, paint them, use permanent vinyl to cut out the sayings, apply to the wood, and wala! – you have your own homemade signs.
I love the signs idea because you can make them as large or small as you want and put them all over the place. Making them yourself also allows you to create them in the colors that best fit your color scheme.
TIP: You can buy wood pieces at craft stores to create signs. But did you know that most of the "big box" lumber stores will cut pieces of lumber to the size you want when you purchase them? It's worth asking because you can get a whole lot more for the money!
And if you're looking to make some money, you can create a sign for yourself AND for others and sell it on Facebook Marketplace!
Create your own gift tags
Using cardstock and a gift tag template (here's a PDF template and here's an SVG template), do a print then cut by placing these sayings on top of the gift tags, printing the sayings first, then cutting the tags. Save some money by coordinating tag colors with your wrapping paper.
Create your own Christmas cards
You can create your own, really cute Christmas cards and mail them to friends. I know a lot of churches too that do card handouts during the Christmas season and, using the method described above, this is a great way to have some unique cards for friends and family.
Make your own gifts
Use heat transfer vinyl and a heat press and create t-shirts, hand towels, pillow covers, baby onesies, tote bags…get creative. Or use permanent vinyl and make signs, water bottles, mugs, coasters, key chains…there are so many things you can do! 🎉
Whatever you decide to do, download these sayings today and get started! It seems like Christmas is always just around the corner, isn't it?! Plan ahead and have everything ready NOW, for a super streamlined and peaceful holiday season!!! 💖
SVGs sayings include:
Merry Christmas
Our Savior Reigns
Silent Night
Noel
Holiday
Christ
Baby, It's Cold Outside
Snowman
Festive
SVGs pictures include:
Presents / Gifts
Ornaments
Merry Christmas Wreath
Christmas Tree
Candy Cane
Christmas Lights
Star
Snowflake
Lollipop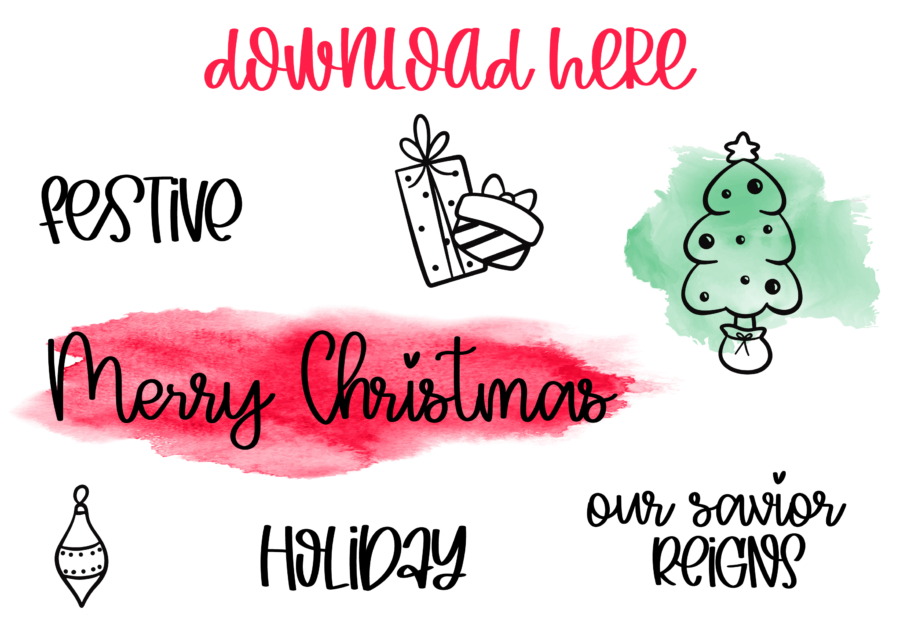 Need help uploading your SVG into Cricut? Click here to see our full tutorial!