You could be anywhere in the world and still feel right at home as long as you have the RIGHT people (or animals) with you! 💯
It's not about having a physical place to call home, your TRUE home is a feeling in the heart.
It's built on a foundation of love, warm fuzzy feelings, and joyful memories.
It's a DEEEEP affection and emotional pull. The bond is so strong that you feel safe and secure in their presence.
That's how I feel about Kyle. It's the best feeling in the world! Anytime I'm near him (whether in person in the past or online now as I'm writing this), I just feel like I'm "home". He gets me, he understands me at the deepest level, he listens to me and pays close attention to everything I say….even after 7 years of listening!!! 🤯
When you're with that one person (or pet), you just feel good. You feel like you're home. Everything clicks…everything makes sense.
That was my inspiration for these cute FREE SVG quotes with 'Home is Where…' phrases.
Cutest Free SVG Quotes – 'Home is Where' Phrases
I've put a fun spin on the popular 'Home is where the heart is' phrase with these SVG quotes!
Here's a list of the phrases the SVGs include. Home is Where My…
Cat is at
Dad is at
Daughter is at
Dog is at
Husband is at
Mom is at
Son is at
Wife is at
These would make super cute gifts! You could get crafty and put them on mugs, bags, t-shirts, cushions, keyrings, and more!
I think they'd look beautiful on bookmarks too! You'd be reminded of YOUR "home" whenever you open up your book to read. 🎉
They'd also look gorgeous as gift tags. Or create wall art prints to hang in your home!
You can make ANYTHING with these, they are so versatile, and you're only limited by your imagination! 😊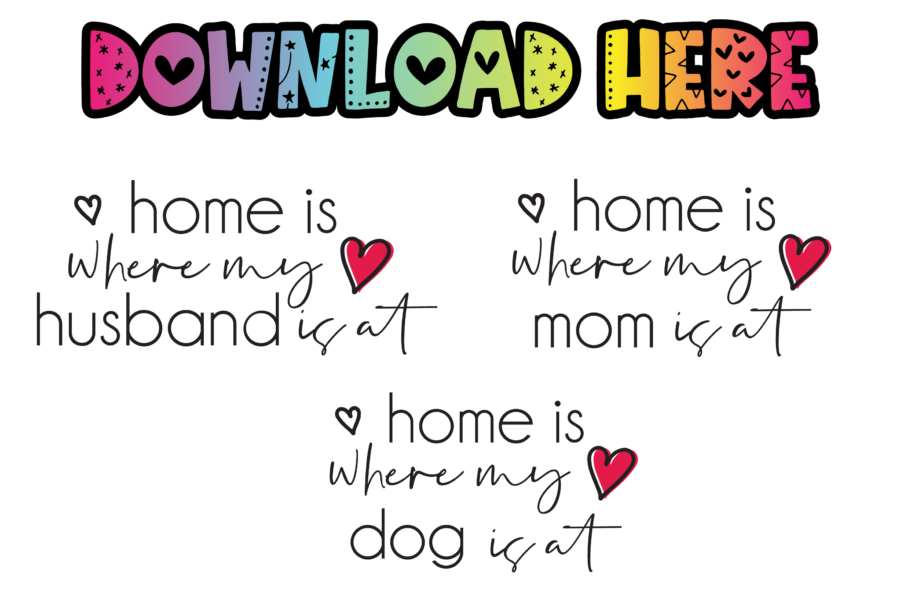 Need help uploading your SVG into Cricut? Click here to see our full tutorial!