Lately as I been reading my Bible even MORE than ever, His Word has really come alive in my heart. It's such a treasure I hold onto….the best thing in this life He's given us!
Scripture verses are filled with God's promises and wisdom of how to live to keep us from getting ourselves in trouble.
It provides us great comfort in times of need and gives us reassurance.
He gives our souls TRUE REST when we need it, when we're weary from running the race and we just soak up into His goodness.
The Lord provides us with the strength to keep on keeping on, doesn't He? He's truly ah-mazing! 💖
We taste the sweetness of God's Word and experience the phenomenal effects. It's the sweetest of all words. He helps nourish our soul and provides us truth to live by.
As I was thanking God one day for this immense TREASURE He's given us, I had the sweetness of God's Word on my mind and so I created this cute Bee SVG File with Your Word is Sweeter Than Honey. It can be used as a reminder of our appetite for God's Word or you can make a gift with this SVG and inspire someone else to remember to taste the sweetness of God's Word also!
Bee SVG File – Your Word is Sweeter Than Honey
Isn't this bee SVG the cutest?!
The buzzy bee graphic is adorable, and the honeycomb design of the word 'honey' is super cool! It's gonna look great on your DIY projects!!
You could cut out the SVG file on vinyl and put it on items such as mugs, glasses, clothing, cushions, tote bags, and more. Those would make perfect customized gifts for your family and church friends!!
How about printing the design to frame it and hang it as cute wall art decor. It'd also look beautiful on a canvas or on a wood sign for your home. Don't cha think? 😊
I also think it would be great to print this design as stickers on sticker paper and use to decorate planners, Bible study plans, journals, notebooks, crafts, cards, and more!
Seriously, there are a TON of ways you can use this bee SVG cut file. Get creative and let your imagination run wild with ideas. 😊
I hope you enjoy this SVG file, and I pray it encourages your heart (and others that you give it to) each day as you continually put your trust in God's Word!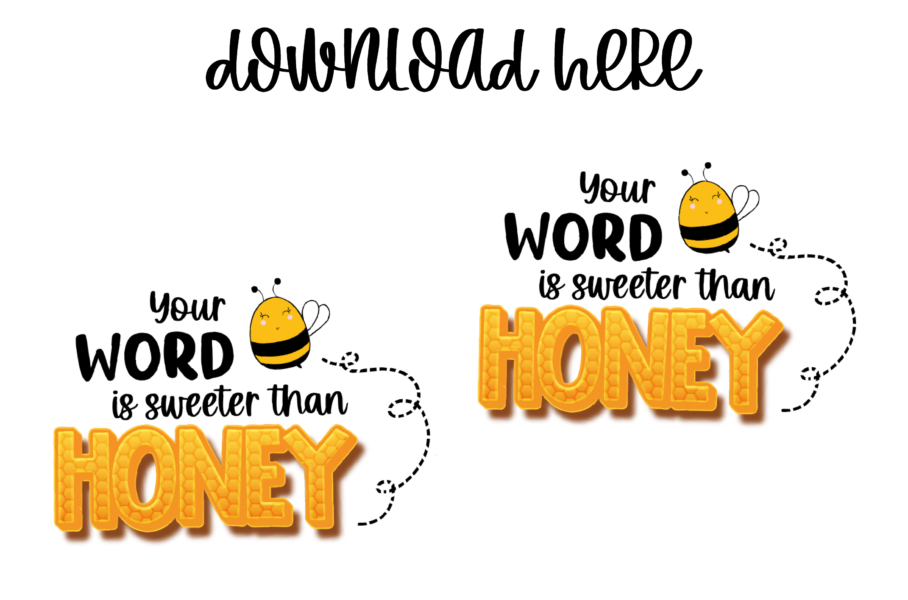 Need help uploading your SVG into Cricut? Click here to see our full tutorial!