It's not an apple- it's a cookie!
These apple sugar cookies are so cute and are a great recipe to make with your kids during apple season!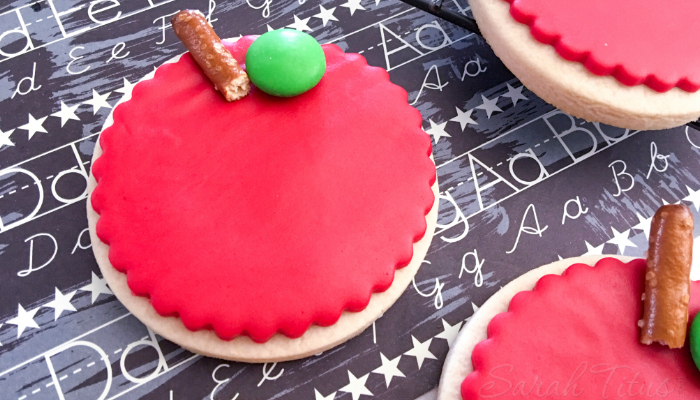 Apple Sugar Cookies
Ingredients:
3/4 softened butter
3/4 sugar
2 tsp vanilla extract
1 egg
2 1/8 cup all purpose flour
Pinch salt
Jumbo green M&M's
Pretzels sticks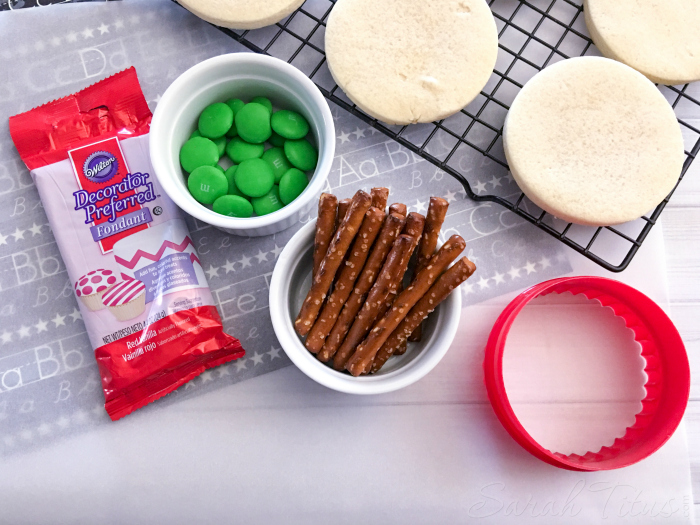 Directions:
Step 1: Preheat your oven to 325° and line a baking sheet of parchment paper
Step 2: In a large mixing bowl (here's the one I have and love), mix together your softened butter and sugar until creamy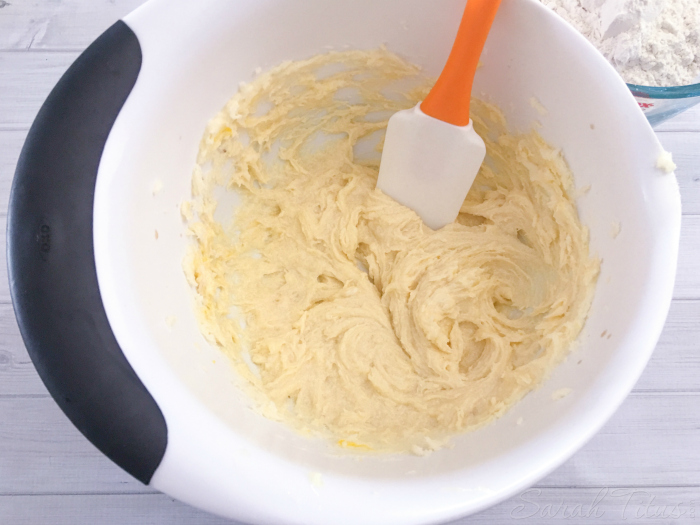 Step 3: Then mix in your vanilla and egg quickly (do not over mix)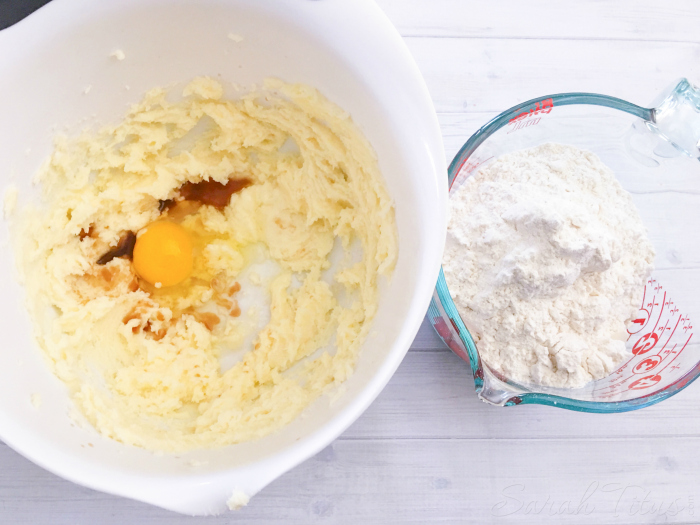 Step 4: Then add in your flour and salt and mix it (your dough might look crumbly)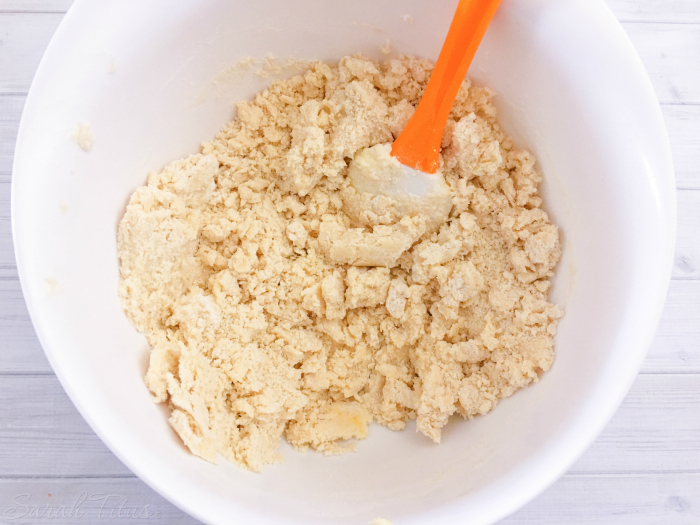 Step 5: Knead the dough in your hands until it starts sticking together
Step 6: Lay down a piece of parchment paper and spread around a little flour
Step 7: Then flour a rolling pin and roll your dough out to a thick 1/8″ and cut out circles with your cookie cutter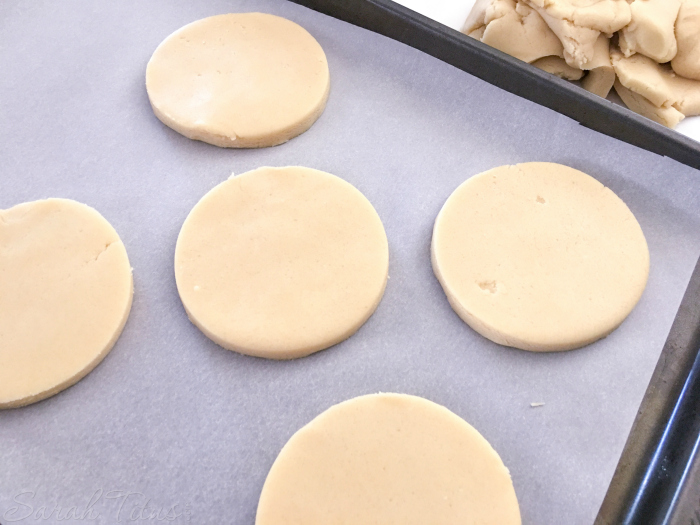 Step 8: Move the cookie dough circles over to your lined baking pan and cook for 10 minutes (they should look light in color)
Step 9: Let your cookies cool completely
Step 10: Now roll out your red fondant in between two pieces of parchment paper and use the same cookie cutter (washed) but on the scalloped side to cut out your fondant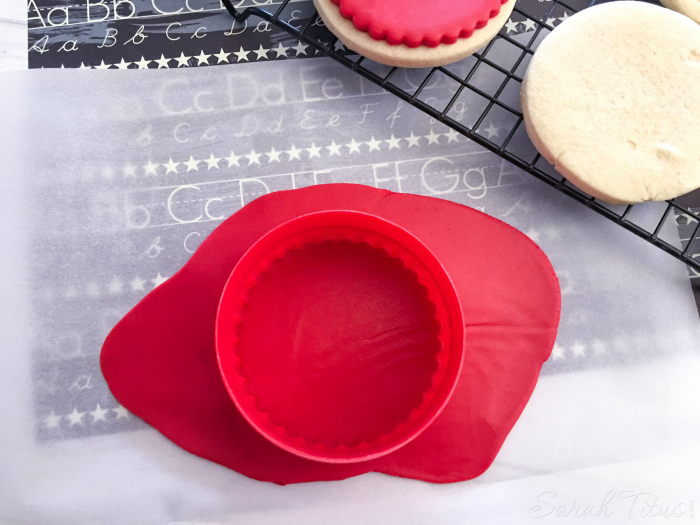 Step 11: Place the red fondant onto your cookies and then add a broken pretzel piece and a jumbo green M&M on top to look like the stem and leaf of the apple.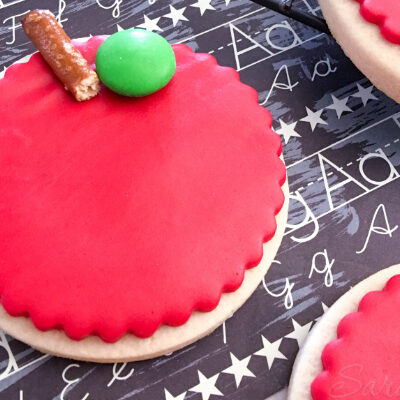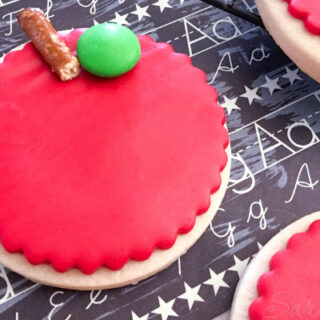 Apple Cookies
Ingredients
3/4 softened butter
3/4 sugar
2 tsp vanilla extract
1 egg
2 1/8 cup all purpose flour
pinch salt
5" Round cookie cutter with scalloped and regular side
Red fondant
Jumbo green M&M's
Pretzels sticks
Instructions
Preheat your oven to 325° and line a baking sheet of parchment paper
In a large mixing bowl mix together your softened butter and sugar until creamy
Then mix in your vanilla and egg quickly (do not over mix)
Then add in your flour and salt and mix (your dough might look crumbly)
Knead the dough in your hands until it starts sticking together
Lay down a piece of parchment paper and spread around a little flour
Then flour a rolling pin and roll your dough out to a thick 1/8" and cut out circles with your cookie cutter
Move the cookie dough circles over to your lined baking pan and cook for 10 minutes (they should look light in color)
Let your cookies cool
Now roll out your fondant in between two pieces of parchment paper and use the same cookie cutter (washed) but on the scalloped side to cut out your fondant
Place the fondant onto your cookies and then add a broken pretzel piece and a jumbo green M&M on top to look like the stem and leaf of the Apple