You already know, I am really big on essential oils. Been using them for about 7 years now!! Besides smelling fresh and good, they have amazing medicinal properties for almost everything too! Since Easter is around the corner, I thought of putting together these amazing Easter Diffuser Essential Oil Blends! I am sure that you and your family will love these DIY recipes for clean air scents.
Easter Diffuser Essential Oil Blends
These EO blends are so cool and refreshing, they calm me down and make my home smell amazing!
These are the 11 blends of essential oils you'll get:
Easter Bunny (lemon, dill)
It's Springtime (geranium, lemon, grapefruit, wild orange)
Jelly Beans (juniper berry, lemongrass, wild orange, lemon, cardamom)
Spring Early Morning Dew (bergamot, grapefruit, ylang ylang, jasmine)
Happy Easter (lime, wild orange, geranium)
Spring Blossoms (wild orange, ginger, ylang ylang)
Resurrection Sunday (basil, clary sage, lemon, spearmint)
Easter Egg Hunt (ylang ylang, wild orange, jasmine)
Joyful Spring (lime, lavender, spearmint)
Happy Easter (lime, wild orange, geranium)
Spring Rain (vetiver, lemon, wintergreen)
Best of all, it's FREE for you!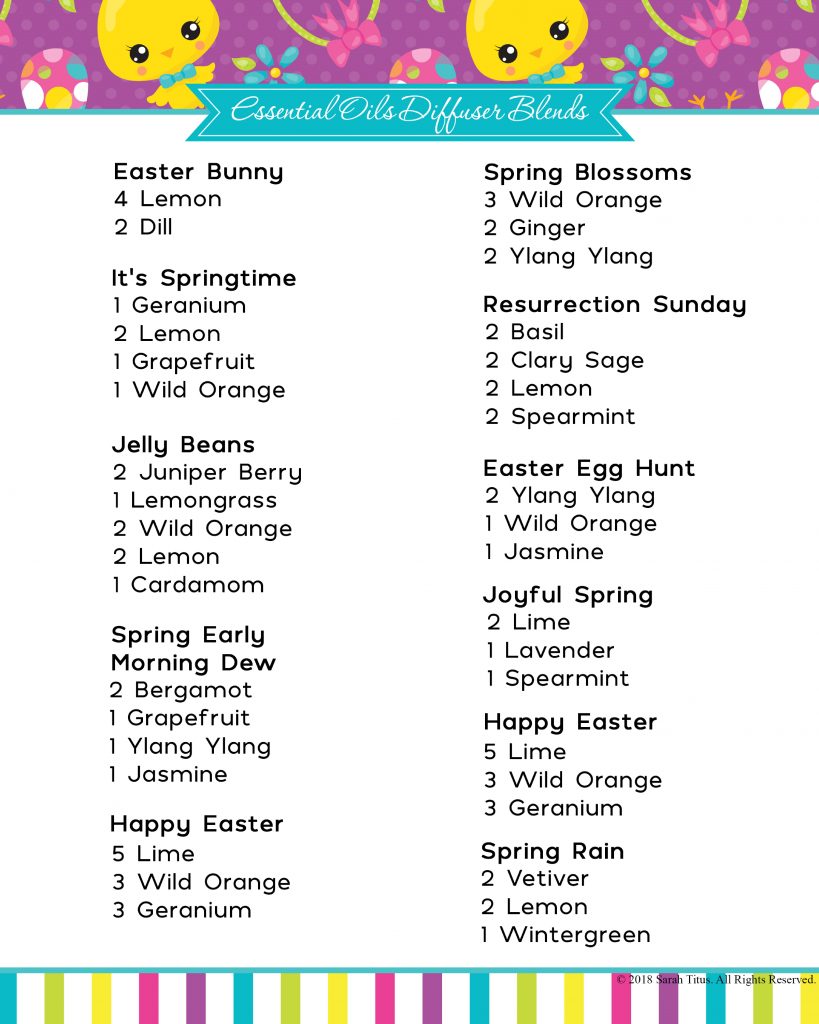 Download the Easter Essential Oils Diffuser Blends PDF here.
Love all things Easter? Then you will NOT want to miss your chance to get the new 100+ page Easter Binder. It'll make you entire holiday season super organized and easy. Take the stress out of your Easter plans now, plus it includes tons of gift ideas and other things to make your holiday super easy and fun!