My daughter is the creative one in the family. She's always experimenting and making cool crafts. Today, she's making homemade DIY Glue Valentine Cards. They are super simple to make and you only need 2 ingredients…glue and some sort of coloring.
Glue Valentine Cards Idea
We used a 3D Fabric Paint we got at a craft store and had on hand, but you can use any type of coloring you want…
Food Coloring
Melted Crayons
Paints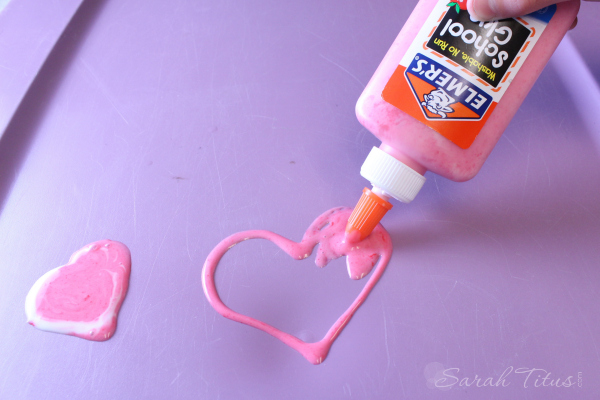 If you're making a heart, trace the outline of a heart and then fill it in with the glue. You can be as careful as you'd like, but you CAN cut these with scissors after they are dry to perfect them, so if you mess up, no problem!
Likewise, you could make them any shape you want. Use cookie cutters to shape them or use a pattern or stencil to cut them to your desired shape after they are dry!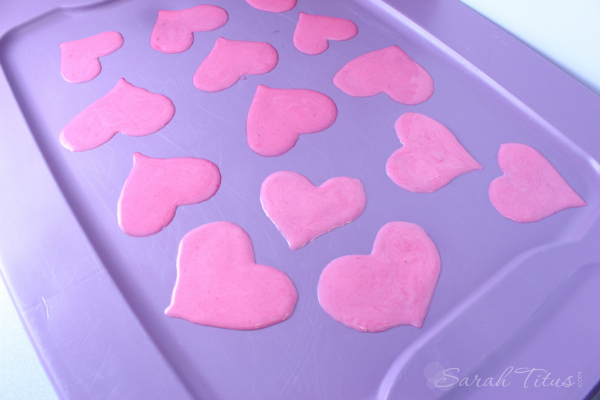 You want to put them on some sort of thick plastic, so they are easy to peel off after they have dried. We used a lid to a Sterilite storage tote we had on hand (you can get them just about anywhere for $4-$8 each), but we've also used the bottom of baby wipes containers as well. Anything you have that's a thick plastic and can bend a little bit will work well.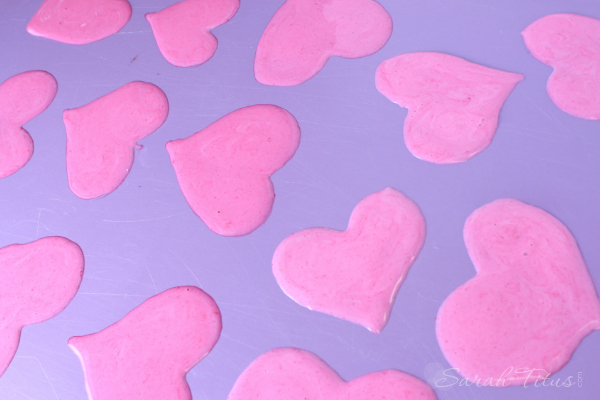 Here's how they look when you're done. They take about 24 hours to dry.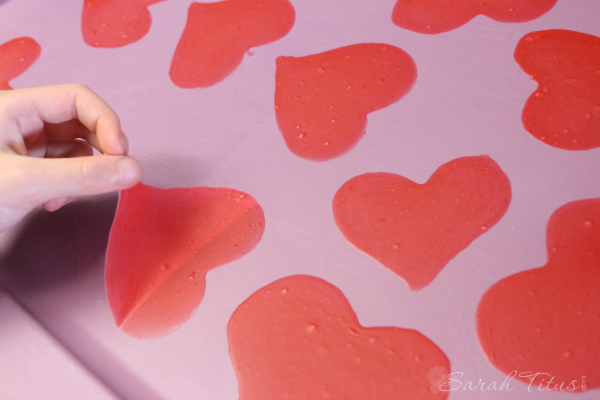 This is how they look when they are dry. I used a little flat staple remover to dig at the tip to get them off. Once you get a tiny corner peeled up, they come off super simple.
After they are dry, you can write a cute message on them! You could write the person's name of who they are going to, you could write "I'm stuck on you." Be creative and make it fun and personalized. You could also decorate them further with glitter before they dry or decorate them with puff paint after they are dried to make them pop. The sky is the limit!
What are your favorite Valentine crafts for kids? Have you tried any glue craft projects?
*The contest winner on Facebook who correctly guessed what these cute little hearts were made out of first is….Jeanna McCloud. Congratulations Jeanna! Please contact me so I can get you your Amazon Gift Card. 🙂
Love all things Valentine's Day? Then you will NOT want to miss your chance to get the new 85+ page Valentine Binder.