On my blog, I get AH-mazing traffic around October through February. The slower times for me in particular are the summer months, when people are on vacation.
But that doesn't mean that I go AWOL during the slower months. In fact, I'm usually posting MORE during my slow times and it balances everything out and keeps my stats up nicely.
The truth is…that if you really want to increase your traffic and make a full-time income blogging, you absolutely NEED to be posting at least 5 times a week. You have to think of it like a job. Blogging IS a job, although, it pays better than a job in my opinion. 🙂
But what do you post about if you're going to post so much?
One of the easiest and best things you can post about on any blog is Holidays and here's how to get Holiday traffic throughout the year.
How to Get Holiday Traffic Throughout the Year
To get good traffic, even in the slow times, a good trick is to post holiday posts. If it's Christmas-time, you can post things like Ways to Save on a Holiday Meal. If it's Valentine's Day, craft posts do well, something like DIY Glue Valentine's Day Cards.
Whatever you post about should be specific to that holiday and the cool thing is that every year you blog, you just add-on more and more and more holiday posts and you can promote your older holiday posts as well during the appropriate season.
So, when are the seasons? When SHOULD you post for Christmas or Valentine's Day?
I'm a firm believer in posting early to rank and grow traffic to your blog. The earlier the better, but not TOO early. I've included a list below of WHEN you should post your posts for each specific holiday. You can use this as a quick guide for your editorial calendar. Post as close to these start dates as you can.
New Year's: Dec 1.
Super Bowl: Dec 15
Valentine's Day: Jan 1
St. Patrick's Day: Feb 1
Easter: Feb 8
Mother's Day: April 1
Memorial Day: May 1
Father's Day: May 8
Fourth of July: May 1
Summer Posts: June 1
Back to School: July 15
Labor Day: August 15
Halloween: August 1
Thanksgiving: August 15
Christmas: Begin in July (Christmas in July) and hit heavily beginning October 1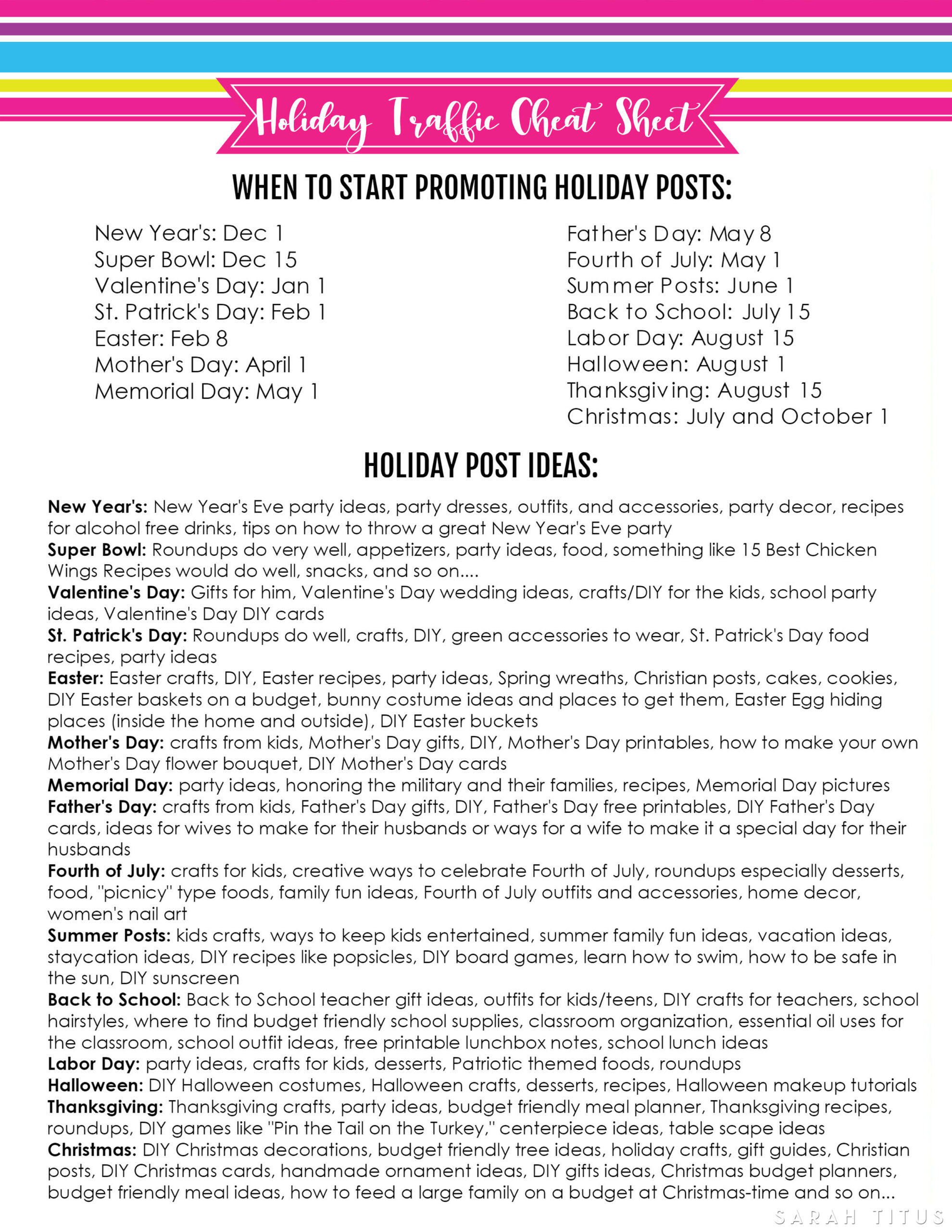 Get this free Holiday Traffic Cheat Sheet free PDF Template here.
In case you get stuck for ideas, here are some thoughts to get your creative juices flowing for each holiday:
New Year's: New Year's Eve party ideas, party dresses, outfits, and accessories, party decor, recipes for alcohol free drinks, tips on how to throw a great New Year's Eve party
Super Bowl: Roundups do very well, appetizers, party ideas, food, something like 15 Best Chicken Wings Recipes would do well, snacks, and so on….
Valentine's Day: Gifts for him, Valentine's Day wedding ideas, crafts/DIY for the kids, school party ideas, Valentine's Day DIY cards
St. Patrick's Day: Roundups do well, crafts, DIY, green accessories to wear, St. Patrick's Day food recipes, party ideas
Easter: Easter crafts, DIY, Easter recipes, party ideas, Spring wreaths, Christian posts, cakes, cookies, DIY Easter baskets on a budget, bunny costume ideas and places to get them, Easter Egg hiding places (inside the home and outside), DIY Easter buckets
Mother's Day: crafts from kids, Mother's Day gifts, DIY, Mother's Day printables, how to make your own Mother's Day flower bouquet, DIY Mother's Day cards
Memorial Day: party ideas, honoring the military and their families, recipes, Memorial Day pictures
Father's Day: crafts from kids, Father's Day gifts, DIY, Father's Day free printables, DIY Father's Day cards, ideas for wives to make for their husbands or ways for a wife to make it a special day for their husbands
Fourth of July: crafts for kids, creative ways to celebrate Fourth of July, roundups especially desserts, food, "picnicy" type foods, family fun ideas, Fourth of July outfits and accessories, home decor, women's nail art
Summer Posts: kids crafts, ways to keep kids entertained, summer family fun ideas, vacation ideas, staycation ideas, DIY recipes like popsicles, DIY board games, learn how to swim, how to be safe in the sun, DIY sunscreen
Back to School: Back to School teacher gift ideas, outfits for kids/teens, DIY crafts for teachers, school hairstyles, where to find budget friendly school supplies, classroom organization, essential oil uses for the classroom, school outfit ideas, free printable lunchbox notes, school lunch ideas
Labor Day: party ideas, crafts for kids, desserts, Patriotic themed foods, roundups
Halloween: DIY Halloween costumes, Halloween crafts, desserts, recipes, Halloween makeup tutorials
Thanksgiving: Thanksgiving crafts, party ideas, budget friendly meal planner, Thanksgiving recipes, roundups, DIY games like "Pin the Tail on the Turkey," centerpiece ideas, table scape ideas
Christmas: DIY Christmas decorations, budget friendly tree ideas, holiday crafts, gift guides, Christian posts, DIY Christmas cards, handmade ornament ideas, DIY gifts ideas, Christmas budget planners, budget friendly meal ideas, how to feed a large family on a budget at Christmas-time and so on…
Now that you have a ton of post ideas and the dates in which to begin posting them on, you can capitalize on holiday traffic all throughout the year!