Ditch the overwhelm! This is not JUST a blogging binder. It's a solution to SO many of your headaches!!! This is truly the one blogging binder you need!
With this blogging binder, you'll have:
Less trial and error trying to figure out what works and what doesn't
Less wondering if this is the path for you and being confident in your ability to blog, with help from a pro-blogger
Less overwhelm
Less not knowing where to start
Less feeling "stuck"
Less falling off track
Less unfocused, scattered blogging, so you can get back to what's REALLY important…your family!!!
It's the motivational tool you need to get started, the RIGHT way, and a huge asset to your brand!
It'll give you:
Clarity
Focus
A fresh start
Independence
A plan to improve your life
Freedom
Organization
Success
A starting point
Direction
Confirmation that you're good enough, that people want to hear what you have to say
A new way to make REAL money with integrity
It'll help you finally get blogging under control in a more efficient and organized way. And that new future starts TODAY! It starts the second you purchase this blogging binder!
The One Blogging Binder You Need

Created and designed by someone who gets it.
By someone who's been there. I was exactly where you are now and over the last few years, in record timing, I've built an amazing empire in the blogging world. I want to show you how I did it, how you can too!
Plus…I'm a highly organized person. My friends tell me I'm obsessive!
Okay, so I'm a little OCD about organizing. I'm okay with that. 🙂 But when it came to my blog, I was really UNorganized!
I bought a couple of printable blogging planners, but none of them really did what I needed them to do overtime, as I grew my blog. One blogging daily planner printable I used the past couple years was awesome, but it still left a few gaps of what I personally do. So, I created a notebook to keep all my papers in. But, that can get messy quickly, and you can't rearrange the pages as needed like you can in a binder.
So, I created my OWN blogging binder!
It's not a planner, so you can rearrange the pages in your binder any way you want. You can even keep binders of your older work pages and organize your blogging binders by year!
Plus, it's classic, but modernly designed, so it won't suck up a lot of ink and because it's a binder, you only have to print the pages you NEED (thus saving you more money!) Because who really wants more blogging expenses. Trust me, I've thought of EVERYTHING! 🙂
For me, this Blogging Binder has EVERYTHING I need. I created it to be the ONLY blogging binder you'll need to purchase.
But I didn't stop there.
Because I'm a highly ENCOURAGING person, I also created 20 wall art printables to include! Find the quotes you like, frame them, hang them in your office or workspace, and you have home decoration and motivation all in one!
This is truly the one blogging binder you need! Color and Black/White versions both included!!! 🙂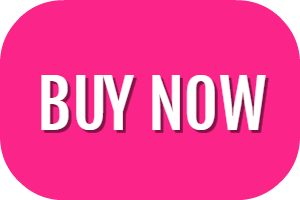 The "Yearly Stats" printable is something you can't live without.
As a blogger, you NEED to know exactly how you're doing each month and here's the thing, if you DON'T keep track of your stats monthly, you can NOT go back. Platforms like Pinterest, for example, don't have a backdate where you can see how you were doing a year ago.
On the "Yearly Stats" page, I've created a list of things I personally track with spaces to fill in more. This printable page ALONE is worth the cost of the binder, believe me! It has come in handy all THROUGH my blogging career many times over and has led to the inspiration of MANY posts on this very blog!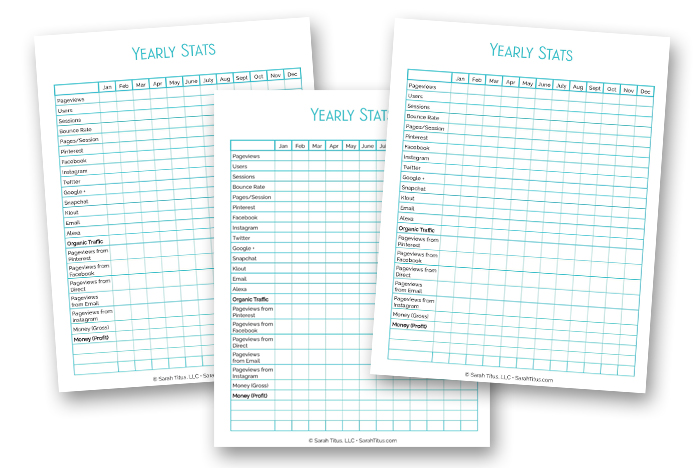 One of my other favorite pages is the "Income Tracker."
Each month, I write down exactly what I've earned to make SURE I am actually PAID. It's hard to keep track of payments if you don't know what should be paid. What if a company forgets to pay you? How long do you have to wait for a payment: is it Net 30…Net 60…Net 90? You wouldn't even know unless you're writing it down.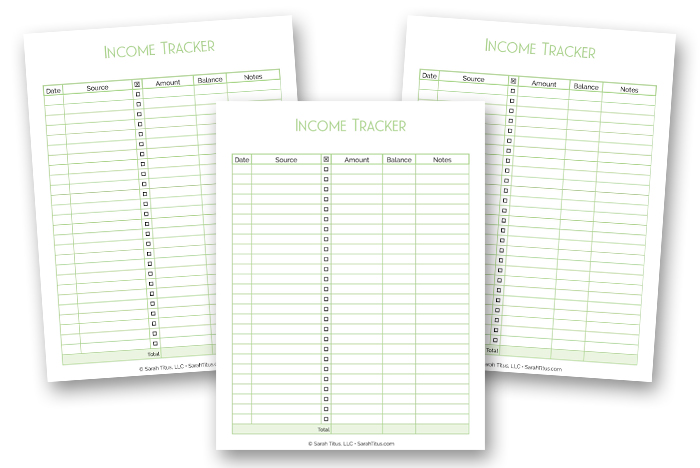 My third favorite printable in the Blogging Binder is the "Income Tax Expenses."
When it comes to tax time, you do NOT want to be without this sheet, for sure!
It'll help you categorize all your expenses for the month, month by month, so that at the end of the year, you have a perfect picture of all expenses and tax season for YOU is a breeze, because you've been keeping track all year round!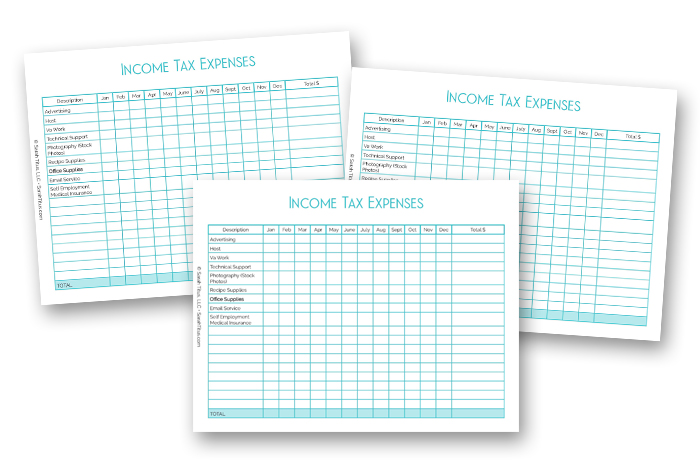 While those are my three favorite pages in the binder and worth the cost just for those sheets alone, there are TONS of other pages that you are sure to fall in love with, including beautifully designed, colorful wall art!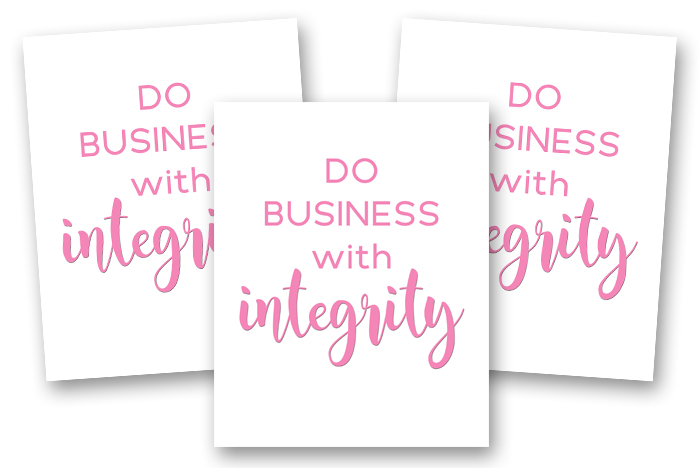 To grow your blog, it's very important for you to set aside time to work on it every week. This is where the Weekly To Do List comes in. This printable weekly calendar helps you identify the things you need to do, and plan accordingly. When you plan ahead, it will be more likely for you to stay on track.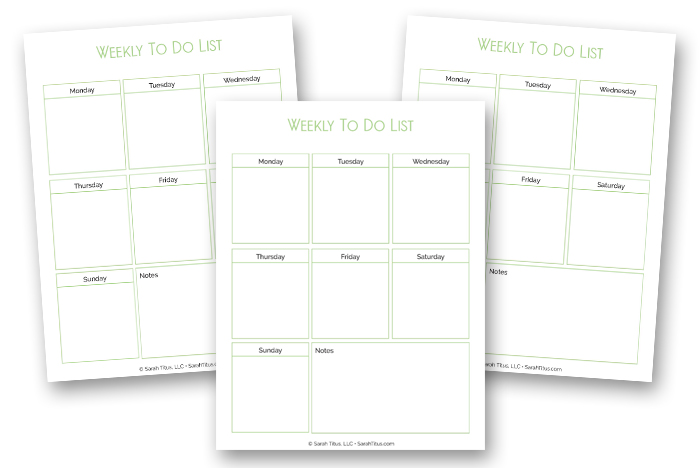 Every post you write requires photos, keywords, marketing, etc. With this Week At A Glance printable, you can glance at your week to see what you've accomplished and what still needs to be done to stay on schedule. This weekly planner printable is so helpful!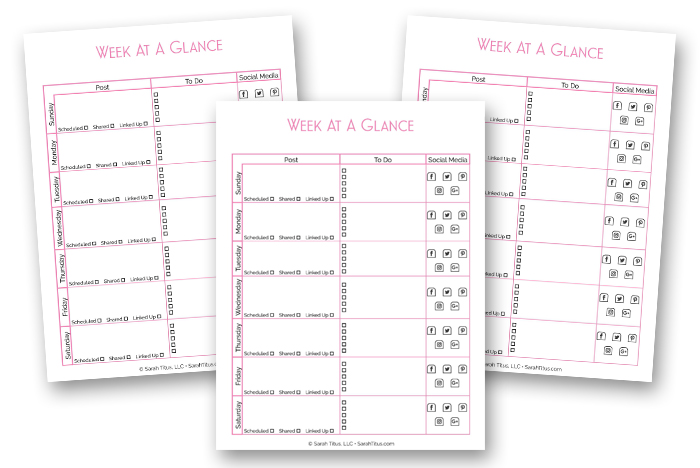 This Monthly Planner gives you the opportunity to plan according to months so you can organize and plan ahead of time. Print out the months you will be needing in the near future. I like to have my schedule planned out for 6 months at a time. This monthly planner printable can be used for blog posts, social media scheduling, tracking of goals, personal to-do lists, etc.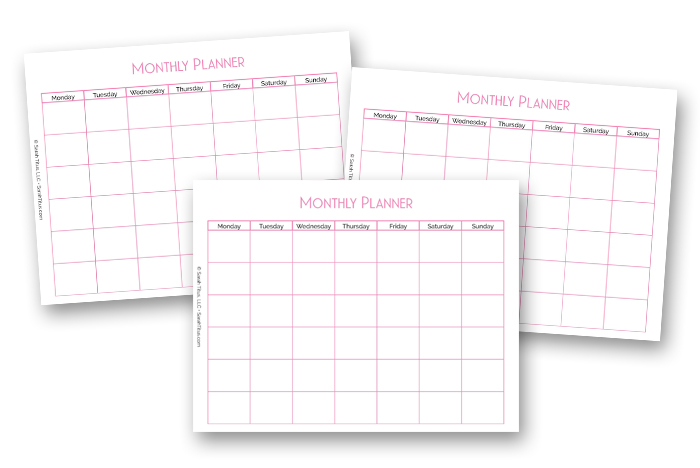 Plan all of your goals for the month or months in advance. Not all months will have the same goals. Maybe one month you want to focus on writing a lot of content, and the next one you might want to concentrate on traffic from that content. The individual 12 Monthly Goals printable will help you set your goals.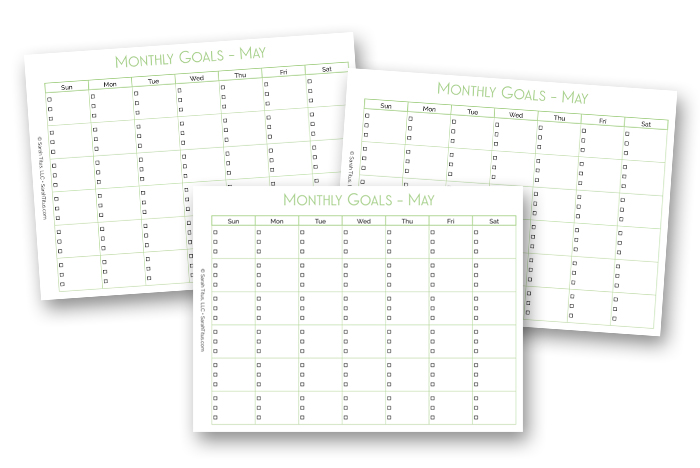 Plan short, medium and long term goals by using these 1 Month Goals, 3 Month Goals, 6 Month Goals, and Yearly Goals printables. It's important to see what you need to work on right now, and how that is going to bring you closer to your yearly goals.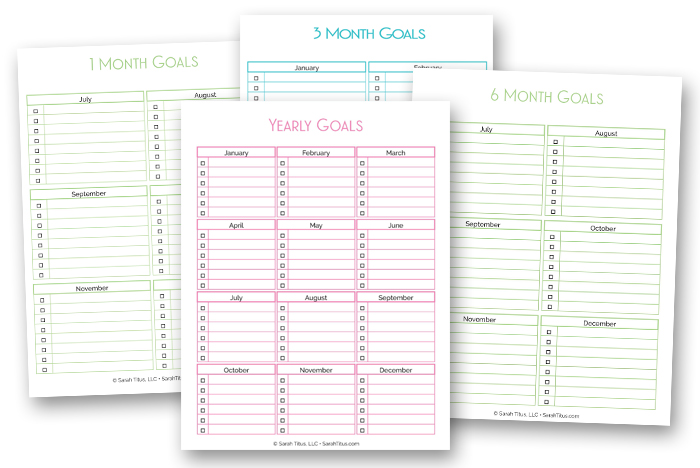 Don't keep all your future post ideas floating around in your mind, or you may forget them! Use this Future Posts Ideas blog binder printable to write down any waves of inspiration you have. Sometimes the best ideas are when you least expect it.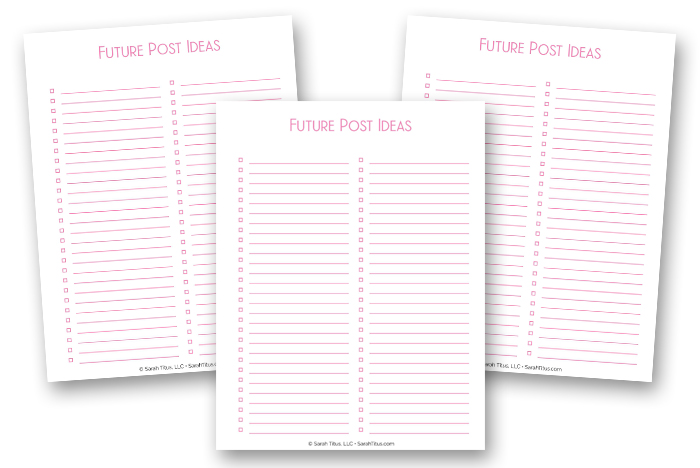 The Blog Post Planner will allow you to keep track of your progress, tags, keywords, and notes.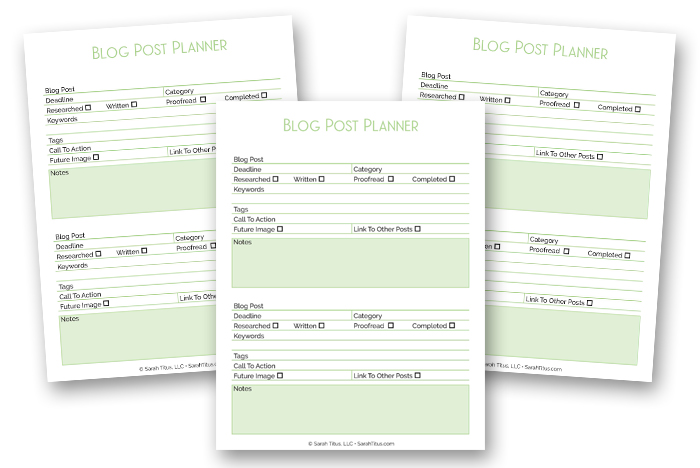 We all like checklists, right? 🙂 To make sure that everything is completed to have the perfect post, use this Blog Post Checklist printable.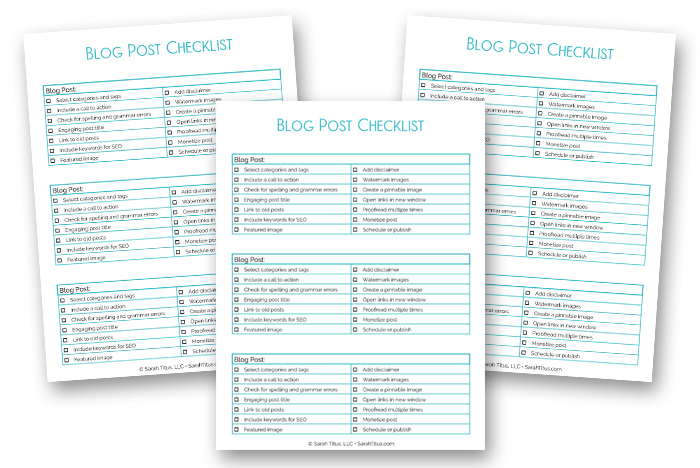 Plan your week with this Post Schedule printable and when you will post them on your social media accounts.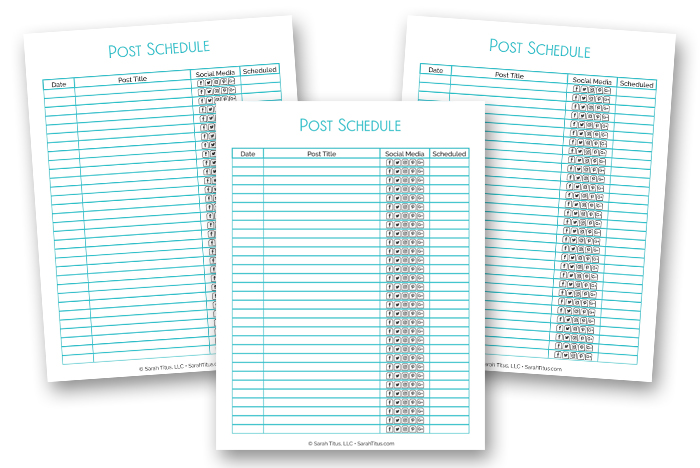 If you monetize your blog through affiliate marketing, use this Affiliate Tracker printable to write down all the companies that you are working with. Remember, this is money and if you don't track it, you may forget to claim it.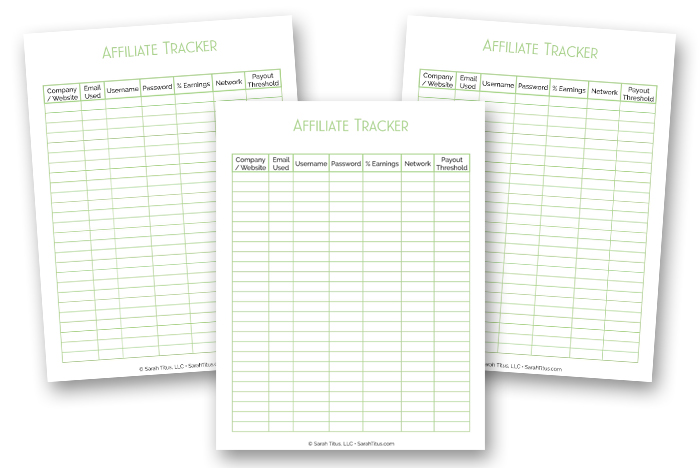 Your blog is a business and you'll need to track your expenses. The Expense Tracker will help keep track of everything you spend relating to your blog (ex: hosting, social media scheduling companies, stock photography, etc.)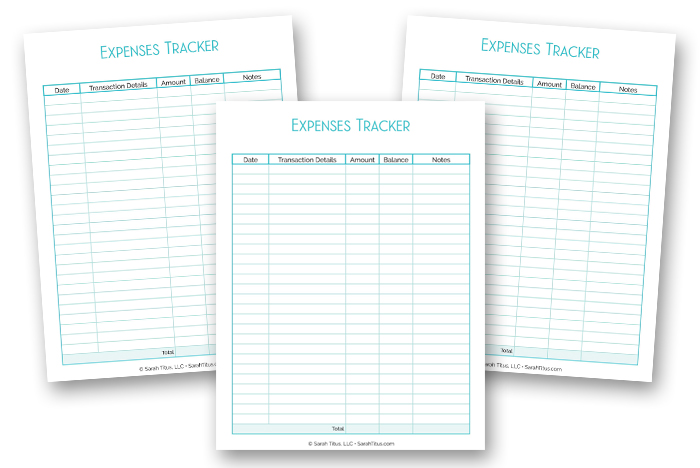 See what others are saying about the binder…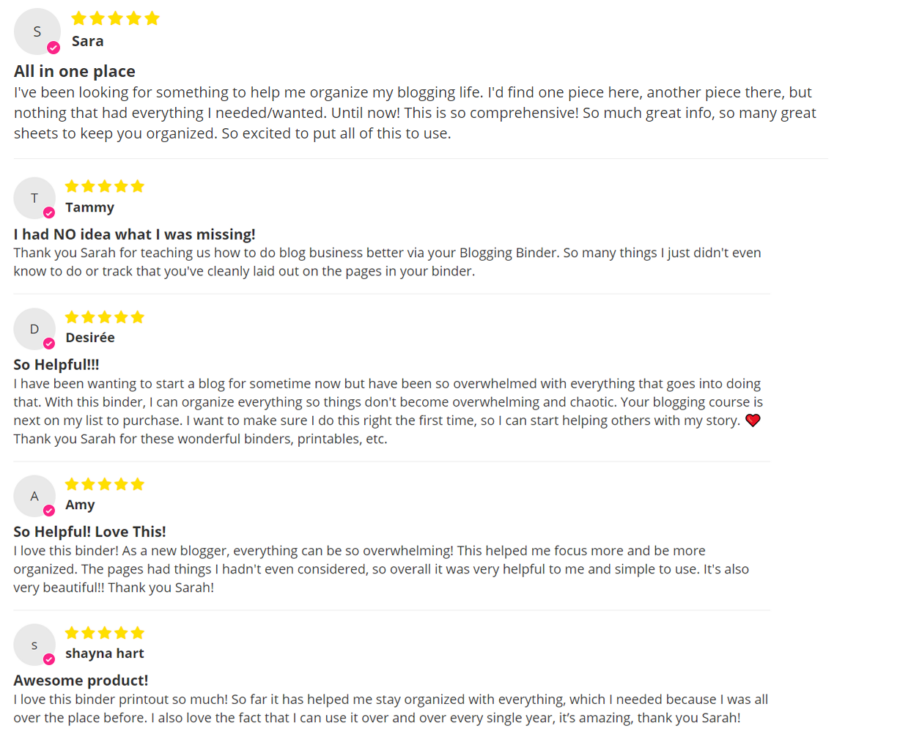 Once you start using this blog printables binder, you won't know how you ever got along without it! This binder is worth every penny! Click here to grab your copy today!
How this printable blogging binder is different:
It won't suck up a ton of your ink! Keep those business expenses low!
180+ pages to fulfill all your blogging needs. No need to go out and buy more binders/planners
Includes 20 wall art printables. Keep yourself inspired and motivated on your blog daily.
Helps you know EXACTLY what to track. Don't miss out on the patterns that will grow your blog!
Tax printables. Come tax time, this will be your own personal lifesaver!
Print only what you need…and duplicates of your most used sheets.
BINDER INCLUDES:
4 pages of decorative spines from 1 to 4 inches
6 pages of instruction on How to Use the Blogging Binder
Monthly Planner – Printable Blogging Calendar (13 pages)
Weekly To Do List
Yearly Stats
Future Post Ideas
Affiliate Tracker
Giveaways
Reviews
Blog Sponsors
Advertisers
Income Tracker
Expense Tracker
Notes (3 pages)
Blogging Goals
Yearly Financial Tracker
Week At A Glance
Blog Post Planner
Brand Contacts
Blog Contacts
Sponsor Contacts
Blog Improvement Ideas
Newsletter Improvement Ideas
Pinterest Improvement Ideas
Facebook Improvement Ideas
Twitter Improvement Ideas
Instagram Improvement Ideas
YouTube Improvement Ideas
Amazon Improvement Ideas
Google+ Improvement Ideas
Improvement Ideas
Password Tracker
Contributor Logins
Guest Post Logins
Tech Team Logins
Hashtag Planner – Instagram
Hashtag Planner – Facebook
Hashtag Planner – Twitter
Comments Planner – Facebook
Comments Planner – Instagram
Comments Planner – Blogs
Comments Planner – Twitter
Comments Planner – Pinterest
Newsletter Planner
Monthly Goals (13 pages)
1 Month Goals (2 pages)
3 Month Goals (2 pages)
6 Month Goals (2 pages)
Yearly Goals
Hashtag Groups
Weekly Social Media Planner
Weekly Planner (2 pages)
Daily Planner
Blog Post Checklist
Daily Blog Checklist
Incoming Guest Posts
Outgoing Guest Posts
Product Review Checklist
Link Party Tracker (2 pages)
Facebook Page Planner
Facebook Group Planner
Social Media Planner
Pinterest Planner
Twitter Planner
ViralTag Planner
Income Tax Expenses
Monthly Planner (13 pages)
Site Changes
Changes
Newsletters Changes
Pinterest Changes
Facebook Changes
Twitter Changes
Instagram Changes
YouTube Changes
Amazon Changes
Yearly Income Report
Growth Goals
Pinterest Reach Stats
Sale Tracking
Year In Review
Year In Review Ads
Year In Review Finances
Year In Review Products
Year In Review Sponsorships
Year In Review Affiliate Marketing
Year In Review Products
Year In Review Sponsorships
Year In Review Affiliate Marketing
Year In Review Blog
Year In Review Newsletter
Year In Review YouTube
Year In Review Pinterest
Year In Review Facebook
Year In Review Twitter
Year In Review Instagram
Month in Review
Month in Review Ads
Month in Review Affiliate Marketing
Month in Review Finances
Month in Review Products
Month in Review Sponsorships
Month in Review Blog
Month in Review Newsletter
Month in Review YouTube
Month in Review Pinterest
Month in Review Facebook
Month in Review Twitter
Month in Review Instagram
Post Schedule
Virtual Assistant Planner
20 Motivational Wall Art
and more!!!
What other audience members are saying:
Shirley from PA says, "Winning would mean a lot and would indicate to me that I'm on the right path. I've visited so many other blogger's sites and the main focus is money. Not that there's anything wrong with that. But you are more passionate about the Father and that to me is BEAUTIFUL. I know my purpose is ministry and I have been praying for God to lead me and to open doors for me. I have committed this whole blogging thing in His hands. If I make $50 or $5000 a month, it wouldn't really matter. I want to make disciples of all nations, just as we all have been commissioned to do. Thank you for the opportunity."
Nana from Georgia says, [This] "would save me hours of looking for the information I need so I can get the blog up and running and spend the time writing."
Sandra from NC says, "This is a chance in a lifetime for me. I am also following God's Will by starting a blog and this would be just what I need. I'm very excited"
Alma from MO says, "I can learn from the best and promote my business."
Alixandra from ND says, "Out of a thousand offers this is the only one I feel could make a positive difference for me and my son, so…. very excited, indeed."
Renee from TX says, "You know that excitement you get when you buy a new outfit & it looks GOOD! I am that excited."
Angela from Kenya says, "It means that I now have a trusted source to go into blogging."
Meena from GA says, "I am more excited than when I got my first car."
Holly from Missouri says, "[I'm] more excited than a tick on a dog!"
Whitney from Alabama says, "As excited as a child let loose in a toy store."
Rebecca from California says, "A chance to have a highly successful blueprint ordained by God in my hands would be so amazing!"
Lindsay from Iowa says, "As excited as a puppy discovering a tennis ball for the first time."
Dede from MO says, "It would mean no more searching 25 different places for one simple answer only to find out none of them work and I can quit making excuses and focus on blessing others instead of my processes!! Woo hoo."
Alissa from TX says, "It would mean that I would finally have access to the information I need in order to be successful in blogging and KNOW that the teaching is coming from someone I trust and admire. It would be absolutely AWESOME!!"
Stephanie from LA says, "More of a relief to see that something useful is available and doesn't look boring to use like most guides, but still very pumped"
Jane from FL says, "I, too, love paper and lists. I'm trying so hard to be more organized, and manage my time better. I believe having a beautiful blogging binder would help!"
Stephanie from MO says, "Really excited. I've tried so many different ones but nothing is a fit."
Sandrell from Tennessee says, "Very excited! I'm new to the blogging world, having learned all I know from you. Your content is gold, and as soon as I saw this giveaway I knew I had to enter."
Simply click below to grab your copy of the one and only blogging binder you need…