You could definitely call us crafty over here at our house. I have always loved all things artsy (designing is my jam), 🥰 and my daughter is the craft queen! We love trying new things all the time and the amount of crafty things available is amazing!
My daughter wants to get a vinyl cutter now so she can design her own (and use my) SVGs to create all kinds of things like t-shirts, cups, cards, posters, etc. to sell.
Creating can take time though, so I'm giving you some help! 😊
Not only do I want to fill this blog with cool SVGs you can use in your own craft designs, but I want to give you font pairings too, so that you have EVERY resource you need right at your fingertips!!! Sound good? Check out the 15 font pairings to make SVGs with below…
15 Font Pairings to Make SVGs With
I'm providing 15 great font pairings for use with SVG's. These font pairings make excellent products whether you are printing or cutting. All of the pairings have a script-type font paired with one that is more print. This is a great way to pair fonts as each one will stand out on its own because of the vast difference in the way it looks.
Why not create a t-shirt that says Happy Momma. You could use the "Wild Orchid" font pairing by cutting Happy out of the Rowan font (print) then use a different color vinyl for Momma using the Unicorn Letters font. Press the Momma over the Happy and you'll have a beautiful shirt uniquely created by you! (This method is very popular right now.)
I've named all of the font pairings below with each of the fonts that make up the pair next to the name. All of the fonts are available on Creative Market.
All of the fonts on this list are currently good to use for:
Commercial Use
Unlimited Number of Projects
Unlimited End Products For Sale
One of the things I like most about creating my own designs is I can make EXACTLY what I want. You can, too!! Get the fonts you like below and create something beautiful!!!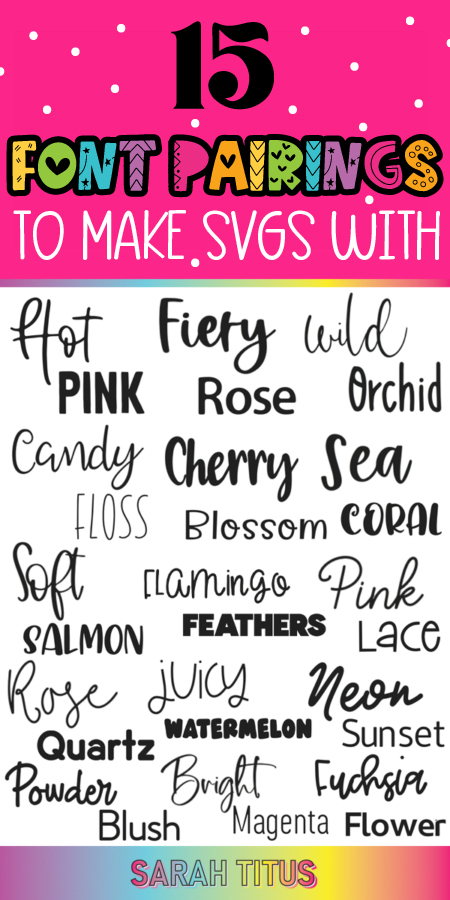 Chart – Font word on the picture {Name Cursive Font} {Name Sans Serif Font}