Guess what?
This hard working girl just closed on her DREAM HOUSE. I had been looking forward to this for a long time, planning it for 4 long years!
Now, that I am home owner – I've already begun starting to decorate and putting my own personal touch to every single corner of my house. My first task at hand, painting!
Did you know that you can simply take in a photo on your phone into your local paint store and they can color match those colors right from your phone?! Totally true. 🙂
With these gorgeous home decor color match palettes, you're sure to find the perfect shade for your space.
25 Home Decor Color Match Palettes
Decorating your home can be overwhelming; especially if you don't have any idea what colors you should use! Get all the inspiration you need with these beautiful 25 home decor color match palettes.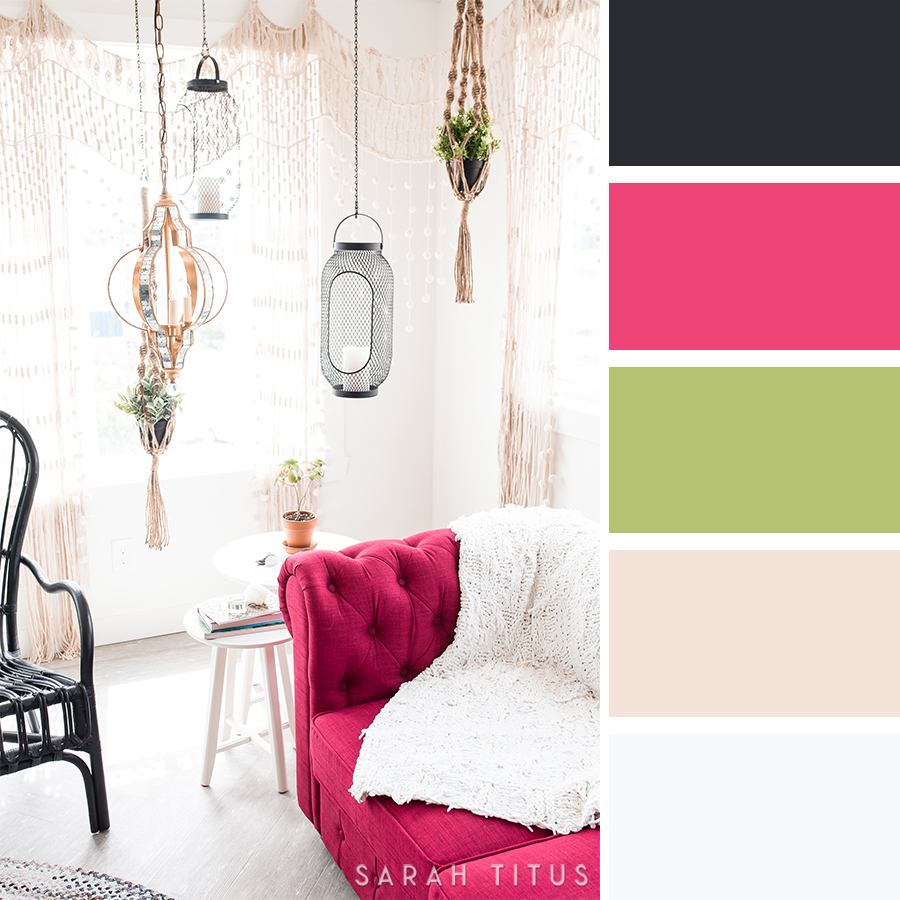 Isn't that shade of red beautiful? It really pops against the other neutral shades in the room. You could easily create a room with a red focus wall in that color!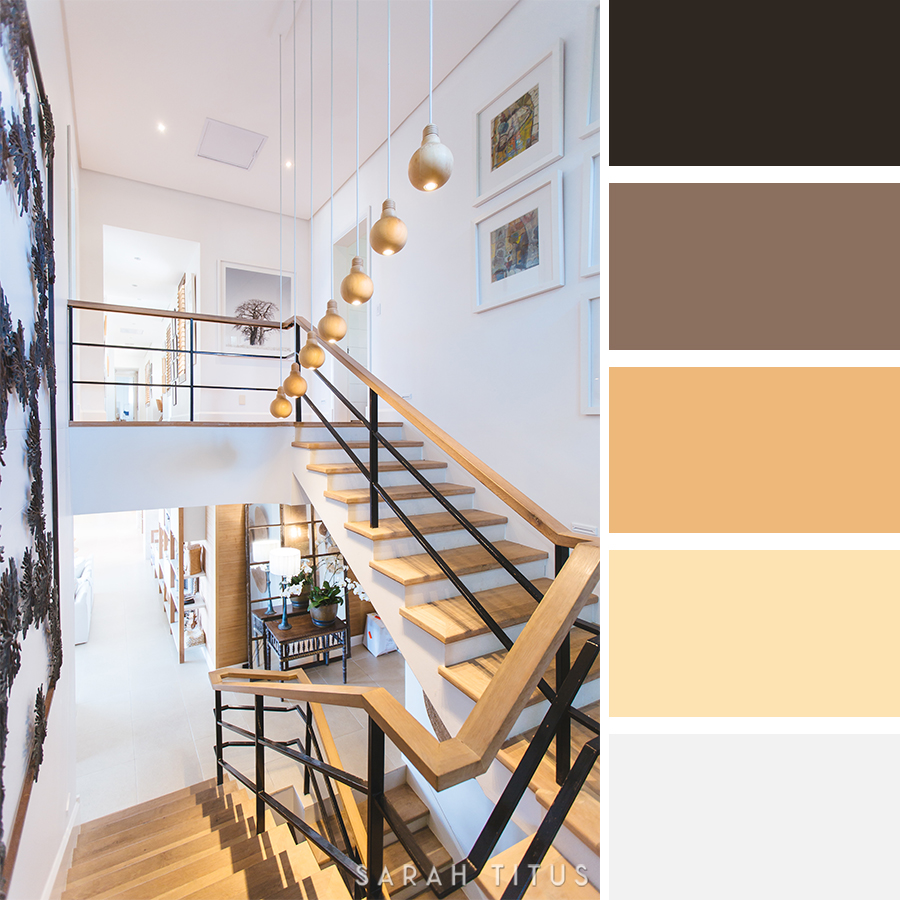 If you're looking for browns and yellows, here's some neutral colors to inspire you. Who knew that neutral tones could come together for such an eye-catching look!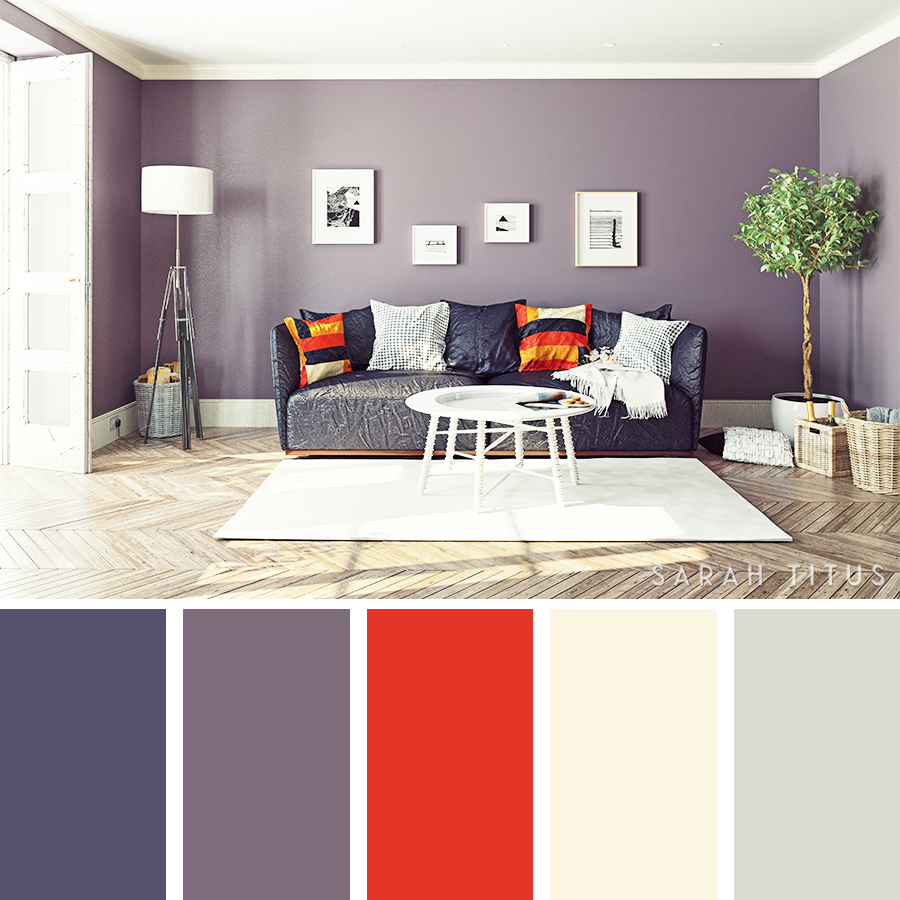 Purple can be challenging to color match, but don't be afraid to pair it with another bold color in conservative amounts. Purple rooms make me automatically think of elegance and wealth. What do you think of when you see purple decor?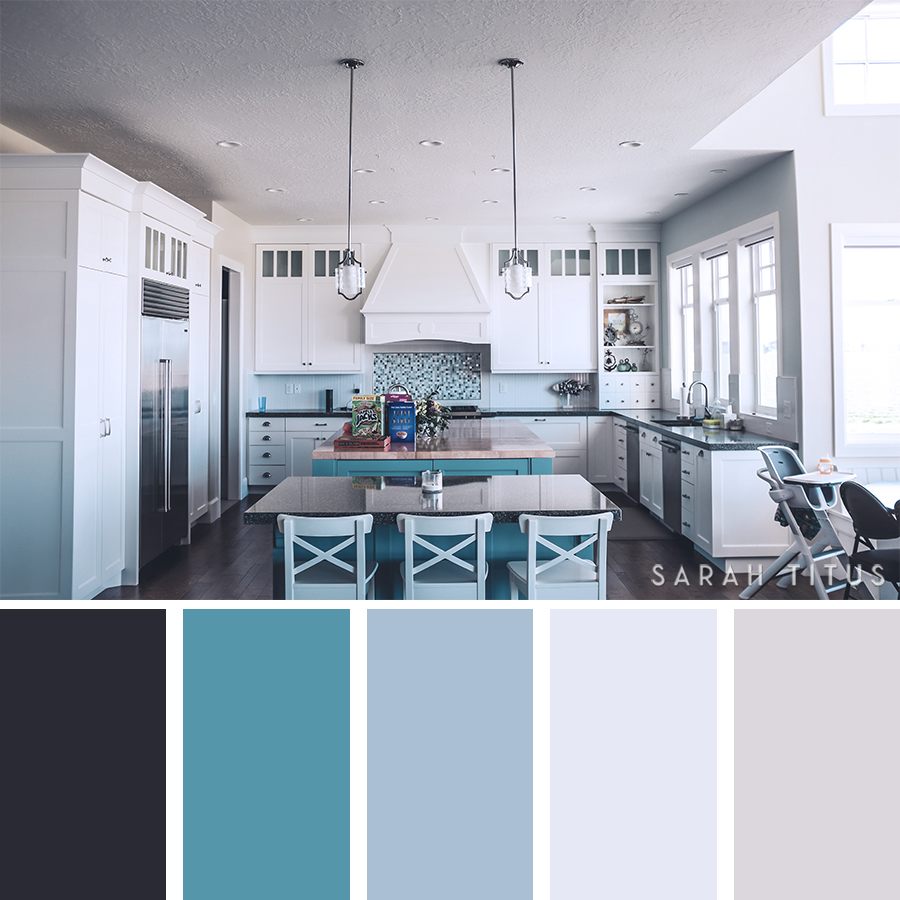 Isn't this kitchen gorgeous! This is one of my favorite pictures. I just LOVE the teal. It plays so well with the charcoal black, beige, and white. Who wouldn't love a kitchen like this?!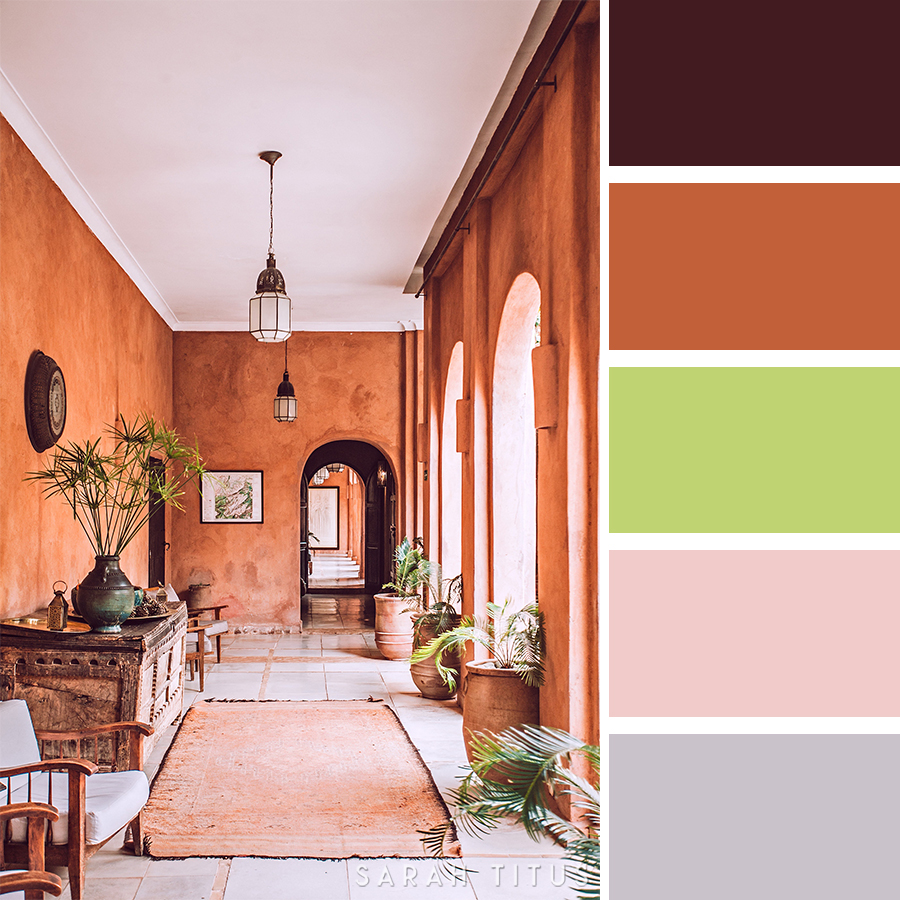 These colors remind me of a Tuscany setting. The deep beige almost looks like a rust-orange. Pair that with some natural colors like greens, grays, and browns, and you have your very own piece of Italy.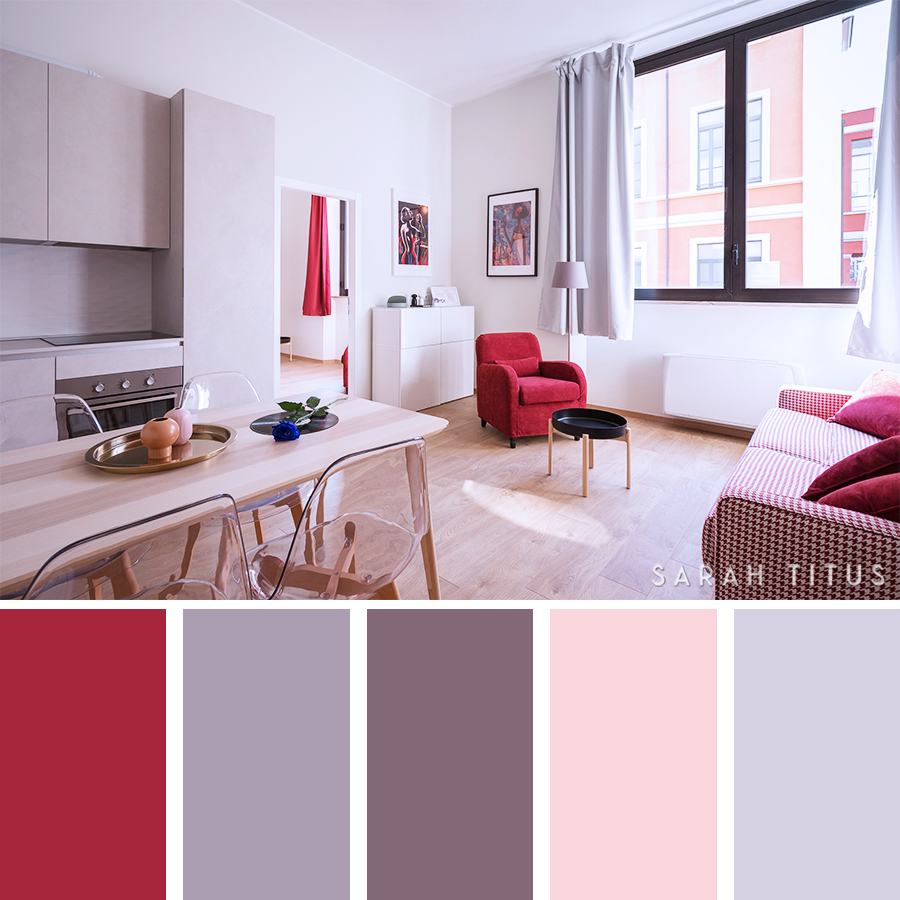 Anyone see that blue rose on the table…come on…tell the truth…is that real? How do you get a blue rose???
Mmmm…cake. 🙂 If you're looking for more natural colors, these greens and yellows are perfect shades. Even in small amounts, yellow helps set the mood for a cheerful space.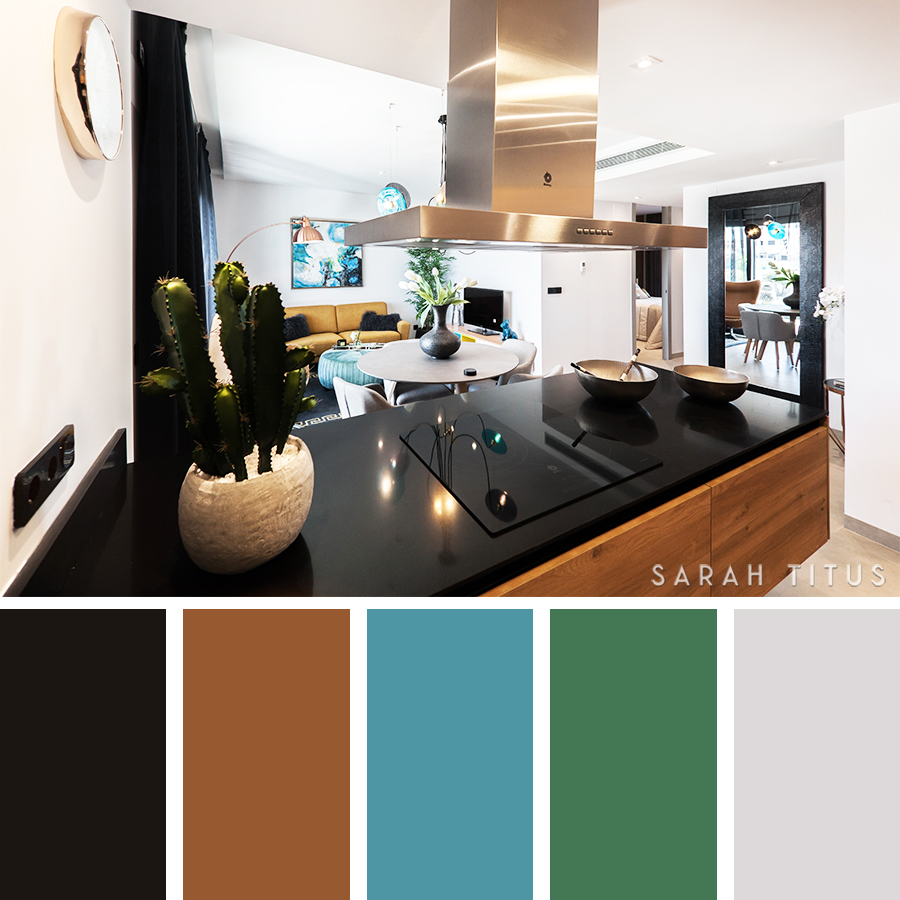 I spy teal! 🙂 I love the way the black, teal, and white look together! Black might not look good for wall colors, but you could get black and teal decorations and really tie the whole room together. To me, the colors marry well a masculine and feminine space.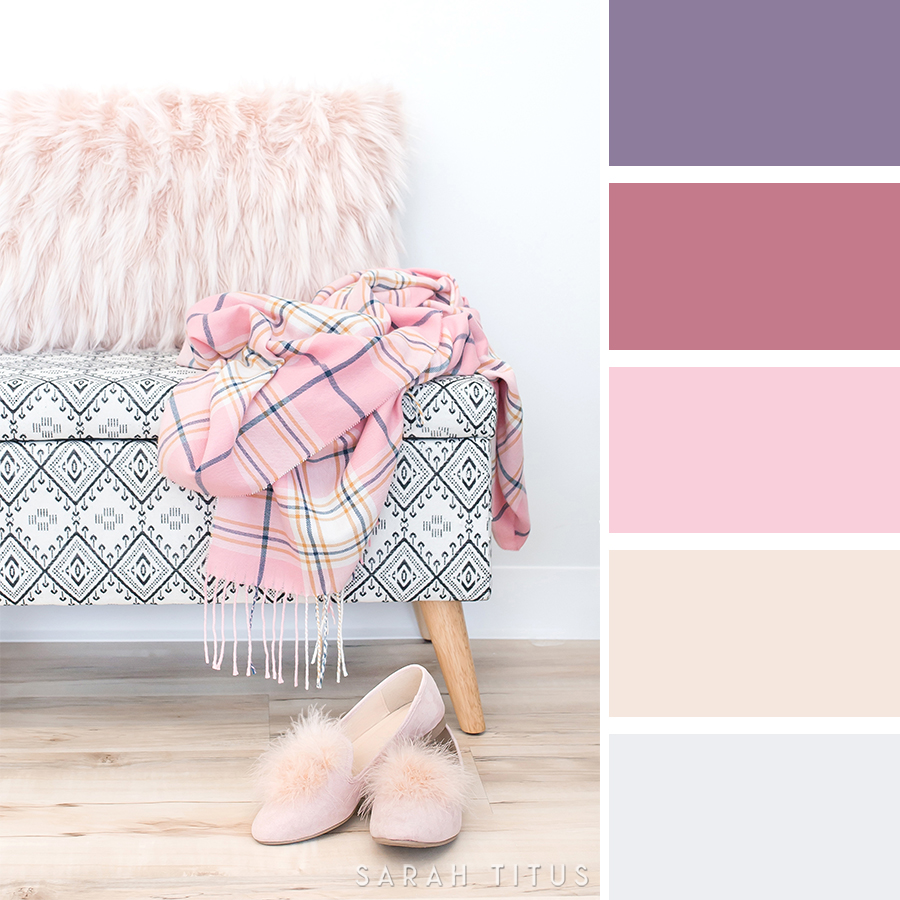 I can't help it, I tend to really like grey walls. This is the perfect shade too: not too dark, not too light! This color match palette says feminine, cool, bright, and flirty!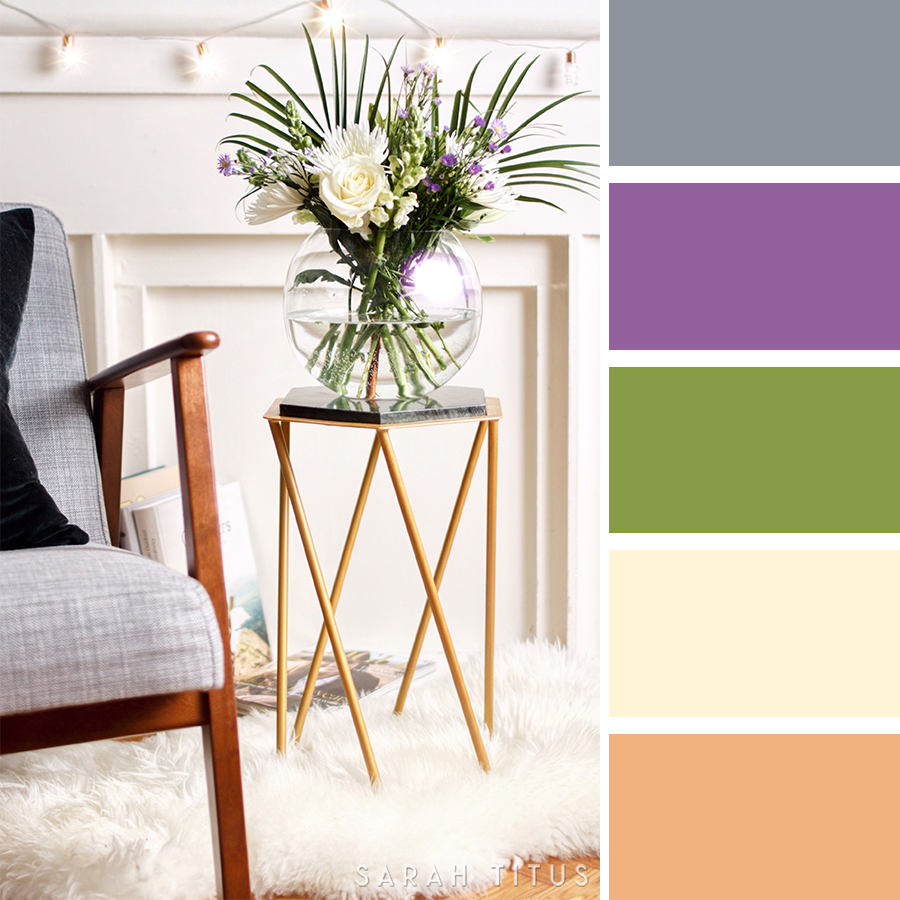 Aren't these sparkle lights in the background pretty? That was definitely added with photo-editing software, but still very pretty. Just a pop of purple to tie all the colors together. You could replace the purple with any color really: red, pink, etc. but I think purple and green look really pretty together. It's a beautiful mix of warm and cool colors.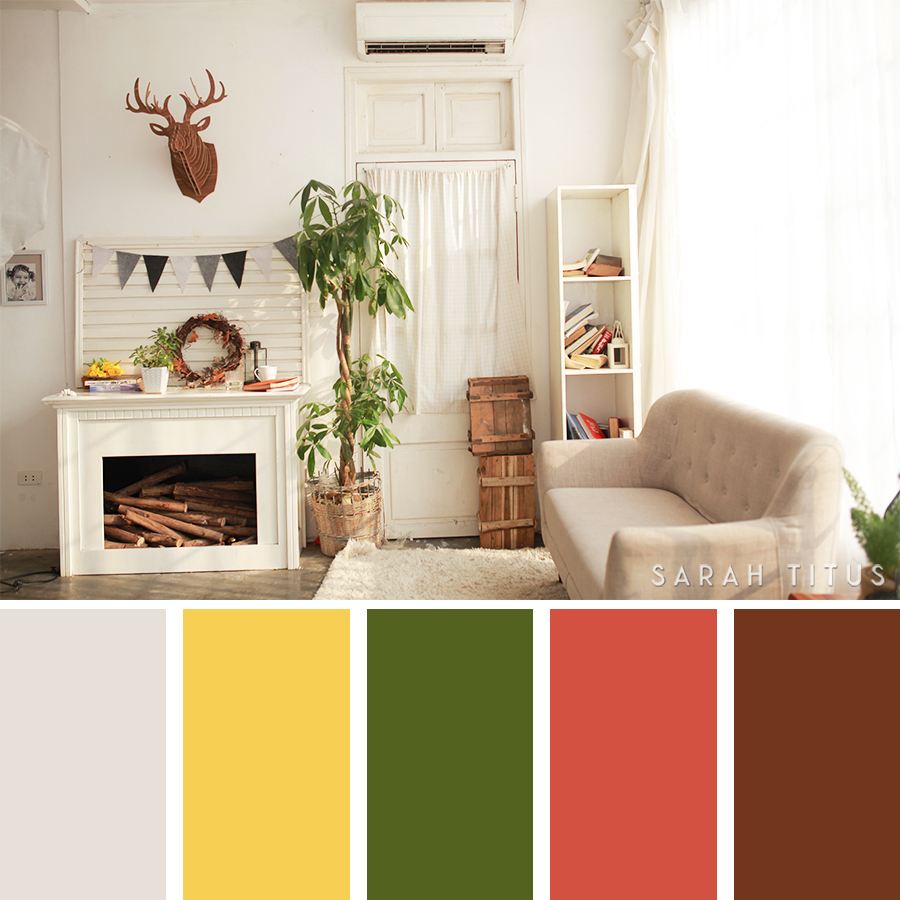 Yellow is so cheerful and can brighten up ANY room! This color match palette says to me warm, cozy and comfortable!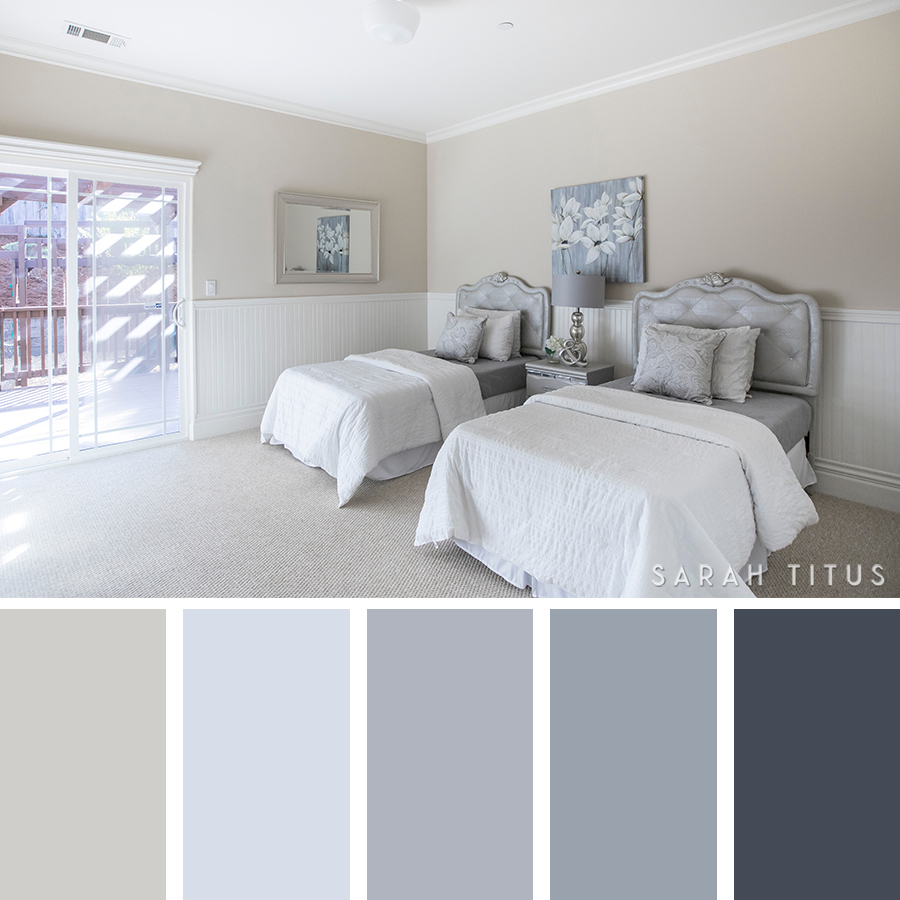 I absolutely adore these headboards and they are grey to boot. So elegant and pretty giving such a clean, crisp look!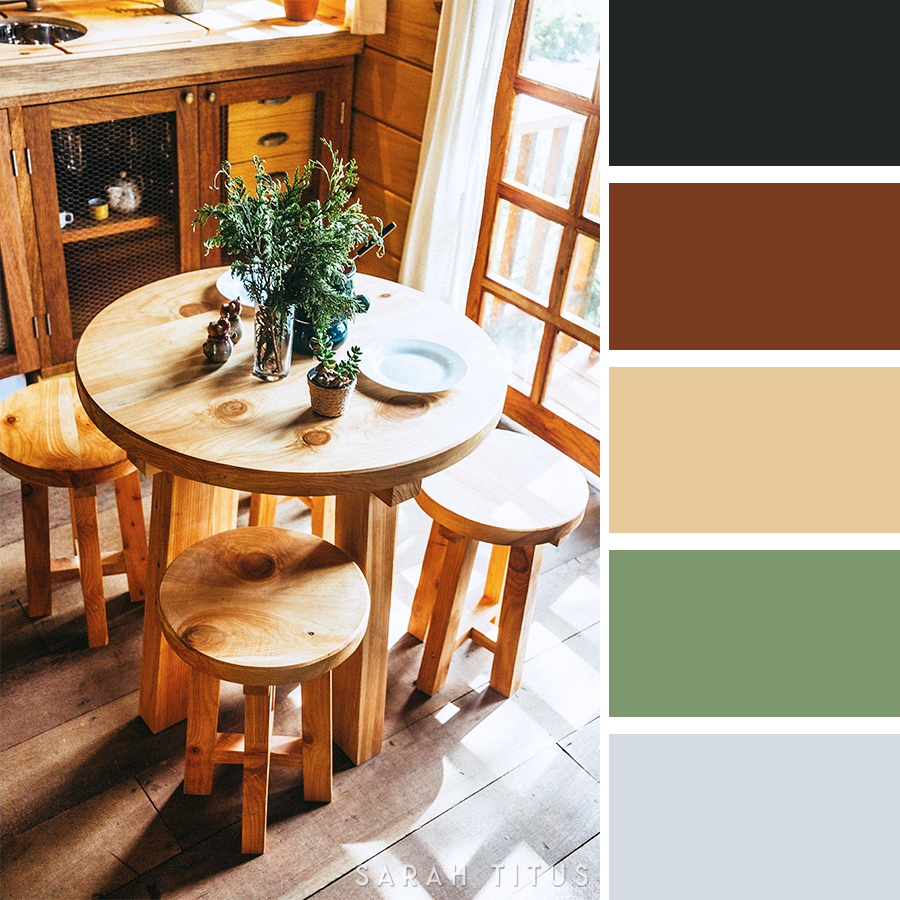 If you like the look of wood, here's a nice neutral brown that goes with just about anything. When it's paired with the black, green, and grey, it has such an earthy, outdoorsy feel.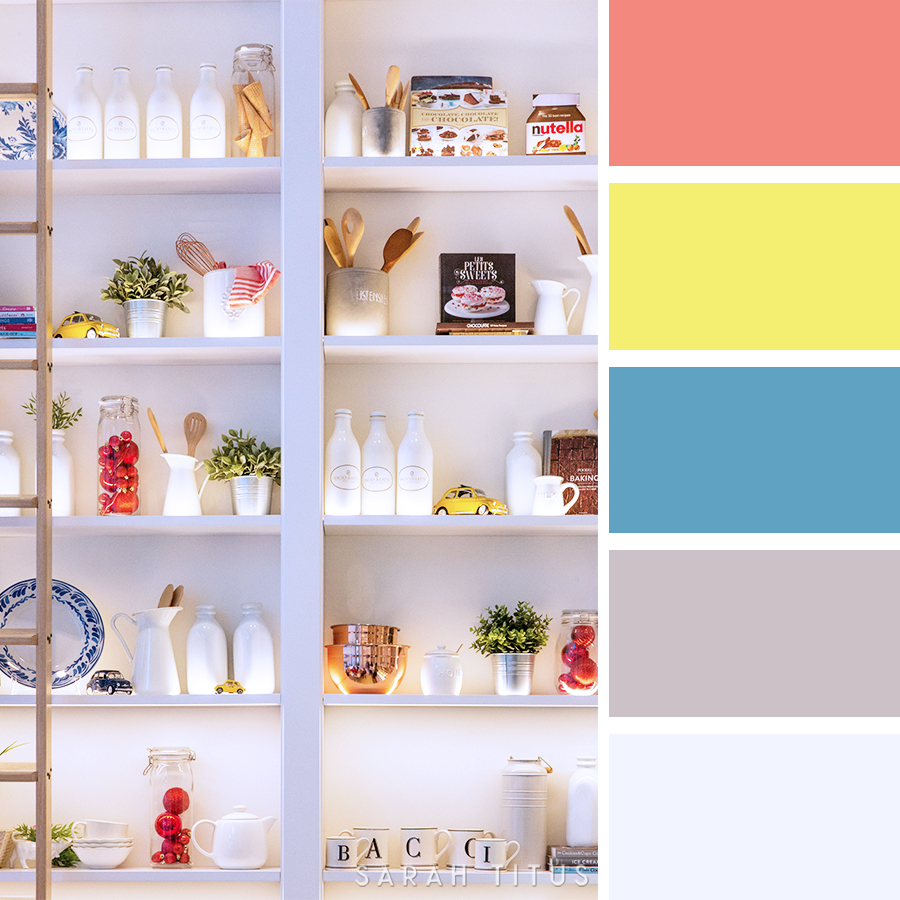 Can you just see your last name spelled out in mugs on a shelf for decoration? Such a clever idea! The neutral colors with the bright pops of color create such an attractive look!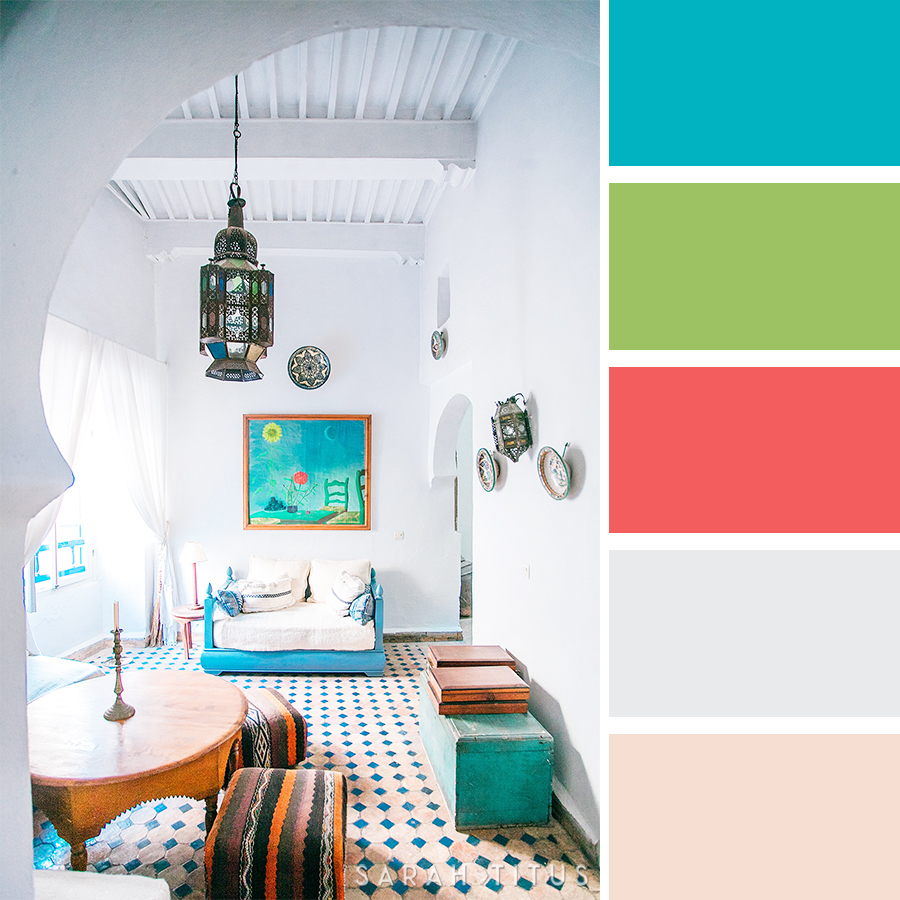 This reminds me of Morocco. It's a fun way to introduce browns, blacks, and teals together along with your wood furniture.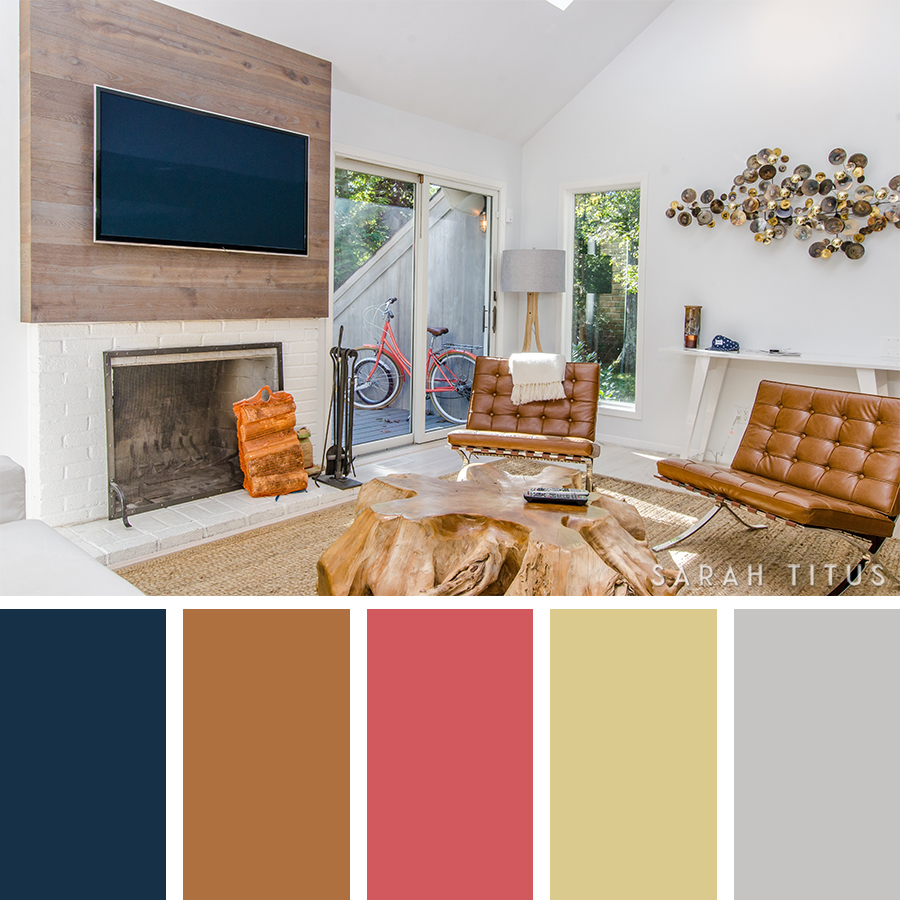 If you're going old world style, this coffee table fits the bill. Isn't that such a cute idea to make a home seem "woodsy". I can imagine these colors in a cabin by the lake. The deep blue of the lake, the brown from the tree trunks, and yellow from the sun.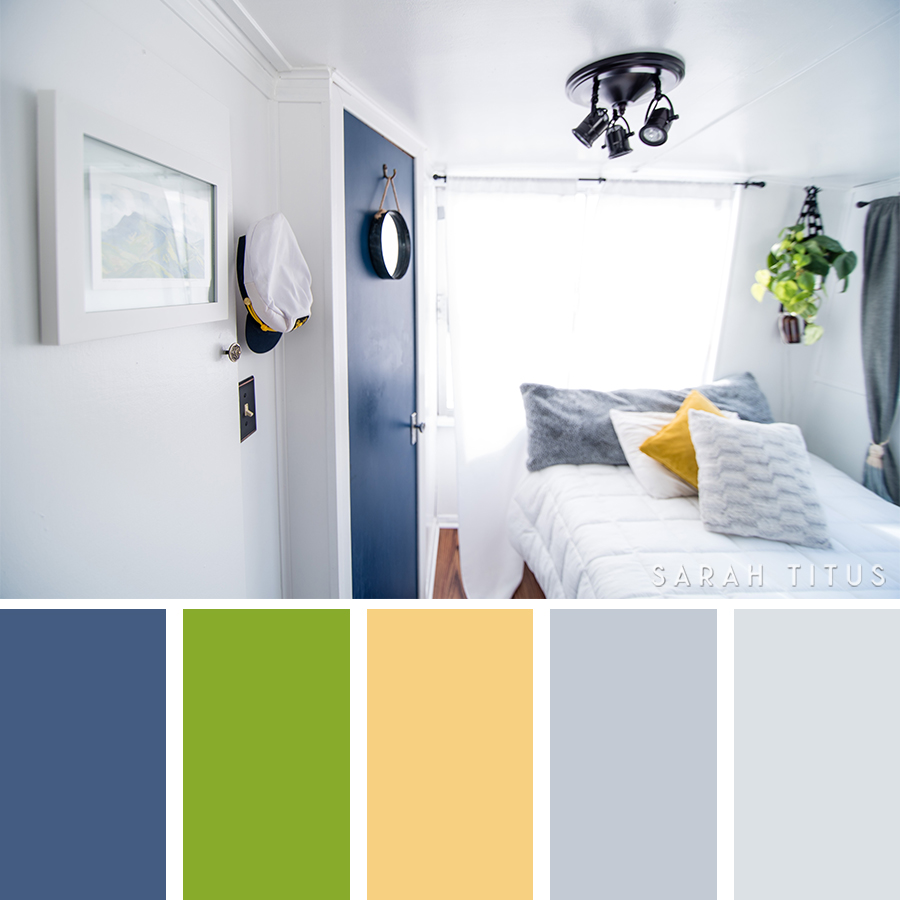 These colors would be great for a sailor theme room. Maybe a kids room too. I love how the blues play well together with the white, yellow, and grey. The yellow pillow is like a drop of sunshine.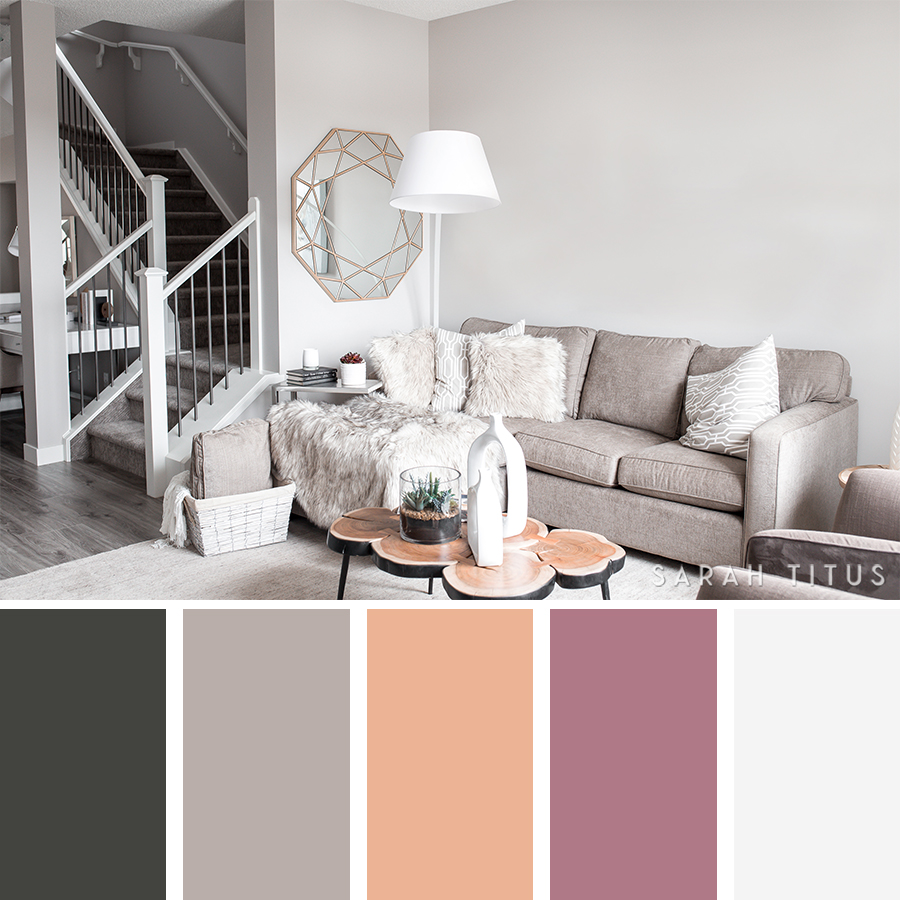 This is one of my other favorite spaces. Of course it's grey, so you can add in pops of color anywhere you want. If you look closely, you'll see some burgundy on the table by the mirror. Very classy.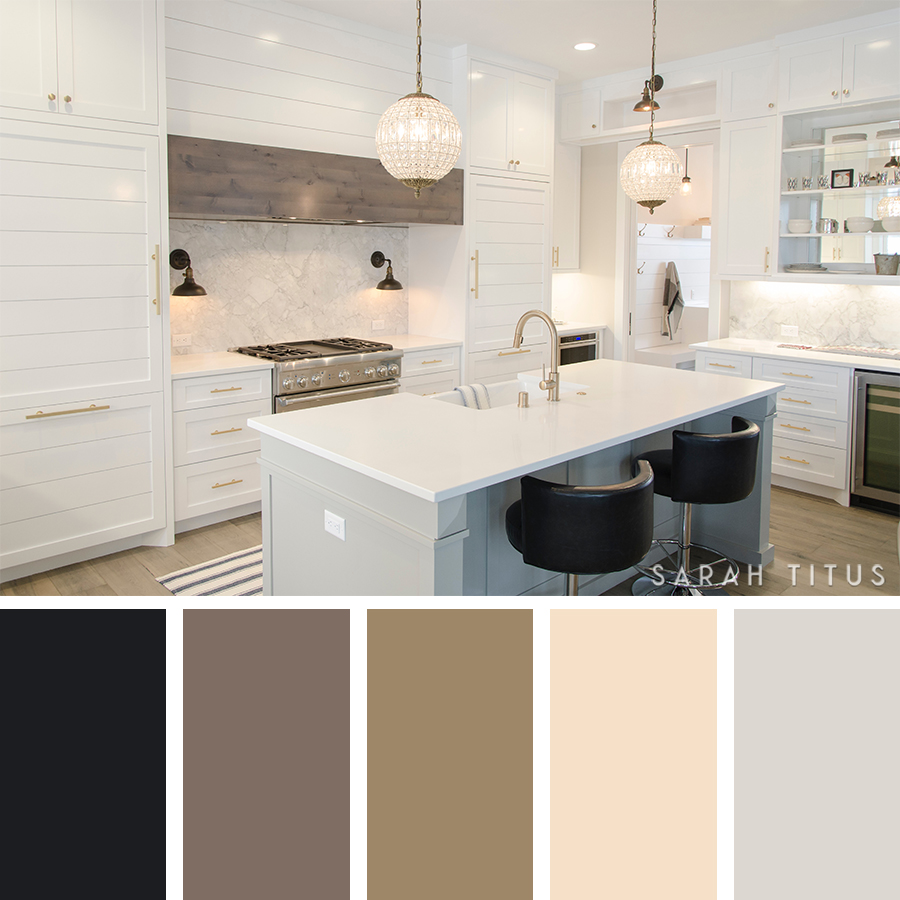 Those lights are gorgeous, as is the backsplash to the stove! It's really an interesting way to combine grey, black, and brown. Those colors don't seem to mix usually but here, they absolutely do! It makes me want to pull up a chair, watch someone cook, and just hang out! 🙂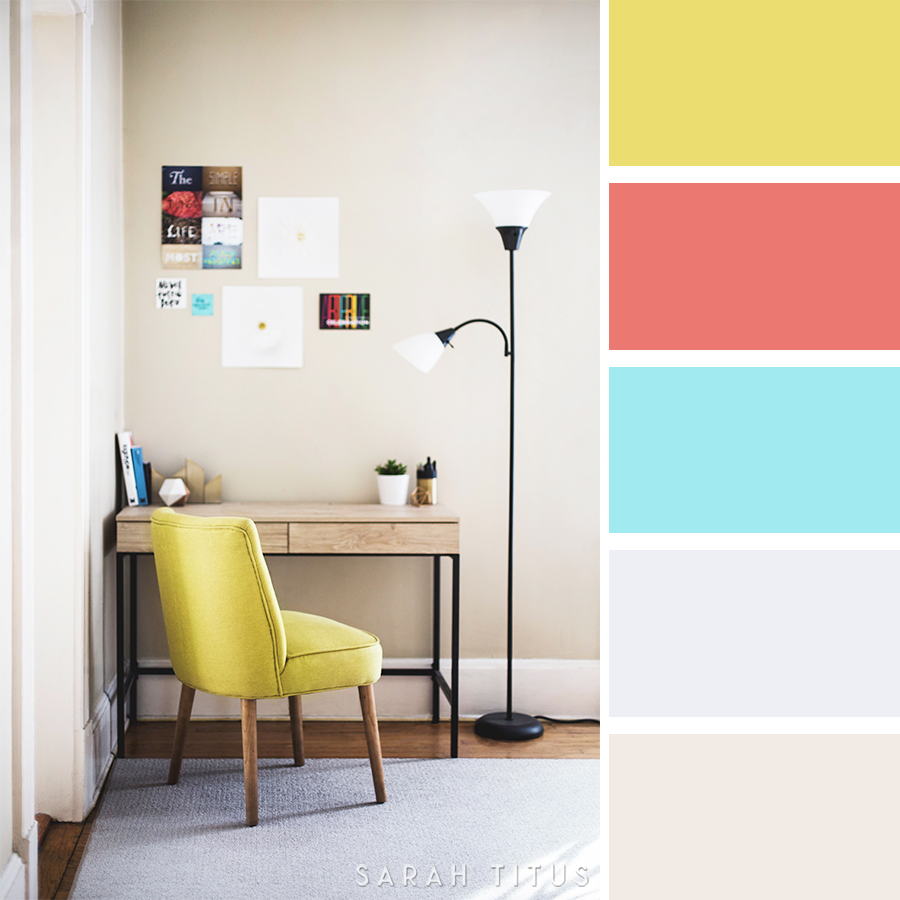 Yellow, red, and green. This would be great for a dorm room or boys room. This color match speaks optimism, cheer, and relaxation all at the same time.
I'm in love with those curtains. They match the backsplash perfectly and it's fun to see green and grey paired together. These are more minimalistic colors but yet seem warm at the same time.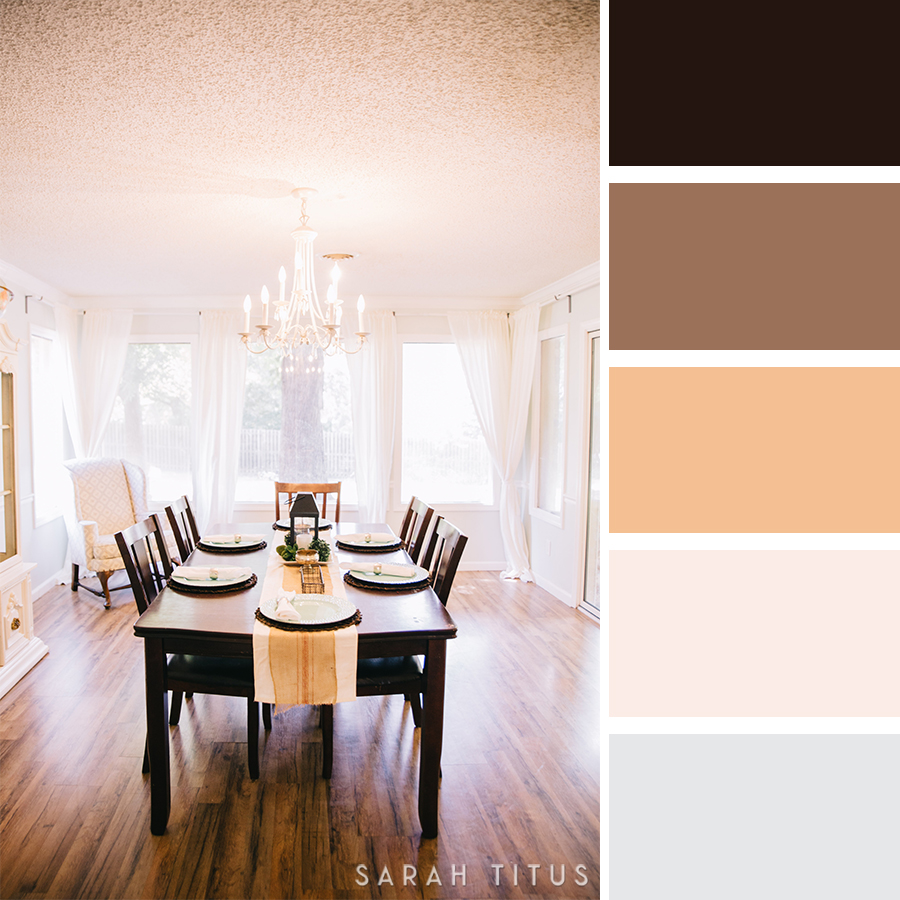 Wood floors….MY FAVORITE! In the house I just bought, I have wood floors. They are a lighter wood color, but so beautiful. Take inspiration from your floors! Pick tones and colors that coordinate and play well off each other.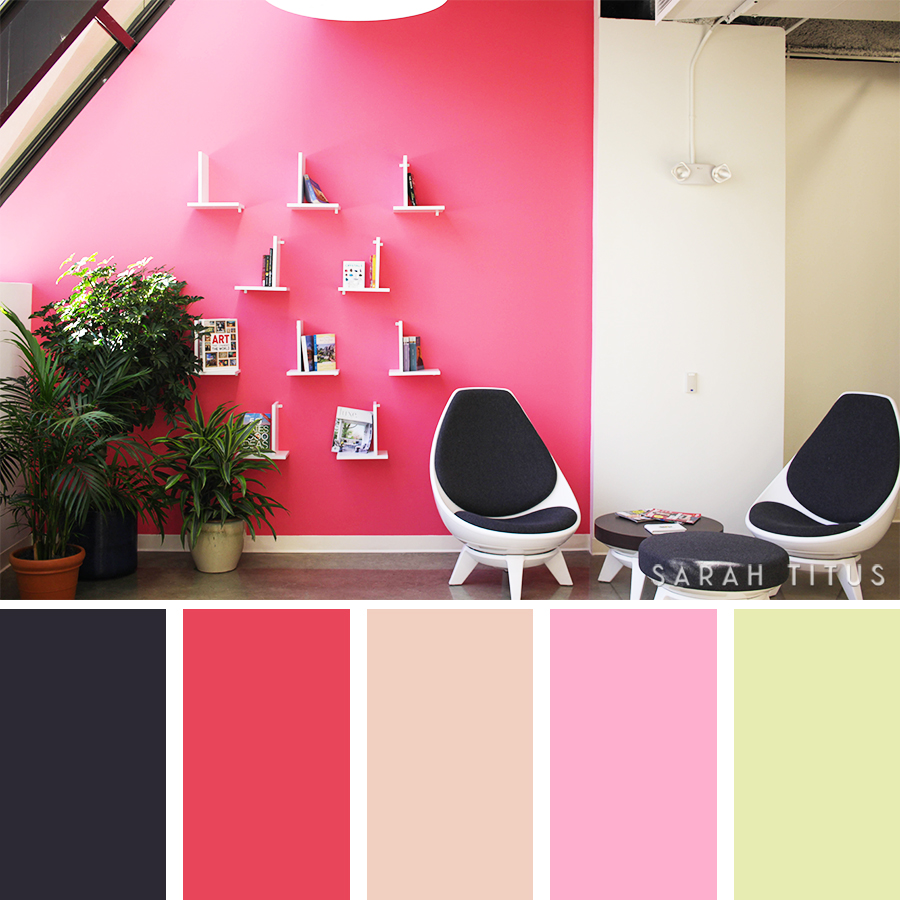 When I see these colors, I automatically think game room. Wouldn't it be fun to have red, pink, and beige in a game room?! Red is energizing so it would definitely be a fun room, that's for sure!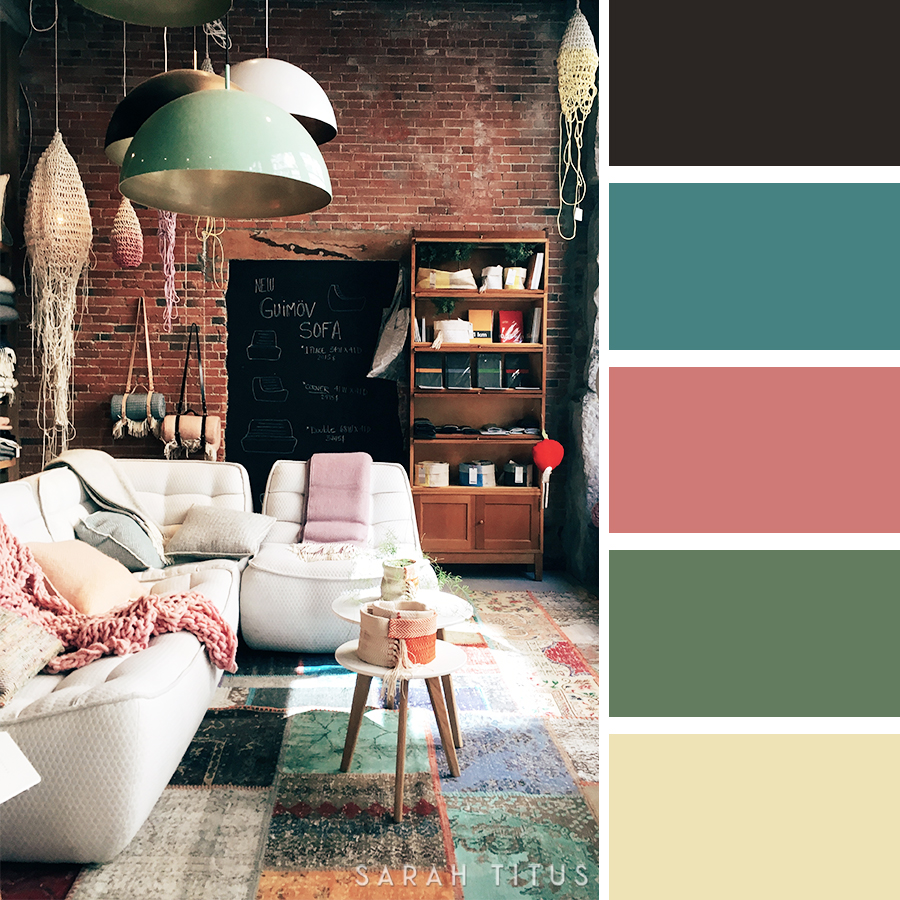 I'm a sucker for brick walls. I have no idea why, just love them. They kind of remind me of a trendy loft space. You could create a faux brick wall as the focus wall in your decorations. Pair it with teal, green, and soft yellow and tie it all together with a checkered rug. Smart!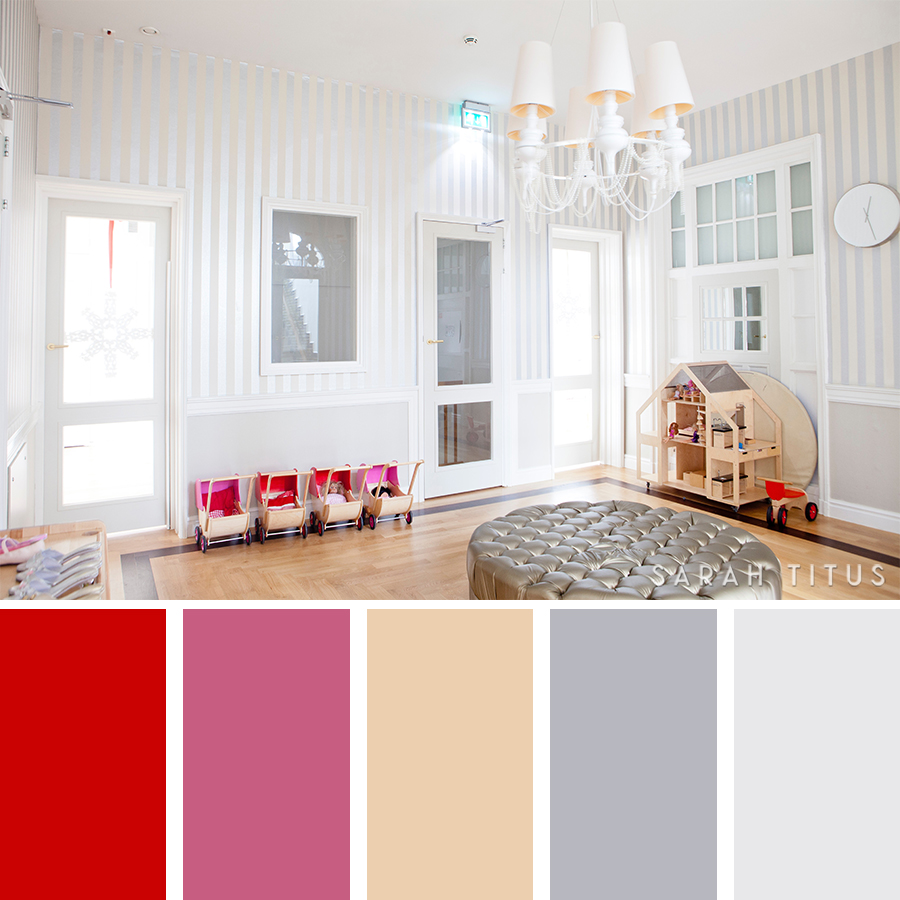 So often I see pale yellow with grey and it looks really cheesy. Like someone is trying too hard, but these color match palettes look WONDERFUL together, especially when you bring some bright red pops of color into the mix!
Have these home decor color match palettes inspired you? If so, be sure to bookmark it on your phone for later so you can show your local paint store the exact colors you want!