Looking for some inspiration for sprucing up your home this Christmas season?
You are in the right place! Let your creativity flow with these already put-together color palettes (yes!), perfect for creating a super cozy atmosphere in your home this Christmas. 🙂
Check out these beautiful 25 Christmas color palettes (with HEX codes) and let your imagination run wild.
25 Christmas Color Palettes
Putting together color palettes is one of my favorite things to do. I really love just looking at the pictures with the color combinations and allowing them to boost my creativity and get me excited for this season!
One thing I'm always impressed with is that a picture may not SEEM like a good color combination and then BAM, it just is the most perfect combination EVER!
Do these do that for you too?
They can really inspire you whether you are wanting to add some more winter decor to your home for Christmas, or you want to create Christmas-themed crafts, gifts, and printables – these color palettes are perfect for all of the above.
And the great thing about this list… I have included the exact hex codes that go with each picture. Yay!!
You won't have to try to guess what the exact colors are or even how they are put together – each one of these palettes was put together specifically because they complimented one another SO well. 🙂
The pictures for each color palette are also great inspiration for different ways to decorate your home too, if that's all you're looking for too. There's a great variety of warmer, deep tones, as well as lighter/brighter cool tones, so you are sure to find something no matter what your winter style is.
Here are some great ways you can use these beautiful Christmas color palettes:
Front porch decor
Christmas themed paint in your entryway or other rooms in the home
Entry room and Christmas tree decor inspiration
Dining room decor
Kitchen decor
Living room pillows, accents, and other holiday decor
Make your own Christmas/winter themed printables, or create SVGs to put on items
Use to color Christmas wall art to decorate your binders and home
Take your time and go through this list, and be inspired by the beautiful colors together with pictures as examples of how to use them. 🙂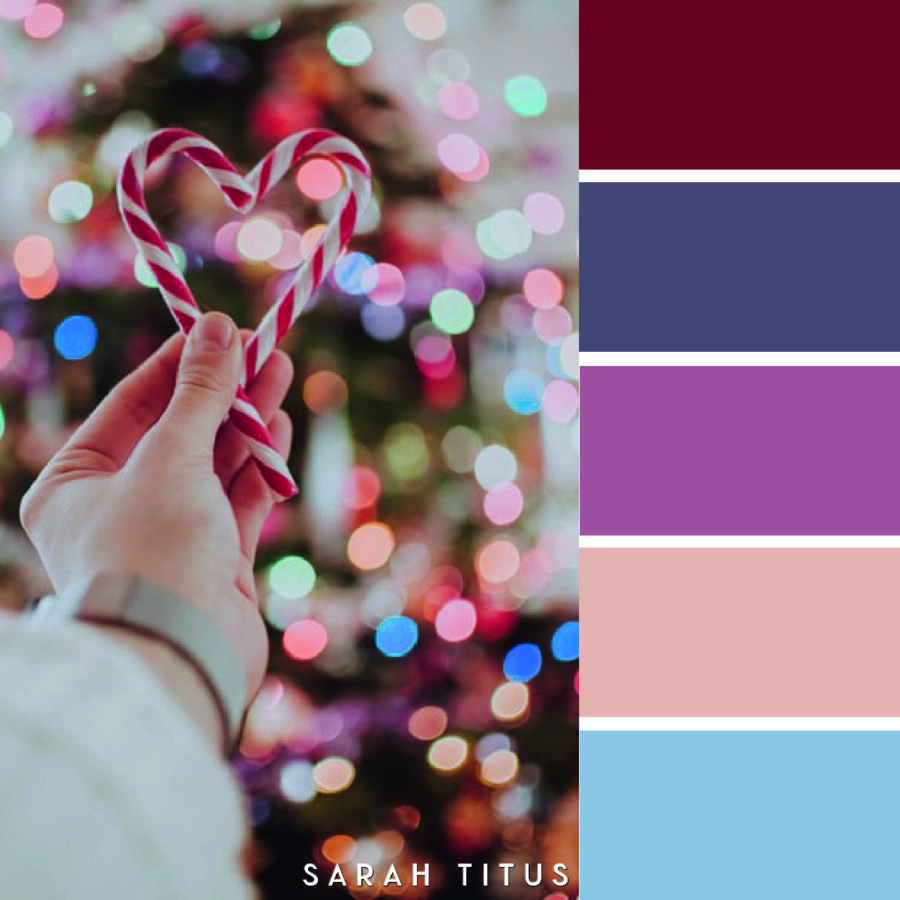 Candy Cane Colors:
#7F2C34
#5F5366
#A9647E
#E3BCAC
#93B3D1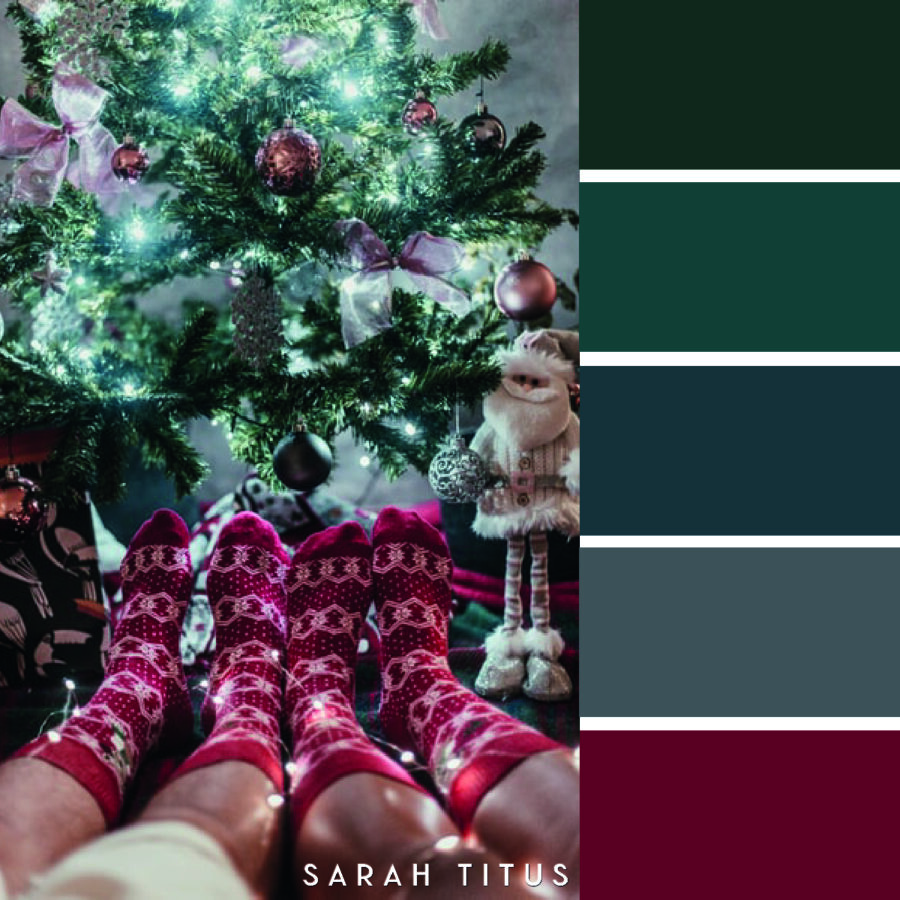 Relaxing In Front of the Tree Colors:
#38403B
#324B49
#3A4448
#59595B
#762D35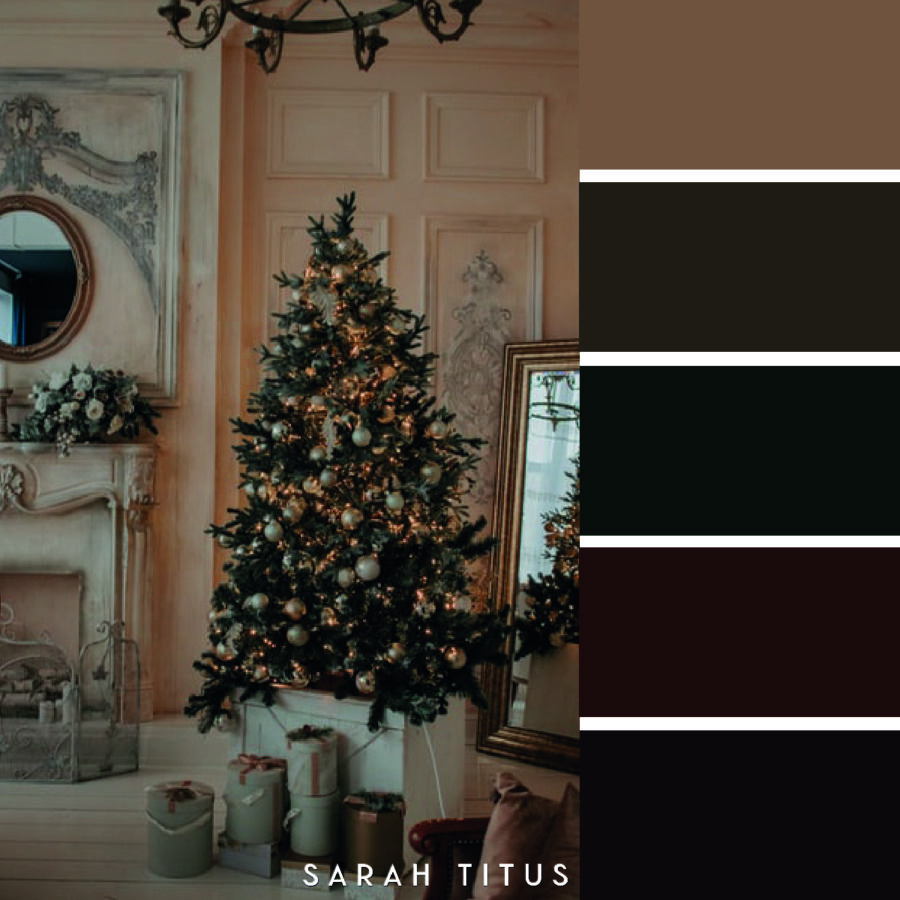 Warm Christmas Tree Colors:
#875F4B
#473B37
#363635
#453434
#383434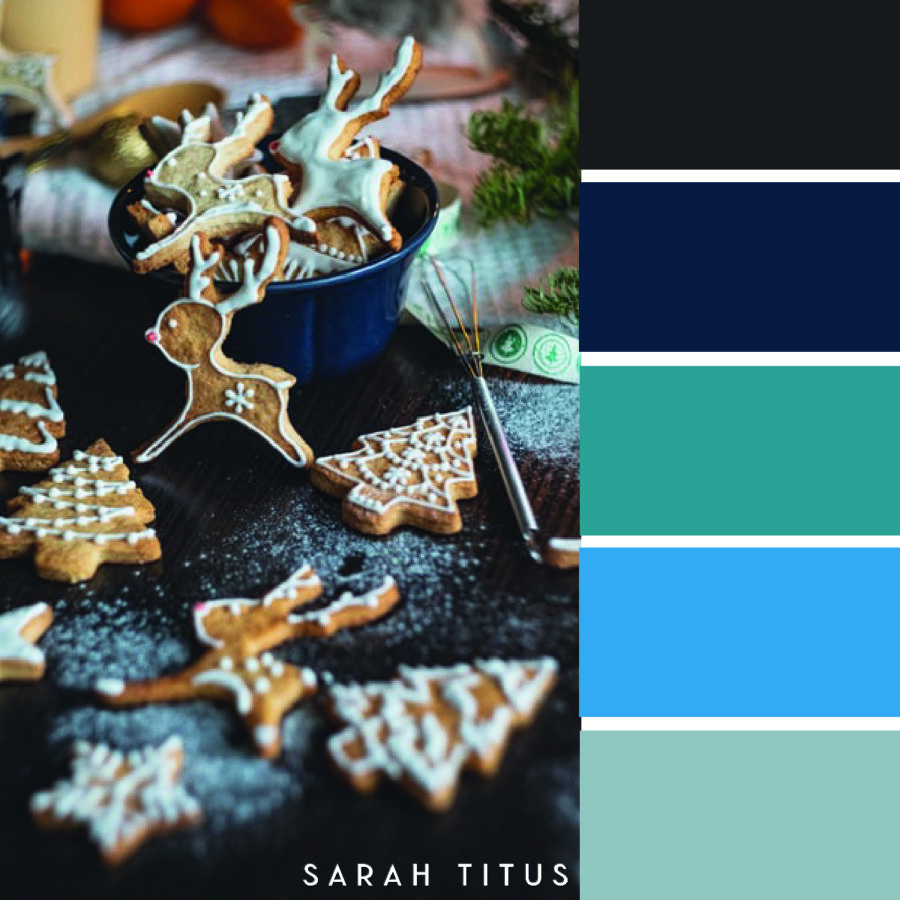 Cookies Colors:
#403A3A
#303A49
#12818F
#008AC6
#9BB2BA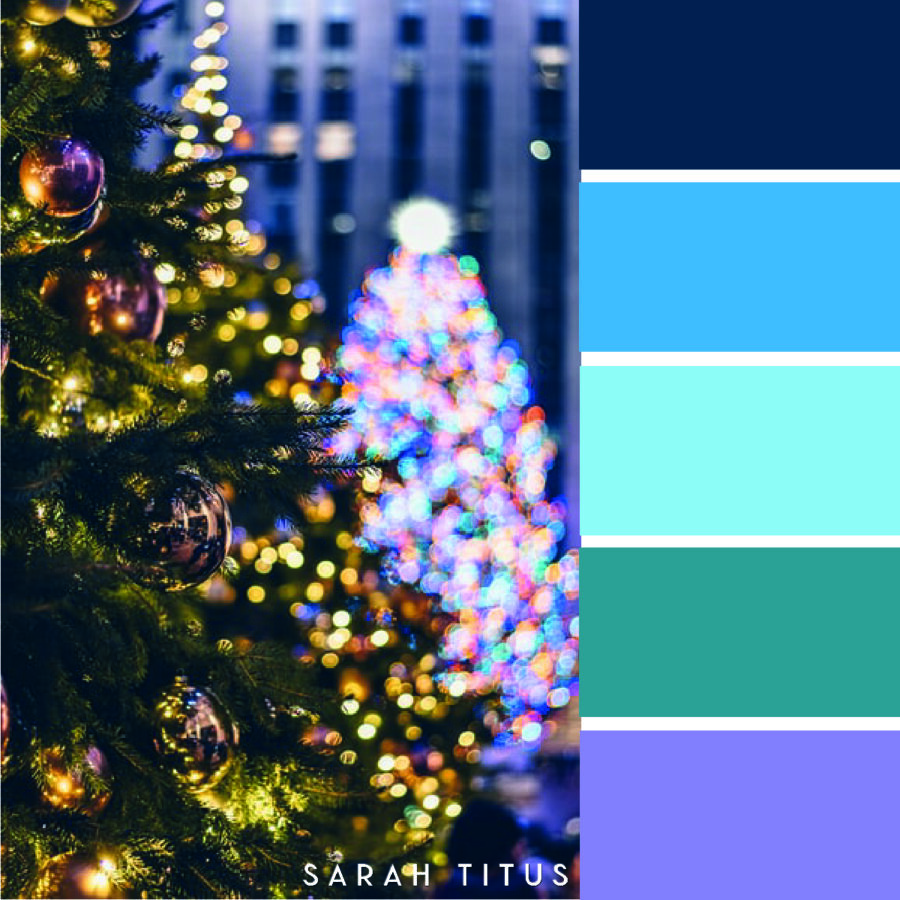 Modern Christmas Tree Colors:
#2A3C4F
#1997D5
#91D3F1
#12818F
#9185BE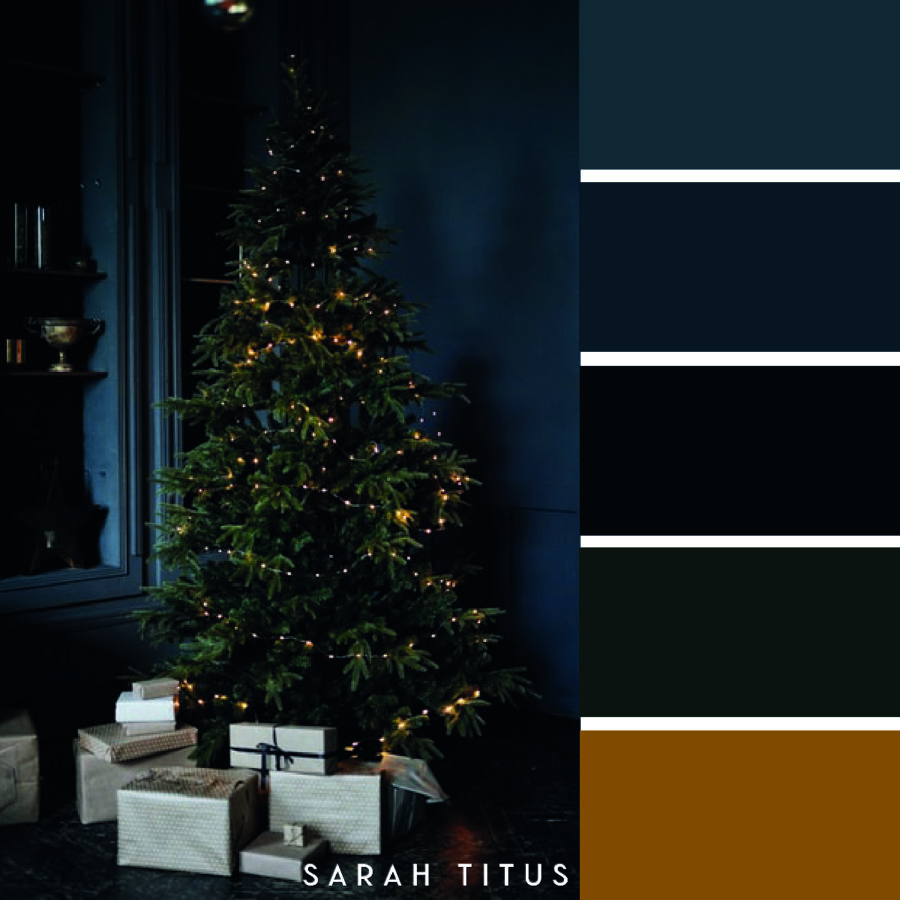 Blue Christmas Tree Colors:
#363F44
#33393C
#323334
#373836
#935A2A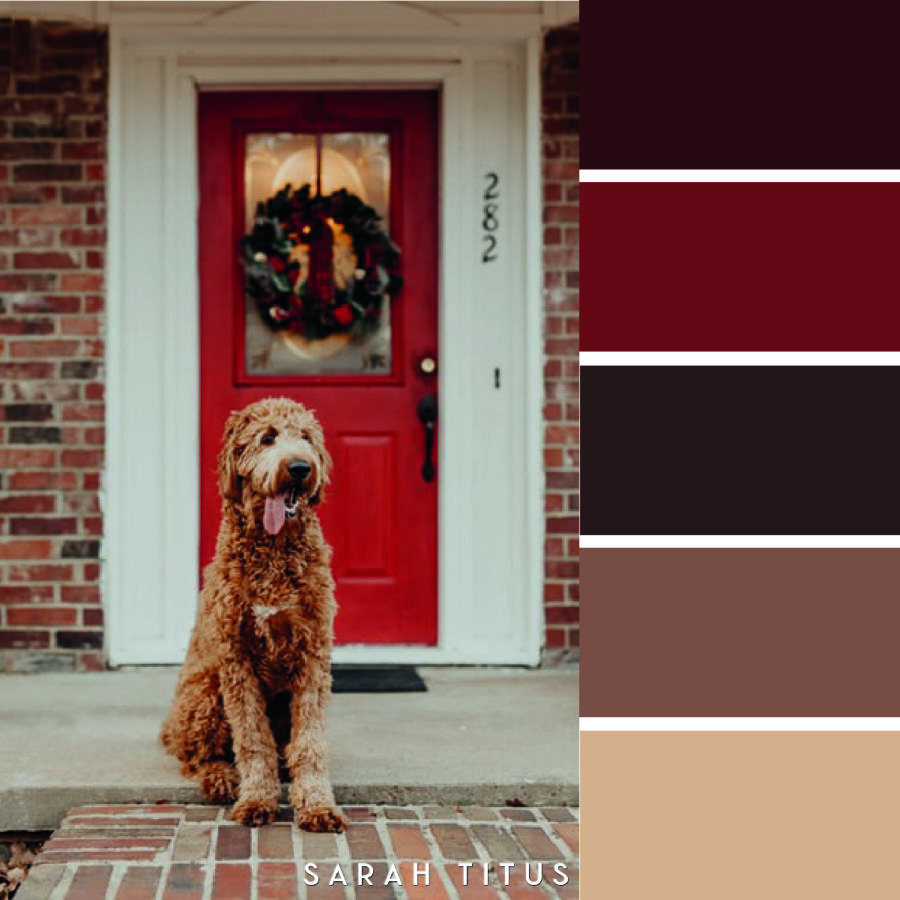 Puppy Dog Colors:
#503435
#7E3131
#4C3938
#8D5B4D
#D8B592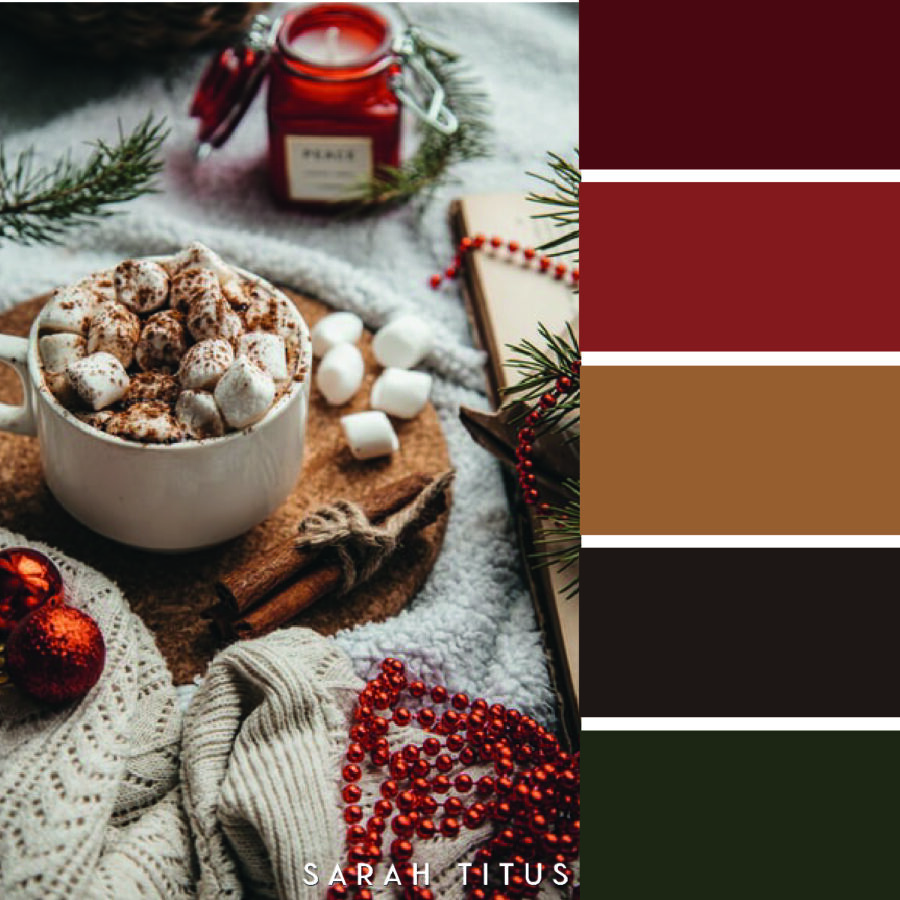 Toasted Marshmallows Colors:
#6A3232
#963933
#A66B42
#473938
#443F39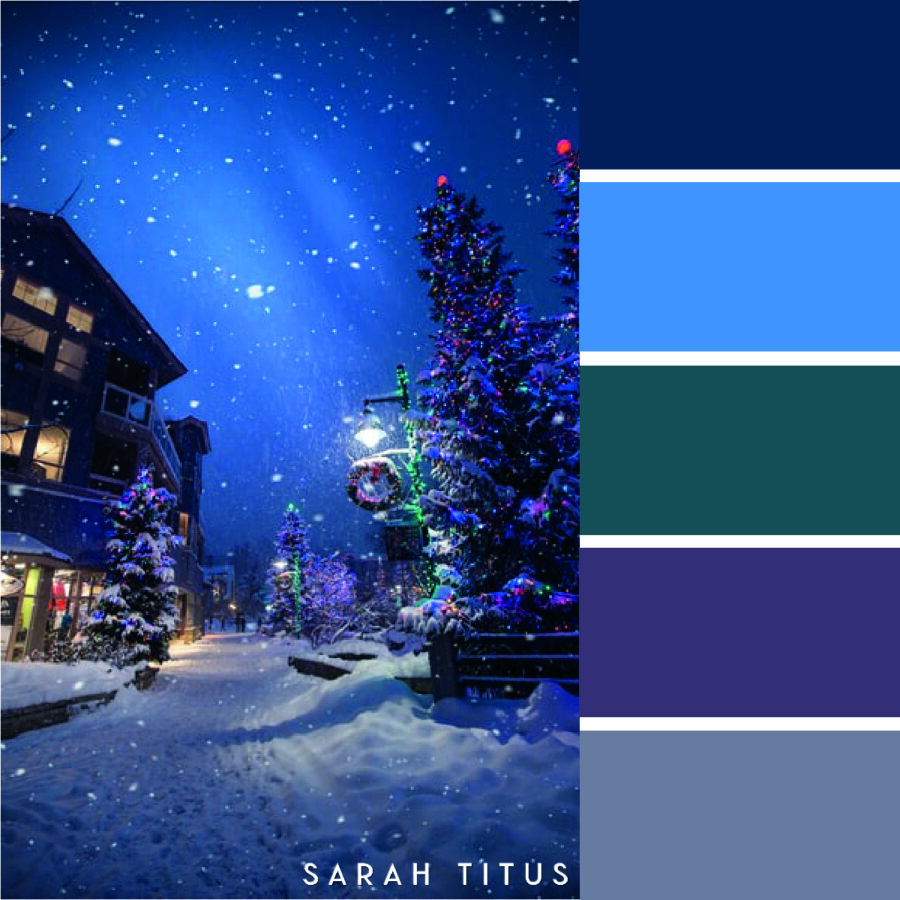 Beautiful Winter Scene Colors:
#293B52
#3E82C3
#30535A
#554560
#7B798B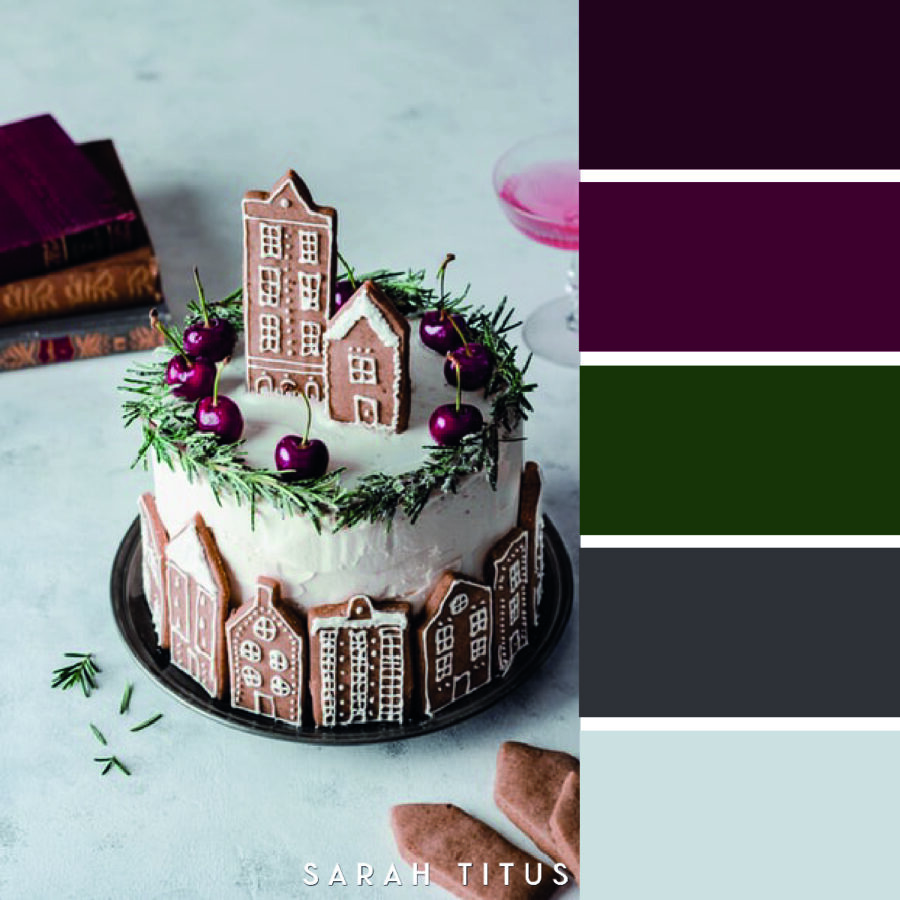 Christmas Cake Colors:
#4C3138
#612E3C
#3D4636
#514646
#D1D7DC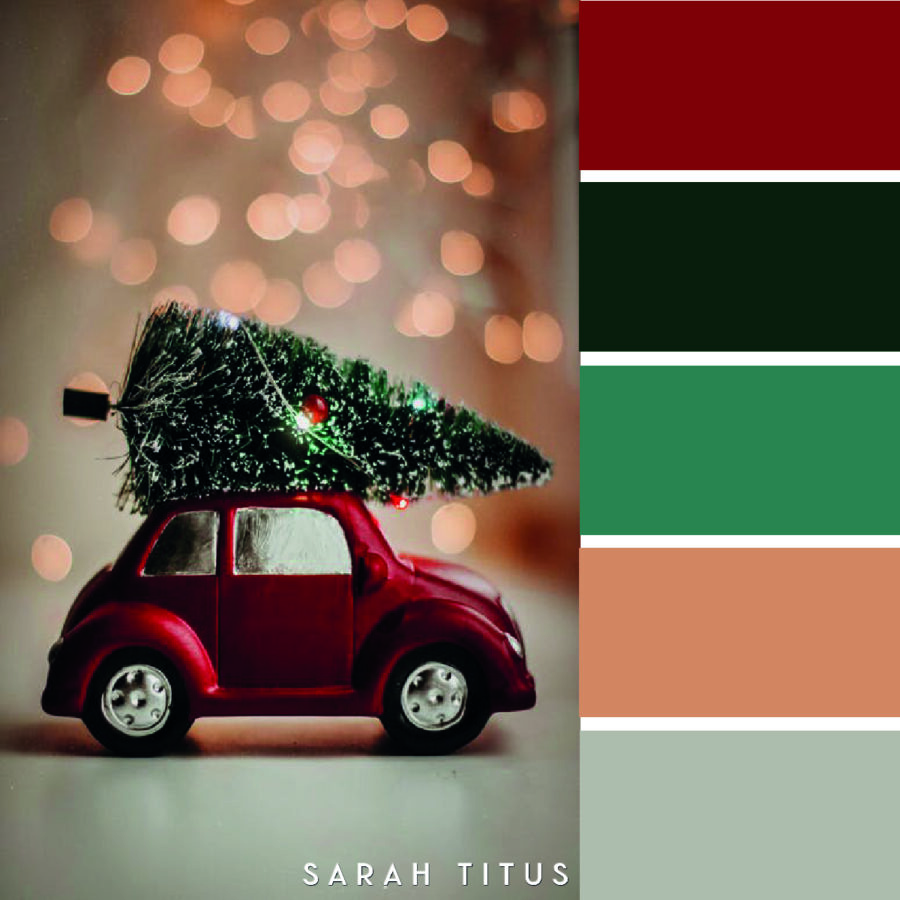 Lovebug Colors:
#912929
#333C36
#347061
#D49368
#B8B4AC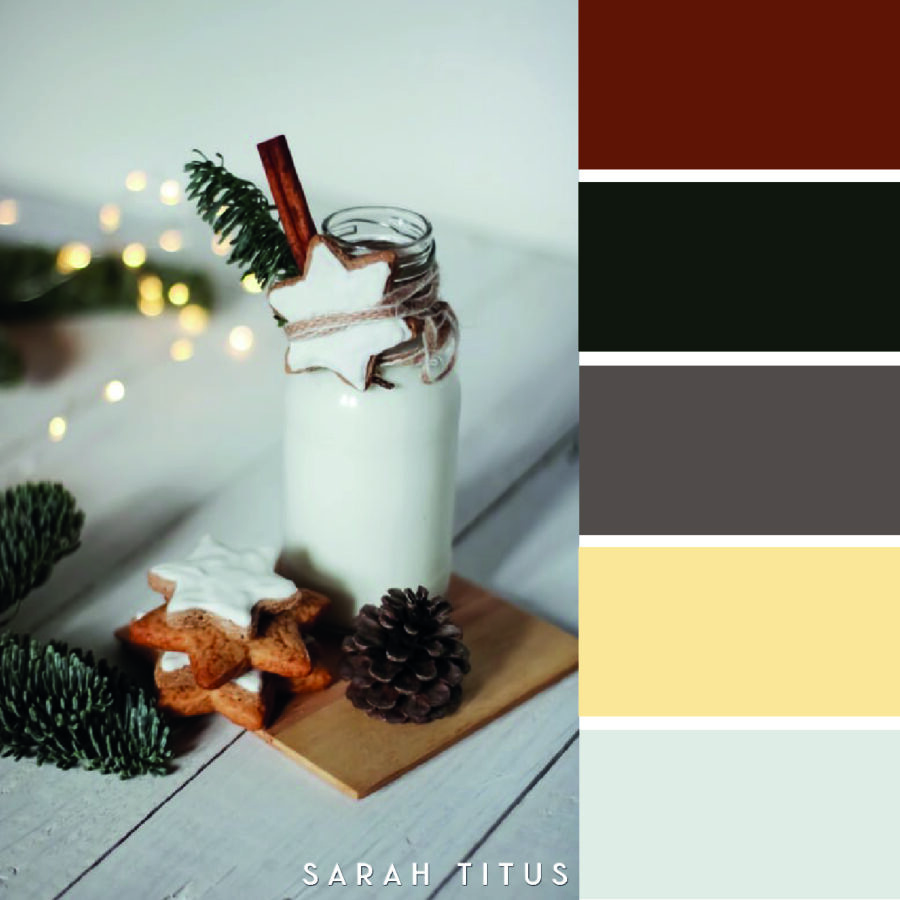 Santas Cookies Colors:
#7A372D
#3C3936
#6D5752
#FAE6AC
#E2E6E6
Winter Cabin Retreat Colors:
#3A3B3E
#D4773E
#F5A756
#696978
#C0C6DA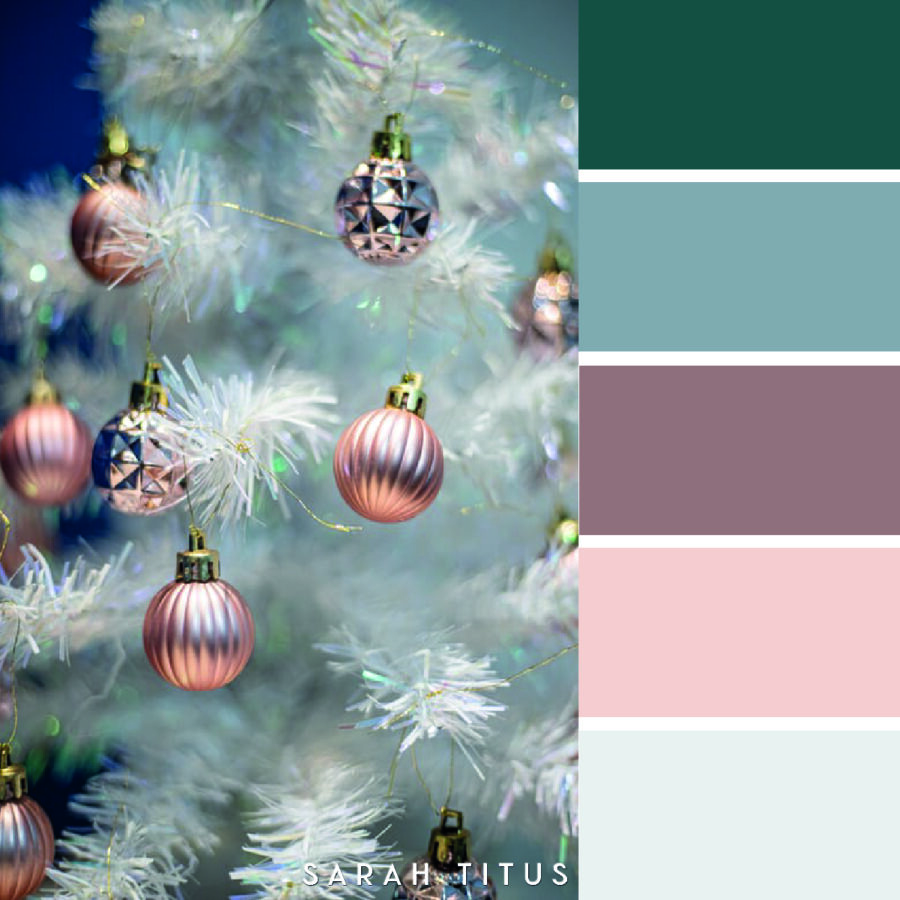 Pink and White Christmas Colors:
#2F5451
#8D9DA6
#9F7875
#F2D6CD
#EAEDF0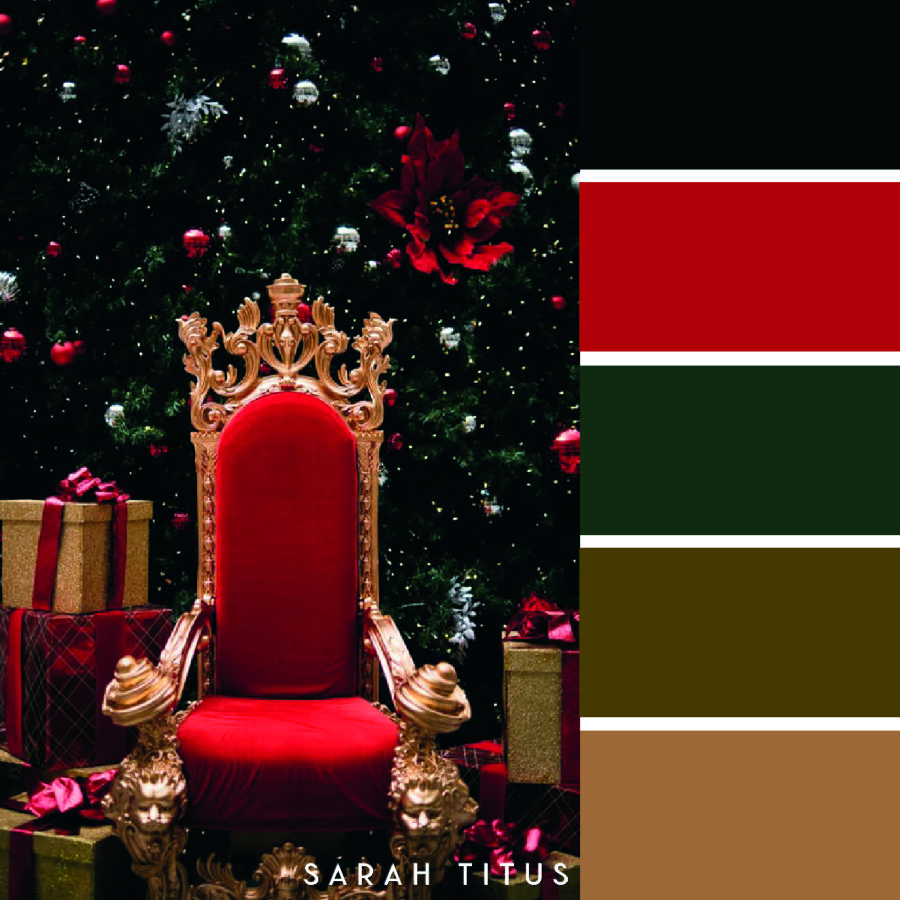 Queen Colors:
#323433
#B42123
#384138
#634B31
#AB7349
Baby It's Cold Outside Colors:
#493B39
#BF1E2D
#DBAF69
#7F8573
#DDDDDA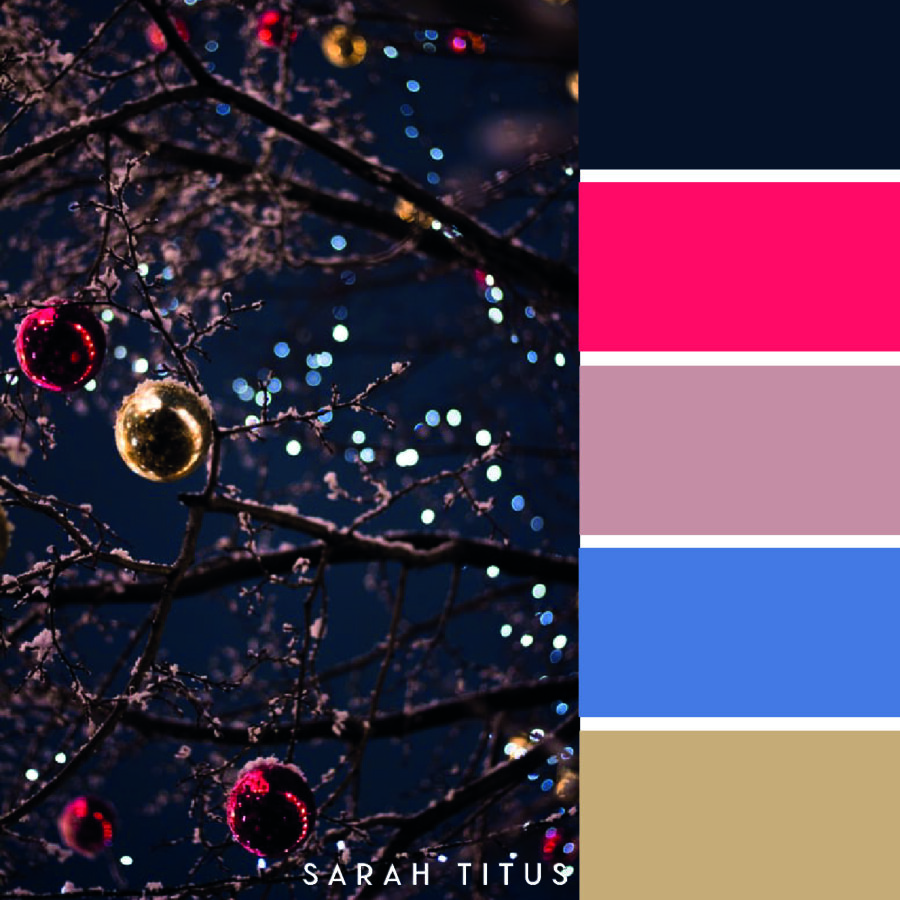 Nighttime Christmas Colors:
#33373E
#E41F49
#C99A97
#5172AB
#CCAD82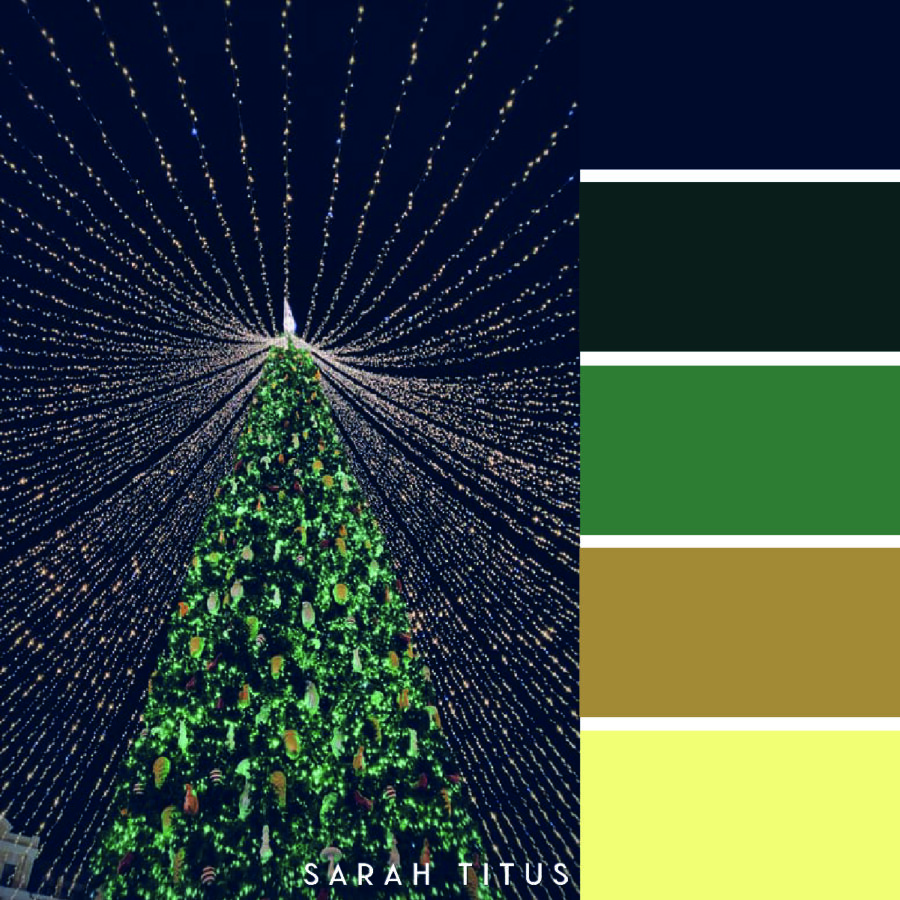 Light Bright Colors:
#2F343E
#343C3B
#426C50
#B08A4B
#F7EF91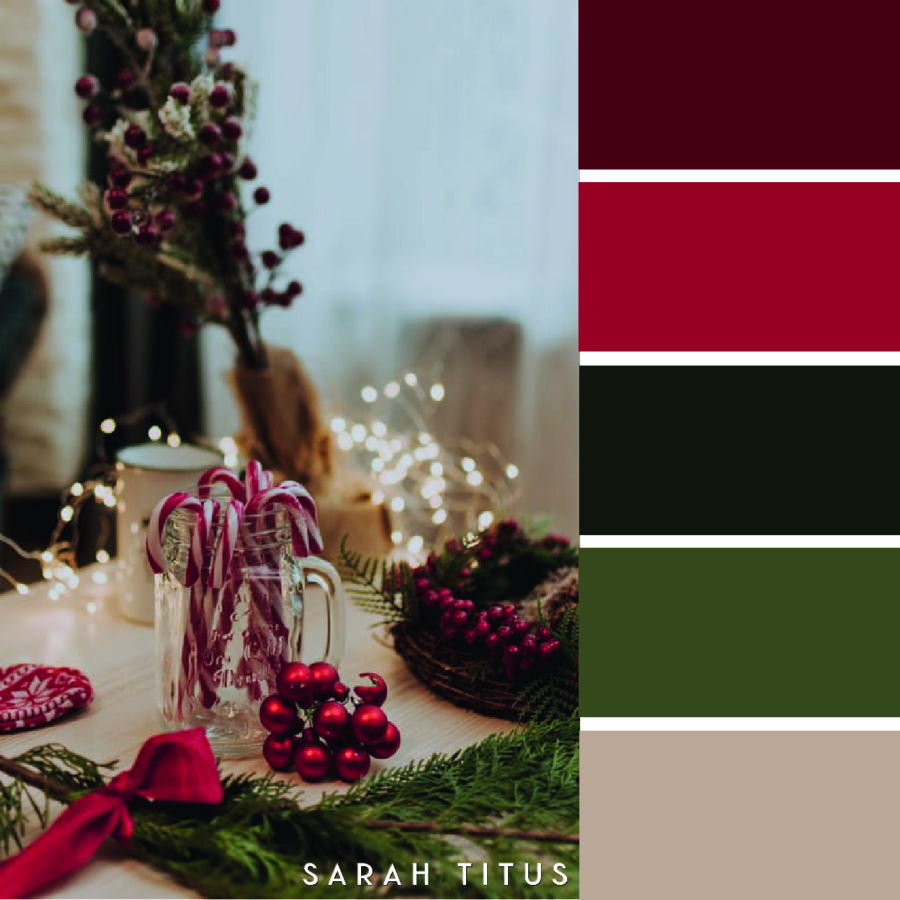 Christmas Dinner Colors:
#672F32
#A22531
#3C3935
#56533E
#C4AA97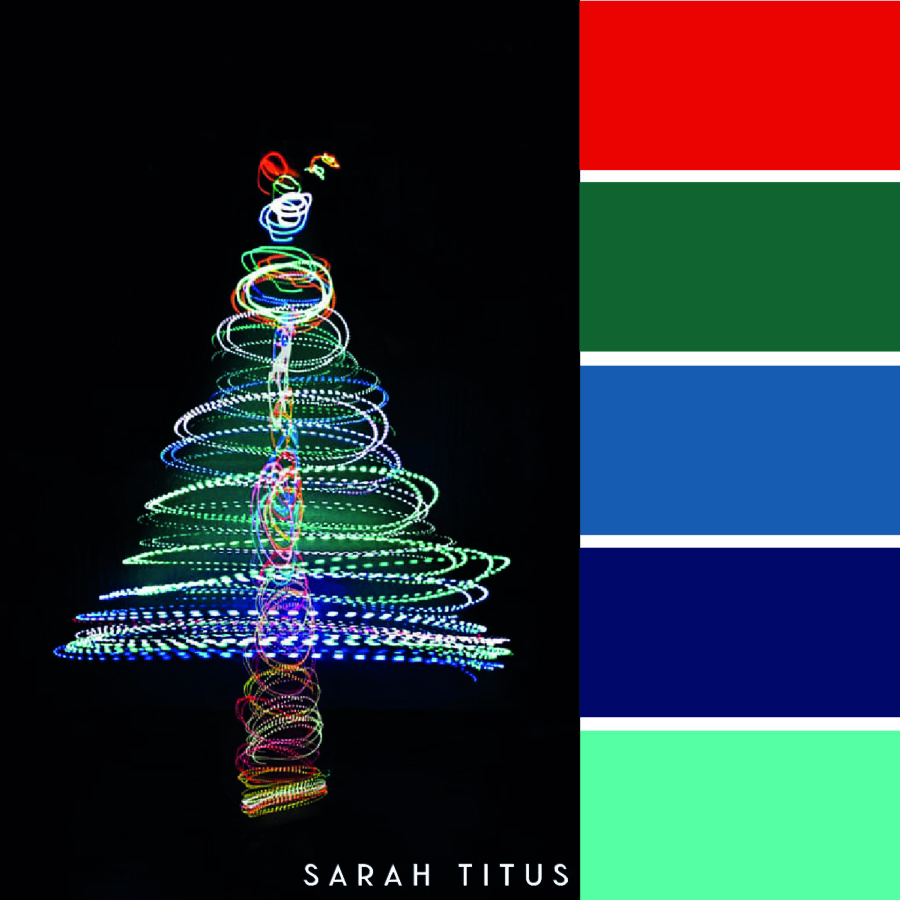 LED Colors:
#D61918
#225D4B
#235A87
#2E3254
#46B9B3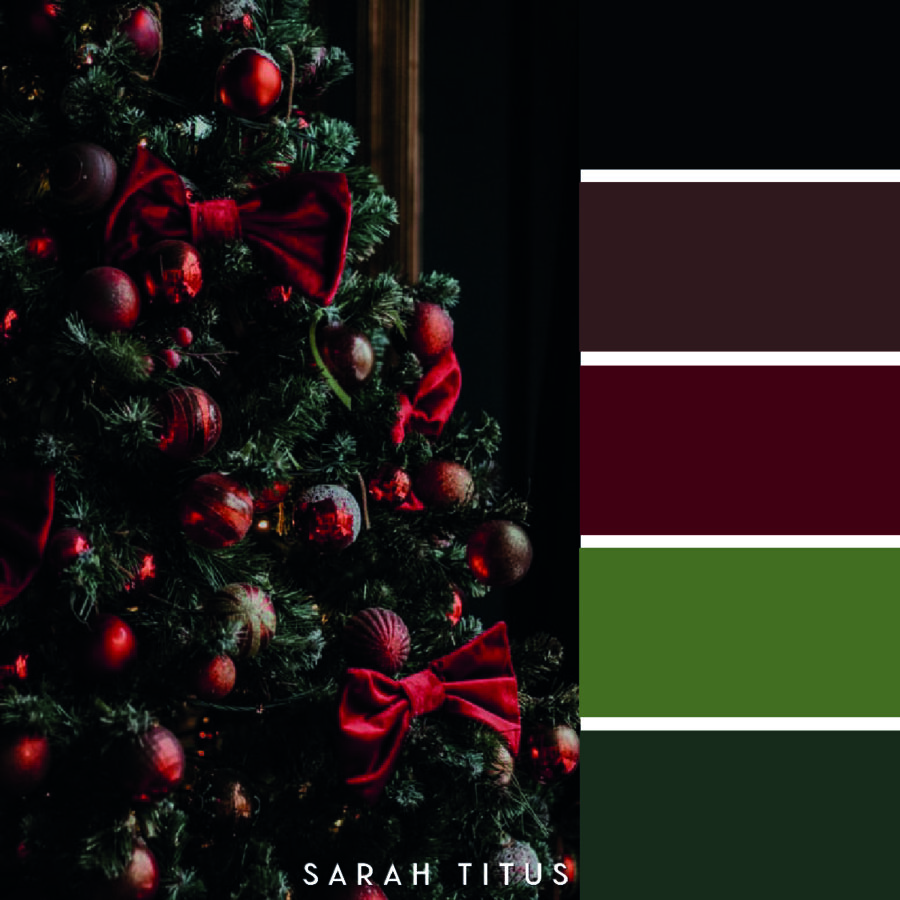 Traditional Tree Colors:
#323433
#563A3A
#642F33
#5C6843
#3E423C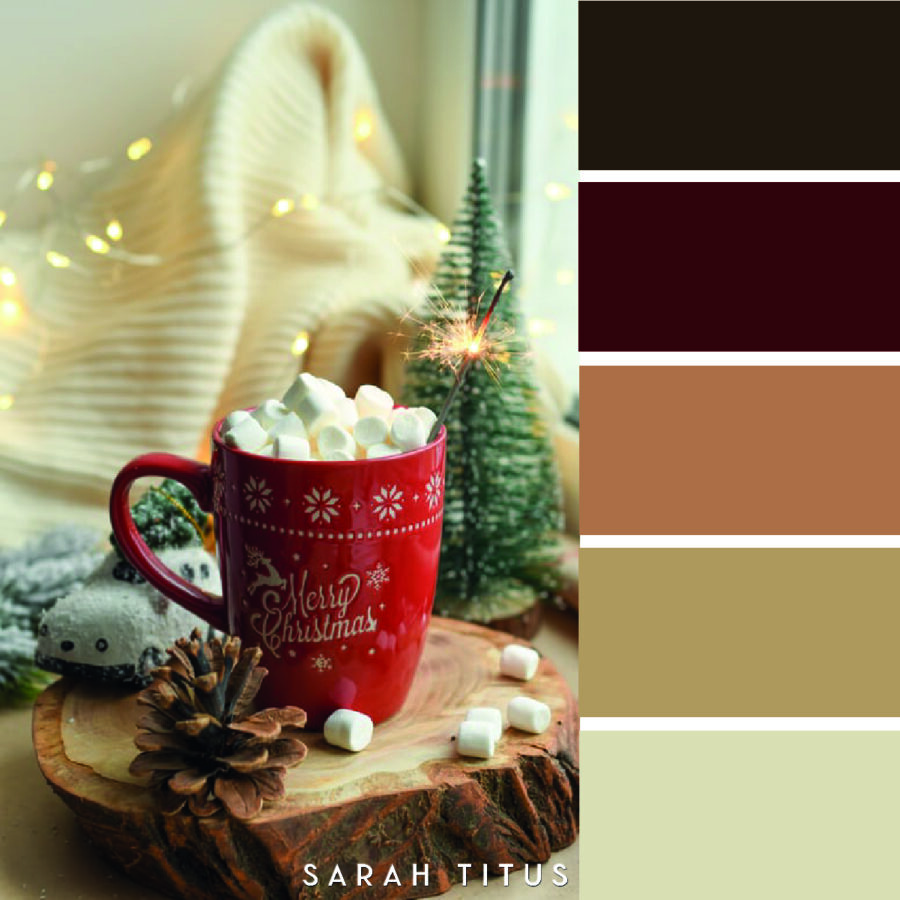 Cozy Colors:
#473935
#563132
#B67951
#BA996A
#DED8BD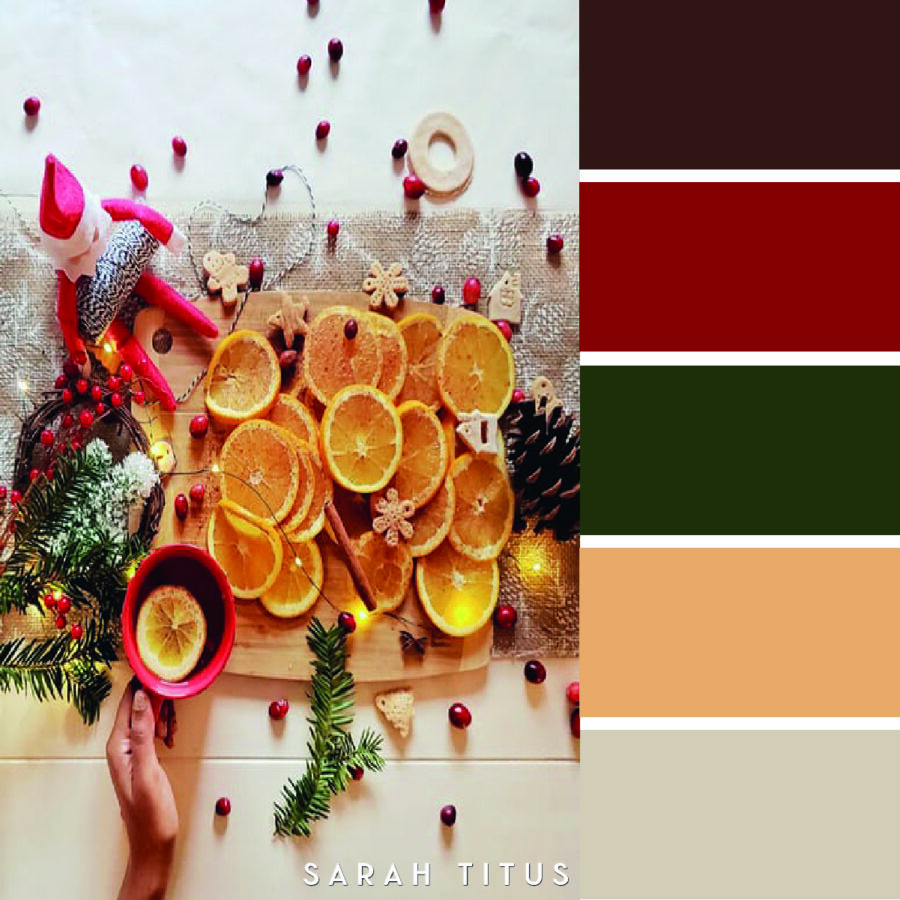 Modern Platter Table Scape Colors:
#553A36
#952926
#434436
#E7B276
#D7CABA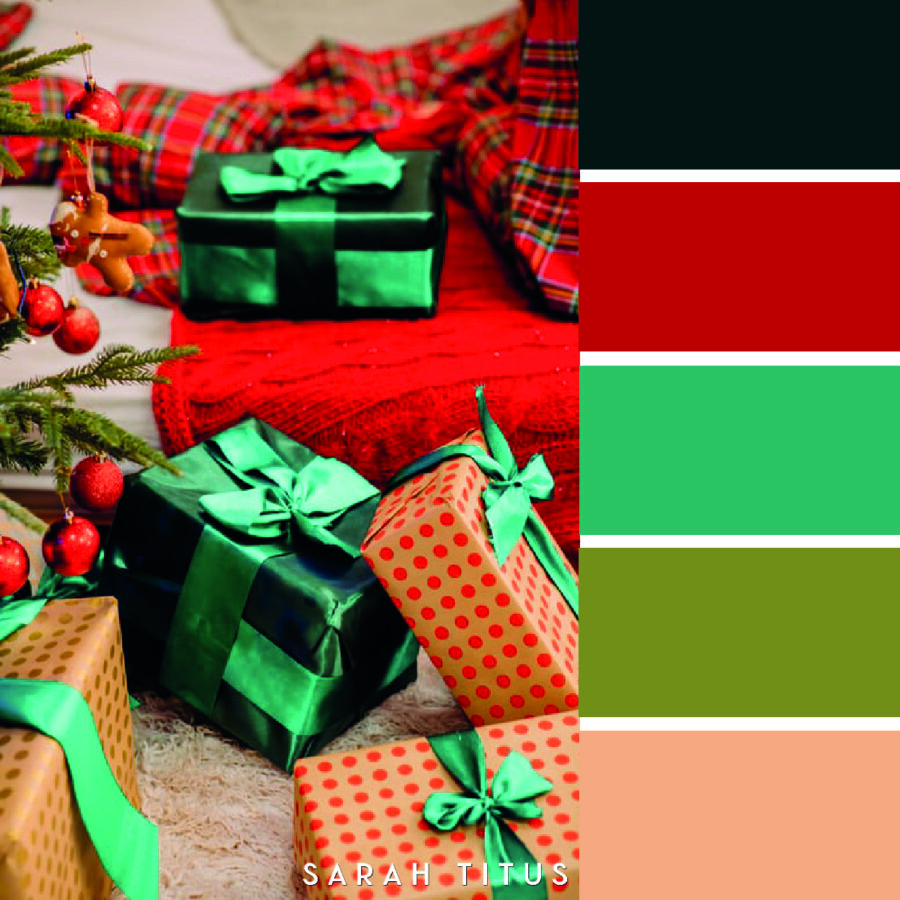 Presents! Colors:
#313837
#B9201F
#008F78
#85823C
#F0B789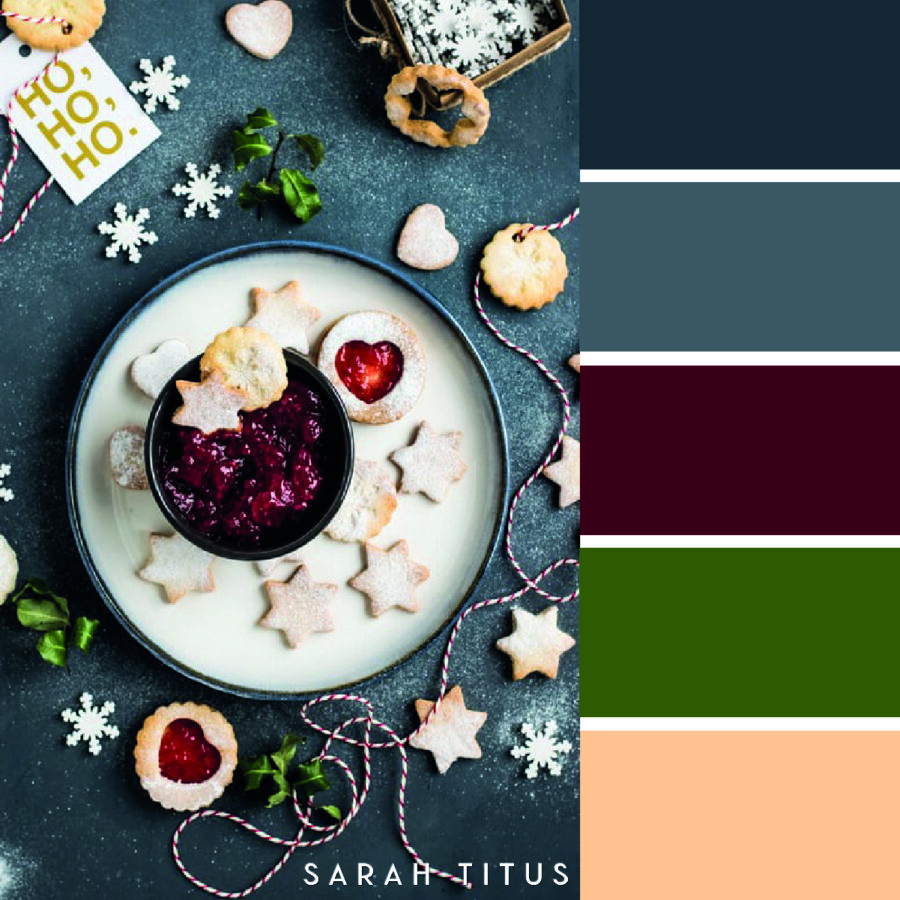 Entertaining Cookies Colors:
#3C4045
#545C62
#5D2F35
#4C5A35
#FACE9D
I want to add in ONE MORE bonus color palette for you. 🙂 This is of my foyer looking into the living room.
It's been a little difficult to incorporate both beige-ish colors AND gray in this home and I feel like so far, it's a success! I hope you like it…
Colors are:
#1A181C
#4A4344
#B49A89
#CBBAB5
#B5AAB6
#ACAECE
A lot of people ask where I get my decorations so lemme share from that picture above:
Christmas Tree is from Hobby Lobby – I've found they have the best trees on the market from what I've personally seen
Christmas "skirt" is a white furry rug I got at Ross
Gray soft throw is Basset Furniture
Woven basket is from TJ Maxx
White furry ornaments are from Dillards
Champagne color bows we handmade and got the ribbon at Michaels
Faux snow is pillow stuffing created into "rolls" to look like snow (I used about 3-4 pounds of it)
Silver ornaments are just what I had on hand. Don't remember where I got them
Fireplace screen is Pier One
Christmas stockings are from Pottery Barn
Christmas Tree (small by the fireplace) is Pottery Barn (this is the 48″ one, but I also have the 36″ one in my guest bathroom)
White vase is Basset Furniture
White leafy branches are from Afloral
WISH stocking holder letters are from Pottery Barn
Silver candle holders are Pottery Barn and Crate and Barrel
Grass plant – Not sure where that was from?
Geometric candle holder (top left of shelves) is from Z Gallerie
Light up glass crackle Christmas trees are from Balsam Hill
I hope you enjoy these beautiful color palettes for Christmas, and can take this as inspiration for all your cozy, home decorating. 🙂