Are you looking for some festive printables for the holidays?
These Christmas coloring monogram wall arts are just what you need! Not only are they FREE, but they can be used in so many different ways.
You can also color them, and customize these printables to your liking! I'm so excited to share these with you!!! <3
Christmas Coloring Monogram Wall Art Design: Free Holiday Printables
These FREE printables can also be given as Christmas presents!
Have the kids color them in, and give them to the grandparents. OR if you have a friend who's hard to shop for, give them a framed monogram print!
Besides giving these vintage Christmas printables as gifts for the holidays, they can also be used as wall art ideas to decorate around the house too!
You can hang them on the walls, or use them as graphics for home decor in the kids rooms. The kids would love to decorate these printables, and then have them hung on their wall, especially for the holiday season! You could have them spell out their whole name with the Christmas wall art signs!!! 🙂 They'd adore that!
These colorable wall art printables can also be framed and put on your dining room table, fireplace mantle, entry table, or anywhere else you'd want them and used as home decor, OR you can leave them black and white if that's your theme too!
The monogram wall art prints would look so cute framed at your holiday party!
Speaking of a holiday party, have you been looking for a way to keep the kids busy during your Christmas party?
Look no further! Because these printables can be used as coloring pages to keep the kids busy at your next get together! They're festive and fun, and will encourage your kids to use their creativity.
Just set out a container of crayons, print out some sheets and let them go to town. You can print out these free Christmas coloring sheets as well for them.
Here's also a set of Christmas printable games for the kids:
My daughter and I also love to hand letter together, so here's a festive, holiday hand lettering practice sheet too the kids (or you!) can trace.
They're all free, no email sign up required! 🙂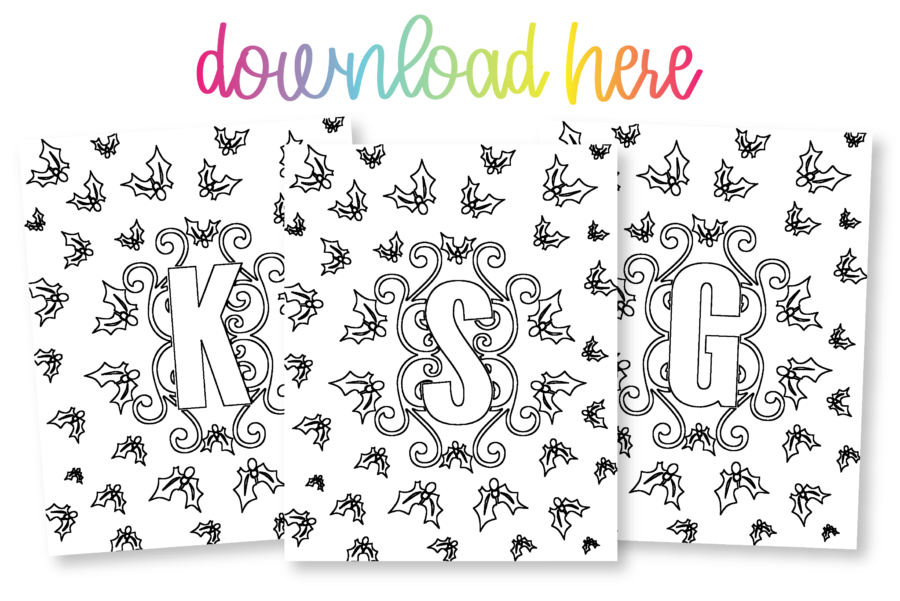 Download the free Christmas Coloring Monogram Wall Art PDF templates here.
Something else that is amazing about these printables, is that they're a FREE way to bless others for Christmas! You could easily frame the monogram and give it as a gift! <3
It can be so easy to worry about keeping up with the latest gadgets, or buying your children the newest toys, but showing someone you care with a thoughtful gift, is something that comes from the heart!
This Christmas I encourage you to stop worrying about buying your family a ton of expensive name brand presents, and to instead focus on giving meaningful gifts and experiences that they'll remember forever!
I hope you have the best of your holiday season! 😊