Whether you are shopping for your best friend, your spouse, a woman who wants nothing or a neighbor down the street, she will absolutely love these Top 10 Best Gifts For Women Under $30. You'll come out looking like a rock star and having only spent very little for some pretty amazing and trendy gifts! Just be sure to shop early to get the best deals (i.e. NOW!)
Top 10 Best Gifts For Women Under $30 {Gift Guide}
These would be the perfect best gifts for women in their 20s, 30s and beyond!
#1 – VonHaus 12 Picture Aluminium Photo Frame Clock
Appreciate your friends, family, loved ones and your best memories every time you check out the time with this VonHaus Photo Frame Clock.
Replacing numbers 1 – 12 with twelve miniature frames, this ingenious picture frame clock would be at home in bedrooms, kitchens, living rooms and offices alike. With an angular design, available in a choice of silver or black, this will suit a modern interior of any color scheme.
#2 – Life Management for Busy Women
This is one of my favorite books by my favorite author. The focus of the book, the theme running all through-out is to keep our eyes on Christ and not all that we have to get done in a day. Focusing on Him and putting Him first, no matter what, will help the rest of our lives settle down and not be so busy. Tons of life principles and faith based fantastic advice, Elizabeth George is one author you're sure to want to check out!
#3 – Essential Oils
Essential oils are a fantastic gift for any mom to have. They can help you with cleaning, with your kids, and so much more!
#4 – Choose From 25 Different Scarves
Perfect time to pick up an inexpensive scarf or two and add color to her wardrobe very cost-effectively. Check out this nice roundup of the best 25 scarves under $10! They are gorgeous and won't break your wallet! There's even one on there I purchased myself at around $2.50!
#5 – Younique Products Moodstruck 3D Fiber Lashes
Younique's best selling product, 3D Fiber Lashes dramatically enhances and magnifies the appearance of your own lashes.
Our simple three-step process combines Transplanting Gel and Natural Fibers to help create the appearance of incredible thickness and volume to your existing lashes. Watch as your lashes transform into something you have only dreamed of! The 3D Fiber Lashes are water resistant but easily wash off with warm water and facial cleanser at the end of the day. Try it! It will quickly become your favorite makeup must-have!
#6 – Rachael Ray 1 1/2 Quart Whistling Teakettle
Stylish Design-The elegantly curved handle complements the compact kettle shape for a fun look in the kitchen. Colorful Porcelain Exterior – Beautiful, rich porcelain exterior color looks great and is easy to clean. Whistling Teakettle – Whistle feature signals when water is at a boil. A convenient spout lever is at your fingertips for easy operation. 1-1/2 Quart Capacity – The perfect size. The removable lid makes this kettle easy to fill.
#7 – Polder Stainless Steel Window Canister Set with Lids
Keep flour, oats, coffee grinds, sugar, and other essential kitchen staples fresh in these attractive canisters from Polder. The three-piece set includes 2-, 3-, and 4-quart canisters with a sleek, durable, stainless steel design that complements any kitchen décor.
Oval-shaped, acrylic windows allow cooks to identify contents and assess supply levels at a glance. Lids snap on tightly, keeping dust, liquid, germs, and household pests out while maintaining food quality. An airtight seal also keeps aromas–like the rich scent of coffee beans–contained.
The set is dishwasher-safe–though hand drying and stainless-steel polish will help eradicate water spots while preserving shine. The 2-quart canister stands 6-1/2 inches high with a 5-inch diameter, the 3-quart is 8 inches high with a 5-3/4-inch diameter, and the 4-quart reaches 9-1/4 inches high with a 6-inch diameter.
#8 – Bearpaw Loki Women's Slippers
I'm a big fan of BearPaw slippers. They are stylish and super duper comfy! The soles of them are like shoes, so even in the snow, you can go outside with them!
Get cozy with the Loki II slipper from BEARPAW. Simple, soft, and toasty with a durable outdoor-ready sole, this is consummate comfort.
The BEARPAW® Loki II is a plush way to start off your day. These slippers feature soft suede uppers with a shearling collar that is easy to maintain and offers the utmost in comfort. Our sheepskin lining regulates body temperature to keep your feet warm, and the sheepskin footbed provides additional softness and reduces foot fatigue. The durable rubber outsole make this the perfect indoor/outdoor choice.
#9 – Two Piece Make Up Organizer
The compact organizer keeps your everyday makeup in place, visible and right at your fingertips. Brushes, combs and other large items go in the side compartments that also make a shelf which can be used separately, on the counter or hanging on the wall.
#10 – Olay Professional PRO-X Cleansing Brush
I love my PRO-X. It cleans you face really well and makes your face wash last longer, thus saving you money over the long haul!
Take your facial cleansing routine to a whole new level a professional level. Olay Pro-X Advanced Cleansing System works 6x better than basic cleansing. Designed by a team of Olay scientists and leading dermatologists, its results have been proven to be as effective as a system sold by skin professionals for nearly $200. The 2-speed rotating facial cleansing brush delivers Olay Professional Pro-X Exfoliating Renewal Cleanser to your skin, a lathering micro-bead formula that thoroughly cleans as it gently exfoliates. Just massage it into your skin and let the power of the Facial Cleansing Brush go to work. Each rotation gently clears away make-up, oil and dirt, leaving your face clean, exfoliated and primed for hydration. With 2 speeds, you control how it treats your skin. Plus, it's water resistant, making it perfect for use in the shower. Your skin will feel smooth, refreshed, and refined. Proven results. Professional design. That's Olay Pro-X.
Bonus – John Frieda Ionic Hair Brush
This is not your average hair brush, my friends, this is a John Frieda IONIC hair brush! I get a lot of static, especially in the winter, and you simply turn on the button and brush your hair as normal and all the static goes away! It's magical! 🙂
John Frieda's total prescriptive approach to hair care includes outstanding brushes. Practically a frizz-ease platform, these stylish performers are tourmaline-ionic infused to give your hair that intense salon shine. Tourmaline gemstones naturally release negative ions that tighten the cuticle layer and seal in natural oils. Specially designed for today's blow-dry styles, they help smooth flyaways and reduce frizz while adding sheen. The shine secret is silicone, which lets the brushes flow smoothly through wet or dry hair. Ionic technology helps transform your hair into silky, manageable styles. Inspired by professional hairstylists, this brush is great for blow drying. Designed with a slightly enlarged handle base, John Frieda brushes are easy to grip and hold while you style. Enjoy a professional salon-style experience with your John Frieda.
Other top gift guides you'll love:
Christmas Gift Guide – This is an all-inclusive gift guide that has gift ideas for your spouse, daughter, son, teen, baby, father, mother, aunts/uncles, girl friends, your kid's teachers, your friends at church, and many more!
The Ultimate Holiday Gift Guide – Here you have yet another fantastic holiday gift guide resource for everyone on your list. It includes 37 different links to even MORE gift guides! There is no way you should have to leave this site without having everyone shopped for on your list.
And just in case you haven't made your list and a budget yet, here's a free printable, no strings attached!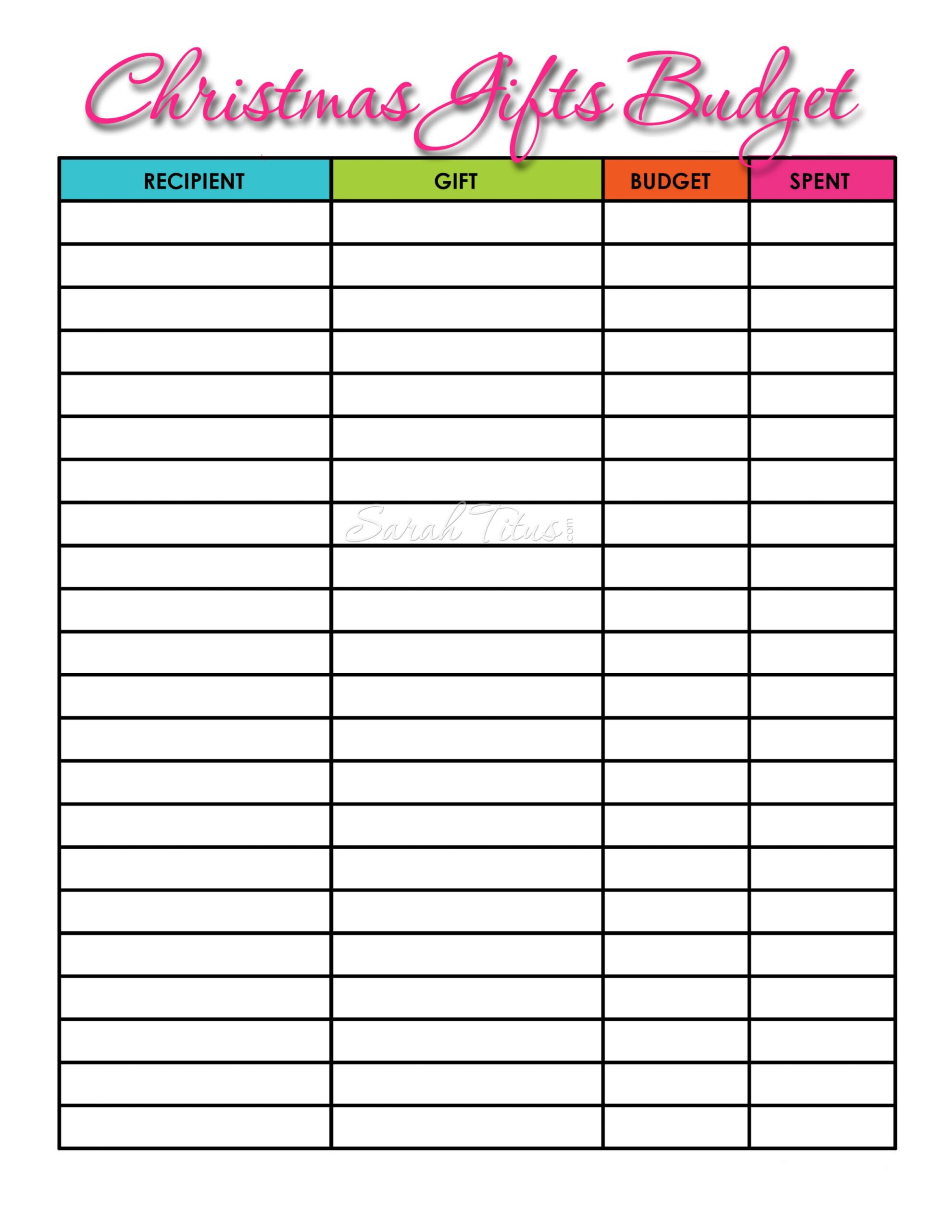 Click here to download and print the free Christmas Gifts Budget printable.