Throughout the entire year, these are the top 17 most sold items here on SarahTitus.com. Want some gift ideas? Try these reader favorites!
Reader Favorite Gift Ideas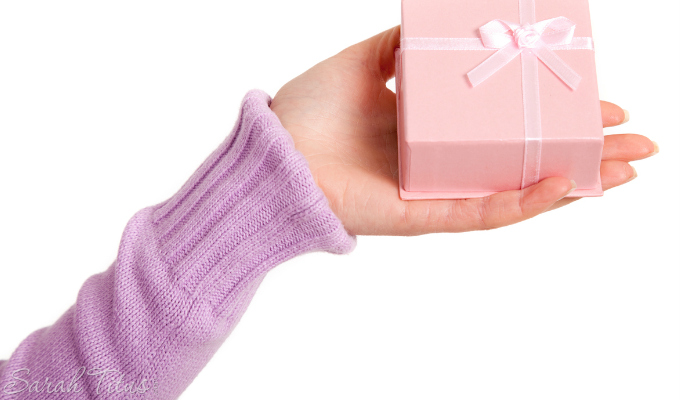 ….in order of most sold, coming in at #1:
Shea butter has so many health benefits.  It is high in Vitamins A, E, F, and K to help keep your skin clear and healthy.
Skin Beauty Solutions Unrefined Shea Butter is…naturally rich in a number of vitamins. Vitamins A, E, F and K are the most popular.

Vitamin E balances and normalizes the skin. Helps keep it clear and healthy, particularly beneficial for dry or sun-exposed skin.

Vitamin A has soothing and hydrating properties which provides healthy skin collagen in order to prevent premature wrinkles, premature facial lines and premature slackened skin.

Vitamin F – Acts as a skin protector and revitalizer. It soothes rough, dry or chapped skin on contact and helps soften and revitalize dry or damaged hair. Vitamin F consists of linoleic, linolenic and arachidonic acids, the three essential fatty acids.
DIY items to make using this item:
Blend together your favorite essential oils and put them into these roll-on bottles for a great gift idea!
Aromatherapy Cobalt Blue Glass Roll On Bottles 10 ml, 6 Units

Use Rollon Bottle with Essential Oils, Perfumes, Lip Gloss and More

Great Size For Travel
This soap is certified organic and is mild enough for even babies to use.  There are no synthetic detergents or preservatives in this soap.  This would be a great gift idea for a new mom. I use this to make soap in our home!
Smooth and moisturizing: The organic and vegan ingredients are combined with a pure-castile liquid soap base for a rich, emollient lather and a moisturizing after feel.

Natural: Smooth and luxurious soap with no synthetic detergents or preservatives, as none of the ingredients or organisms are genetically modified.

Certified organic and vegan: Certified organic by the USDA National Organic Program and certified Vegan by Vegan Action.

Recycled packaging: Packaged in 100% post consumer recycled (PCR) plastic bottles.
DIY items to make using this item:
Waiting on the bathroom mirror to unfog takes time that many of us don't have in the mornings.  This mirror is guaranteed to be fogless for life – no spraying or wiping required!
By simply filling the back of the mirror with hot shower water keeps the mirror fogless

Guaranteed to be fogless for life. Requires no annoying fog free sprays ever!

Easy mounting with removable silicone adhesive and double sided tape. No more unreliable suction cups!

Built in squeegee to clean off mirror after filling with hot shower water.

Convenient shelf to place your razor, sponge or tweezers so they are always accessible.
Aloe vera gel is great not only for sunburns (which is what we mainly use it for), but also for cuts and irritated skin.  This bottle of 100% aloe vera gel has received high reviews on Amazon and is fragrance free with no added color.
Forms a protective barrier that helps retain moisture and promote healing

Moisturizing therapy for dry, irritated skin

Fragrance free and no color added
I ABSOLUTELY LOVE this thing! I have mine separated into two parts, but it also goes into one part.
Save time in the mornings but having all of your makeup in one place in an organized manner.  The clock on the front of this makeup organizer is a really nice touch to help you stay on time.
Organizer for everyday makeup eliminates counter clutter

Everything is visible and right at your fingertips

Wall mount option saves space, hardware included

Versatile, two-piece design can be used together or separately

Quartz clock keeps you on time
Grape seed oil is great to use on sensitive skin.  It has a rich, silky texture that is perfect to sooth dry and irritated skin or to use as a base for lotions or hair conditioners.
Light, odorless oil with mild astringent and emollient properties

Contains numerous essential fatty acids including Linoleic, Oleic, Stearic, Palmitic, Myristic and Lauric

Soothe away dryness and irritation

Suitable for all skin types; won't clog pores or cause break-outs
DIY items to make using this item:
Who doesn't love singing in the shower?  Now you can sing along to all of your favorite songs with this speaker that clings to your shower wall.
LCD Screen: We heard your compliant from our old version that you can't see which station is playing so we upgraded to a speaker with a LCD displays Screen, Where you can see the time and the Radio station that is currently playing, making it a lot faster to find your station. You didn't see this coming right.?

FM Radio – Presets: We have updated our Speaker with this amazing feature – Preset your favorite stations and listen to them every time with this updated shower speaker up to 10 stations – Listen to your favorite stations 88.0 -108.0MHz – Easily switch between stations with the rewind and fast forward buttons.

NFC – Bluetooth: pairs with any Bluetooth or NFC capable device – Also good for the new iPhone 6 Smartphone, No need to pair your phone, Use the Upgraded Technology NFC to connect your phone to the Bluetooth Speaker.
Essential oils don't have to be limited to just home use.  Now you can use your favorite scents in any vehicle!
Add 2-3 drops of essential oil to the pad and insert into the diffuser. Place the diffuser into the cigarette lighter outlet

The small light on the top of the diffuser will let you know when it is plugged in correctly.

The oil pad can be reused until it begins to discolor.

This comes with 5 refill pads.
Pure vegetable glycerine is a great moisurizing and cleanser.  A few ideas for using this are mixing it with aromatherapy oils in a bubble bath, using it with your dishwashing detergent, making kids paint, or even using it in your baking!
Net quantity of 16 ounces

An outstanding moisturizer and skin cleanser

Provides softening and lubricating benefits

Hypoallergenic and easily soluble in water

Has a long shelf life and does not easily oxidize
This is a must-have item if you're interested in making your own lotions, body butters, deodorants, lip bams, and more.
100% Pure Beeswax Pellets-Must Have Item For Many Projects-Including lotions, salves, body butters, deodorant, lip balm, candle making, and furniture polish.

Great for Batik preparation in combination with paraffin. Use on hand tools to prevent rust.

Excellent product for cheese waxing. A great lubricant for coating wood, screws, and nails.

Use to wax thread, make beeswax crayons, and envelope seals.

Cosmetic Grade.
DIY items to make using this item:
This cocoa butter is sealed for freshness and is perfect for making chocolate goodies.  Yum! Here are a few other things you can make with this cocoa butter…
DIY items to make using this item:
This #1 Best Seller on Amazon will help you turn your drawer full of socks and undergarments into a more functional and organized place.
Classify socks, neck ties, scarves, accessories, etc. Easy to find which one you want to wear and never need to ransack all of your clothes. Reduce 50% of time for dressing. 

Material: The whole boxes are made of non-woven fabric, which is moth-proof, mould-proof, moisture-proof, and very durable. The removal square boards are made of PP (Polypropylene), which is high heat-proof, smooth and light.

The edge layer is removable; you could install and remove the edge pieces easily. It is foldable to be kept when not used. Method: There are 2 openings on the edge of each box. Please install the PP layers into these openings.

Varied size and flexible: There are 4 set of these boxes, 6 cell one for underwear; 8 cell one for socks, 24 cell one for scarves, accessories; another big 6 cell one for bras. Actually you could use these boxes to storage everything.
You'll no longer have to worry about misplacing a bill or a set of car keys with this organizer that hangs nicely on your wall.
Five hooks can hold keys purses and leashes while the mail compartment can fit letters catalogs and more.

Stores your mail and multiple sets of keys all in one convenient place

Keeps all of your mail keys and other necessities in one place.

Perfect for hanging keys, jewelry and other small items

Black finish is easy to clean.
Where do you normally keep your mop and broom?  If they are just cluttering up a corner, this organizer is exactly what you need.
The O'Sullivan Verastor features 3 levels for perfect hanging

2 Universal Mounting Rails

4 Large Funnel

1 Magnetic Strip

2 Hooks
If you're looking for a gift for a loved one who lives far away, look at this gorgeous figurine.
Apart or together, always close to me

Figurine is 8″ tall

Artist Susan Lordi hand carves the original of each Willow Tree figurine from her art studio on Kansas City, Missouri

Willow Tree is an intimate line of figurative sculptures that speak in quiet ways to heal, comfort, protect and inspire

Arrives in a gift box, ready for gift giving with an enclosure card
Everyone will love this highly rated grill set that comes with a chef's spatula, grill tongs, a silicone basting brush, corn holders, a cleaning brush, and an extra brush head.
Also includes aluminum storage case–perfect for the on-the-go griller

Durable stainless-steel tool construction

Elongated handles; convenient handle rings for hanging

Measures 7.1 by 3.2 by 17.3 inches; 1-year limited warranty

Spatula has built-in bottle opener