We love fruits and veggies here, and this healthy broccoli & grape salad recipe is such a great way for kids AND ADULTS to eat them. Omit the red onion if you'd like.
Nutritious Broccoli & Grape Salad
Ingredients:
5 cups chopped raw broccoli florets
2 cups red grapes cut in half
1/4 cup red onion
3/4 cup sunflower seeds
Dressing:
1/2 cup mayo (use vegan mayo if you want to make this meal vegan)
1/3 cup milk (use plant based milk if you want to make the dish vegan)
3 tablespoon white wine vinegar
1 tablespoon sugar
Dash of salt and pepper to taste
Directions:
Step 1: Wash and dry your produce, chop the broccoli and onions.
Step 2: Cut the grapes in half.
Step 3: Mix in a large bowl and stir in the sunflower seeds.
Step 4: In a small bowl whisk the mayo, milk, vinegar and sugar.
Step 5: Pour over the top of the salad mix.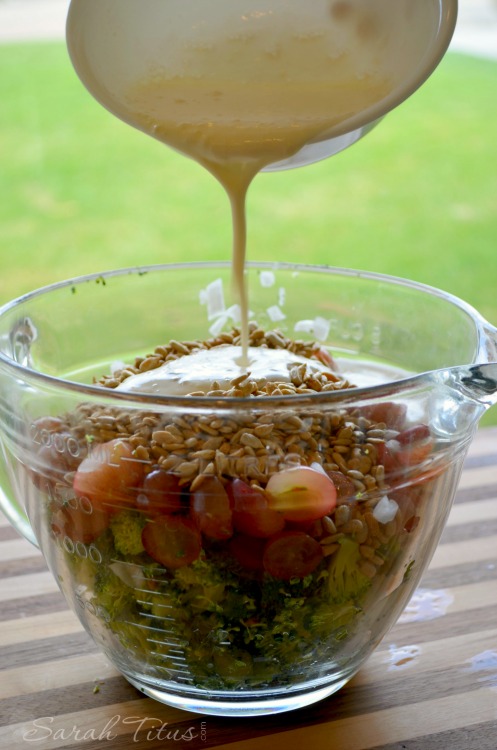 Step 6: Stir until everything is well coated with the dressing. Salt and pepper to taste.
You can eat it right away or cover and put in the fridge and let the flavors marry together before eating (stir before you eat as the dressing tends to gather on the bottom of the bowl).
You may want to try it with a yummy yogurt dressing next time!
Enjoy!!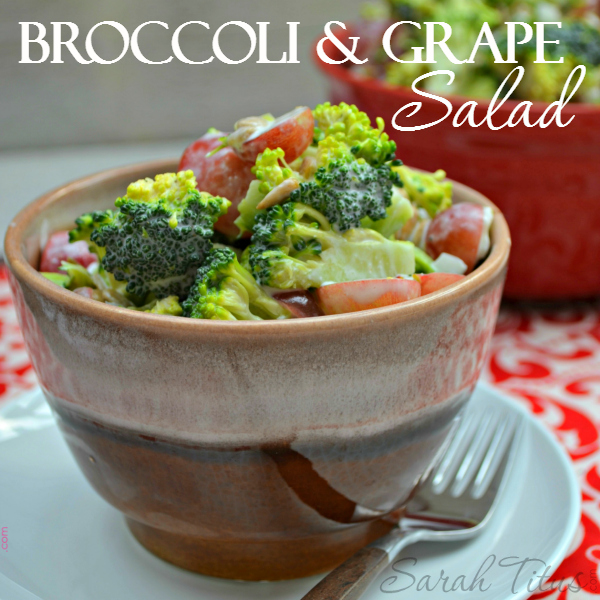 Nutritious Broccoli & Grape Salad
Ingredients
Ingredients:
5 cups chopped raw broccoli
2 cups red grapes cut in half
1/4 cup red onion
3/4 cup sunflower seeds
Dressing:
1/2 cup mayo
1/3 cup milk
3 tablespoon white wine vinegar
1 tablespoon sugar
Dash of salt and pepper to taste
Instructions
Wash and dry your produce, chop the broccoli and onions.
Cut the grapes in half.
Mix in a large bowl and stir in the sunflower seeds.
In a small bowl whisk the mayo, milk, vinegar and sugar.
Pour over the top of the salad mix.
Stir until everything is well coated with the dressing. Salt and pepper to taste