Whoever said learning the alphabet was boring?! Well, they haven't seen this free printable pack yet, that's for sure! 🙂
Encourage your kids (even preschoolers) to practice their handwriting with these super cool monster art alphabet handwriting practice sheets (A – Z) – lowercase and uppercase!
Monster Art Alphabet Handwriting Practice Sheets Printable Templates
It's always AWESOME when I get to create really fun printables, but having them serve as learning tools for kids too? Win-win!! These can be written on and even reused many times with a little trick that I'll talk about in a little bit!
The colorful monsters on each page add another level of enjoyment to learning. Each monster is in the shape of a letter – how cool is that?!
The unique design helps kids associate each letter with a monster, helping improve memorization and association skills!
These letter pages can be added to school folders for a little extra practice OR used at home for some fun learning time. Homeschooling your kids? No problem! These sheets are perfect to teach basic letters.
The friendly monsters really do add a little something extra to keep your child engaged and ready to learn, without even really knowing it. 🙂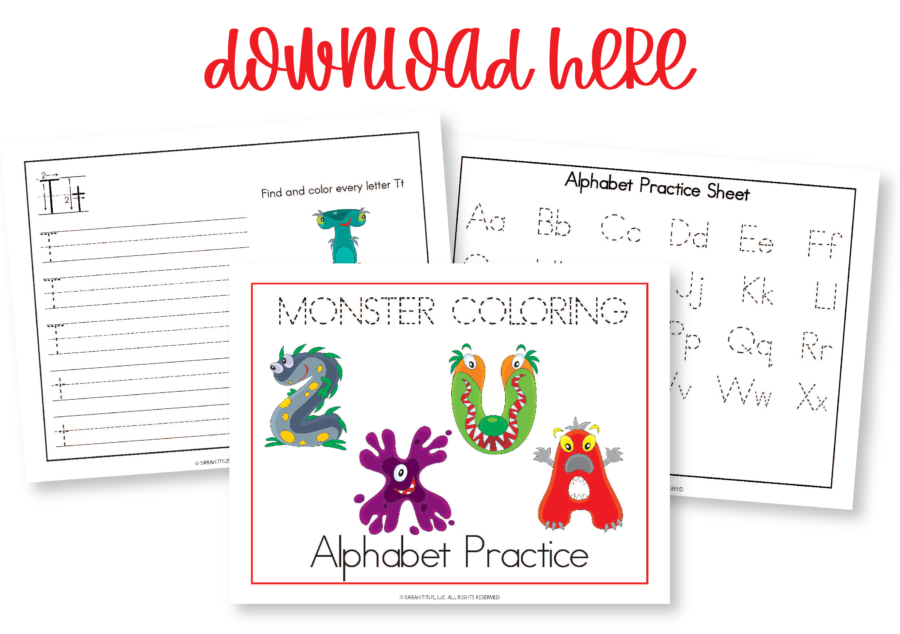 Download the monster art alphabet handwriting practice sheets printable PDF here.
Creative Ways To Use These Practice Sheets
You can do lots of things with these handwriting practice printables! Let's look at some fantastic ideas…
Make These Handwriting Practice Worksheets Into A Fun Learning Binder
You'll only need a few things to make a super cute and reusable handwriting practice sheet binder!
1/2″ – 1″ binder
3-hole punch
dry erase markers
zipper pouch with 3-hole insert
blank paper
Print out all the pages and laminate each one (or stick in page protectors). The cover page can be left alone and slid into the front cover of the binder as a title page! Use the 3-hole punch to punch through each laminated printable and place them in order in the binder. Put your dry erase markers in the zipper pouch and add those too before you close it in!
Ta-da!!! Now your kids can practice their letters, erase, and reuse as many times as needed! When they aren't being used, keep them put away until you're ready to practice again.
Add Blank Pieces Of Paper To The Binder
To build off the learning binder, laminate some blank pieces of paper to put in the back of the binder – use these to help them practice writing words or sentences once they get the hang of the letters!
Or it can double up as just a fun way for your kids to doodle. 🙂 Maybe even draw some new monsters??
Use These Handwriting Practice Printable Sheets As Homeschool Tools
If you homeschool your children, these make such great handwriting practice for kids to encourage whatever curriculum you follow! The monsters add enough fun into these to make it a learning activity your kids will adore. 🙂
Invent Names/Stories For The Monsters
Once your child masters each letter, have them come up with a new fun name for each monster. They can even come up with a silly rhyme or story to go along! Here are a few examples…
A – Alvin, the artistic monster, always loved to eat apples.
J – Jack the joyful monster, liked to jump with jet skis.
S – Sam the silly monster, sang super loud songs!
This will be GREAT for encouraging creativity, imagination and help your kids understand phonics! Why not do it all at once? Have lots of fun and laughs at the stories they'll make up! 🙂
Your kids are sure to learn and have fun with these amazing monster art alphabet handwriting practice printables!