Keeping your house clean and organized can be overwhelming, especially when you have kids. Of course, it would be lovely to hire a housekeeper, but most of us do not have the option. That is why I do the next best thing- put my kids to work using family chore charts!
I am a firm believer it is never too early to get your kids involved and teach them how to participate with the household chores. Having a routine is good for children, and having a household chore routine also helps them develop their own self discipline.
Creating a chore chart for kids is a great way to get them started doing chores around the home, and help them stick to the routine.
You can hang your chore chart template in a place where your children can see it, and check off each chore as they finish it. I like to print out and laminate the chore charts, and then have my kids check off their chores with a dry erase marker when they do them. I personally think it also makes it more fun if the chore charts are colorful and fun, like these chore charts.
Creating a Chore Chart That is Right For You
I know with my first child, I was somewhat clueless of what chores were appropriate for what age. But, now that he is older I have a much better understanding of what children can do at each age level and stage. Keep in mind that every child is different, and what one 3 year old can do, does not necessarily mean every 3 year old can. Tailor the chores to meet your children's skills and abilities.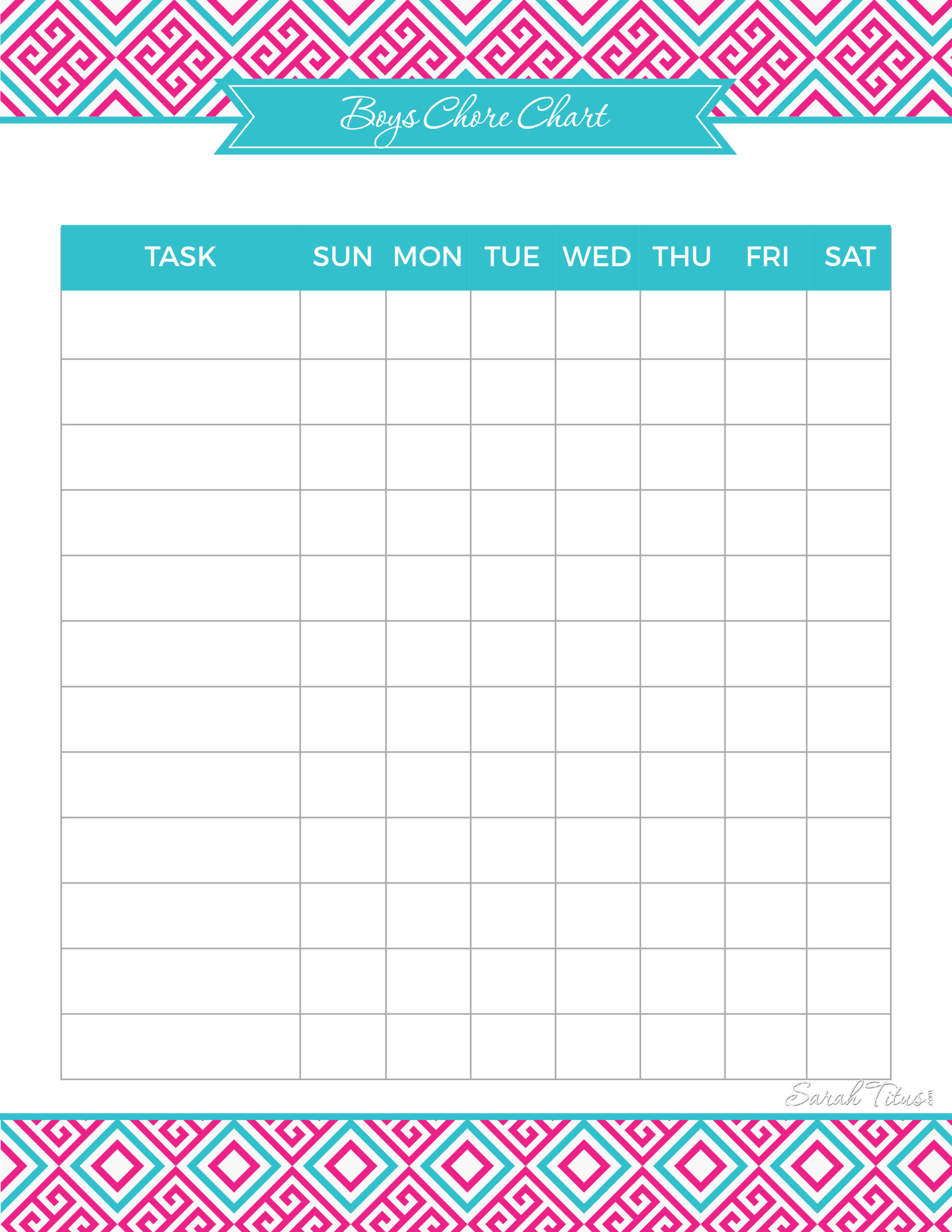 Download the free weekly printable chore charts here:
Want MORE awesome chore chart designs to choose from? Check out these FREE chore chart printables here!
Here is a list by age range appropriate chore chart ideas for children:
2-3 Year Olds
help make their bed
help pick up toys and play things
place dirty laundry in a hamper/basket
help feed the family pet
dust
vacuum (my 3 year old loves to follow me around while I vacuum with a dust-buster!)
5-7 Year Olds
make bed every day
feed family pet
put dishes in the dishwasher
fold laundry
put laundry away
mop floor
help make meals (with supervision)
8-12 Year Olds
keep room clean
take trash outside
make easy meals (with supervision)
clean bathroom
rake leaves
laundry
For Teens
cook meals
change light bulbs
mow lawn
babysit younger siblings
Don't expect perfection when your children are first starting. A three year old will not be able to make their bed perfectly, but that's okay. They are learning, and that is what is really important!
Also, remember it is a personal decision whether or not you want to provide rewards or pay your children for doing their chores.
Personally, when my children were younger I did not pay them. They did not yet understand the concept of earning money and were not motivated by money. A simple piece of candy was a reward they were happy with.
But, once my son turned ten, we provided a list of chores and a set allowance. Setting an allowance for completed chores can be a great motivator for older children and teens to complete their work.
Whatever you decide, these Free Printable Chore Charts are a great way to get your child started doing household chores!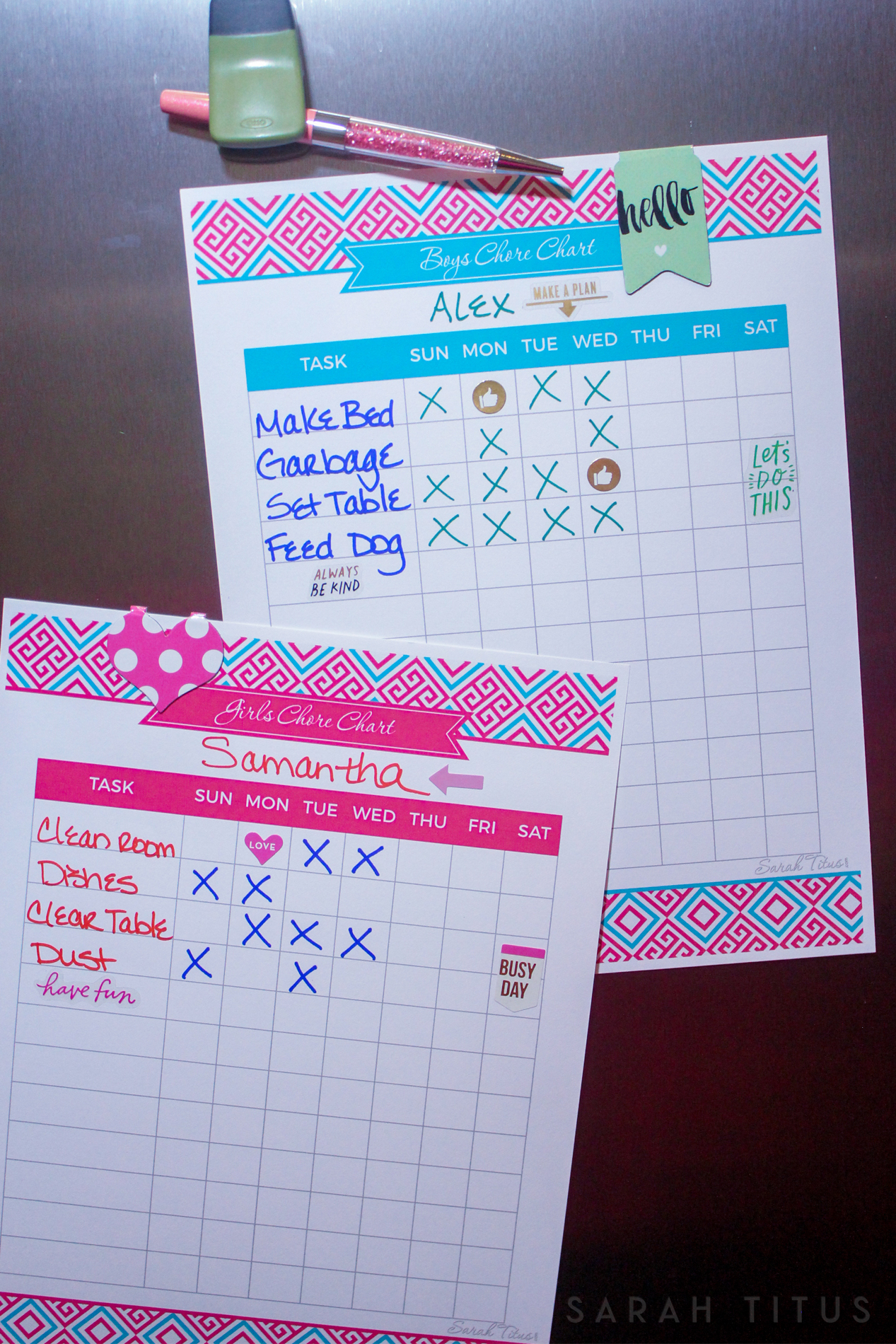 Want another chore tracker template? Here's a great one: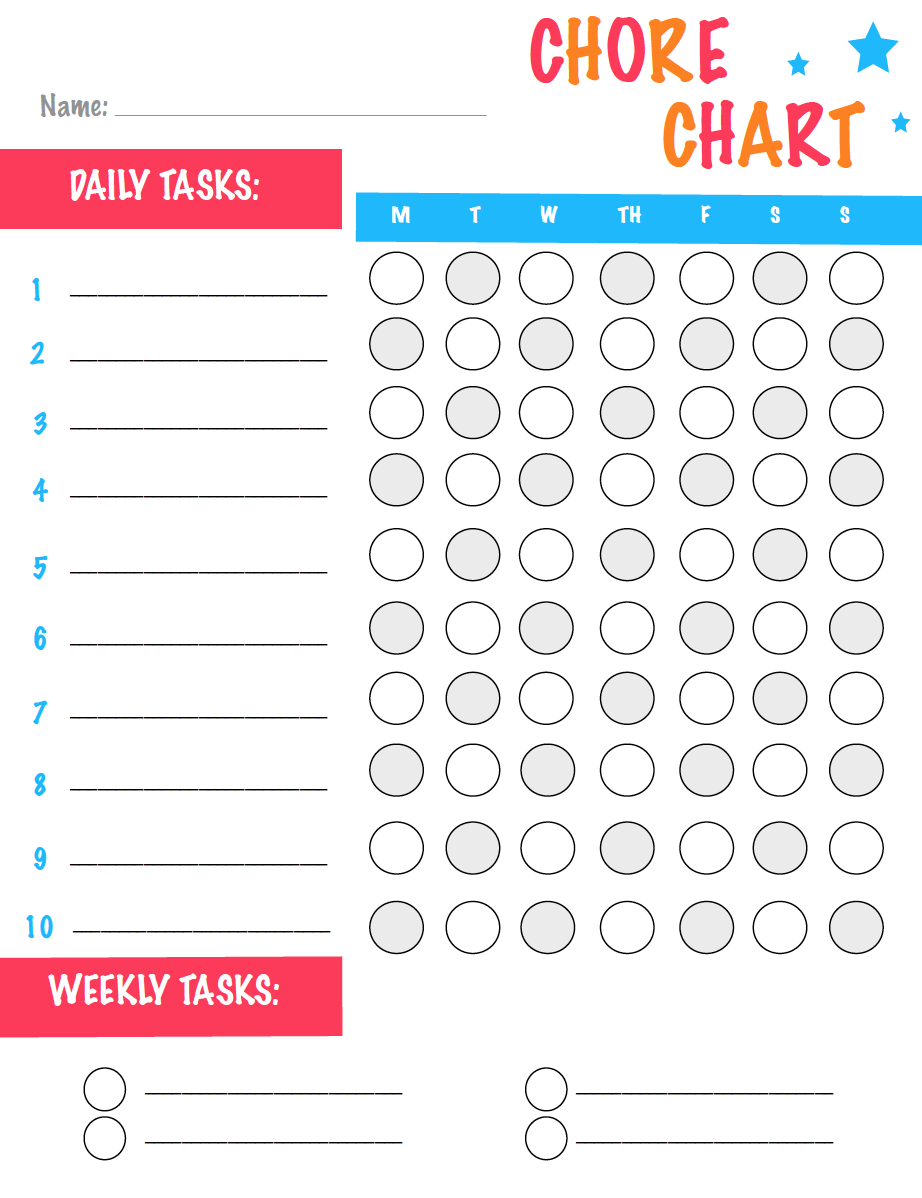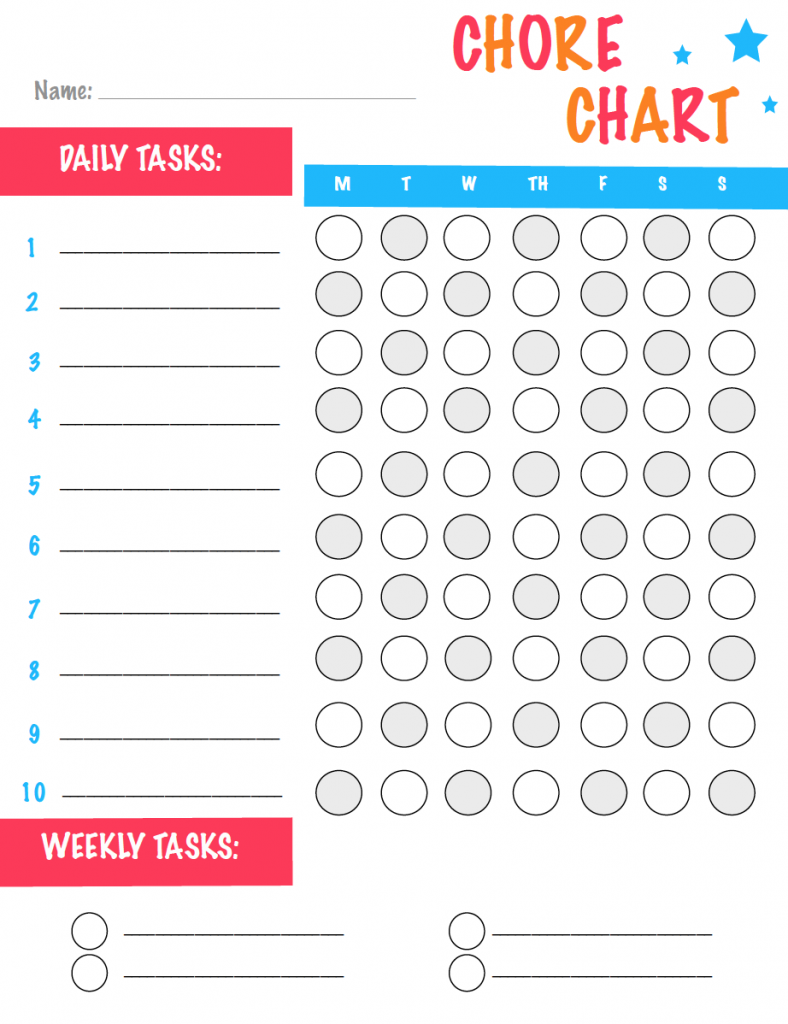 Download the chore chart here.
Want more printables? Check out my Household Binder here.