I am super excited to share with you what I have been working on… specifically for your teens! These book tag printables are the PERFECT accessory for your teenage daughters, no matter what they use them for. 🙂 Take a look at these modern cute labels for books!
Modern Cute Labels For Books For Teens
I love creating cute and classic designs, and these translate so well to teen girls! The beautiful purple, blues, and pinks offer a color scheme to fit no matter what they are into. Some have more simple designs such as stripes and circles, as well as the floral swirls that are just SO beautiful!
As a teen, I loved being able to call things my own. These book tag labels will help your teen have a sense of ownership, and encourage independence.
They can use these to label school supplies journals, and so much more! These printable labels make perfect gifts as well; the possibilities are endless. 🙂 Let's look at some more ways…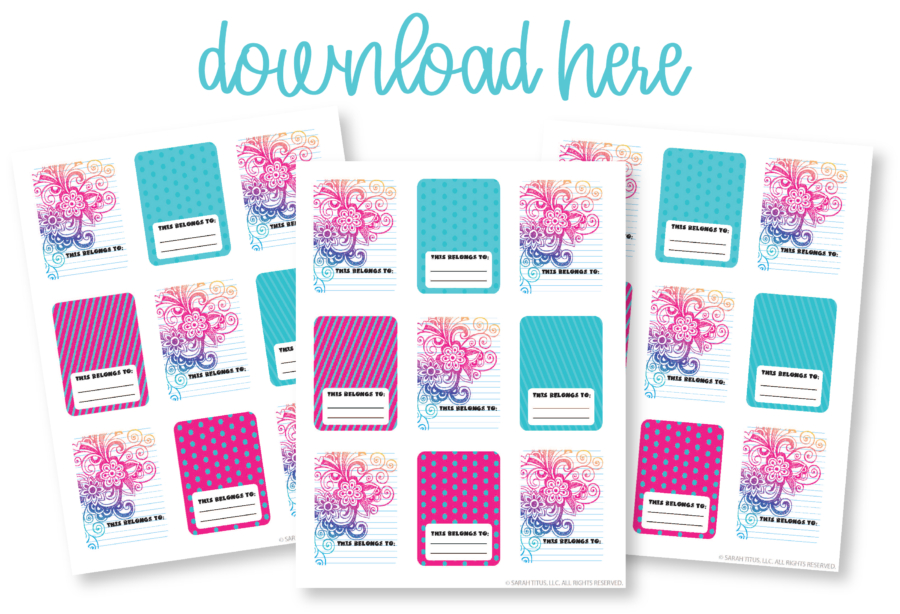 Download the modern cute labels for books for teens here.
Creative Ways To Use These Book Labels:
Like I mentioned, there are so many ways to use these book label template printables! Here are a few suggestions…
Organize and Label School Supplies
I remember middle and high school and having SO many binders and folders to keep track of! Use these labels to label your teen's school supplies. This will help them (and you) keep track of everything and know whose is whose!
Give Them To Your Teen As A Gift
You can even give these as a gift to your teens! Eliminate the shopping stress for your teenage daughter (it can be tough!!) and give these instead – they are sure to be a hit!
Sometimes teenage girls go through LOTS of different emotions… why not brighten their day with this simple and thoughtful gift! Let them know you love them and encourage them to use these in so many ways – see below!
Label Journals, Bibles, & Diaries
Raise your hand if you had a journal or diary you kept hidden in your room when you were a teenager? I'm raising my hand over here too!!
These would be perfect for your daughters to label their personal journals. You can even take them to the store to pick out a NEW journal and place this label on the inside cover while they decorate & doodle on the rest.
This would also work as a label for Bibles/Bible Journals. You can order an entire Bible Journaling Kit on amazon and encourage your daughter to read and draw whatever God inspires her with. 🙂 Make sure to add the book label to the front inside cover.
Use Them For Memory Boxes
This one will definitely speak to you Momma, but your teens will appreciate it as well! Start a memory box for your teen! You can fill it with baby pictures, their hospital bracelets, little crafts they made, school reports, meaningful jewelry, etc.
This will give you some great bonding time with your teen as well as you both work together to fill the box. 🙂 Laugh and talk together as you remember these things and maybe even swap some fun stories!
Overall, your teen will absolutely love these modern cute book labels!