Have you ever felt like your marketing strategy could use a massive boost? Maybe you're just not all that great at marketing and need some help knowing what to track, how to market, what to DO!
I'm so excited for you today because I have an insanely awesome 40+ page Marketing Planner for you! It's PERFECT to help you know exactly what to do AND plan it ALL out!!
Get your marketing in shape and organized today, so you can grow your business and reach the heights you're dreaming of! 🙂
What's included in the
Marketing Planner
PDF…
Cover
Spines (1″, 1 1/2″, 2″, 3″, 4″)
Marketing Plan Pages
Understanding Your Audience
Peers Sheet
Yearly Strategy
Monthly Plan (Sunday Start and Monday Start)
Discount Tracker
Giveaway Tracker
Contest Planner
Local Networking Contacts/Info.
Online Ads
Promoted Pins
Post Planner
Blog Post Series Planner
Round-Up Post Planner
Email Opt-In Planner
Email Planner
Social Media Tracker
Facebook Tracker
YouTube Tracker
Pinterest Tracker
Instagram Tracker
Twitter Tracker
Affiliates Info.
Testimonials Tracker
Monthly Budget
Income Tracker
Expenses Tracker
Goals Sheet
30 Day Reflection
90 Day Reflection
1 Year Reflection
My Favorite Pages
It's kind of hard to choose favorite pages in the Marketing Planer because they are all super helpful, but I do have a few that stick out as being the most helpful. By the way, these are just a FEW of the 40+ pages you'll be getting as a whole. 🙂
It's always important to write down and have a marketing plan for your business. A great place to start your marketing strategy is by using these awesome Marketing Plan Pages.
The Post Planner printable is a great way to brainstorm your next blog post. There is space provided for the post title, publish date, series, call to action, related posts, key content points, to-do, tags + keywords,  and links. It has everything you need to perfectly plan each and every post so you can bust them all out super quick and fly faster!!!
Do you have a budget for your personal bills? Well, marketing your business is no exception, this Monthly Budget printable allows you to have your budget on one printable! Fill in the spaces however you want and keep on track with your bills!
We all need to have goals and that's why this is one of my favorites. If you want to grow your business, the Goals Sheet is the best way of writing your goals down. Refer back to this printable and see if you're on track. This will help make SURE you hit all your goals!! 🙂 This sheet is SOOO vital, and if you're looking for a full goals binder, you can check out my 110+ page Goals Planner here.
See what others are saying about the planner…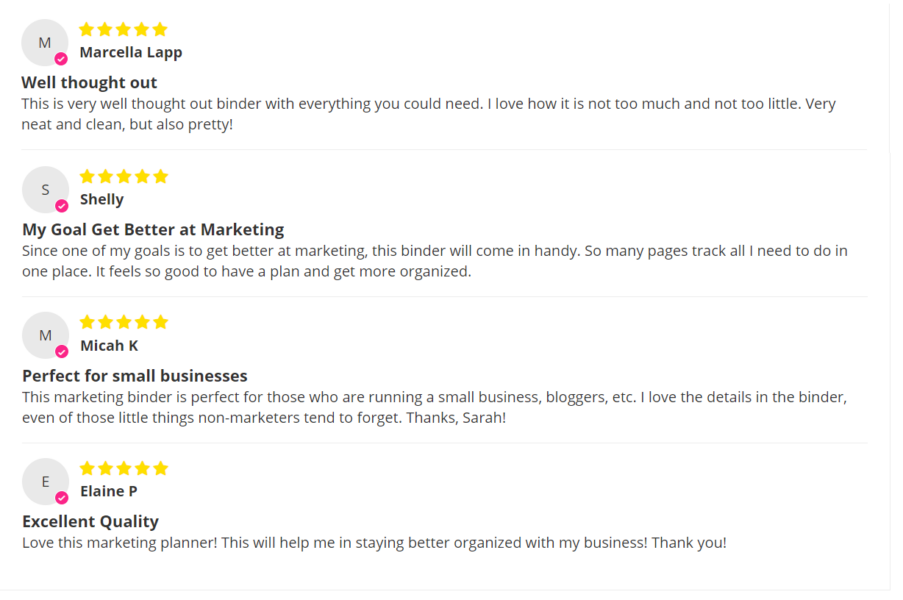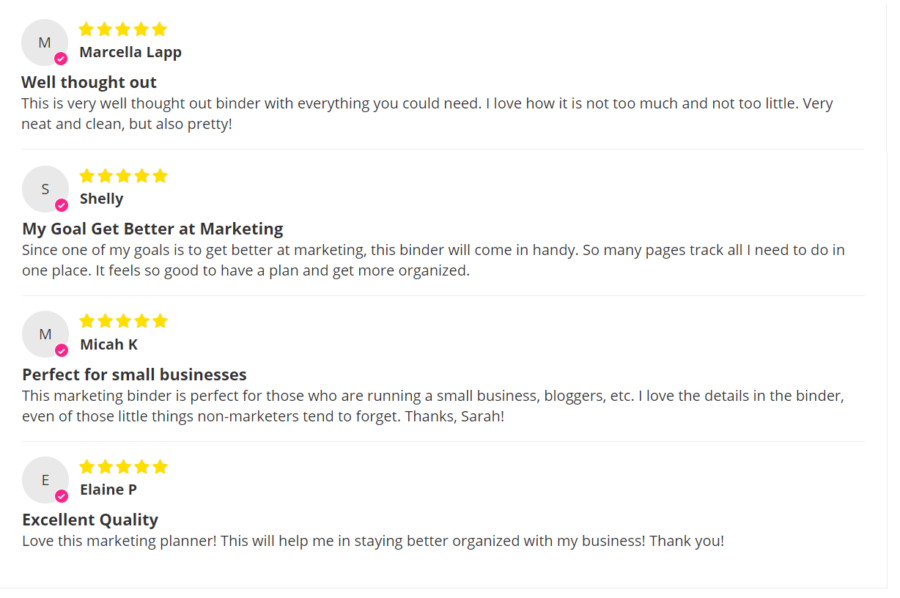 Get your Marketing Planner here.
What is Marketing?
Marketing is simply getting your products in front of the right people. Because you can show your products to ANYone in the world, but that doesn't mean it's gonna be right for the person you show it to. For example, I wouldn't show a Kindergartener this Marketing Planner. They'd have absolutely no need for it. It would not only waste their time but mine as well.
We only have so much energy in a day, so we must use that energy toward things that propel our business further, faster!
How Do You Market Printables?
You can market printables in any way you want, whatever suits your personality! I like to give printables away for free. Give them a taste of what to expect and the quality that my printables are, over other people's. The designs, the clarity of them, the professionalism of them, the usefulness of the printables. Very easily, my customers get hooked. They want more. So that first "sample" if you will, becomes something they fall in love with. Maybe they heard about me from someone else that I make a lot of money selling printables and that my printables are high quality and they never leave me. Most of my email list has been following me for over 3 years! The open rates of my email list are over 29% and my list boasts over 109k people! It's a high feat for sure, but the point is that the people on my email list are well cared for, they get the "secret" stuff that is not public, the JUICY stuff, and they love it and stay. Over time, I build trust with my audience and it's a win-win. I meet their needs, they get cool stuff, whether paid or free along the way and it's amazing to be a part of that. It's my heart.
The BEST way to market is not to market at all! 
What do you mean by that, Sarah?!
Well…the best way for you to market is to have other people do it for you!
The Bible talks a lot about this too. Don't talk well about yourself, let OTHERS praise you at the gate. Things like that. When someone ELSE says your stuff is awesome, people listen. When YOU say your stuff is awesome, it's more muffled. Less likely to be heard. So the absolute best way to market your products online is to have OTHER PEOPLE talk about you. How do you get them to do that?
You can do an affiliate program. That's one way. But I find it more of a less honorable way to get people to talk about your products. So I don't personally have an affiliate program for my store. I want people to share it because they genuinely love it and can't help to share it, not because they are paid to say something about me. Does that make sense? There's NOTHING, I repeat ABSOLUTELY NOTHING wrong with an affiliate program, it's just not my personality (everyone has different personalities and it's okay!).
So, how I do it is that I make my products sooooooo juicy they can't help BUT TO share it!!!
If you make your products so fantastically great, the best that's out there, and you create multiple products, you start to become known for being the best! For example, we all know that Pottery Barn products are way better quality than Walmart. It's just something we intrinsically know. And…people know that MY binders are better quality than most others out there. I know how to create them professionally (and I teach all about that in my courses).
For me, word of mouth marketing is by far, THE best when it comes to selling printables. But there are a BILLION AND ONE other ways to market your printables too…
Start a blog
Use social media like Pinterest, Instagram, and Facebook to drive traffic to your shop
Start an email list
Have an affiliate program
Work with an influencer in your space
Get in the VIP Products Facebook Group
Create a video on YouTube
Network market in your city
Offer free products/lead magnets to build trust and show them what they get before they buy
Hang flyers on people's doors or cars at the supermarket (use proper legal procedures for this)
Go to a trade show
Hang out where your ideal customer is hanging out – get to know them in a genuine way
Write a guest post on a highly-trafficked blog
Create gift guides including your printables
Run a free webinar
Tell your friends about what you're creating
Join Facebook groups and get to know people you can serve with your products (in a genuine way!)
etc.
Are Printables Profitable?
They can be if you have been properly taught. Listen, I've been in the eCommerce game for 24 years! In just the past few years since I started up Shopify selling printables (6/1/17-12/31/21), I've made $21,978,724.60 just in my main store (I have two Shopify shops). That's over $21 million dollars in revenue selling a product that I don't have to ship out or keep creating over and over and over. It sells on autopilot…like hotcakes, without running any paid advertising to them!
Maybe you will only make a small portion of that. Maybe you will make $30k/month or $50k/month or even $5k/month like some of my Million Dollar Shop® students. It's STILL worth it. But you MUST, I repeat MUST learn how to do it the proper way. You can't just throw up a shop and throw up some printables and expect them to sell. No! Again, there's 24 years of experience going into this and you need to know what I know! What I know, is in my courses!
What is a Printable?
A printable is basically a PDF formatted document that you print at home on your printer. It could be a chore chart, a calendar, wall art you decorate your home with. It could be a planner you use like this Marketing Planner, or anything else. Anything that is a PDF formatted file that you print is considered a printable.
What Program Do You Use to Make Printables?
Personally, I use Adobe Illustrator and I have also used Photoshop Elements when I first started making printables. Either program is absolutely fantastic and if you'd like to learn more about each program and which one is right for you, you can check out my comparison here.
Have more questions? No problem! I'm here to help!! Check out my free blog post, 30 Days to Creating a Thriving Printables Business here!