So, we've all heard Walmarts' slogan.
Save money, live better.
But is that really the truth?
Why You Should Never Shop Walmart or Dollar Stores
My true story begins with a simple garden hose. One that I still have nightmares about (not kidding). I just saw a picture of a clever person making a door wreath out of a garden hose and flowers for Spring. Clever, right? Not to me! I screamed a little inside! haha.
Several years back, our family needed to purchase a garden hose. After checking out several stores, we found Walmart to be the cheapest in price. It was only $18 and everywhere else was $25 and up. So, of course, we bought said Walmart hose.
Within 1 month, said garden hose started leaking in several places for no reason. We ended up having to replace it. Yup, you guessed it, we went back to Walmart, and got another garden hose, but this time, opting for the more expensive one there, thinking it was just the brand. And yet again, in 3 months, IT started leaking.
I was a little confused and it took me a bit to figure it out.
Then, I ha started seeing a theme. Everything we bought from Walmart was cheaper, but wasn't lasting very long. My aha moment had come. 👈 Walmart purchases the lowest quality items available, so they can keep their prices low in cost, but as greed would have its way in any man's heart apart from God, they are actually higher priced than a lot of other stores, including Fred Meyer, and even some department stores!
Shocking, right?!?!
After that, I swore to myself that I would never shop at Walmart again (and thus never even bothered to take that garden hose back; it honestly just wasn't worth it).
Have I kept that promise?
You bet. 3 years in running. I bought myself a nice garden hose that cost $30 at a local home improvement store and 3 years later after I bought that one, I have had NO leaks. It still looks and works perfectly, it's the best water hose. *update: it's 7 years later and still no problems with it at ALL!
The point of this story is to convey the message that if I would have kept going to Walmart and buying garden hoses at $25 every 3 months for 3 years, my total FOR ONE ITEM would be a whopping $300! Gasp! 😮 The home improvement store hose, cost me $30. I have saved myself, $270 in 3 years by one simple purchase.
Now some people at this point may argue that I should just keep going back to Walmart and make a return. To those people I would say that it's not worth the time. Time is THE most valuable asset we have. You can always get more money, but you can't get more time!
If I know something is going to break and that a store sells junk, it costs me far more than money to keep having to deal with this issue. It's also more stress, which leads to health issues, which is WAY more expensive than a garden hose. How much is blood pressure problems worth to you?
As a single mom, I work really hard for my money. I run a blog. I have an empire of courses that I sell and a printables store on Shopify. I don't want to waste my time fighting things I purchase that break, and I watch my money carefully because I want to spend it wisely. Every penny that God gives me, whether I make a lot or a little, I want to be a good steward of it. And because I'm so dilligent in watching the money He gives me, He gives me more!
I started out homeless in a homeless shelter after my ex-husband took off and now I've worked my way up to making 7-figures/year. I, more than anyone, take money seriously. I wouldn't have been able to accomplish all that if I didn't! 🥰
Even gas money is something I try to really watch (I DO NOT want to end up homeless AGAIN!) If I return something, I have to pay gas money to go return it to the store.
The time it takes as well as the gas and frustration to keep returning a product, it makes absolutely no sense to me why I would want to put myself through that. Why not purchase a garden hose one time and save time/money/aggravation through the next several years. In fact, since I avoid shopping at Walmart, there is very little I've ever had the need to return!
And that's a blessing!
Not only is the wait time in the return lines extremely long, when I had to return things at Walmart, I've had very unpleasant experiences.
One time, I literally walked from checkout directly to the return counter because I missed something I should have taken out of my basket. It was a water filter, and I guess hard to prove it wasn't opened. The return lady gave me such a HUGE hassle to return it. She questioned me several times, "Has it been opened." I told her to look at the time stamp on the receipt or view the camera's if she didn't believe me. I'm not a fraudulent person and that was the last straw. Tired of being treated like a criminal, I never returned to their store. Yes, they have a lot of returns because they sell junk. And yes, some people do take advantage. But I'm not a criminal and I had proof I didn't do anything wrong.
In a similar situation, I was returning a Dyson vacuum at Target for $465 as I found it cheaper on Amazon (it had never been used and I still had it sitting there in the box). My receipt expired and the computer wouldn't work for the return for some reason. They gave me the benefit of the doubt and gave me cash back, all $465. NOT a voucher for store credit, not sneering at me or treating me like a bad guy. They honored it. Walmart had trouble honoring a $20 return. The difference to me is clear.
Major money-saving tip:

Looking at the longevity and calculating prices based on how long something will last you, rather than solely looking at the price and making a decision from there, will save you the most amount of money! Doing so has not only saved me massive amounts of money, but also time!

Think about it like this.

If you buy a $1,000 car that will last you 6 months, then have to replace it, and you keep buying $1,000 cars that last 6 months, in 5 years, you will have spent $10,000 and not have a car! If you buy a car that will last you for 5 years for $5,000 (real scenario's here!), you are saving $5,000! Does this now make sense?
Now, you may be wondering if this story will relate to all your items you buy at Walmart. Outside of groceries, I would say yes! And even with groceries, I'd caution you. Each item you buy may be cheaper (you really have to shop around in your own area to determine that), but it's NOT the most cost-effective and there is a HUGE difference. I have even found that somehow the brand names at Walmart are no where near the quality of the off-brands at other stores, so I am saving even more!
What I used to buy at Walmart and where I get it now….
• Pull ups and diapers that always used to get peed through –> I now buy through ePantry and at Fred Meyers. Getting them through both source for free. You can find out how I get them through ePantry for free here and how I get them at Fred Meyers for free here.
• Groceries –> I have found Winco to be the cheapest in our area, even cheaper than Walmart!
• Beauty supplies –> I make some beauty supplies, purchase through Younique, and use essential oils for some as well.
• Household supplies like cleaners, etc. –> I get most of these supplies through Grove Collaborative (garbage bags, sandwich bags, dish sponges, cleaners, soap, dish soap, candles) and my essential oils. I get all my items through my EO company and through Grove Collaborative FREE! I show you how I personally do it here.
• Vegetables –> I started a garden and grow things like zucchini, chives, onions, etc. Next year, I want to plant tomatoes (anything that is super expensive in the store). You can reuse the tips of some fruits and veggies and stick them in water to regrow them! Here's a list of 7 fruits and veggies you can regrow.
• Kids Clothes –> There have really only been a few times I've bought kids clothes there at Walmart. The times I did, they broke down quickly (got holes, stains that wouldn't come out, which costed me more in stain remover–the good brands don't seem to stain for me and I rarely use stain treatment now, saving me even more). I started buying only Children's Place, Old Navy, and Gymboree. I get all my kids clothes for free, by taking the money I make from selling them after the kids grow out of the clothes and buying new ones with that money. You can read all about my 50¢-$1 system here.
• Paper products such as paper towel, toilet paper, and paper plates –> Paper towel is cheapest at Staples. I can usually get a BIG roll for 25¢-48¢ for Bounty Basics brand. Paper plates are cheapest at Winco, and toilet paper is cheapest at Staples and Fred Meyer during their sales. I get a 48-pack of Charmin big rolls for $5-$6.
• School supplies and paper –> The cheapest school supplies here are found at Walgreens, ShopKo, and Staples. We have been able to score things like school glue for 25¢, 4 glue sticks for 50¢, rulers for a quarter, 4 erasers for 25¢, package of #2 pencils for 25¢, composition notebooks for 48¢, 200 lined paper for 75¢, nice plastic pencil cases for 58¢, scissors for 25¢, character folders for 25¢, 1 subject spiral notebooks for 19¢, see-through 1-inch binders for $1.26, and so on.
• Gardening supplies –> I find the cheapest gardening supplies at discount stores like Ross and Tuesday Morning during their sales
• Movies –> I usually get these online on either Amazon or eBay, depending on which is cheapest
• Toys –> I score most of our toys in July and after Christmas at local store clearance sales. I also shop on SlickDeals to find deals basically everywhere and due to finding SlickDeals, have saved an incredible amount of money for our family on just about everything. If you're looking for some great deals for Christmas, you'll also want to check out my gift guides, because I love sharing all those great deals I find to save you money at Christmastime. I just found 705 pieces of K'nex for $20 on Amazon!!!!!!!!!! My kids love those things!
• Furniture –> For furniture, I like to shop my local furniture stores as I know how to haggle and can get in there and get deals you can't get anywhere else. I go into my haggling strategies in my course, Organize the Chaos™: Finances. It teaches you all about how to get out of debt, step by step, from my own personal starting point, being homeless and having $30,000 worth of debt to being debt free and living a very affluent life on $18,000/year. Now I make 7-figures/year, and still live on very little because I've become very good at saving money and spending wisely. All of this and more is discussed in the course.
• Homeschooling books –> I used to buy homeschooling books at Walmart and at the time they were around $5. Now, since I get my ink and paper free at Staples, using their ink rewards program (turn in your used ink cartridges for store credit), I make my own homeschooling sheets (you can grab 500+ free kids educational printables here in my blog post) and save myself money, and we only have to use the pages that we like and are relevant that way. Sometimes in the books that I used to buy at Walmart, the books had a lot of paperwork the kids already learned or didn't need. You can make them yourself or find tons online free. 😊
• Dollar Items –> If you're looking for dollar items, I like to visit local craft stores. Places like Michaels, Hobby Lobby, JoAnn's Fabrics and stores like that, usually have a great dollar section and from what I've seen, they are a LOT better quality than dollar stores. Here are some things my daughter picked up at Michaels crafts store our last trip there. Each item was only $1.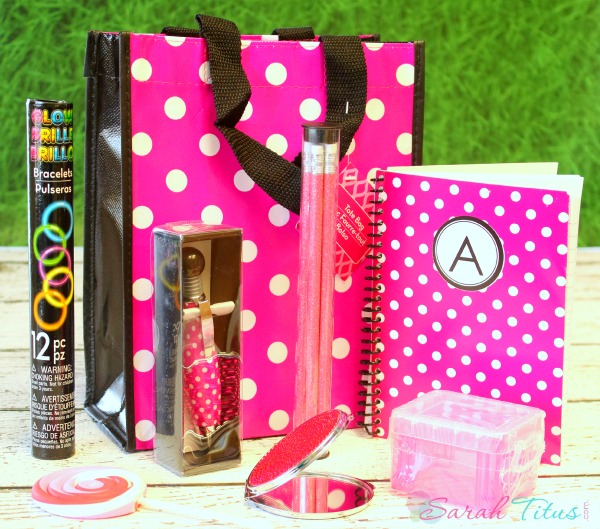 I'd also say that if you're looking for a cute birthday present for a girl, something like this would be fantastic and will only set you back about $8. Be sure to check their store ads too, because a lot of times, they have 40% off coupons and yes, you usually can use more than one coupon (one coupon per item!) Technically, if you have a 40% off coupon for a dollar item, that means it's really only 60¢.
Not only is that cheaper than the dollar store, but it's also a lot better quality and will last your family longer! On that particular shopping trip, we had 4 of the 40% off coupons, so everything in that picture above, cost us only $6.40 + tax.
• Shoes –> For shoes, I used to be on my feet 8-9 hours a day working in banking, so I needed something super comfortable. I tried many different shoes for comfort and longevity and Skechers are my favorite. Second favorite is Fila's. I get Skechers at Famous Footwear (they have a card that saves you money, a nice clearance section, and a newsletter to save you money as well).
I also get Skechers at Fred Meyers on sale (rarely do they have them in stock though) and through the Skechers website, which has great sales and I shop out of season for clearance to stock up for the next season. If you join Skechers Elite, which is FREE, you get free shipping and coupons for shopping with them. I usually end up paying $15-$20 for sandals, $25-$30 for tennis shoes, and $40-$50 for snow boots. I also like Ugg and Bear Paw brands for snow boots and slippers. I usually get those on Amazon or find great deals through Slickdeals. Around Christmas-time is a great time of year to stock up on brand name slippers for cheap prices.
If you are ordering online, be sure to go through Ebates for cash back (if you're not already signed up, you can get a $10 free gift card for using my link-no strings attached!) and use your Paypal debit card as well, where you'll earn an additional 1% cash back. Ebates and your Paypal debit card can be used together in the same transaction, thus furthering your savings!!!
Now please understand that because I was a reseller for so very long, I know where all the best deals are and what stores have the lowest prices on which items, but that doesn't mean you can't! Just make a list of the things that you normally buy and for a while, every store you go to, start writing down their prices. After a while, you will begin to learn where things are cheaper and you WILL learn how to save more money than you are at Walmart AND get much better quality to boot!
This garden hose became a huge turning point in my life and taught me a valuable lesson. Cheapest is rarely the best. My motto from then on, became 'get the best quality at the lowest price possible.' So, whereas a person learning to save money uses the cheapest laundry soap, I use Tide and I pay the exact same price they pay for theirs. In that example, since making that simple switch, I have only had to throw out 1% of my children's clothing that I used to have to throw out. The clothes would get a stain, I couldn't resell the clothes when they had grown out of them, etc. So, I actually pay less considering that fact. When not considering that fact, I pay the same amount.
Listen, if you're thinking you're saving money by shopping at Walmart and dollar store, this is a pretty huge blow. I get it. It was pretty major for me too. But, there's hope. I will show you exactly HOW to save money on EVERYTHING you buy. On this site, I teach you how to REALLY save money and live better…one deal at a time, one principle at a time.
On a side note, a year after my aha moment, Consumer Reports reported that a person could go to 5 major department stores and get lower costing items than Walmart, including JC Penny's, Sears, and more. Don't take my word for it? Surely, you'll believe them!
I'm not the only one seeing Walmart hurts people more than they help!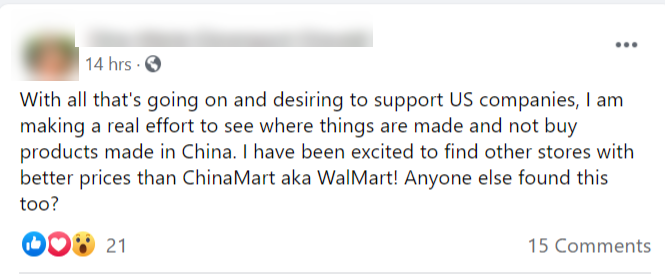 Walmart is like welfare. It's designed with the target to keep people poor. The second you have any money, welfare cuts the amount they give you in food stamps or cash aid, leaving you with nothing, so you're never able to get off the system they created.
Saving money at Walmart is a myth. Consumer Reports doesn't lie. Buying something over and over again at Walmart is just keeping people poor. It doesn't feel ethical at all! How do I live such a great life and have more than most on only $18k/year? By NOT shopping Walmart anymore, by NOT being on food stamps and cash aid!!
Now…I'm off to research Costco! Is it REALLY cheaper??? I wonder….