Your kids are going to love this super cool activity I've got for you today! It is really fun, easy, and you can totally make one yourself at home. 🙂
Check out how to make this DIY 5 sensory bin for toddlers!
How To Make A DIY 5 Sensory Bin For Toddlers
A sensory play for toddlers is SO important. It helps them learn how to connect their brain to what they are doing while using their 5 senses.
Some key benefits of sensory play:
supports cognitive growth
helps expand vocabulary language skills
good to calm down an anxious child
helps them learn problem-solving skills and motor skills
This is a super fun, simple, entertaining, and budget-friendly home activity for your kids! This DIY sensory bin will allow them to use ALL 5 senses at once.
They will love feeling the sand, seeing the bright colors, drawing in the sand and scooping out the buttons and marbles. They won't even know that they are learning in the process. 😉
Here is what you'll need to set up a sensory play activity in your own home…
Supplies:
Purple decorative sand
Blue marbles
Blue glass gems
Green glass gems
Buttons (blue, green, purple)
Green and white Straws for drawing in the sand
Green, blue, purple popsicle sticks for drawing in the sand
Tray or bin
Scoop and small container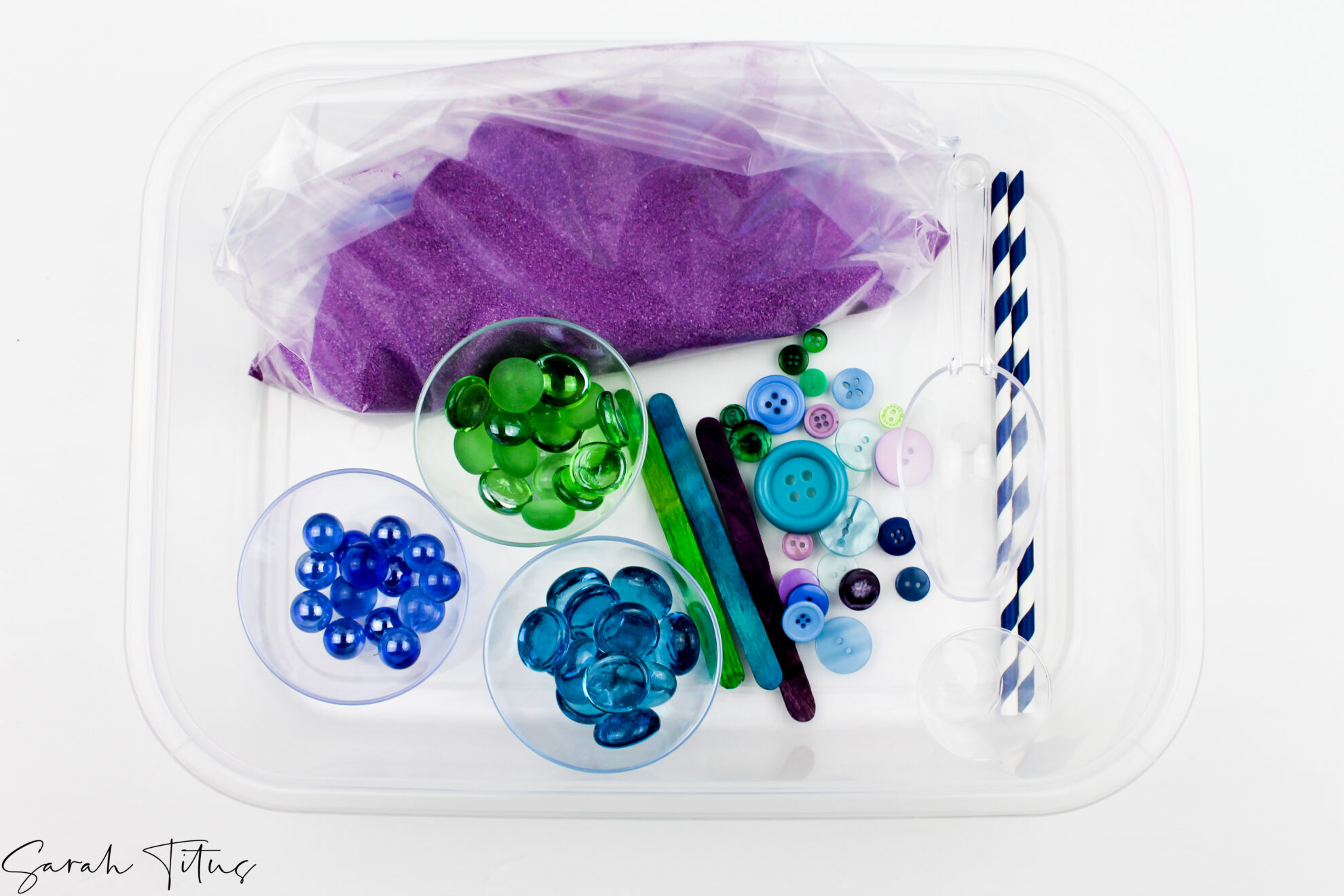 Directions:
Pour sand into the tray. Spread sand out into an even layer.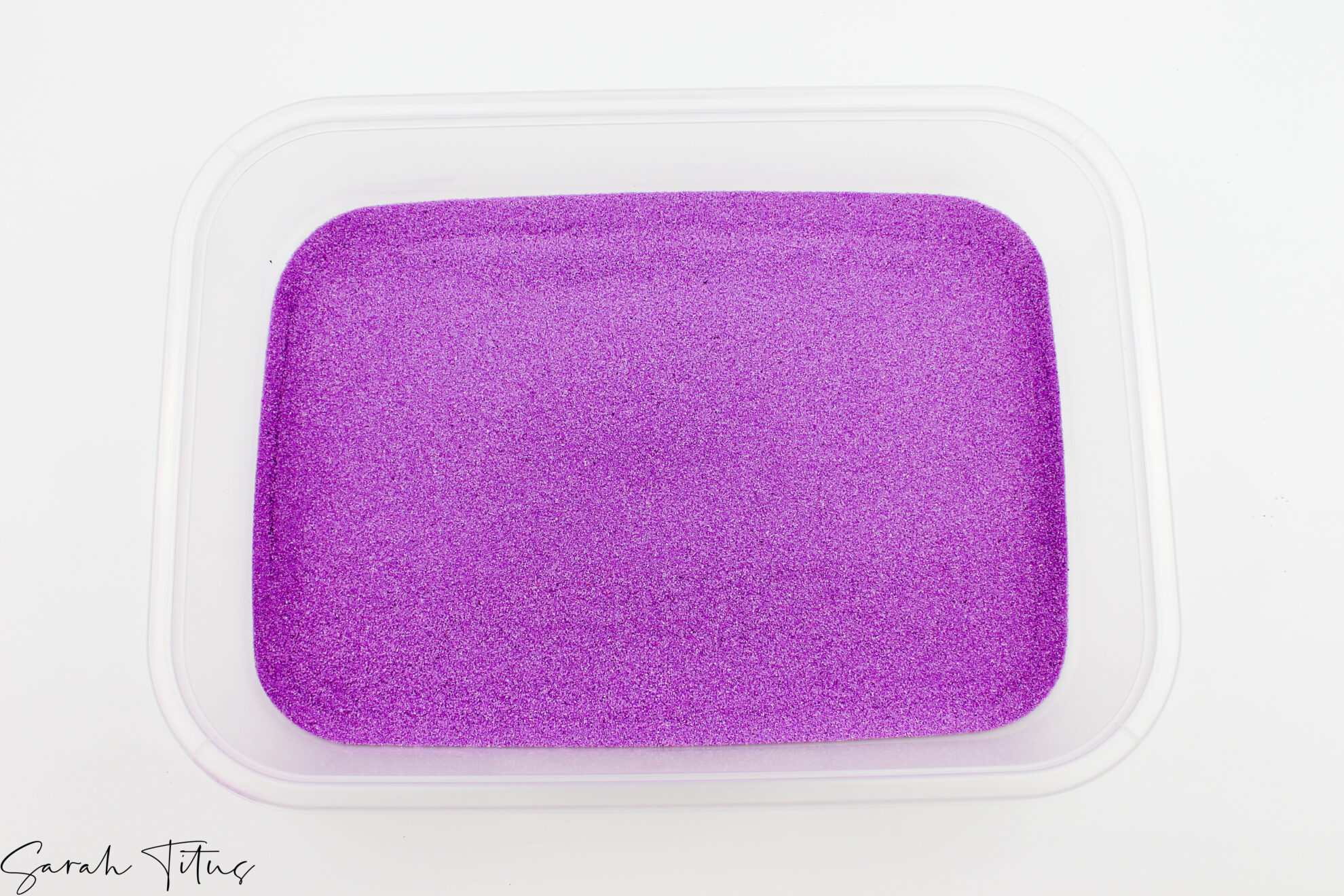 Add glass gems and marbles.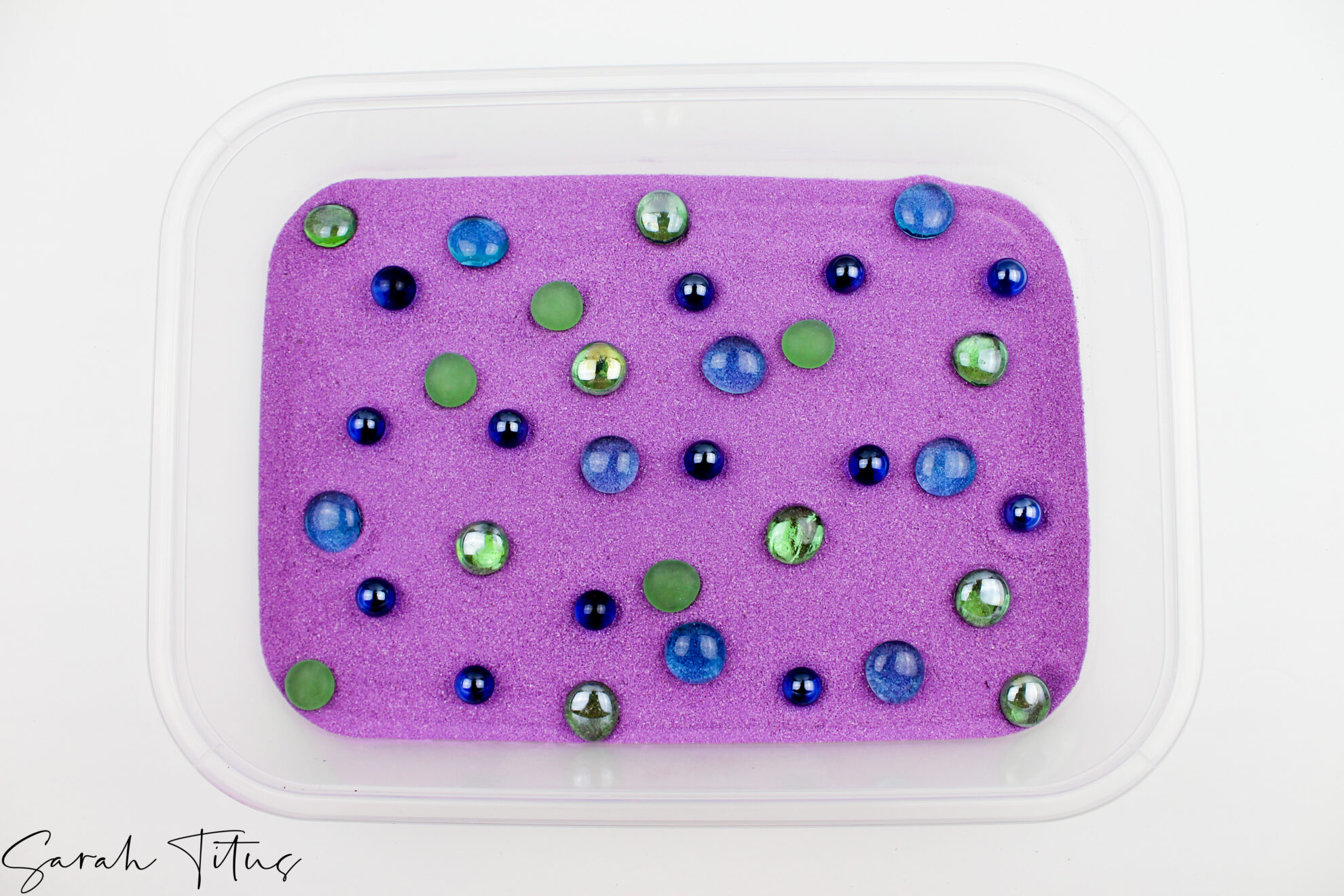 Add buttons.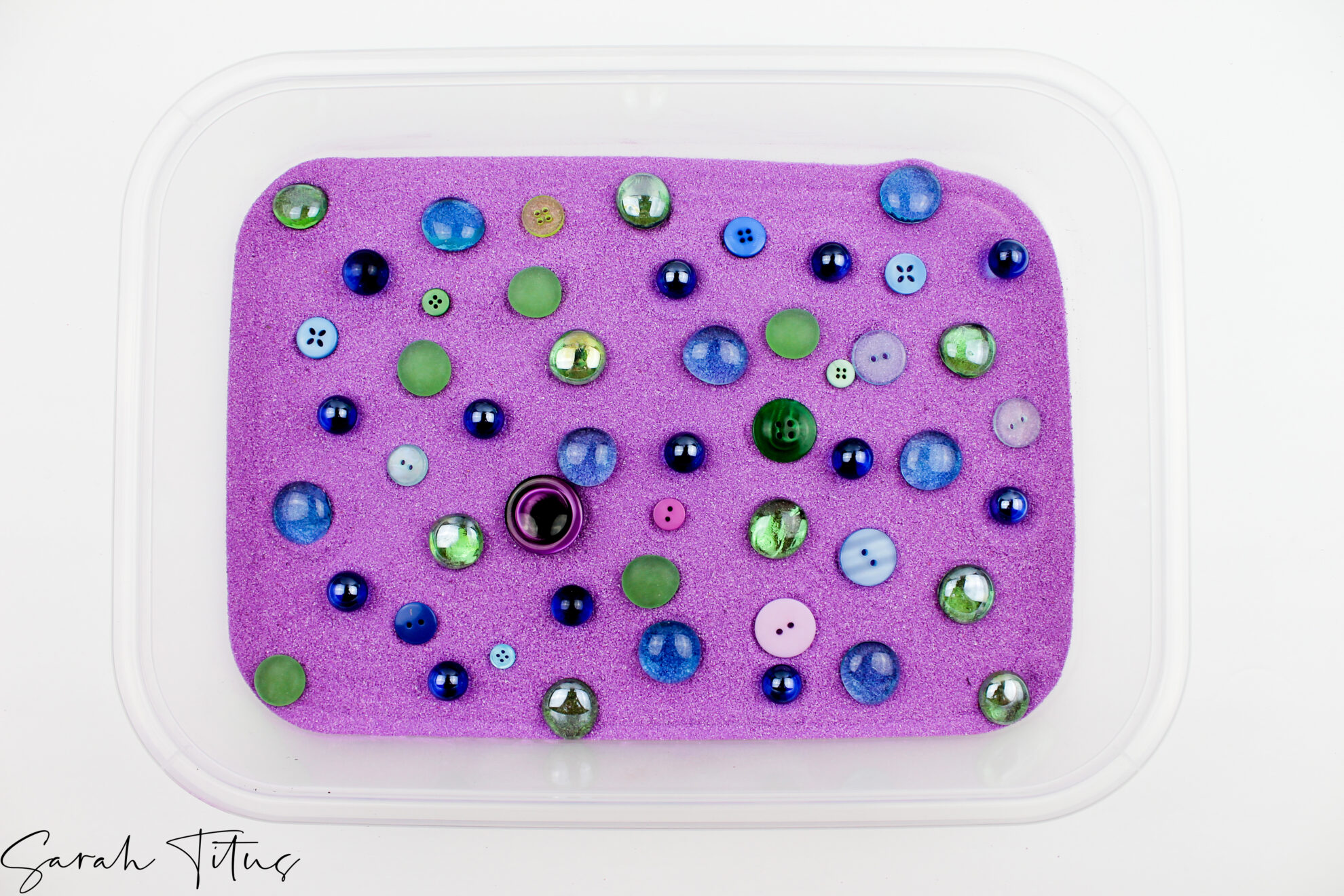 Add straws, scoop and container.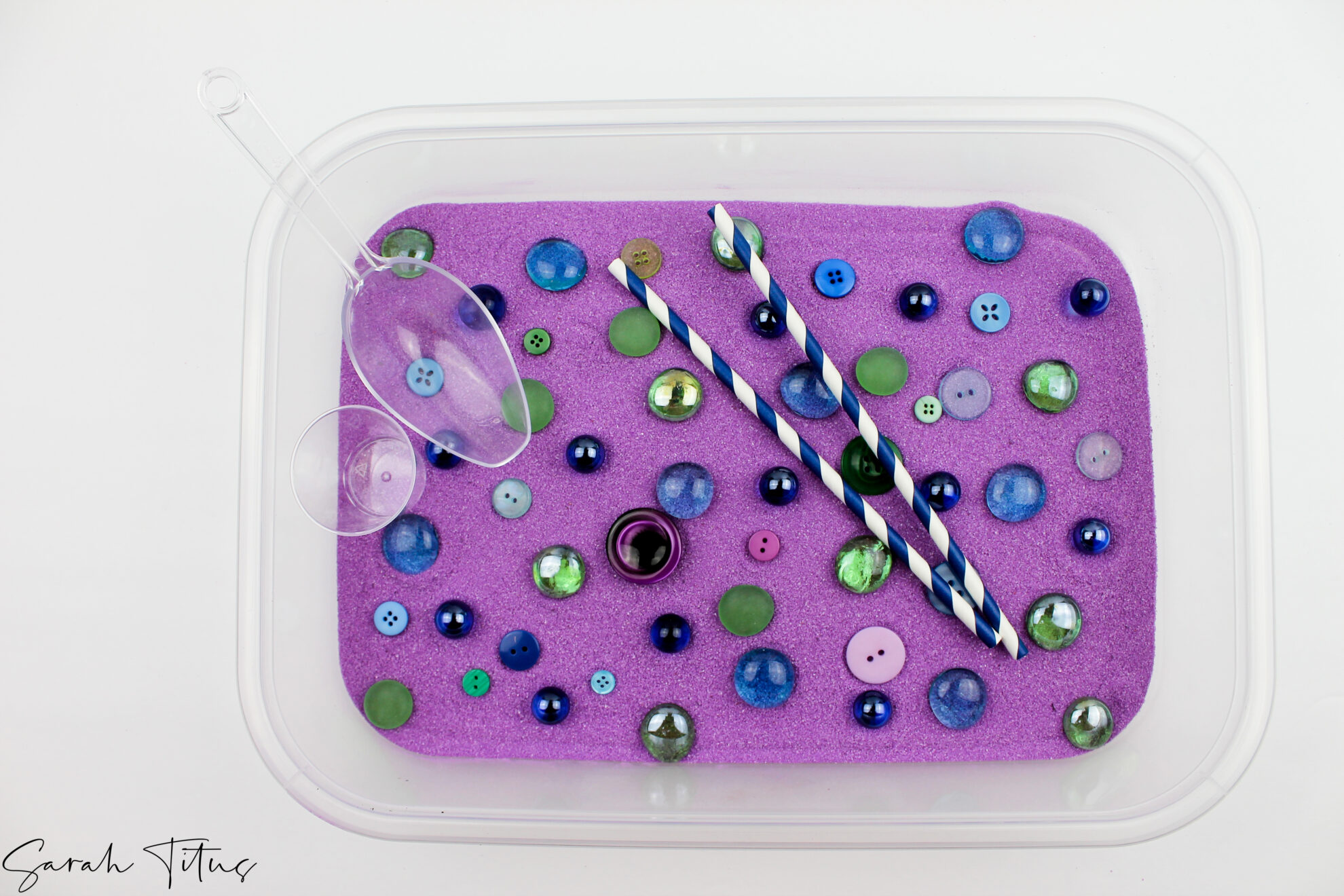 Add popsicle sticks.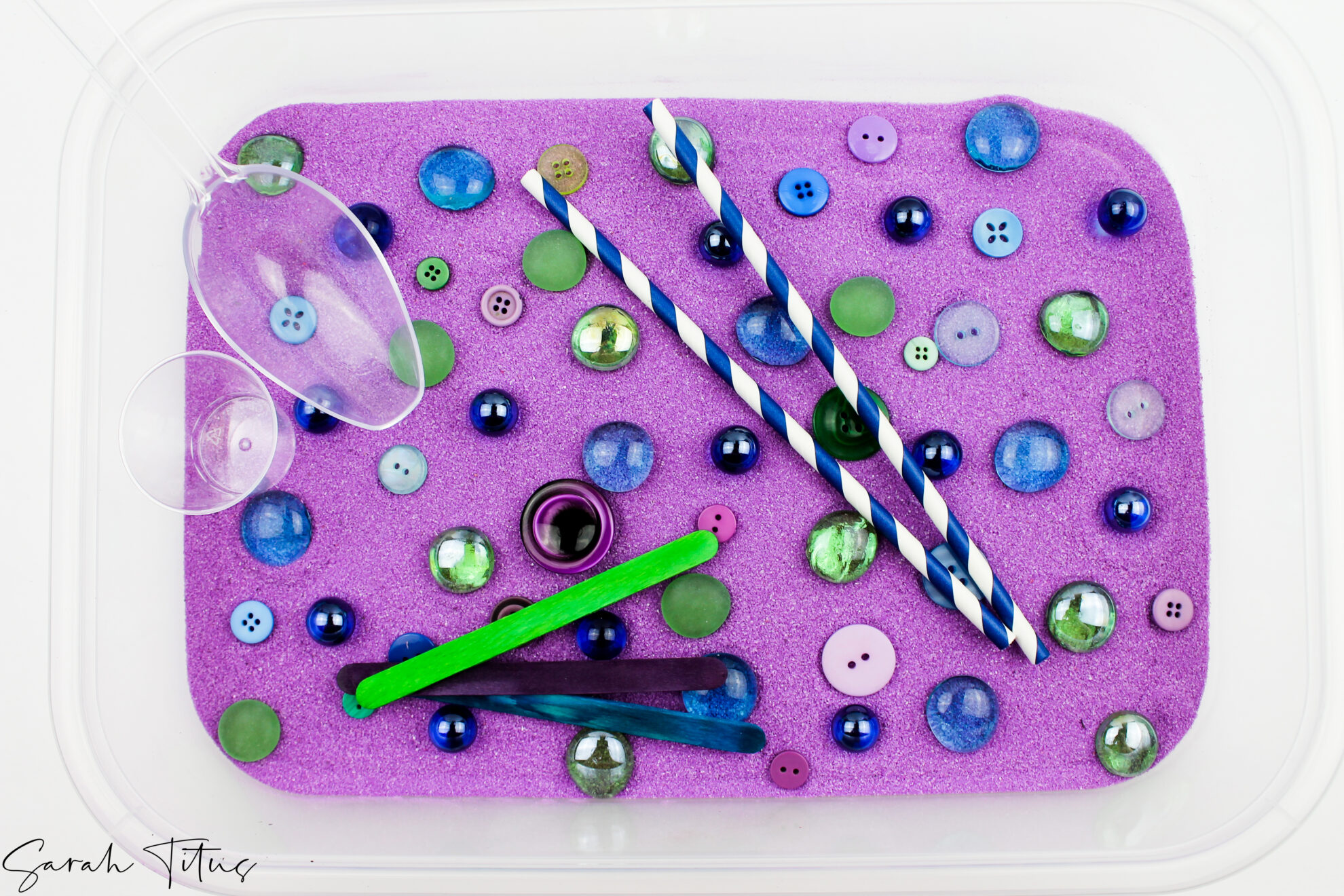 It's play time!
When To Use The Sensory Bin
When is the best time to use this sensory bin activity for your toddlers? Really, any time! Here are some sensory play ideas with this activity bin/tray:
Use when you need a rainy day activity, or your child is sick or injured.
Use when you're stuck in the house because of a nasty virus going around.
Bring the bin outside to enjoy the fresh air and soak up the sun!
Use for when you need to get some housework or yard work done.
Encourage independent play as well as all the other skills they will be learning with this activity!
This sensory bin can be used every day and is super easy to store and bring out when you need it. 🙂
How To Use These Sensory Bin Ideas
They are so many aspects to using this sensory bin! Your child will learn and practice lots of different things when playing with this…
Touch
Your toddlers will love feeling all the different objects in there, especially the sand! You have the soft grainy sand, small buttons, straws, and shiny marbles.
Sight
The colors are so bright and fun, which is KEY in any sensory activity. The bright colors will help stimulate their brains!
Drawing
Encourage your kids to use the straws to draw different design in the sand! Make a fun smiley face and use the buttons as the eyes and mouth. 🙂
Imagining
Toddlers will have a blast playing with this and letting their imaginations go! Encourage them to make up stories, create different designs, and even make shapes and animals using the popsicle sticks.
There are so many great benefits to letting your kids engage in sensory play, on top of all the fun. 🙂
I hope you love this easy DIY sensory bin!