Looking for a fun and easy DIY craft to make with your kids? Bust out the baking soda and jump on in!
Check out this tutorial on how to make a cute heart craft with baking soda! 🙂
Cute Heart Craft With Baking Soda
Love is in the air and I have a fun activity your kids will LOVE. 😉
I love doing crafts with my kids, even though they are older! This is great for any age kids and the perfect way to spend time with them. They will love watching the cool chemical reaction and be able to put on their helping hands to construct it.
Kids love being able to help and make things, and these crafts for kids are just perfect – they can totally do this on their own! Little ones, of course, may need a little extra guidance from you. 🙂
This DIY heart craft activity is so easy and a TON of fun! You don't need a lot of ingredients either – in fact you probably already have everything you need in your house!
Heart Baking Soda Experiment
Supplies:
½ cup of vinegar in two small bowls
1 cup of baking soda
Pink and blue food coloring
Heart cookie cutters (multiple sizes)
Tray
Dropper
Plastic spoon
Paper towel in case of spills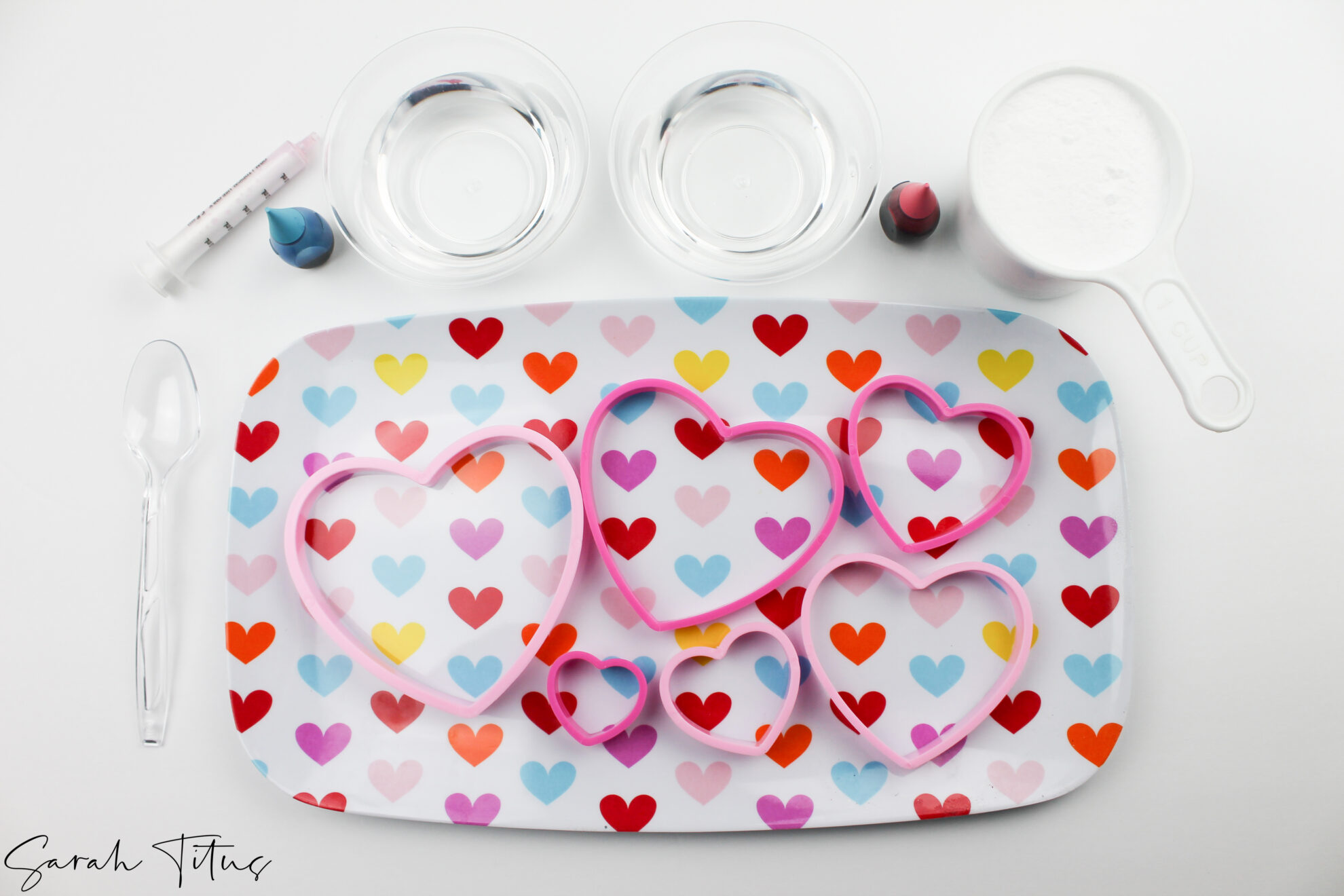 Directions:
Set the cookie cutters on the tray.
Spoon the baking soda into cookie cutters and use the spoon to even out the baking soda.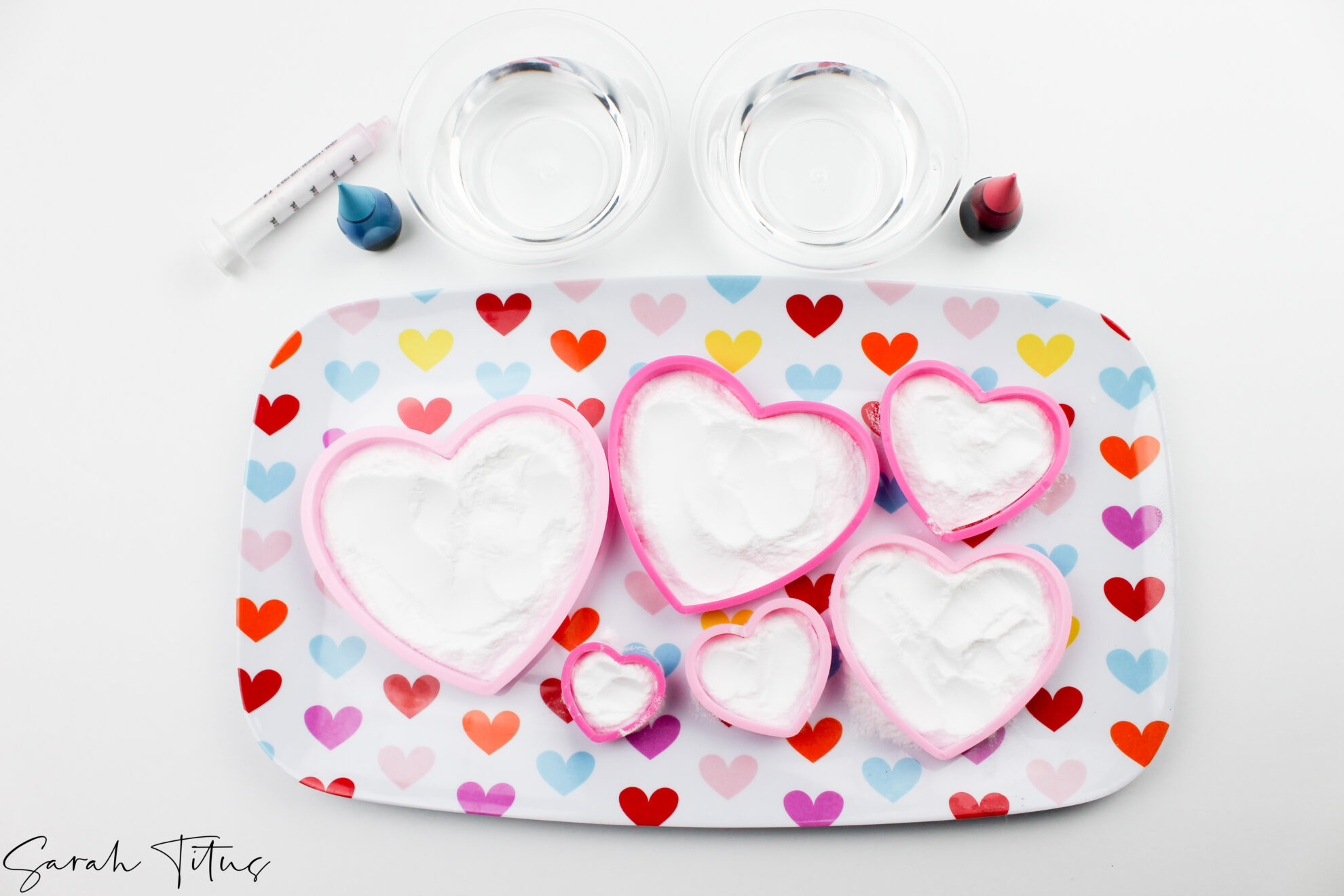 Add 10 drops of pink food coloring to the vinegar and stir.
Add 10 drops of blue food coloring to the vinegar and stir.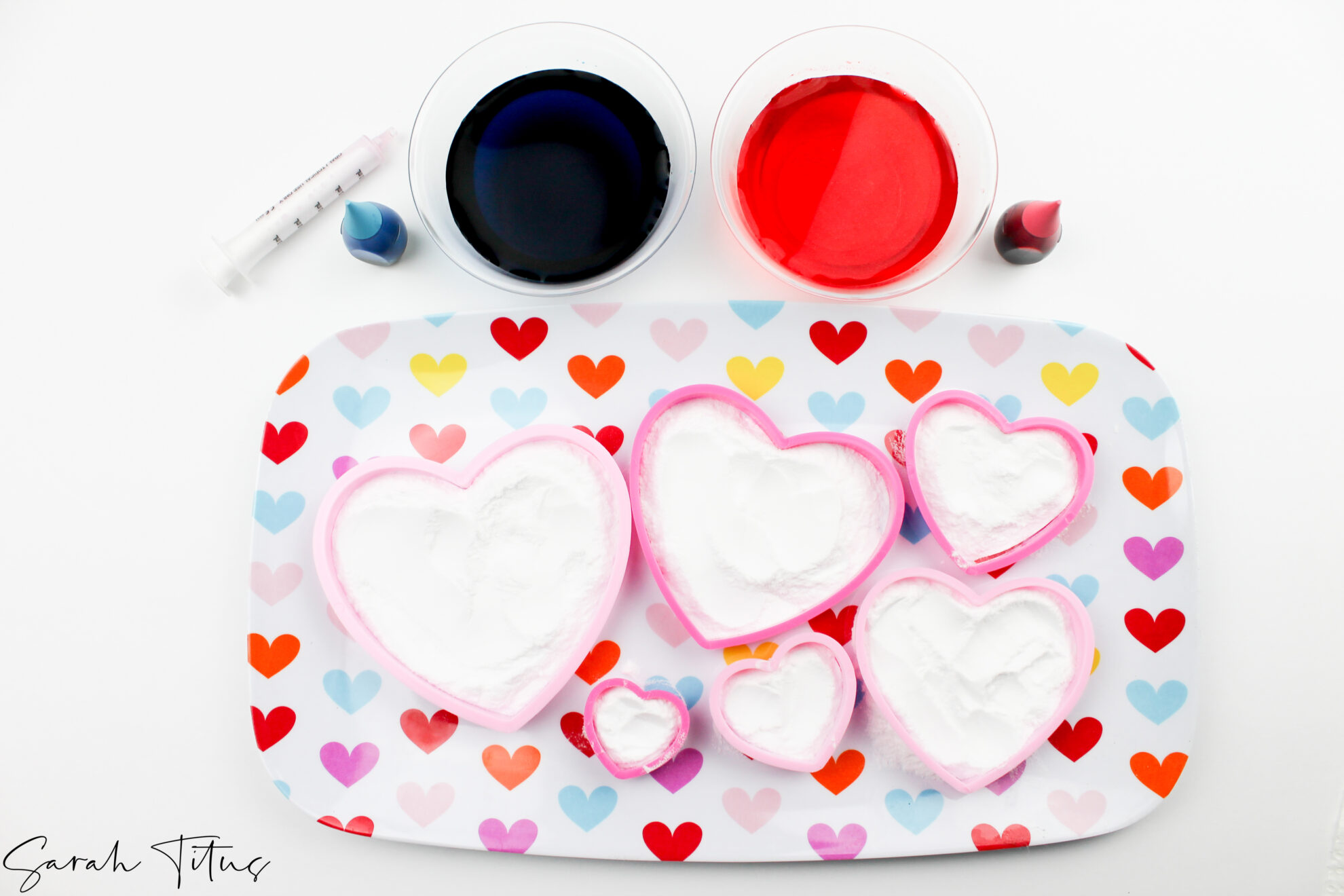 Fill the dropper with food coloring vinegar.
Squirt liquid onto baking soda. Alternate between colors until the heart is covered completely!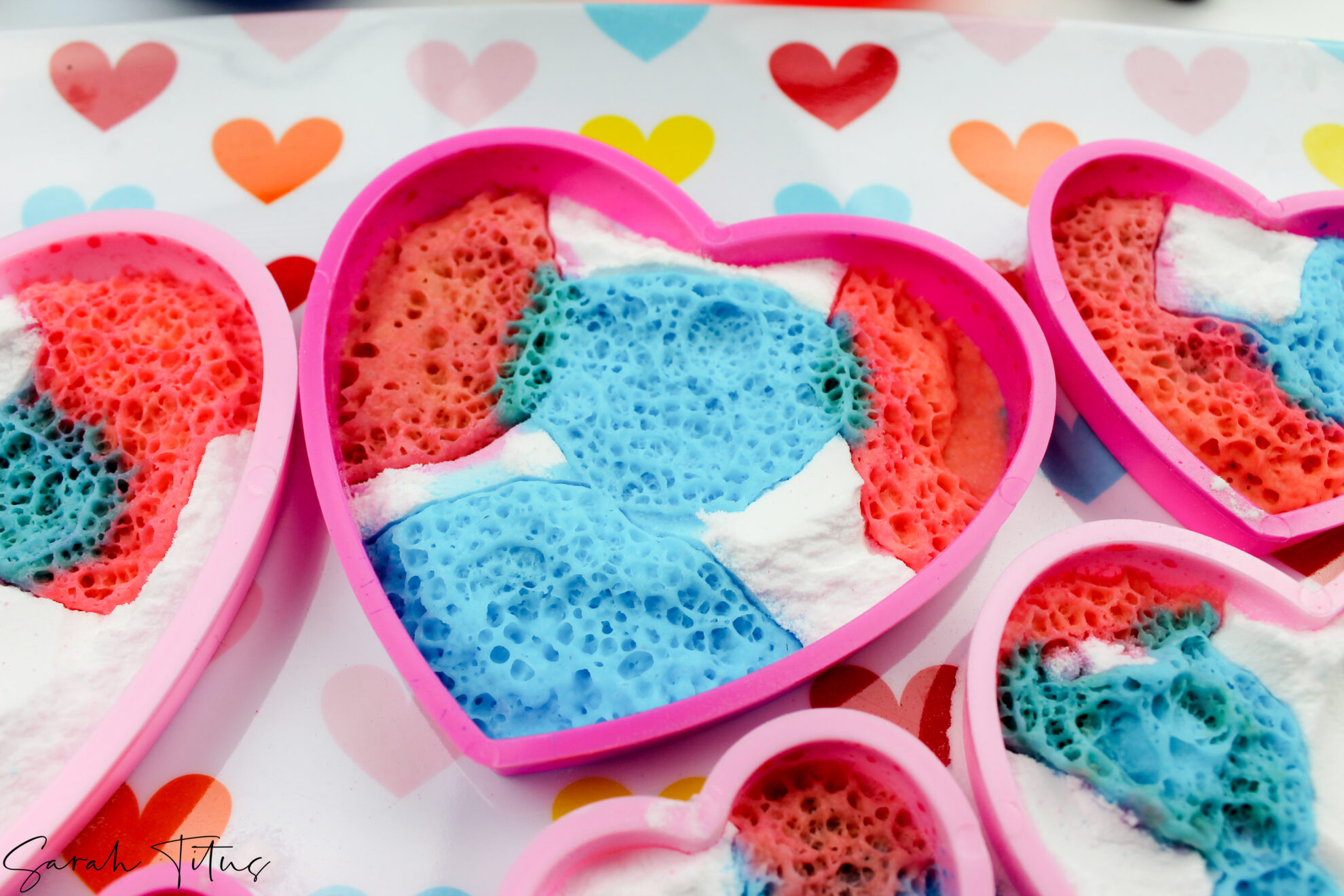 Watch the baking soda fizz up when the vinegar makes contact with it! 🙂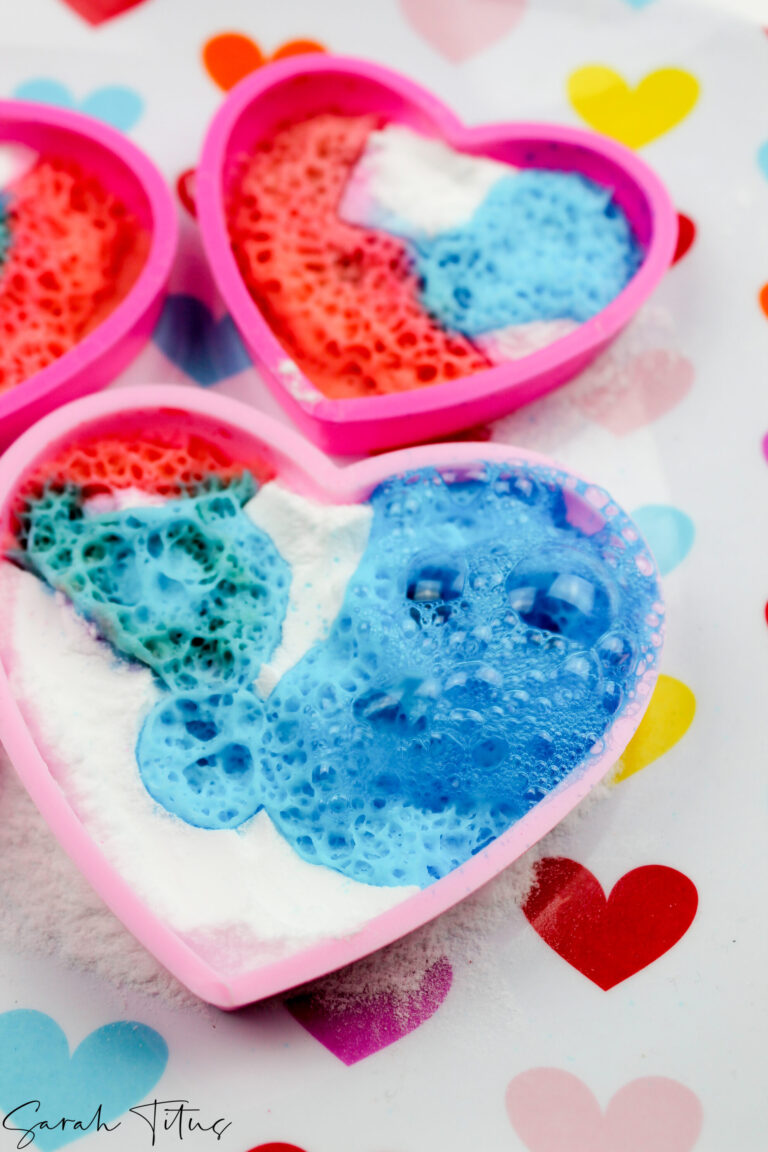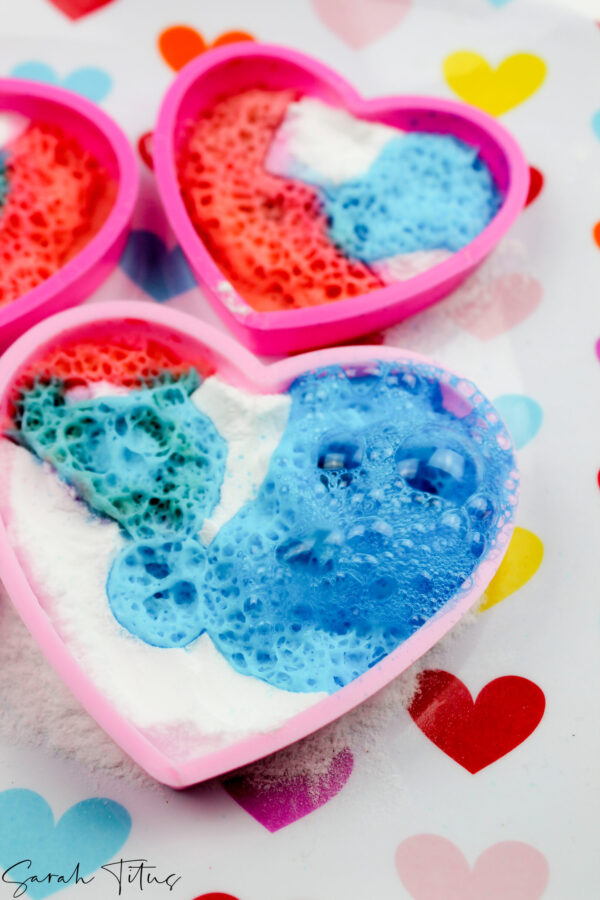 Carefully remove the cookie cutters to see what the hearts look like once they have been covered!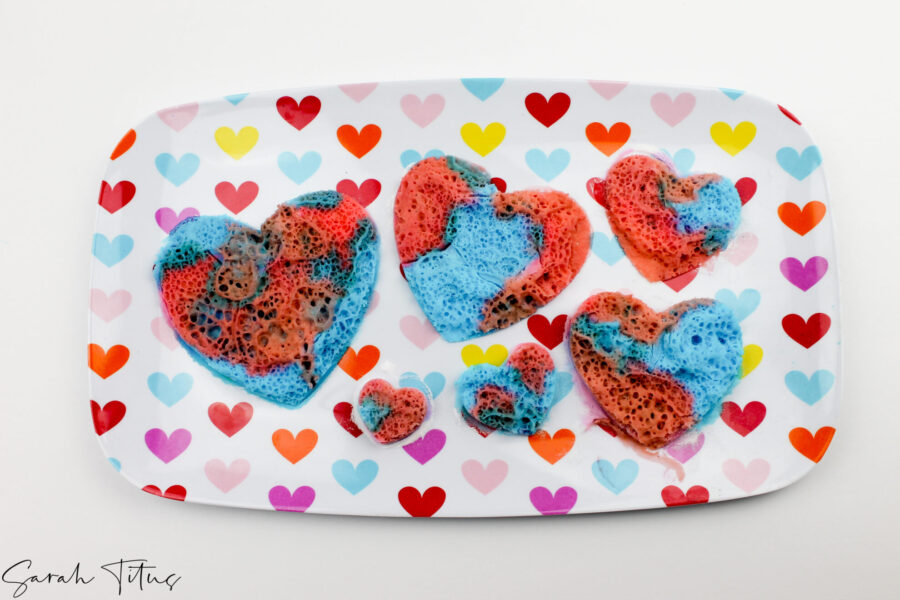 Fun Ways To Use This DIY Craft
There are so many ways you could implement this fun craft! Here are a few ideas for you…
Valentine Crafts – Family Valentine's Activity
Of course, this is PERFECT for a fun family activity to do on Valentine's Day. From toddlers to teens, you can get everyone involved!
This craft is so fun and cute – your little ones will love watching the bubbles and color mix, and your older teens can help and enjoy too!
Bonding as a family is so important and this craft is a great way to help you come together to enjoy that quality time. 🙂 What's more, they can also be used as cute Valentine's gifts!
Use As Science Projects
Does your child have a science project coming up?? This would be perfect for that!
Practice at home to show them how to do it, and then send them in to do in themselves for the class – or however their teacher instructs.
You can use any shaped cookie cutters you have as well as multiple different colors. 🙂
Fun Science Experiment For Teaching
This would be a great way to teach your kids about chemical reactions a.k.a. baking soda and vinegar. You can totally do this same experiment with other shapes and colors for fun all year long. 🙂
Outside of doing this activity at home with your kids, this is PERFECT for homeschooling and science classroom ideas for teachers! It's inexpensive and can be easily set up for LOTS of kids/students.