I don't know about you, but I LOVE color. When I look around at other free printable school binder covers online, they always seem to be black and white, basic, muted/light color tones. A few have bright, bold colors, but not many.
While I can appreciate those kinds of softer dividers for binders, they just don't work for me.
I want to live life to the fullest. I want to be HAPPY, excited, JOYFUL. I want my KIDS to be happy, on fire, excited, joyful too as they use these cute binder dividers. Because it makes all the difference in the world whether or not your kids have a good day at school or not, if they are surrounded by happy colors!
That was my intent with these free printable 40+ binder covers and dividers!
I also tried to create every subject imaginable for these professional binder cover templates; that's why there's so many. 🙂
40+ Binder Covers Free Printables
Included school subjects / topics in these cute binder covers are:
Blank sheet to write in
Algebra
Art
Biology
Chemistry
Computer
Dance
Drama
Economics
English
French
Geography
Geometry
German
Government
Health
History
Italian
Japanese
Language Arts
Latin
Math binder covers
Music
Physics
Reading
Science
Sign Language
Social Studies
Spanish
Spelling
Writing
Months to include: January
February
March
April
May
June
July
August
September
October
November
December
I hope you like them and I hope you share them with your family. I love them so much, I almost wish I was back in school, just so I can use them!
There's also a blank printable binder cover in there, in the off chance that I missed a school subject. There's plenty to chose from and they are perfect for:
1st grade
2nd grade
3rd grade
4th grade
5th grade
6th grade
7th grade
8th grade
9th grade
10th grade
11th grade
12th grade
College
You could even use the blank cover for your household or life binder and the dividers as ideas for your daily planner binder!
There's literally so many options. If you use them as dividers, I just print them on thicker printer paper and stick these colorful Avery tabs on mine and they work PERFECTLY. Custom made page dividers for school or home!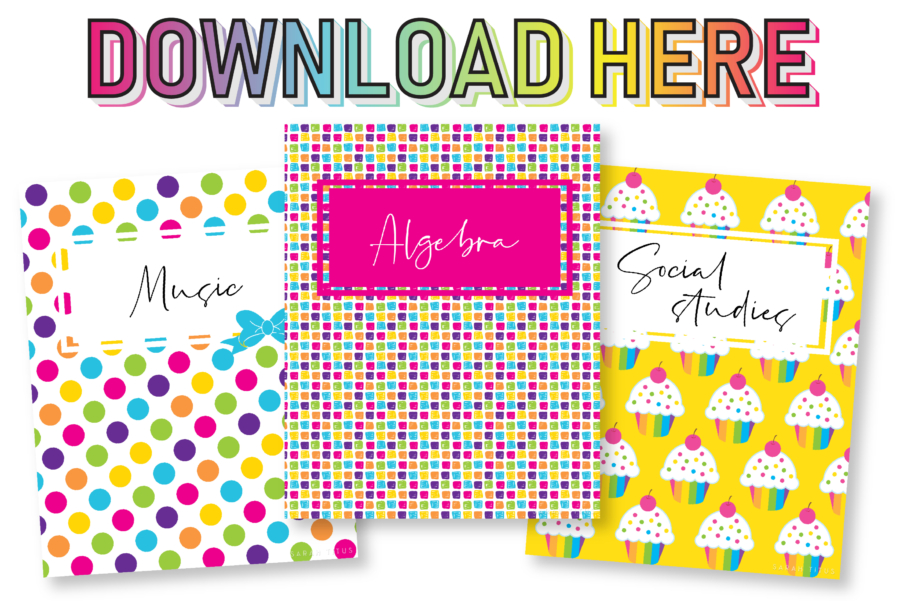 Download the free 40+ Binder Covers printables PDF here.
This could also make a really cute DIY gift for a teacher or student. Just purchase a binder at your local store and print out each binder dividers printable. Fill the binder with the dividers and covers, some filler paper, and maybe even a hand written letter of how much you appreciate the person.
You can get colored binders pretty easily in the stores too. I often see sky blue and electric green binders. Those would totally match these and be a super cute present!!!
You might also like these simple binder covers!