Do you ever wonder and doubt yourself and the things you're capable of?
It's this tiny little and annoying voice that says, "You can't," "You won't be able to," "You are fake and no matter how much you try they're all gonna find out anyways… So why do you even bother to get going? Give up."
LET ME STOP YOU RIGHT THERE!
Don't doubt yourself, you're wonderfully made. You are capable and you need to believe it NOW! I know it is easier said then done, but I have put together an amazing free printable to help you cope with yours fears, doubts and the symptoms of impostor syndrome!
Are you ready?
They're all gonna find out anyways
Anytime I go to publish something, create something, release something, it's sure to happen…
This voice in my head that says, "Who the heck do you think YOU are?! Why would anyone listen to YOU? So many others are smarter, faster, more knowledgeable in this area. They have more skill than you, more fame, more sway, more recognition. Why would you even TRY? You KNOW you're just gonna fail, Sarah!"
"You DO realize you're not her, right? You're NOT Sarah Titus, the Sarah Titus that everyone seems to think is perfect and has everything together. You know it. You know you're just you. You fail. You cry. You break. You bleed. You get up and you fail some more. One day, they're all gonna find out anyways: you DON'T have it altogether…you're not as great as they think you are. You're….just…you. You're not GOOD ENOUGH to release….this course, this binder, this product, etc…"
Wow…the negative self talk is real and you know what…?
We ALL have it! We all doubt. We all tell ourselves we're no good from time to time. It's so common, it has a name.
It's called, "Impostor Syndrome."
Maya Angelou put it best when she said, "Each time I write a book, every time I face that yellow pad, the challenge is so great. I have written eleven books, but each time I think, 'Uh oh, they're going to find out now. I've run a game on everybody and they're going to find me out.'"
It's an anxiety that ALL successful people (even celebrities) go through and if you don't have a game plan to crush it when it comes on, you'll end up crying in the corner of your room, sucking your thumb.
Trust me, I've been there. Okay, minus the sucking my thumb part. 🙂
I've let it take over my emotions before and I've seen it take over others emotions too. But I want better for you. I want better for me.
This week, has been all about pushing out fears. My biggest fears.
One of my biggest fears in my personal life, has been to start a new church. Because of what I went through in my old church, falsely accused, my best friends believing a lie and abandoning me, it's been tough. I've struggled, in extreme torture for 11 months. I know I can't forsake assembling together. I know I have to go, but when it's so hard, when you've been burned, abandoned by people who should have known you better.
This week, I went to church. No, it wasn't perfect. I came right on the minute it started, sat in the back, and was one of the first out the door. lol. And if you know anything about me, that is pretty typical of me. I'm an introvert, what can I say?!
But I was there! I went. I accomplished my goal. I obeyed God. I FACED MY FEAR!
Maybe your fear is saying, "Why start this business adventure? Who is going to listen to you? Why even bother? You'll never make it."
Listen, don't sit there like I did, in fear for 11 months.
Today's the day, that you crush your fears. That you go for what you want. That you say to yourself, I may not be the best at what I do, but you know what, I don't HAVE TO BE the best. All I have to do is SHOW UP, every day, do my best work, love on people, serve others. If I can make even $1k/month doing that, doing what I love, living my purpose every day, being home with my kids, not having to go to some corporate job I loathe, then it's enough.
YOU are good enough.
YOU are enough.
Sooner or later, Impostor Syndrome WILL come. When it does, be ready for it.
To help you prepare, I've put together a free coloring workbook for you. These worksheets are super helpful! <3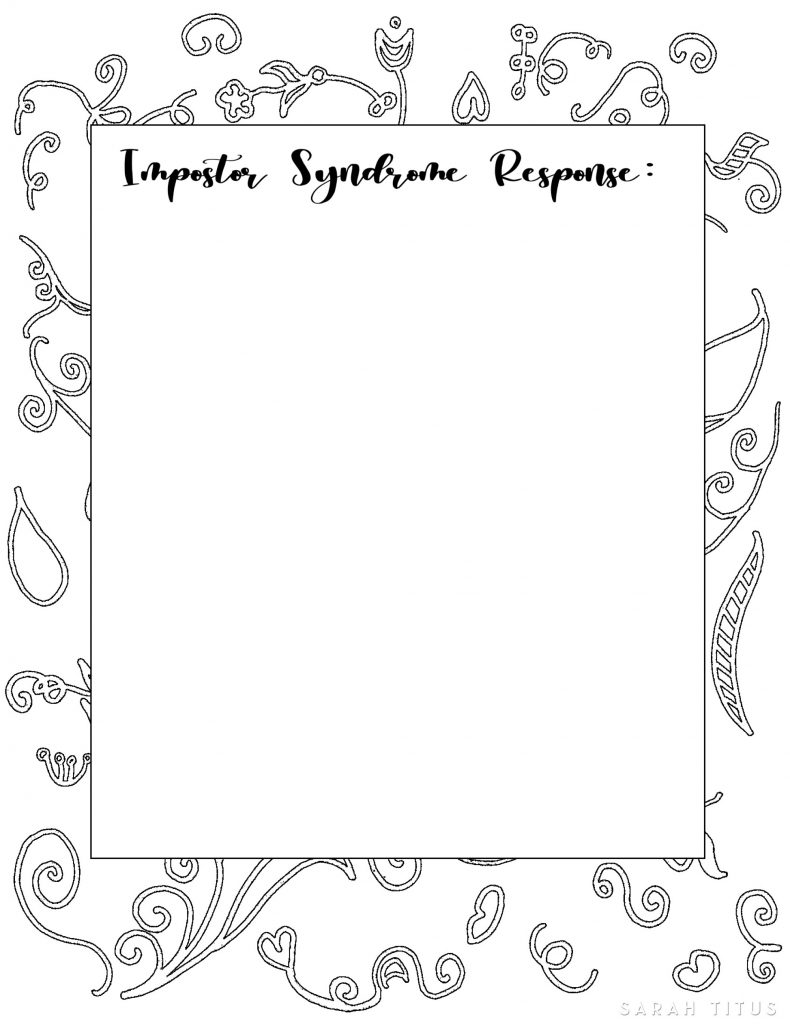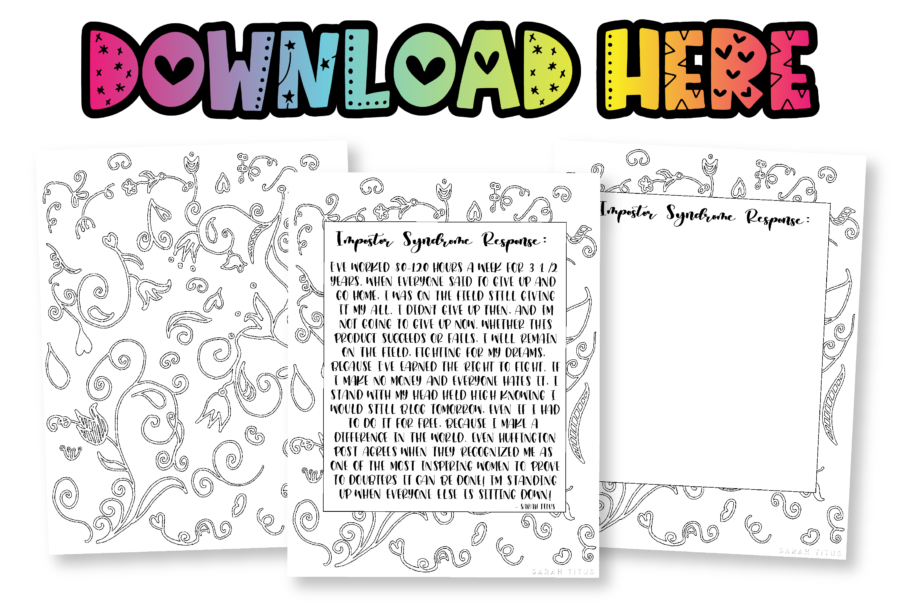 Download the Impostor Syndrome Workbook PDF Templates Here.