Looking for a fun new hobby to start right now? Check out this amazingly EASY how to draw french fries step by step printable tutorial!! 😊
Feel free to head out, grab some french fries from your favorite restaurant (my personal fav is McDonald's), and learn how to draw them with this easy tutorial!
How to Draw French Fries Step by Step for Beginners – Free Printable
I absolutely love drawing and doodling! It's seriously SO much fun!!!
Not surprising, my favorite class in high school was ART!!! It's something that has always been so much fun for me and a hobby I truly love. Whether it's clip art, SVGs, wall art, etc…you're sure to find some awesome things on this blog and TODAY I have for you these ADORABLE french fries!
The best part… YOU are going to learn how to draw it with an actual step by step drawing tutorial!! 😯💖💎
You'll find 8 pages with this printable, each with a grid page, what to draw, and even written instructions to help guide you. It is seriously so simple, and I bet once you try it, you'll be obsessed with drawing it many times till you really PERfect it!
While you're at it…be sure to get your kids involved and you ALL can draw this together. Make a super FUN family day out of it!!! 🥰
Before you begin using these pages, you could print the first intro drawing page, that way you can keep it for everyone in the family to use, or hang it up in your office as inspiration when you are practicing drawing this. If you don't have a laminator, here's one that we use and love.
Grab your free french fries drawing below…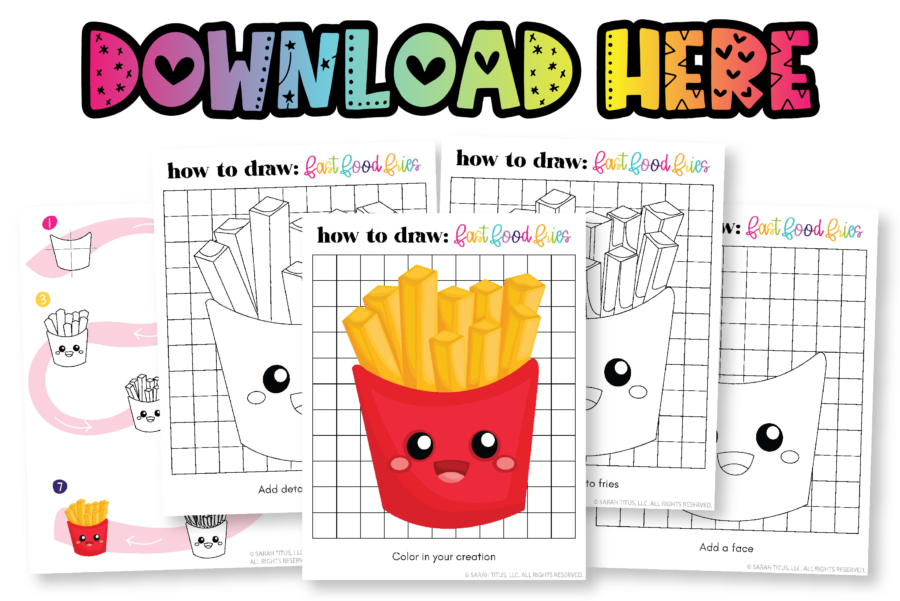 Download the How to Draw French Fries Step by Step for Beginners – Free Printable here.
So what exactly can you do with this printable set? Well, I'm glad you asked. 😊
Fun Ways To Use This How To Draw Tutorial
There are so many great ideas for using this how to draw french fries tutorial! Here are just a few suggestions to get you started…
1. Learn a new hobby with family
This would be such a fun hobby for you to start, and ALSO for your kids! You can make this a family time activity to do together. Drawing can help inspire their creativity, or spark an interest in art. It also helps kids with fine motor skills (holding a pencil) and memorization as they earn where the lines go.
It also makes for a great, screen-free alternative. 😉
If you're homeschooling, you can use these printable sheets in their art classes and if you're a teacher, use these in your classrooms. Hang the pictures up on the wall and have your students work on them!
You can hang up the main page as inspiration on how to get from the first step to the last step, and print as many copies as you need for yourself and your kids. Even your young toddlers can doodle along with you all, so there's a place for everyone. 😊
When you are done, feel free to use it as a fun coloring page activity and have your kids color their pictures in! Use crayons, colored pencils, markers, or even paint. Our favorites to use is anything Tombow Dual Brush Pens.
2. Make fun crafts for your home
Once you have these drawn and colored in, you can cut them out and use them to decorate cards, make crafts, anything! Here are a couple of craft ideas that would be fun:
Draw these on large paper, laminate, and use as place settings for your dinner table
Make cute cards for friends and family members
Make fun wall art for kids' rooms or the kitchen – hang up on walls, fridge, tabletop, etc.
Once you learn how to draw this, you can draw the french fry design as big or as small as you want, so it'll work for whatever craft need you'll have. 🙂
3. Pair with other how to draw tutorials
Now that you have mastered drawing these adorable french fries, don't stop there! You can pair it with this step by step how to draw a cheeseburger printable tutorial and draw the whole set. 👏
Use it for cute cards, place settings, or any other idea from this list!
These how to draw tutorials are made to be fun for you and your family to do and teach you a new skill in the process! I hope you enjoy them as much as I do! 🎉