If you want to accomplish your goals, you have to, absolutely HAVE TO write them down! Writing them down helps permeate them into your mind. Consistently working on your goals and never giving up until they are accomplished is vital if you wanna get anywhere in life!
Whatever goals and dreams you are working towards, this awesome 110+ Page Goals Planner is the perfect solution to help you achieve them!
I'm a huge goal maker. I love checklists. Don't you just feel so accomplished when you check something off?
Now's the time to streamline your goals and have solid plans to get there and this Goals Planner is all you'll need. I know you're gonna love it!
Get the Goals Planner completely FREE when you purchase this course here.
What's included in the Goals Planner Printable PDF…
Cover
Goals Breakdown
Goals for the Year
Daily/Weekly/Monthly/Yearly Focus Goals
Monthly Cover Pages
Planners – Daily, Weekly, Monthly, Yearly
Vision Boards
Daily Schedule
Projects
Prayers
Answered Prayers
Dreams
Ideas
Notes
Favorite Verses
To Do Lists
Habit Tracker
Inspirational Wall Art Coloring Sheets
… and TONS MORE!!!
My Favorite Pages
It's kind of hard to choose favorite pages in the Goals Planner because they are all super helpful, but I do have a few that stick out as being the most helpful. By the way, these are just a FEW of the 110+ pages you'll be getting as a whole. 🙂
It's all well and good making goals and taking action, but if you don't take the time to actually reflect on how things are going, you'll run the risk of spinning your wheels and going nowhere fast! We absolutely must take the time to take stock into what we're doing and if it's ACTUALLY working or not! The 'Looking Back' pages prompt you to take a thorough look at what is working and what needs tweaking to keep you on track to achieving your goals!
These undated 2-page spread daily planner calendars are great to see the month at a glance. There's plenty of space to fill in all those activities and reminders for your busy schedule!
Need a helpful way to organize your day? The monthly planner and daily planner pages will help you stay super organized!! Not only are these printables really helpful, but they also have cute hearts to color in when you've completed each task!
For me, I'm a visual learner so SEEING something works a lot better in my mind and helps me accomplish my goals better. Vision boards are the perfect way to have a visual representation of your goals. There's a vision board for each month to serve as a source of inspiration and motivation to help achieve the goals and dreams you envision.
The monthly summary pages are the perfect way to have a clear focus for each month. Jot down your #1 goal, all your goals for each month, to do lists, prayers, Bible notes, and what you are thankful for. These printables will help guide your focus, motivate you, and sustain your momentum month to month!
The Projects Page printables are great for seeing an overview of all the projects you will be working on each month of the year, and a list of the tasks involved for each project to allow you to keep track as you complete each step.
Everyone is really loving this planner. Check out what a few people are saying so far…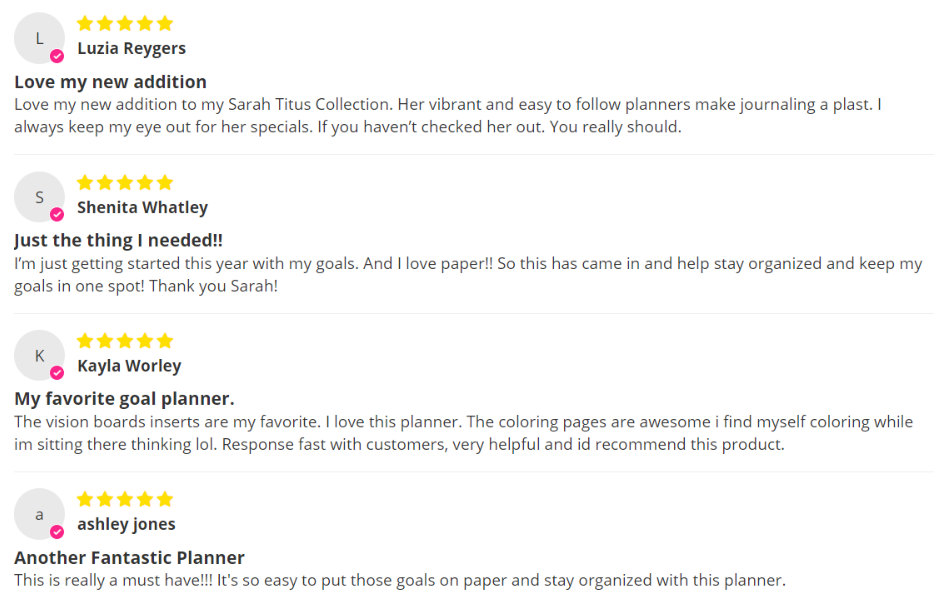 Get the Goals Planner completely FREE when you purchase this course here.