Need some fun at-home activities to keep your child occupied AND engaged in learning at the same time?!
Help your child learn how to match rhyming words with this free fun educational rhyming words worksheets printable!!
Fun Educational Rhyming Words Worksheets Printable
One of my closet skills is writing poetry. I've been published in a national book for my poetry and it's something I've done since I was really little. Rhyming is such a big part of writing poetry so if you or your kids are trying to write poetry stanzas, this will definitely help.
But it's not just to sharpen poetry skills, you can use these rhyming printables to teach even the littlest of kids to rhyme!
Kids love hearing the tunes and rhythms whether they are from fun stories, bedtime prayers, song lyrics, and in this instance, rhyming words!
There are 19 pages with 18 different words on each to rhyme! You'll never run out of words to rhyme and fun times to have with your kiddos. 🙂
To use, simply cut out all the half circles and use it like a memory game. Have them try to see what fits together until all the circles are put together to create full circles.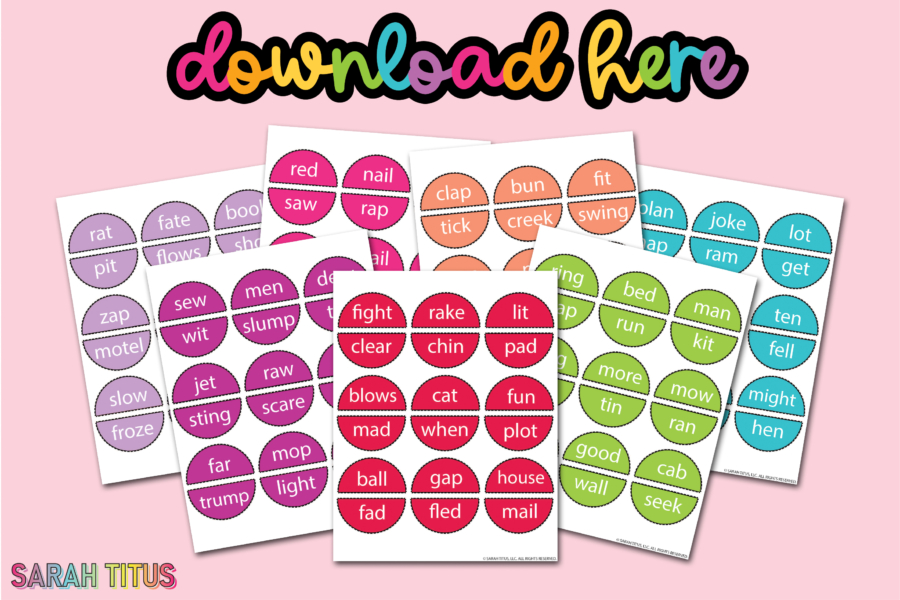 Creative Ways To Use These Printables:
There are so many benefits of learning rhyming words:
Improves memory and cognitive development
Helps language and vocabulary skills
Helps children practice sounds and their meanings
They can learn phonics and literacy skills
Use At Home For Continued Learning
These rhyming templates are perfect for in-home learning for lots of different situations:
Rhyming worksheets for kindergarten, toddlers or preschoolers not yet in school
Rhyming words worksheets for grade 1, grade 2 and so on – these will help grade school-age children to help reiterate what they are learning in school
Use during school breaks such as winter break, long weekends or snow days to help them keep a learning mindset
These worksheets are tons of fun and it won't even feel like learning for your kids! Simply cut out the words and pick a few matches for younger kids to put together, or cut out all of them for a more advanced game for older kids. 🙂
Make A Fun Phonics Story Game With These Rhyming Worksheets
Up the rhyming skill learning to another level! Use these to boost your child's imagination and storytelling skills by practicing a fun phonics game, or even using this list of rhyming words for poems.
As they pair words that rhyme together, encourage them to come up with one sentence at a time using the rhyming words, making a story with each new match.
For example, let's say the first match they made was "cat" and "hat." This could be made into "Pat the cat wore a red hat." If the next match is "creek" and "beak," the sentence could be, "He saw in the creek, a duck with no beak!"
By the end they'll have a fun and silly story to share, all while practicing language and literacy skills. 🙂 You could even them have them draw out their sentences too, added another layer of fun to the mix!!
I hope you enjoy using these fun rhyming worksheet printables with your kiddos and students! 🙂